During another exciting year of the Dream Gap Tour, Canada's Capital Region was spoiled with a thrilling All-Star weekend. With Dream Gap contests on both sides of the Ottawa River, hosted in Kemptville, Ontario and Gatineau, Quebec, the home of the NHL Senators served as host for the PWHPA All-Star Game and Skills Competition.
Providing a memorable highlight for star forward, and Team Sonnet skater, Samantha Cogan, the event allowed for a cherished homecoming. Raised in Ottawa, Cogan first made headlines as the first female to grace the ice with the Ottawa 67s boys bantams.
With the Nepean Wildcats, serving as the offensive catalyst on their first ever championship team, Cogan reached superstar status. During an unforgettable 2013-14 season which also saw Cogan earn a national title with Team Ontario Red, she starred on a line with Addi Halladay and Katryne Villeneuve, propelling the Wildcats to a 32-3-2-1 record.
With over 100 career points for the Wildcats, Cogan also wore the Maple Leaf, starring for Canada at the 2014 and 2015 IIHF Under-18 Women's Worlds. Currently calling Calgary home, having also served in the capacity of assistant coach for the U of C Dinos varsity team, returning to Ottawa rekindled many great memories, while creating new ones.
"I was really excited, for a couple of reasons. First, Ottawa is my hometown and living in Calgary I do not get back there often. So, I was happy to skate in person for my family and friends that I grew up with. I was also excited for the young hockey players in Ottawa and surrounding areas to be able to witness live some of the best female hockey players in the world."
Belonging to a sorority of star power during All-Star Weekend, Cogan enjoyed two unique linkages. From the outset, she was among nine alumnae from the University of Wisconsin. Headlined by All-Star captain Hilary Knight, the group included Abby Roque and Sophia Shaver, plus Canadian born talents Emily Clark, Ann-Renee Desbiens, Meaghan Mikkelson, Sarah Nurse and Blayre Turnbull. Worth noting, Clark, Roque and Shaver won an NCAA Frozen Four title with Cogan in 2019.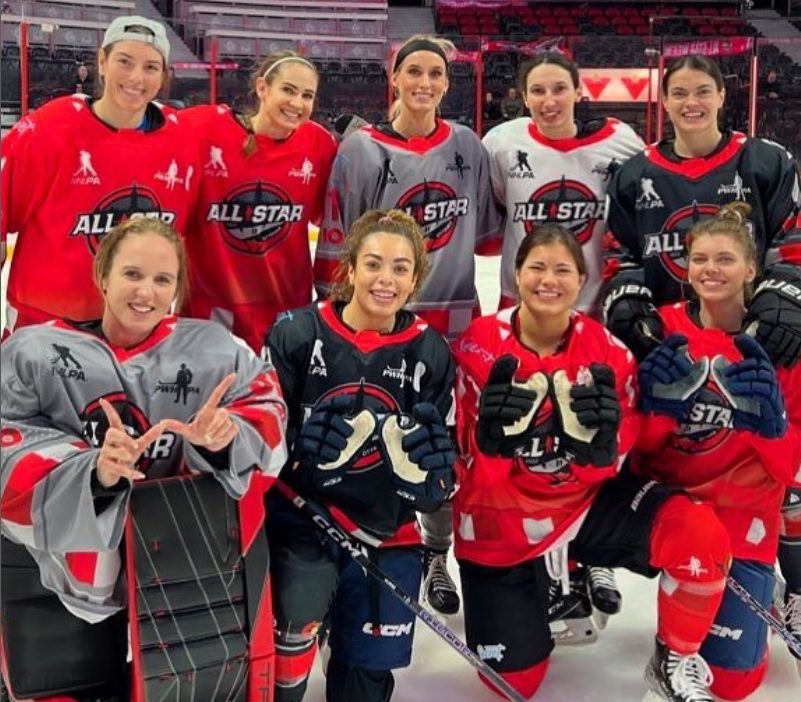 Equally notable, Cogan enjoyed the opportunity to share in the excitement of returning home alongside numerous other players with local ties at All-Star Weekend. Including Jamie Lee Rattray, a member of Canada's gold medal roster at the Beijing Winter Games, other talents raised in the Capital Region included Megan Eady, Erica Howe, Rebecca Leslie and Natasza Tarnowski, also a teammate of Cogan on Team Sonnet.
A few days prior to the opening face-off, a group of PWHPA All-Stars participated in local autograph sessions, adding to the anticipation. Proud to be among the participants, Cogan joined Rattray at the Sport Chek location in Bayshore Mall, interacting with fans and signing photographs, another exciting chapter to their local legacies.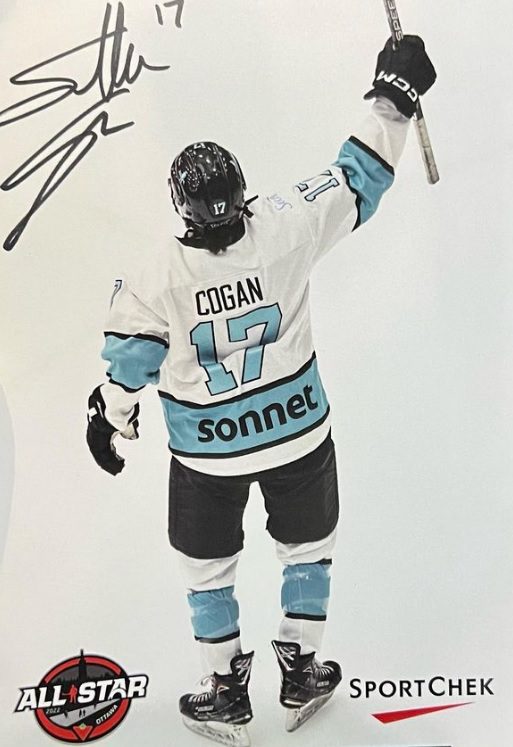 While the fans were likely star struck by meeting Cogan and Rattray, that same feeling overcame Cogan a few days later. Gracing centre ice for the puck drop at Canadian Tire Centre, Billie Jean King, joined by Ilana Kloss, received a standing ovation, the players showing their appreciation by tapping their sticks.
"I think all the girls were inspired by her presence. For me, it really legitimized the event by having such a high caliber professional female athlete participate in the puck drop. She is a such a role model and advocate for advancing female sport."
Garbed in the Team Keller jersey, named after captain Megan Keller, Cogan called fellow Ottawan Rebecca Leslie a teammate. Gracing the frozen perimeter at Kanata's Canadian Tire Centre, with the Ottawa Senators logo on all of the player's socks, the chance to grace NHL ice for the team she grew up cheering provided Cogan with tremendous fulfillment.
With a four team round robin, Team Keller won their first two games. Besting Team Nurse in a 2-1 final, followed by a 3-1 triumph against Team Poulin, a shootout was required versus Team Knight. Second generation player Alexandra Carpenter scored the lone goal in the shootout, allowing Team Keller to win the inaugural PWHPA All-Star Weekend.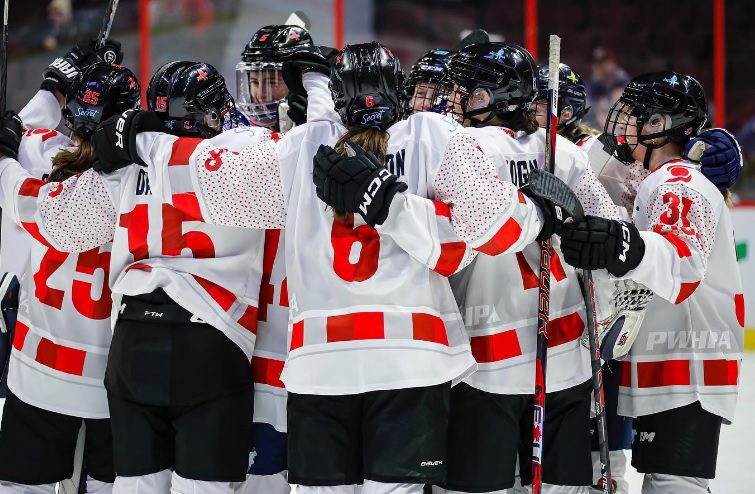 For an elated Cogan, the chance to experience glory on what was truly home ice, represented the exclamation point to her local hockey odyssey. Excited at being part of PWHPA history, with an ebullient gathering of friends and family in the stands, the event also represents the first chapter.
While January sees the Dream Gap Tour make stops in Collingwood and Owen Sound, Ontario, another notable event is circled on Cogan's hockey calendar. Along with Emily Brown, both will earn the exciting thrill of being All-Stars twice in one season. Participating in the ECHL All-Star Classic on January 16 in Norfolk, Virginia, Cogan gains a well deserved opportunity to star on a celebrated stage.
"It was the inaugural all-star event for the Professional Women's Hockey PA. To be part of that history as the winning team for this event is something I will never forget."
"All quotes obtained first hand unless otherwise indicated"
Featured image by Greg Kolz
Related Articles