TOP DIVSION
When Canada's Maddi Wheeler scored in overtime to lift her team to a 3-2 gold medal victory over the United States at the 2019 IIHF U18 Women's World Championship in Japan, Lacey Eden was heartbroken.
"I just remember sitting on the bench and being in tears, not believing that that'd just happened," said the Shattuck-St. Mary's Girls Prep senior from Annapolis, Maryland. "For months after that, I replayed that game in my mind, but I honestly feel like that made me work even harder for this year… There was no way that I was losing two years in a row."
With Eden set to start attending Princeton University next season, she knew that the 2020 tournament in Bratislava, Slovakia would be her final shot at winning U18 gold.
"Even going into the championship game I was like, this is going to be my last U18 game ever, and that just made it even bigger for me. Not to put pressure on myself, but I wanted to do my best and help my team."
The tournament ran from December 26 to January 2, and for the second year in a row, the gold medal game went to overtime. However, this time it was the United States who came out on top, with Penn State University commit Kiara Zanon potting the game winner (making the final score 2-1), and Canada who settled for second.
"The returners and leaders on the team really made it clear to everyone what was necessary to win and the coaches did a great job adjusting from last year as well," said Eden. "I think everything fell into place really well… It was just amazing to come out on top, an unbelievable feeling."
In 2019, the United States beat Canada in the round robin and finished at the top of Group A. This time it was the reverse, with Canada finishing at the top of Group A after the preliminary round; both teams won their games against Finland and Russia, but Canada beat the United States 2-1.
The United States secured their spot in the gold medal game with a 3-0 semifinal win over Russia, while Canada won their semifinal against Finland with a score of 4-1.
Eden's five points (two goals and three assists) were the most on her team, and she was one of just two American players, the other being Abbey Murphy, to score more than one goal.
"I think we did a really good job of spreading out our lines. Each line was pretty much even for the most part, and I think that helped us continue to wear down teams one shift after another… We wanted to work on finishing and just putting [pucks] in the net whenever we could and I think everybody did a good job of working on that."
Russia claimed the bronze with a 6-1 win over Finland and proved throughout the tournament that they can compete with the best, losing just 1-0 to the United States and 3-2 (in overtime) to Canada during round robin play.
Coming in fifth place was Sweden, followed by the Czech Republic and Switzerland. Host Slovakia finished last and will be relegated to the Division I Group A tournament for the 2021 season.
Division I Group A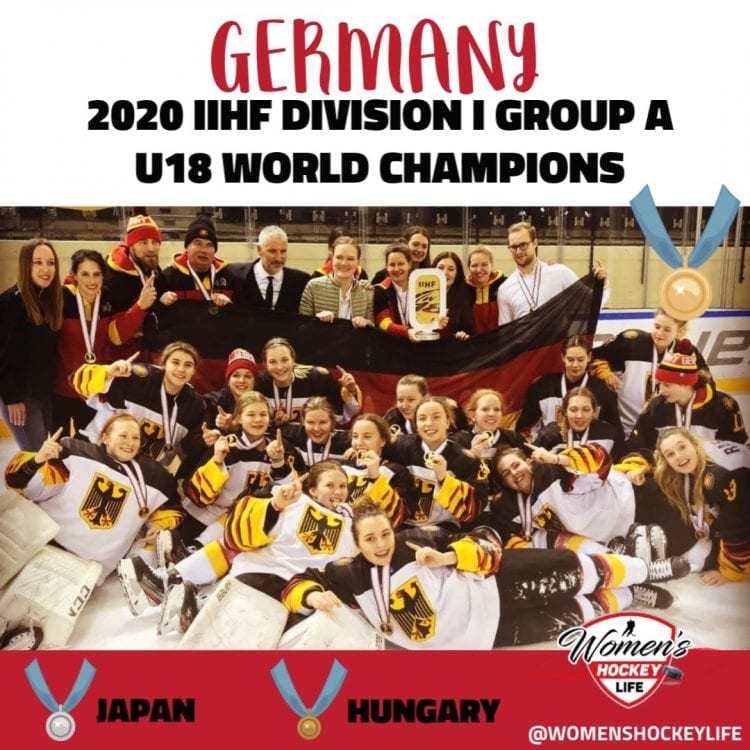 January 3-9, 2020
Fussen, Germany
Germany went undefeated to win gold and earn promotion to the top division. The team had a very similar record to second place Japan; both teams had three shutout wins over Italy, Denmark and France and a 2-1 victory over Hungary, but Germany beat Japan 2-1. Hungary took the bronze medal with France and Italy coming in fourth and fifth. Denmark will be relegated after coming in last.
Division I Group B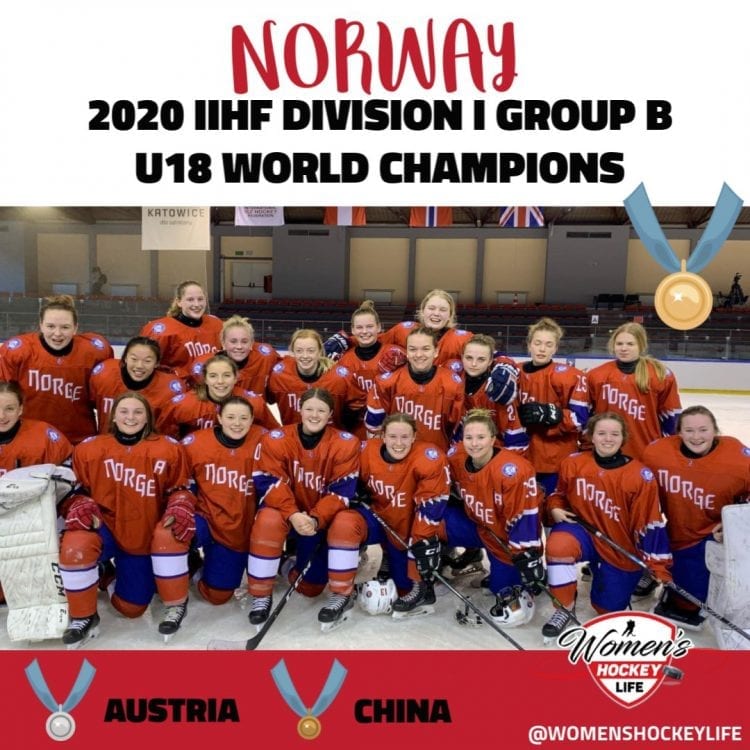 January 2-8, 2020
Katowice, Poland
Despite suffering overtime losses to China and South Korea, Norway finished at the top of the standings and claimed the Division I Group B gold medal with a 2-1 win over second place Austria on the final day of competition. With three shutouts, Austria only allowed three goals against all tournament, and goalie Selma Luggin was honoured with the Top Goaltender Award. China won the bronze, followed in the standings by South Korea, Poland, and Great Britain.
Division II Group A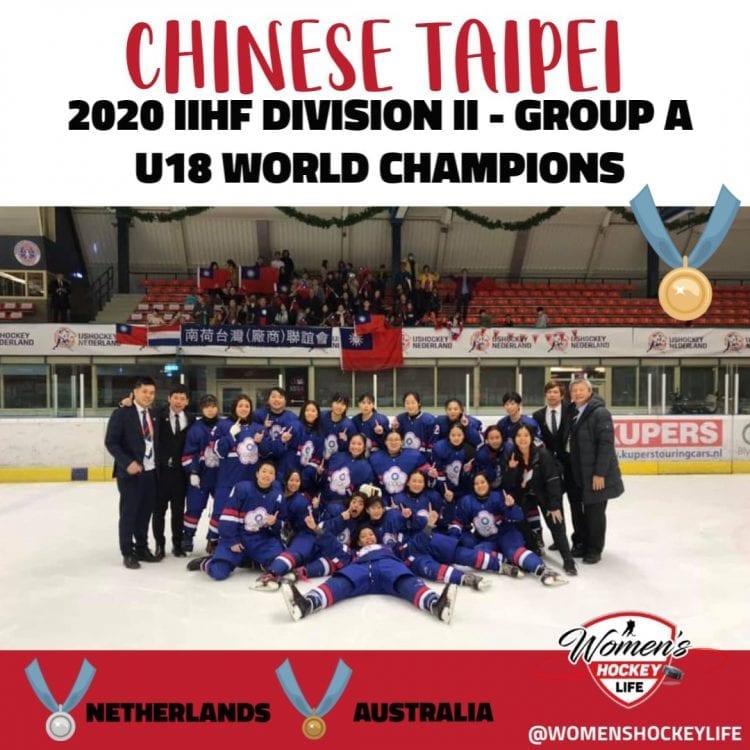 January 25-28, 2020
Eindhoven, Netherlands
Chinese Taipei made history, winning gold and earning the country's first ever promotion to a IIHF Division I tournament in any World Championship program category. The second place Netherlands team also had a strong showing in Eindhoven, with their only loss being a tournament opening 2-1 fall to Chinese Taipei. It was a tight tournament all around, with three out of the four teams battling for gold on the final day. Australia ended up with the bronze, with Kazakhstan coming in last place.
Division II Group B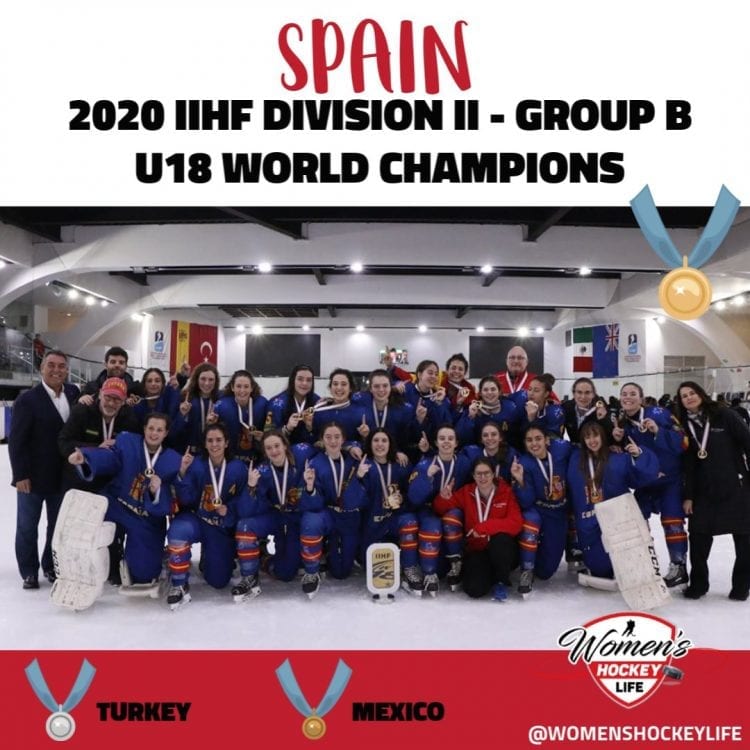 January 28-February 2, 2020
Mexico City, Mexico
This division was a new addition to the IIHF World Championship program (previously there was just one Division I Group B Qualification tournament instead of two Division II tournaments). Spain won the gold medal match with a 7-0 blowout win over Turkey. Mexico won bronze, with New Zealand coming in last. One of the top stories of the tournament however was New Zealand goaltender Lilly Forbes, who faced 234 shots in five games, making a staggering 81 saves in a 6-1 loss to Spain and 67 saves in a later 2-1 overtime loss to Spain.
Feature Image: USA Hockey
Related Articles