As the sporting footprint of Truro, Nova Scotia took on a greater relevance, serving as host city for a stop on the PWHPA Dream Gap Tour, signifying the first female professional hockey event in Atlantic Canada, one of the most inspiring storylines resulted in the continued progression of a highly prodigious goaltender. Raised in Kitimat, British Columbia, Kelsey Roberts is among a growing number of star players hailing from the Pacific province.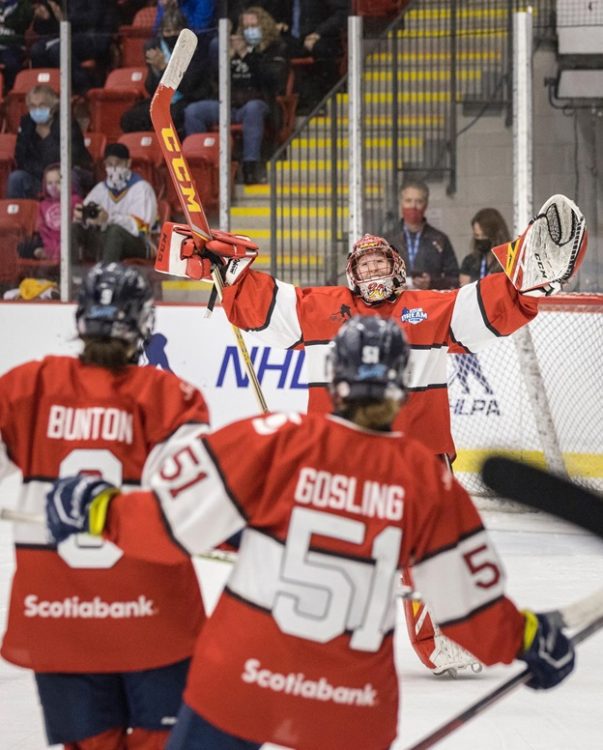 Standing between the pipes for Calgary's Team Scotiabank, Roberts has already established herself as one of the city's hockey stars. Enjoying four stellar seasons with the University of Calgary Dinos, she recorded an impressive 93 appearances, her final season highlighted by a superlative 1.33 Goals against Average and a .948 save percentage. 
Capturing the 2020 Canada West Player of the Year Award, it was the exclamation mark to a magical season. Enjoying the opportunity of playing in front of more than 10,000 fans on NHL ice at the Scotiabank Saddledome, recording 20 saves, as the Dinos defeated the Mount Royal Cougars 4-1 in an installment of the Crowchild Classic. Fittingly, said season ended with Roberts earning the Dinos Female Athlete of the Year Award. 
Making her PWHPA debut in Truro, the milestone went beyond personal achievement for Roberts. Proud to be among a generation of accomplished stars whose skills have shone in USports play, home to Canadian university hockey. Hoping that the league continues to produce elite professional talent, her achievements represent the potential for other Canadian university skaters to realize their pro dreams. 
"Being an athlete coming from USports is exciting playing in the PWHPA. I get to face girls who have played in many different leagues at many different levels. It is exciting to see more players coming from USports, playing at the highest level. 
This shows the level of hockey that USports has developed. It is important for younger athletes to see (it) as a competitive, high level of hockey that can lead to great opportunities."
Appearing in the championship game versus Montreal-based Team Harvey's, Roberts played with the poise and grace of a veteran, the event definitely providing a treasured milestone. With Marie-Soleil Deschenes guarding the Team Harvey's crease, it was a game defined by a new generation of gregarious goaltenders. 
Considering that the score stood at 1-1 after regulation, the quality of goaltending certainly stood as a key theme. Providing the type of epic performance that provided Team Scotiabank with an opportunity to prevail, Roberts shone in the shootout round, denying Ann-Sophie Bettez and Tracey-Ann Lavigne.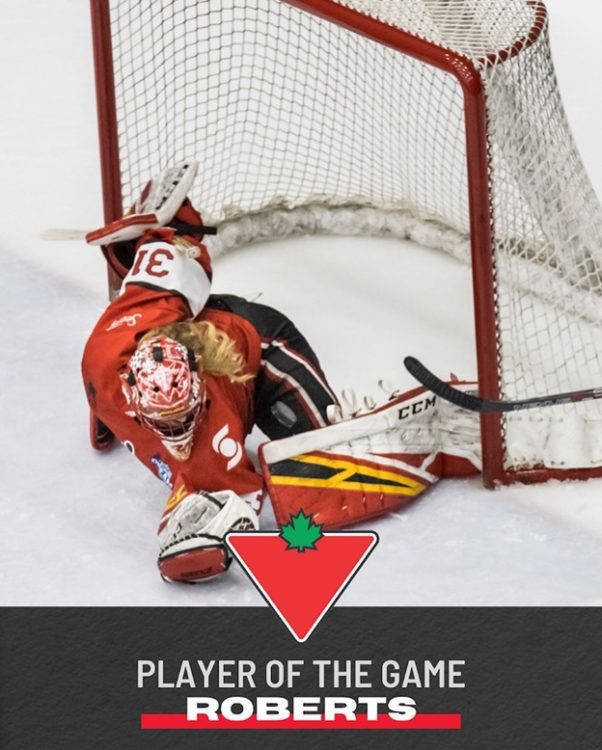 With Sarah Potomak scoring in the shootout, coincidentally, she also recorded the game-winner in the preliminary round versus Team Minnesota; it provided Roberts with the milestone of her first professional victory. Bestowed Player of the Game honours, she gracefully displayed humility and admiration for her teammates, quick to recognize that a team effort attributed towards her victorious achievement. 
"Heading into the shootout I was just feeding off of the crowds energy and had lots of excitement, mixed with a few nerves of course. It was so much fun to play and just went out there and had a good time. Sarah scored an amazing goal and we were able to pull off the win, which made it even better. 
Getting Player of the Game was a huge honour, I felt like there were so many players who deserved it. Like I said it was an amazing showcase of hockey on both sides which is what it's all about and I am so glad to get to be a part of that." 
With the potential for even greater days as a professional, victory in Truro provides a jubilant Roberts with an exciting start. Such an epic performance, the sense of achievement and pride that constitutes her milestone only composes part of her reflections. Discussing the essence of collaboration, generating momentum for further stops on the Dream Gap Tour, she ponders the future with a focus on the fan experience, maintaining a high quality of play while feeding off the high energy fans bring to the rink. 
"Winning the showcase in Truro as my first game in the PWHPA was an amazing feeling. Both teams put on an amazing game for the crowd and the crowd made it so much fun to play. Winning the first Showcase was a great start for our team and we are excited to build off of that coming up in Toronto and keep showing off some amazing hockey."
"All quotes obtained first hand unless otherwise indicated"
Related Articles