Currently in her third season in the capacity of head coach for the U16 Prep Girls team at Stanstead College, Courtney Tougas brings an acumen and enthusiasm motivated towards continued improvement. Out of necessity came a fascinating concept. Creating the innovative Celly App, launching September 2nd, a platform geared towards improved communication, removing previous obstacles in the recruitment process, Tougas also hopes to increase revenue towards the important cause of sporting equality.
"Celly started as an idea when I would go recruiting at events. Sometimes there would be players that you would be really interested in but there was no way to contact them after the event, unless you asked some of the college coaches at the same event for the contact list. I always thought there has to be a better way or a professional platform that can be used to directly contact players to give them as many opportunities as possible in their athletic career."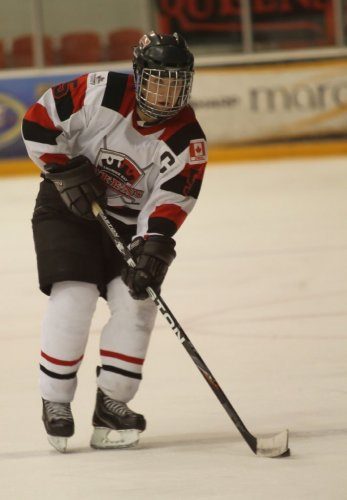 Raised in Thunder Bay, Ontario, Tougas belonged to a generation of superlative hockey talent. A member of the Thunder Bay Queens that gained the gold medal at the 2010 Esso Cup, which saw younger sister Kaitlyn capture the Tournament MVP Award. The following year, her last in junior hockey, Tougas earned the MVP Award at the OWHA Provincials, emerging with a silver medal. Fittingly, both sisters played University hockey. While Kaitlyn skated for Bemidji State in the WCHA conference, Courtney joined the dynastic University of Toronto Varsity Blues.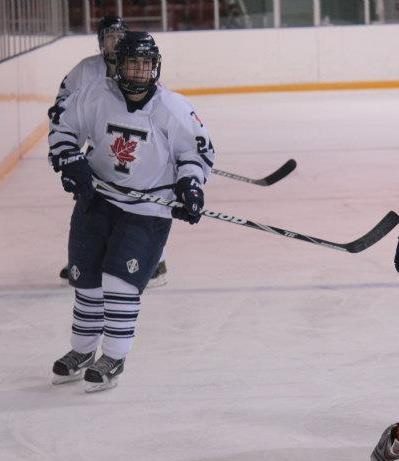 Finding a remarkable group of role models while wearing the Varsity Blues colors, the coaches that Tougas played for read like a who's who of women's ice hockey. From head coach Vicky Sunohara, to an impressive staff featuring future Hockey Hall of Fame inductee Jayna Hefford, US Olympian Kathleen Kauth and Clarkson Cup champion Britni Smith, such a group encouraged Tougas to pursue her hockey dream.
Remaining in the game as a coach, Tougas possesses a solid hockey resume. Her coaching journey involved a pair of seasons as bench boss for the Female Prep team at the Okanagan Hockey Academy in Penticton, BC. Prior to Okanagan, she spent one season on the other side of the country, at the Ontario Hockey Academy in Cornwall.
As the pandemic halted many facets of the sporting realm, such an unfortunate setback spurred Tougas to bring concept into reality. Realizing that the tech sector remained immune to the economic setbacks suffered from pandemic woes, some tech companies enjoying unprecedented growth, Tougas looked at the potential for technology to accelerate growth in women's ice hockey.
"Coming out of the pandemic, the idea grew from just a platform for coaches and athletes to connect, to a platform for the entire sports community to connect. Also, to help provide revenue for pro women's sports leagues to ensure that whatever hurdle is next, we do not have to take a step back.
With the pandemic and the shutdown of sports, sports teams and athletes really took the grunt of it with league shutdowns, no fans, major restrictions and major funding cuts. Yet, during the pandemic, one industry continued to soar; the tech industry. We saw tons of tech companies take off or be completely unphased by the pandemic situation.
So that is the purpose of Celly. It is a platform for everyone from athletes, to coaches, to scouts, to analyst, to fans and parents. It is the backbone of sports to help create revenue for pro womens sports. If Jeff Bezos and Elon Musk can power space companies and bring people to space through tech companies, then why can't we power sports through a tech company?"
Helping give aspiring athletes and rising stars the opportunity to positively shape their future, the Celly App aspires to stand out based on its purpose. In a time when some apps generate massive amounts of revenue, the raison d'etre for Tougas' efforts is geared towards financial opportunity for women in sport.
Equally focused towards a foundation established on community, faithful to growing the app via the grass roots level, a feeling of positive promotion reigns. Allowing for the creation of team chats, a custom profile, plus a virtual trophy case, a unique way to track and celebrate accomplishments, other features encompass the experience. From which athletes or teams are trending, along with news highlights, perhaps the most unique feature is the notification tool, allowing athletes to know who is viewing their profile.
"To make Celly stand out, we think our story is pretty unique. We see these other major social media platforms who generate billions of dollars who do not make our world a better place. If anything, you can argue that these platforms have been a detriment to our society. Therefore, that is where Celly ultimately stands out. Some of our best features is that users receive instant notifications if someone is looking at their profile. We thought this was an important feature as an athlete to see which coaches and teams are looking at you. Users can also post and track all of their achievements and ultimately be in charge of their own profiles.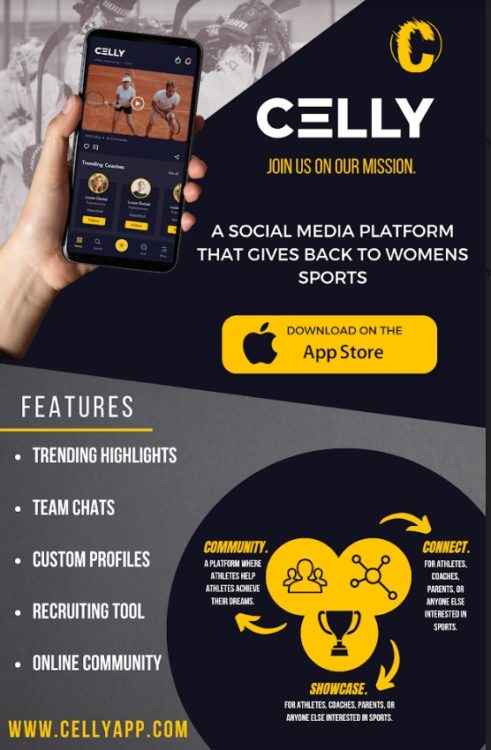 Coaches and staff looking to find athletes are able to filter search and click exactly what they are looking for to find athletes in that criteria (ex. a left winger, shoots left, born in 2000). Our best feature is that it allows for everyone in sports in connect on one platform. Right now, we are focused on hockey but hope to expand to other sports soon."
Redirecting advertising and service revenue, with the goal of closing the gap in terms of income disparity, Tougas dreams of a golden age for professional women's ice hockey. At a time when women in sport enjoy an unprecedented influence in the cultural conversation, the achievements of hockey luminaries such as Marie-Philip Poulin and Kendall Coyne a source of fascination for fans of all ages and backgrounds, the next obstacle to overcome is a living wage. Hoping to contribute towards a better, and more equitable, future, the efforts of Tougas demonstrate how the women of hockey are poised to positively shape their destiny.
"We hope that our best achievement will be to provide hundreds of millions of dollars for women's pro sports. Hoping to help leagues be able to offer women's athletes with multi million dollar contracts."
"All quotes obtained first hand unless otherwise indicated"
In this article:
#CellyApp
,
#coaching
,
#HockeyApp
,
#MVP
,
#OWHA
,
#UniversityHockey
,
#WCHA
,
#WomenInSport
,
#Womenshockey
,
grow the game
,
Hockey
Related Articles