Ten of the world's top teams have converged upon Calgary, Alberta, to participate in the IIHF Women's World Hockey Championships, set to begin August 20. For the world's top female players, this is a time to showcase their immense talent and battle through blood, sweat, and perhaps a few tears for the coveted first place.
Initially slated for May 2020 in Nova Scotia, the games were postponed due to the intensifying pandemic. Later rescheduled for May 2021, the tournament suffered another crushing blow when, mere days away from the arrival of competing teams, the championship was abruptly cancelled for a second time. Of course, no one can argue that keeping up with the tides of the pandemic has been challenging, and numerous events have been shelved on the fly. But the contentious issue with the May cancellation stems mainly from the fact that men's professional leagues, some directly impacted by COVID-19 and the men's IIHF U18 division, were able to carry on unimpeded during the same time. And that is a hard pill for many to swallow.
Ultimately, this all speaks to a much deeper issue. The women's game is still so often held to second-class status and, like many other women's athletics, battles fiercely to achieve equal footing to male counterparts. At this stage in the game, this is a struggle that should be long behind us.
A Brief Herstory
What few realize is that women's hockey is not a new phenomenon. On the contrary, there is a rich history spanning well over a century. The first organized women's games took place in Ottawa, Ontario, in 1891 and Barrie, Ontario, in 1892. Before that, Lord and Lady Stanley created a rink on the grounds of Rideau Hall, where they, along with their children, would pass the time playing hockey. The earliest documented image of women playing depicts Lady Isobel Stanley, daughter of Lord Stanley, in 1890.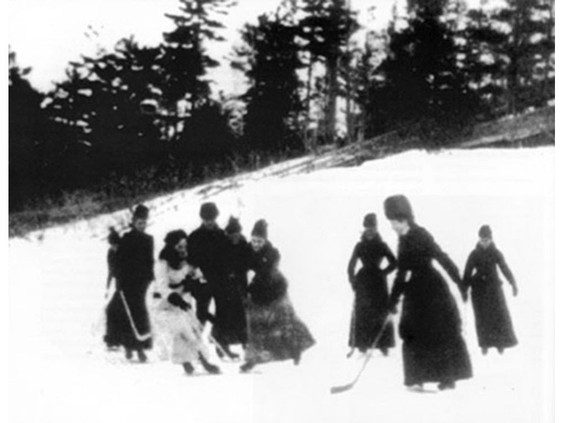 Soon after, women's hockey would experience growth in the college system with teams organized by 1894 at Queen's University, followed by McGill University and the University of Toronto.
Teams continued to spring up all over Canada, and by the early 1900s, the women's game was in full bloom from east to west and north into the Yukon. That growth would continue well into the 1930s, with women travelling to compete in tournaments and enjoying something the women's teams of today still struggle to obtain – packed arenas and coverage in the media.
A most notable team would emerge from that period – the renowned Preston Rivulettes. They dominated the game from 1930 – 1939, winning all but two of their 350 games played. There hasn't been a team since, women's or men's, that has been able to best their record.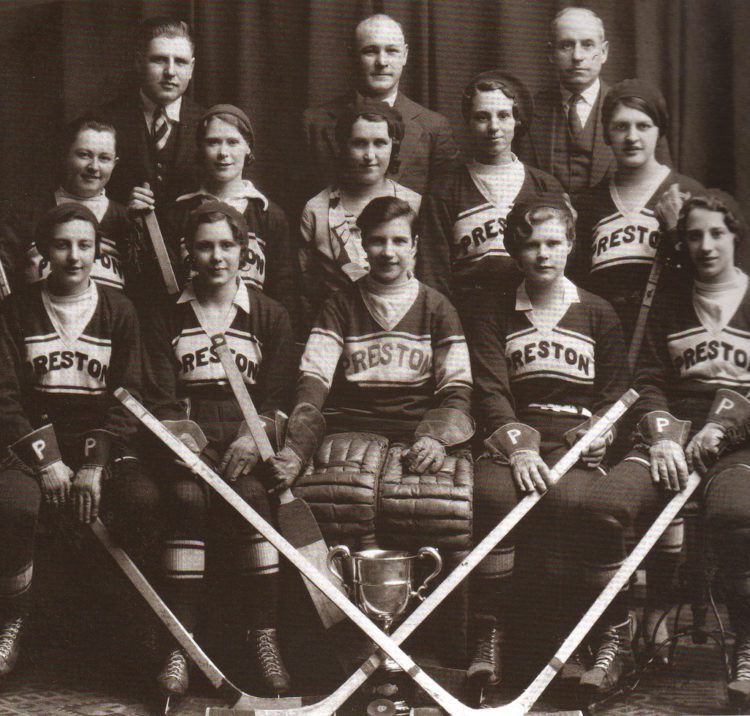 Sadly, the rise of women's hockey came to an end with the onset of World War II. By the time the war was over, the focus of hockey had shifted to men. As a result, there was a significant lull in the women's game, and there wouldn't be a resurgence until the 1960s. It is around this same time that Rhonda Leeman Taylor became involved in the game. She recently released OFFSIDE: A Memoir, chronicling her experiences in hockey from the late sixties to the eighties, from player to administrator to coach. She speaks candidly about her rise through the ranks to become "the first woman on Hockey Canada's Board of Directors"1 and the discrimination that she would face throughout her hockey career.
In her memoir she states, "I'm not telling my story because it is unique…I know there are thousands of other women out there who have faced and overcome challenges similar to my own."2
In 1990, the first IIHF Women's World Hockey Championship took place in Ottawa. In his 1994 book Proud Past, Bright Future, author Brian McFarlane states that after the World Championships in 1990, "women players began to emerge from the shadow of their male counterparts. That's when they received the recognition, admiration, acceptance, and attention they so richly deserved."3 And by 1998, women's hockey would finally take its rightful place on the Olympic stage (men's hockey was added in 1924).
The CWHL and NWHL
Before the Canadian Women's Hockey League (CWHL) and the National Women's Hockey League (NWHL), the original National Women's Hockey League ran from 1999 – 2007. This is where greats including Jayna Hefford, Cassie Campbell-Pascall, Angela James, Jennifer Botterill, Vicky Sunohara, Sami Jo Small, and Frances St. Louis demonstrated their hockey prowess.
When the league dissolved in 2007, a group of players, including Sami Jo Small, set forth to create the CWHL. The league lasted 12 years, with expansions into western Canada, the USA, and China.
In 2015, another contender entered the ring, the NWHL was established in the United States. Its promise was enticing and one many longed to hear – it positioned itself as the first professional women's hockey league to pay their players. As of the 2020/2021 season, the top salary is $15,000 USD. Though its beginning was not without issues and controversies, the NWHL remains today and recently expanded into Toronto and announced a new commissioner, Tyler Tumminia.
Demise of the CWHL
The women's hockey world was rocked when in April 2019, news of the abrupt collapse of the CWHL spread quickly. Suddenly, a league that had been struggling for years to get any media coverage was garnering a whole lot of attention. One can't help but wonder why it had taken this for the broadcasters to finally shine such a glaring light on the CWHL.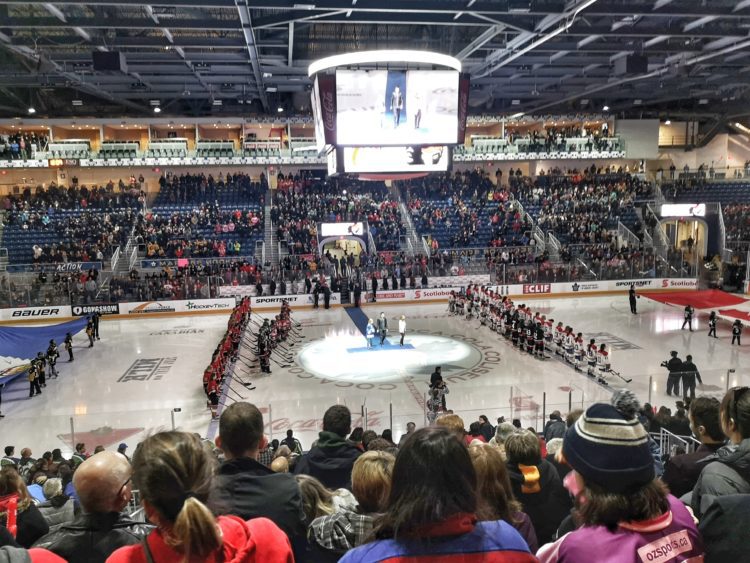 The naysayers were quick to deride the women – 'There's no money in women's hockey,' 'No one wants to watch women's hockey,' and 'The top women players are at best equivalent to boy's high school hockey.' These sentiments, while wholly antiquated, are still rampant and itching to bubble to the surface.
Once again, the women's game suffered a tremendous loss., but the players would not rest on their laurels for too long.
Birth of the PWHPA
The demise of the CWHL spurred a movement to push for equity in the sport. Within no time, #growthegame was trending on social media, and by May 20, 2019, the Professional Women's Hockey Player Association (PWHPA) was formed. Its mission is "to promote, advance, and support a single, viable professional women's ice hockey league in North America."4
One of its most significant initiatives to date is the Secret Dream Gap Tour, a showcase series intended to drive visibility and highlight the gap in playing opportunities. This year, the PWHPA made history as the first professional women's organization to play at Madison Square Garden.
After a short stint as the interim commissioner of the CWHL, Jayna Hefford would again reprise a leading role in the women's game – PWHPA Operations Consultant.
"I lead the day-to-day operations of the PWHPA," Hefford stated. "I work for the players to continue to provide training opportunities and drive awareness to our mission of creating a professional women's hockey league."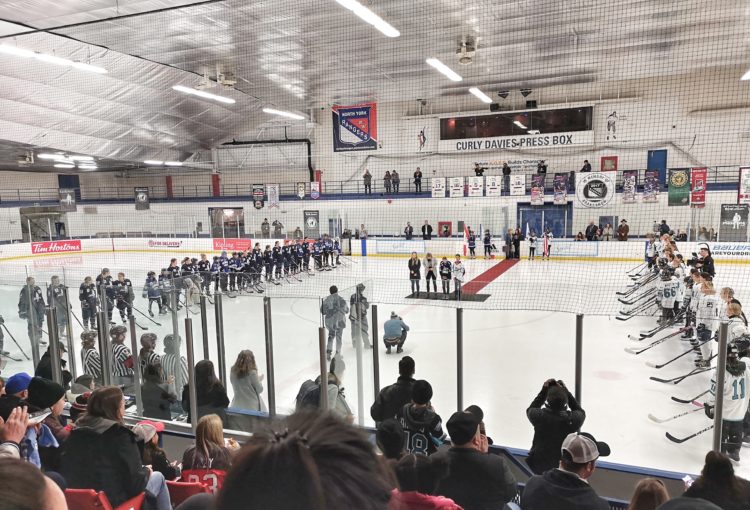 Growing the Game
Jayna's vision for the future of women's hockey is, "a professional league that not only allows players to be financially supported and make hockey their full-time job but a league that also provides an environment that optimizes performance for the athletes…I think we are closer than we have ever been."
But all of this takes significant investment, to which she states, "The sport and its players have proved their viability; we now need the investment to build the infrastructure and help the game grow. We have seen the recent successes of other professional women's sports leagues, and there are so many people that want to see a professional league where women can be hockey players first."
Dr. Courtney Szto, Ph.D., echoes that sentiment, saying, "The simplest answer is that we need to see women as worthy of investment and risk. Investors are willing to lose money on men's sports because it comes with prestige and cultural capital. Women's sports don't have that cultural cache; therefore, we treat it like a poor business decision or a social cause. We need some significant media contracts to make the game and its personalities visible."
So how can we continue to grow the game?
"Investment and visibility are key for the elite levels, but we also need to think beyond getting little girls involved in hockey for its sustainability," Dr. Szto stated. "We need a variety of adult opportunities to expand the market as a whole."
Currently, women's hockey registrations are outpacing men's in both Canada and the USA, but limited programs and lack of ice remain significant barriers to participation.
According to Dr. Szto, author of Changing on the Fly: Hockey Through the Voices of South Asian Canadians and co-author of Growing the Game, representation and inclusion are also vital to growing the game.
"Diversifying the game will certainly help, but we also need to expand our understanding of what we need to diversify [… ] Adding diversity to the participation levels doesn't mean that the power structures themselves will change, so we also need to diversify the front and back offices in order to see real change. There is a misconception that diversity on the playing field filters up the administrative chain, but this does not happen "naturally." It only happens with intention."
At the end of his book, Brian McFarlane says of the anticipated 1998 Olympics, "The competitors will provide a high degree of entertainment and reap an equal amount of respect."5 He was right. These women, these hockey players, most assuredly do entertain. It's 2021, so let's hope that respect and recognition are forthcoming and soon.
Feature Image Source: The Quad City News
REFERENCES
Leeman Taylor, Rhonda, and Denbeigh Whitmarsh, Offside: A Memoir (Ontario: Rhonda Leeman Taylor, 2019), 13.
Leeman Taylor, Rhonda, and Denbeigh Whitmarsh, Offside: A Memoir (Ontario: Rhonda Leeman Taylor, 2019), 14.
McFarlane, Brian, Proud Past, Bright Future: One Hundred Years of Canadian Women's Hockey (Toronto: Stoddart Publishing Co., 1994), 1.
Professional Women's Hockey Player Association. Our Mission. https://pwhpa.com/.
McFarlane, Brian, Proud Past, Bright Future: One Hundred Years of Canadian Women's Hockey (Toronto: Stoddart Publishing Co., 1994), 202.
Related Articles