Having appeared for Czechia at the 2021 IIHF Women's Worlds, followed by the 2022 Beijing Winter Olympics, Lenka Serdar's career has evolved by a quantum leap. Fittingly, she would play a key part in helping Czechia reach the Olympic women's ice hockey tournament for the first time.
In the Group C qualifying tournament, held in Chomutov, Czechia, the hosts were part of a field of four nations including Hungary, Norway, Poland. A double-digit win versus Poland resulted in Serdar recording a three-point performance. Highlighted by a power play goal in the second period, she also logged assists on goals by Dominika Lásková and Sara Čajanová
Coincidentally, Lásková and Čajanová would play a part in one of Czechia's most important goals, scored by Serdar. In Czechia's final game of the qualifying tournament, Serdar contributed the game-winning goal in a 5-1 final versus Hungary. Scoring on Aniko Nemeth, the goal not only secured an undefeated mark for host Czechia, but a date with history, anticipating its first appearance in women's ice hockey at the Winter Games.
Born in Lexington, Massachusetts, family and heritage are just as relevant as hockey for Serdar, who holds dual citizenship. Her parents, Alenka and Luka, were both immigrants from Czechia, raising their family in America. Supportive of their daughter's hockey dream, Serdar was a multi-sport athlete in high school, also excelling in soccer and lacrosse.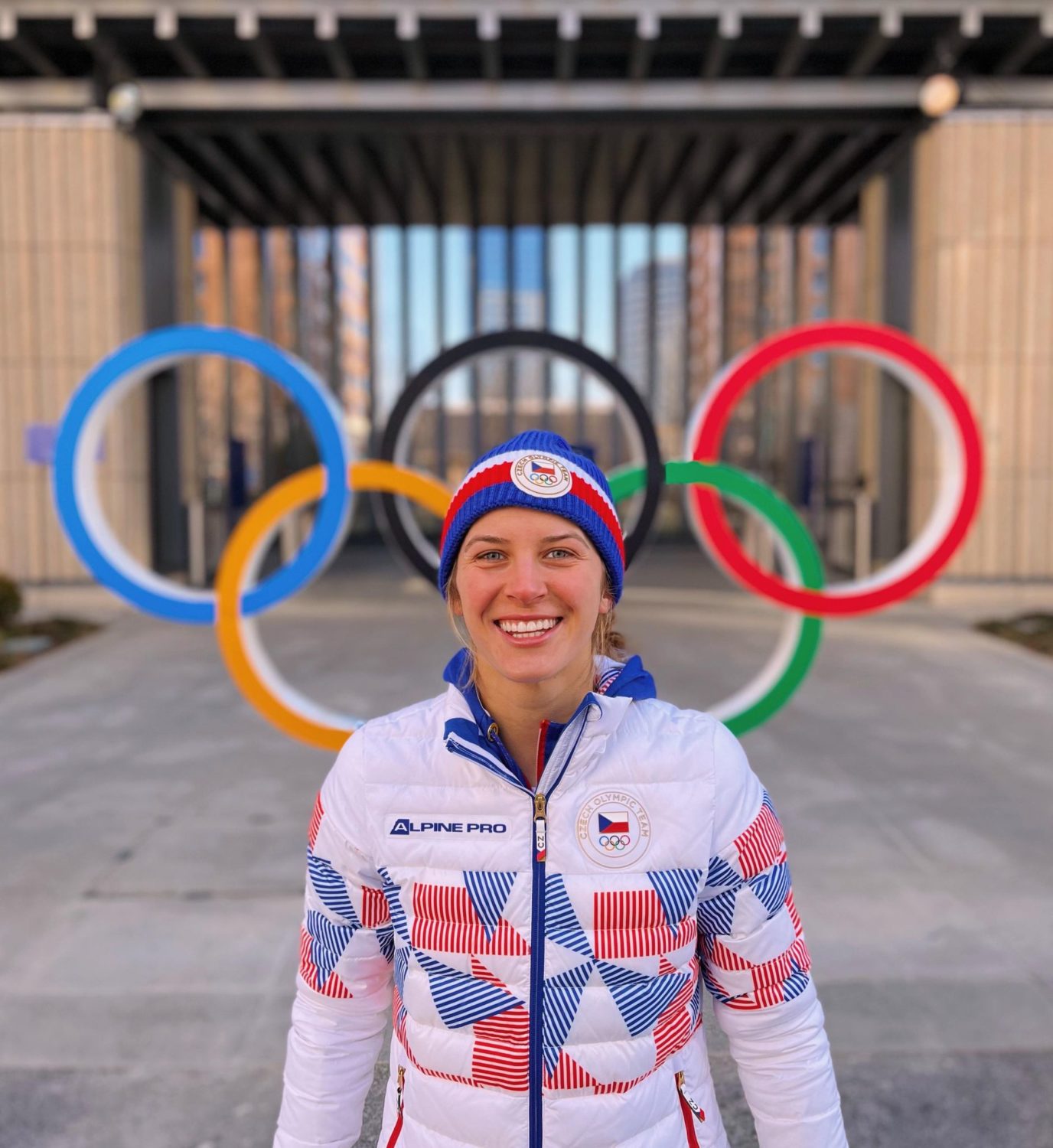 Having played for Cornell University, a school with a rich tradition of its female hockey players competing in international play, Serdar added to this legacy. Worth noting, she was among six Cornell alumnae competing at the 2022 Beijing Winter Olympic Games. Undeniably, the opportunity to compete for Czechia on the world's biggest stage involved an esteemed opportunity to honor her heritage,
"It was the greatest honor to represent Czechia at the Olympics. I am so proud of my Czech heritage so to compete alongside some of the best Czech athletes, plus world-class athletes from all over the globe, was very humbling. I am so lucky to have a loving support network, especially my family from Czech and America, and I hope I made them all proud!"
After graduating from Cornell in 2019, where her sister Petra also attended, the path towards Beijing involved crossing the Atlantic to begin her professional career. Quickly blossoming into a highly skilled offensive contributor, Serdar excelled with ECDC Memmingen in Germany's Frauen-Bundesliga. Finishing as the leading scorer with 49 points in 21 games played during the 2019-20 season, it marked a pivotal progression.
Splitting the 2020-21 season between two leagues, the experience proved beneficial. Skating for Czechia's HC Příbram club, two of her teammates would play alongside her in Beijing. Aneta Ledlova and Katerina Bukolska also wore the HC Příbram jersey as Serdar's offensive skills shone. Amassing 18 points in only four games played, she finished her season with TPS in Finland's Naisten Liiga. Recording six points in five regular season games, Serdar also appeared in a pair of playoff games.
Currently calling Linkoping HC of Sweden's SDHL as her club team, there was a tinge of coincidence. Sweden comprised one of the five nations competing in Group B play at the 2022 Beijing Winter Games. Of note, the Linkoping roster featured Swedish Olympians Jessica Adolfsson and Linnea Johansson. Other notable players on the roster included Austrian national team standout Andrea Dalen, former Ohio State star Olivia Zafuto and goaltender Stephanie Neatby, who stood between the pipes for Princeton, one of Cornell's rivals in the Ivy League.
As the first game in Group B involved Czechia facing off against host China, it launched the Olympic tournament in historic fashion. Marking the Olympic women's ice hockey debut for Czechia, it propelled Serdar into a pivotal chapter of the nation's sporting narrative. Prevailing by a 3-1 mark, as Tereza Radova recorded her homeland's first Olympic goal, Serdar enjoyed 14 shifts, totalling 10:52 of ice time.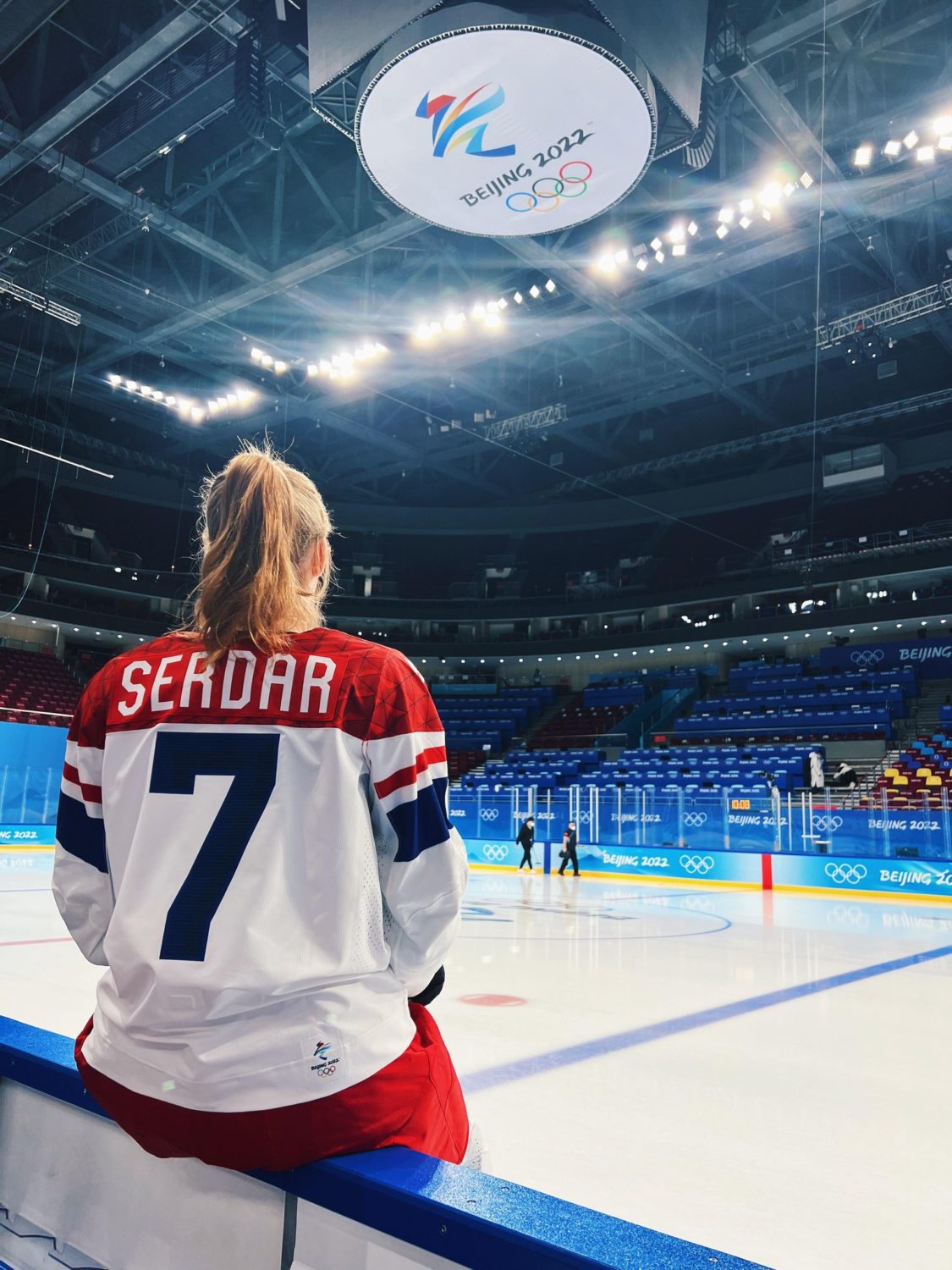 "I will never forget steeping on the ice for the ice time in the game versus China. I have chills just thinking about it. So much adrenaline and excitement. I thought to myself I am ready for this. I have worked my entire life to be here and now I can just play, knowing I am prepared to preform. I definitely had an extra jump in my stride."
Finishing second in Group B, Czechia earned a spot in the quarterfinals, adding sheen to their Olympic debut. Seeded seventh, the opposition provided plenty of emotion for Serdar.
Opposing the defending gold medalist United States, it marked the first match between the two. Gracing the ice for 11 shifts in an epic on-ice battle which saw Czechia grab the first lead of the game, Klara Peslarova established herself as one of the best backstops in Beijing. Part of a valiant effort in a 4-1 loss, a unique feeling of both, homecoming and achievement, filled Serdar's heart.
"Being honest, I felt a little strange at first when I found out we would be playing against Team USA in the quarterfinals. We had not played against them before. I felt so many different emotions. But that feeling quickly turned into pure excitement. Being a dual citizen who was born and raised in the Boston area, I knew many of the players on the American roster.
Many of my Czech teammates have also played several years in the US. We were motivated to show the world we can compete with the Americans, one of the best teams in the world. And I think we showed just that. We really believed in ourselves and played a fantastic game against the US."
With a tremendous feeling of momentum emanating from the milestones achieced in Beijing, the exhilaration of on-ice competition comprised only part of the experience. Reflecting on two tremendous weeks spent among the world's finest athletes, elements such as camaraderie, admiration and celebration allowed for an event that delivered on all accounts.
From the enjoyment of the Opening Ceremonies to residence in the Athletes Village, just as essential in cultivating a lifetime of memories involved the strengthening of friendships with her teammates.
"The entire Olympic experience was very special and I will remember it for the rest of my life. The opening ceremonies, the village, competing alongside my Czech teammates, and meeting and watching other athletes compete. I think I will probably remember the most little moments spent with my teammates having fun. At the end of the day, that's what it's all about."
"All quotes obtained first hand unless otherwise indicated"
Related Articles