I never envisioned myself as a coach.
Coaching didn't even cross my radar until the end of my final year of U18/Midget hockey, when my coach asked if I would be interested in returning to the team the following season and joining her on the bench. I've been a coach ever since.
As I've gained experience and developed my own coaching philosophy, I've become very curious about the realities of other female coaches. I'm personally familiar with the experiences of women at the minor hockey level, but what about those in competitive and high performance situations?
Over the last few weeks, I have had the privilege of speaking with a number of NCAA Division III women's hockey head coaches, and was surprised and intrigued to discover that not only were there extremely common themes woven throughout each of my discussions, but that these themes resonated strongly with myself and my own experiences.
Regardless of skill level, I think there is a lot that we can learn from these women in regards to opening doors for female coaches. Here are three key messages I picked up on from my conversations.
Coaches need to reach out to and encourage women who they think have the potential to coach.
The stories of how Michelle McAteer, Taylor Wasylk and Gina Kearns McLaughlin got into coaching are similar to my own in that they never considered it as an option—that is, not until someone asked them if they would be interested in it.
McAteer had just finished her career as a forward with the University of Minnesota-Duluth when her coach, Shannon Miller, asked if she would consider returning the following year in a graduate assistant coaching position. That role led her to assistant coach jobs with Harvard and the University of Minnesota-Duluth as well as in the CWHL. This season marked her tenth year in her current role as head coach at Augsburg University.
Wasylk was similarly approached after graduation by her Boston College coach, Courtney Kennedy, who asked if she would be interested in an assistant coach position with Division III school UMass-Boston.
"It was unexpected. It kind of fell into my lap to be completely upfront," said Wasylk. "I'd never thought about coaching before. I did skills camps just for money growing up in high school and college, but I had never seriously considered it." Wasylk has now been coaching at Division III schools since 2014, and just finished her second season as Suffolk University's head coach.
Shortly after McLaughlin graduated, she was contacted by a Neumann University coach about joining them as a volunteer assistant. After two seasons in that position, the Penn State University head coach reached out to her, and she joined their Division I team. She has now just completed her sixth season as Neumann University's head coach.
What is incredibly encouraging is that these coaches are now taking it upon themselves to do what other coaches did for them, to reach out to players who they believe could be great behind the bench.
"I think we have to be really intentional about recognizing when people have the ability to coach," said McAteer. "I look back at my own experience, and I didn't think about it until someone asked me, and I think a lot of women would say the same thing, that it took someone saying, 'You'd be a good coach, have you thought about this?' to get them to really even consider that."
McAteer strives to actively encourage players who have a good grasp of the game, a passion for sport, and strong leadership and communication skills to consider coaching, whether that be as a full-time career or on a contract or volunteer basis.
"I want to give that opportunity to other women who want it, just like my assistants who graduated and said, 'Coach, I want to get into coaching'," said McLaughlin. Her assistant coaches, Lauren Cusack and Julia Fair, both used to play for McLaughlin at Neumann University. "I think it's really just about women giving other women opportunities to learn and grow underneath them or alongside them."
Female coaches of women's teams are often able to closely relate to their players because they share similar experiences from throughout their hockey careers.
Samantha Fallon and her assistant coaches, Samantha Walther and Shannon Strawinski, all share something in common with their athletes at Nichols College: all of them played at NCAA Division III schools.
"[This] gave our coaching staff a unique perspective, and allowed us to have a good insight to what these young women go through while balancing academics, athletics and a social life on a daily basis," said Fallon, who played for UMass-Boston.
McAteer, McLaughlin and Wasylk also have all-female coaching staffs made up of women who have played either Division I or Division III hockey.
"I think that's important, because we've been there and understand what the players are going through and understand what we're asking them to do," said McAteer. Her three assistants all played Division I hockey: Ashley Holmes at the University of North Dakota, Maggie Meyer at Minnesota State University, and Sanya Sandahl at Cornell University.
"Women coaching women is so important, especially at the college level," said McLaughlin. "There's so many aspects to life that are bigger than the game that we sometimes forget about. They're away from home, they're dealing with academics, the financial burden of colleges or universities, there's all these stresses. Not that a male coach couldn't deal with it … but a male coach sat in different seats, they've had different sorts of tasks in the hockey world sometimes than we do as females."
Wasylk and her assistants, Bridget O'Brien (who played for University of Southern Maine) and Tess Adams (who played for SUNY-Canton and Suffolk), understand that options for playing at a high level after graduation are slim and that players don't necessarily use experience at a Division III school as a step-stool for getting to professional leagues. "So we kind of put everything we have into their four years and giving them the best experience on the ice, in the classroom, in Boston."
These coaches recognize that their own experiences playing NCAA hockey were about more than just sport, and so they take advantage of this opportunity to help their athletes develop as people and as leaders.
"Having female leaders is really important and we take that really seriously," said McAteer. "We want to model good, positive, strong female leadership, teaching them that it's okay to be assertive, teaching them to communicate directly, giving them an opportunity to receive and to give input. We want them to be successful after hockey and so having women who can model that behaviour is I think a big benefit."
The most rewarding part of coaching is the relationships formed between athletes and coaches.
When I asked each of these coaches what they love so much about their jobs, they all said the same thing—the people.
"It's always about relationships, that's what you remember the most as a player is your relationships with your teammates, your relationships with your coaches," said McAteer, who spoke at length about how her team is like a family.
"It's 100% the kids," said Wasylk, who also gushed over the excitement that comes with landing key recruits and winning big games—Suffolk's women's hockey program is in just its second year of existence, and the team made it to the NEHC finals this past season.
"It's the players stopping by the office to talk about their day, tell us their plans for their academics or simply stop to say hi or share a joke that really makes it all worth it," said Fallon. "Every team, every player and every coach wants to win. That's the goal, that's why we got into sports. But it's everything else going around to produce those wins that make being a coach special."
They all also explained to me about how it's the relationships that persist after players have graduated that are really special.
"Obviously we build up [relationships] throughout the four years … but it's [also] after that: the weddings I get invited to, the baby announcements I see," said McLaughlin. "Hockey is, while it's a growing world, it's a small world."
As McAteer has now coached at Augsburg for a decade, she's built up a large alumni group.
"I've seen them do great things professionally and become parents," she said. "Then seeing them also value the role that Augsburg and our hockey program had in their development, that's very very special."
"A current senior of mine, after the season was over, called to tell me about the job offer she had received and said I was bunched in the first few people she called," said Fallon. "Honestly it was heartwarming to have gotten that call and to be someone she wanted to share such big news with first. It's so much more than just a game. It's the connections you make with these young women. Seeing these young women succeed and overcome adversity and the struggles they go through on and off the ice is the most rewarding thing."
---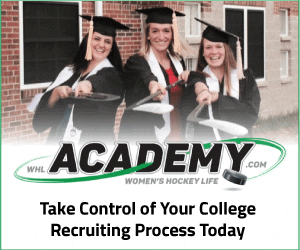 Related Articles