"Your daughter is how old? And you let her move 400km away just to play hockey? I don't think I could let my kid do that."
The usual response from us is, "How could we not?" This is not about us, it's about Presley's goals and dreams and our job now is to help facilitate this by providing her opportunities. There are sometimes follow up questions like, "Do you have family there?" and "Does she come home on the weekends?"
It was never our thought as parents, that we would be watching our baby leave home at 12 years old, 16 years old, maybe, 18 years old, yes, but not 12. This is a sacrifice we knew had to be made in order for Presley to grow and develop as a goalie and continue moving towards her goal to be an Olympian. She has been wanting to play for the Queens for years, knowing it was a next step in her journey. She attended tryouts for the past two years just for the experience and so that she would be comfortable when the time finally came for her to try out "for real."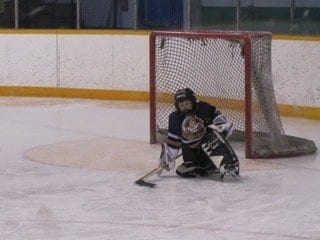 Just as Presley was preparing to make the team, we were preparing too. We put as many supports in place as we could including a place to live, school supports and all of the logistics of her living 400km away. We also did our best to prepare her (and ourselves) for any and all of the obstacles we could imagine. We talked about homesickness, making friends, the dangers she might face living in a bigger city. We also tried our best to get Presley to understand what she would be giving up and what she was asking us to give up. But if she was 100% committed, we were ready to make those sacrifices and allow her to make her own sacrifices.
Was it hard leaving her in Thunder Bay? YES! More than we can ever say… The question of "Are we doing the right thing?" entered our minds more than once. Our biggest fear was that we would let her go before she was ready, she would not have a good year and it would affect her relationship with the game she loves so much. Our second biggest fear as parents was… what happens if she IS successful—with her hockey, at school and socially? That will likely mean she will want to go back to Thunder Bay next year, and the year after that and so on and so on. So you can see how it might look like a no-win situation for a parent. But on the other hand, hopefully with our support she can follow her dreams, reach the highest level of hockey and represent her country.
As parents, we didn't think we would make it without seeing her daily however, she was so excited and motivated to make this leap, how could we make this about us, as parents? So, we let her go and hoped that we built a solid foundation for her growing up to be successful and still love hockey when the year was over.  We consider ourselves lucky to live in a time when seeing our daughter's face and hearing her voice is only a FaceTime call away. But it is no substitute for the real thing and we do our best to travel to Thunder Bay once or twice a month.
At this point we would say she is more than capable and has spread her wings and embraced this year with a passion that only Presley can. She is a spitfire and continues to live and breathe hockey.
From a parent's perspective, the year to date has been full of teaching moments, tears of happiness and tears of sadness for all of us, but we wouldn't change a thing.
Related Articles