Joanna Nagle recently crowned 2021 Miss Vermont plans to use her platform to help grow the game for young girls in hockey.
Nagle fell in love with hockey at the age of eight, when she attended her first University of Vermont game. Intrigued by the fast pace and excitement, she convinced her parents to trade in her figure skates for a pair of hockey skates.
From playing on her youth team with the Burlington Bobcats to ACHA D1 with University of Vermont, Nagle's journey with hockey was just getting started. During her team with Vermont, she was voted President of the team which allowed her to assist with scheduling, budgeting and organizing the coaching staff.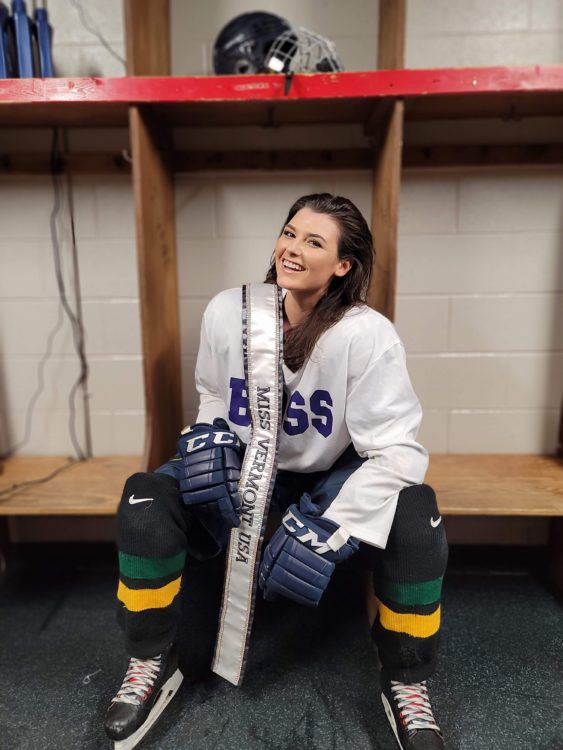 While her college career ended, her love of hockey was still strong and she wanted more out of the sport.
"I wanted to give back to the community that gave me some of the best memories of my young life and thus began my coaching career. I started off coaching at the Burlington Bobcats, an old program of mine, and was able to see the impact that a young female non-parent coach can have on a group of girl athletes."
While coaching, she was able to be the girls program director for the Baltimore Stars; allowing her to gain a different perspective at the youth level.
In June, Nagle was crowned Miss Vermont as the first hockey player to ever compete on a Miss USA stage. Throughout the competition and eventually earning the title, Nagle was able to share her experiences with hockey to a new audience who were not well versed on hockey and women's involvement in the game.
"While I continue this journey, I quickly find that the general public expects female hockey players to look or act a certain way," Nagle recalled. "I've been told I look "too pretty" to play hockey, or that I have "too many teeth". Society as a whole expects female hockey players to be brutes and outcasts, due to the male-dominated nature of the sport. "
Her ultimate goal is to create a platform where women can find resources to become a hockey coach. She has spoken to coaches who are interested in finding female staff members but are unsure where to look.  With this platform she hopes that it will help coaches easily locate female coaches and volunteers.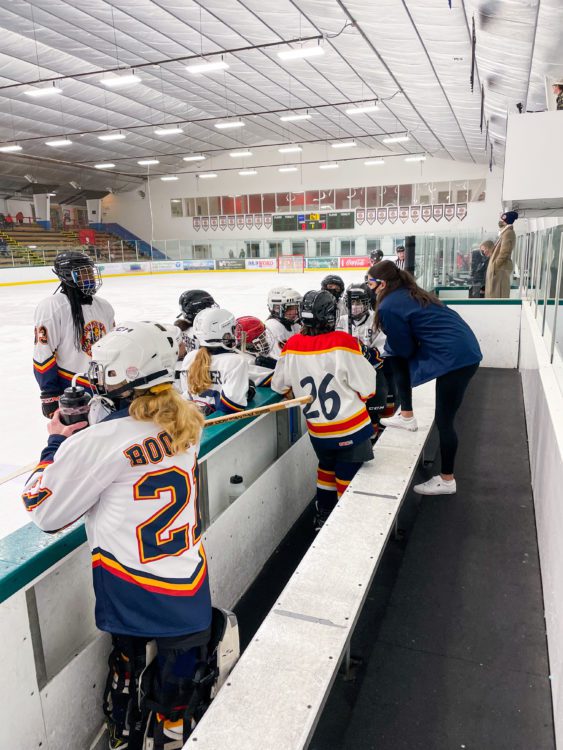 Nagle coaching her team on the bench 
From her experience throughout the years, she recognizes girls hockey was not well established in terms of girls teams and leagues and even a lack of female coaches.
"During my Level 4 USA Hockey Coaches seminar in 2019, I was the only woman among about 75 coaching peers in attendance. In 2021, I was one of maybe 20 or so women in the almost 400 person conference at the Level 5 USA Hockey Coaches Symposium. It is my hope that if I have daughters someday, they can enter the hockey world and have role models in coaches that I never did to help them grow their love and skill in the best sport in the world."
Using her platform as Miss Vermont, she plans to use her social media to reach as many girls as she can. So far, her social interactions have connected her to girls hockey clubs across the U.S.  and Canada, as well as players and coaches.
Related Articles