Having made her mark as a professional ice hockey player, highlighted by a Clarkson Cup win, skating as a CWHL All-Star, along with standing as the last captain of the Boston/Worcester Blades, Megan Myers also participated in the inaugural PWHPA season. With such great credentials, the epilogue to Myers' on-ice sojourn has included a commendable coaching role with Becker College plus an exciting opportunity to participate in elite competition once again.
Wearing the Stars and Stripes as a member of Team USA's entry at the 2021 FIRS Inline World Championships, contested in the Italian village of Roccaraso, it marked a new milestone for Myers. Affirming her status as an accomplished competitor, the pinnacle of representing her country enabled a dream to come true.
"We had a great group in Roccaraso. We were a much younger team than USA has been in past years but we still had some amazing veteran leadership. It was amazing to play with players such as Laura Verharanta, Cami Corbin, and Ali Era, all girls I grew up playing ice/roller hockey with. We all got to reunite for Team USA.
This was my first time in Italy and I have not played much internationally, specifically in Europe but it was incredible experience. The rink was beautiful. Roccaraso is a little ski town outside of Rome, it has beautiful mountains, historic streets and amazing food. It was a great event host.
I think that was one of our favorite parts was being able to go explore the town and get some espresso or a great Italian meal. Being able to see and do all these things while I was there was more enjoyable with my teammates by my side."
Undeniably, crossing the Atlantic enriched feelings of patriotism, an achievement which took on a whole new meaning for Myers. Representing Myers' first experience competing in the Mediterranean nation, there were feelings of coming full circle. Raised in Las Vegas, roller hockey served as a key facet of her introduction to the game, enhancing the sense of national pride that came with wearing the national team jersey for her tournament debut,
"Putting the USA jersey for the first time was an unforgettable moment. My whole career I wanted to be able to have the opportunity to be able to represent my country. It was not going to happen on the ice but it was able to happen for me by playing roller hockey.
I started hockey by playing roller out in the street in front of my house so it is pretty cool to finally fulfill a dream that I did not even think was possible when I first started playing roller hockey."
With the US qualifying for the medal round, appearing in the bronze medal game, the experience rekindled competitive feelings for Myers, dating back to her years of NCAA hockey with Utica College, and later, the Boston/Worcester Blades franchise. Through it all, the most poignant facet of the experience was the fellowship that emanated.
One of the proudest highlights of Myers' time in Roccaraso involved the friendships made with players representing the other nations. Embodying an enjoyment of the game shared on a global stage, it also resulted in a perspective based on a respectful appreciation.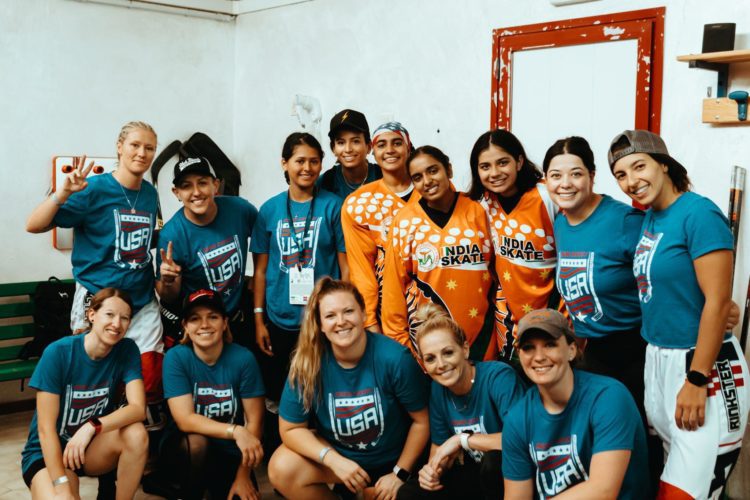 Members of Team USA and Team India
Among the other nations, Myers found a tremendous admiration among the roster representing India. Arriving at the FIRS Worlds, the lack of resources was not a deterrent. Gracing the slab with an enthusiasm and determination, their effort inspired Myers, recounting how the camaraderie which quickly developed provided the basis for an experience poised to supply a lifetime of enjoyable reflection,
"Looking back at the tournament Team USA had a lot of ups and downs. Definitely wish our play would have been better in the later stages of the tournament but it was an experience of a lifetime.
My favorite moment from it all was meeting the other teams who were there. Seeing how happy they all were to be there and seeing that we all share the same love for hockey. We played Team India early on in the tournament and Team India does not have the same resources when it comes to equipment, practice time or sponsorships like USA does. Yet, they played so hard and they did it all with a smile on their face.
We shared equipment with them by the end of the tournament and that is a moment I will remember forever. At the end of the day we are growing the game of women's hockey, roller or ice, it's all hockey. We came in hoping to win a gold medal and we left with a Bronze and the opportunity to be apart of something way bigger than ourselves, to be apart of growing roller hockey more and more."
"All quotes obtained first hand unless otherwise indicated"
Related Articles