I want to share with you a drill we used many times this year. We call it the Yale 1v1. I like it for many reasons that I'll share with you after I explain the drill. (And thanks to my assistant coach Richard Abbott for introducing this drill to our team.)
The Initial setup has all the forwards with pucks lined up at the blue line on the boards and all the defensemen lined up on the opposite red line. On the whistle, a forward will skate down the ice with a puck trying to score on the far net while the defenseman plays the puck carrier on a 1v1. After the forward completes the drill, he lines up again on the other blue line on the same side of the ice while the defenceman rejoins his line.
Here is a diagram of the drill: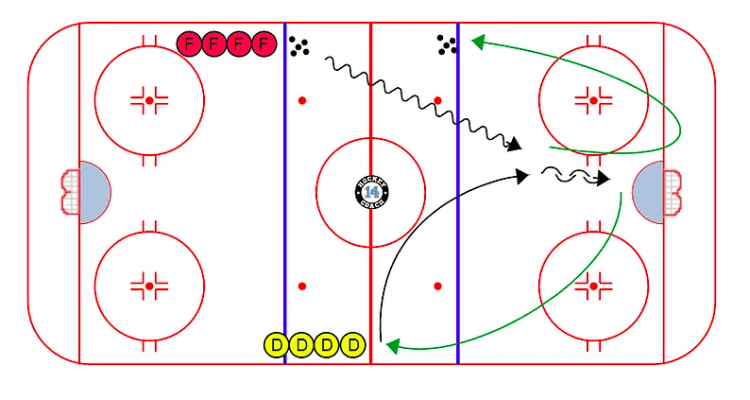 And here's why I love this drill (and what generally makes a great drill):
1) There are lots of "teachables". Not only is there opportunity to give instruction on how to play rushes both offensively and defensively, there's also lots of opportunity for players to figure things out, try new things, and be creative offensively.
2) It generates speed. Sometimes, 1v1 drills feel like players are just going through the motions and there doesn't seem to have a need for a lot of speed. This drill really encourages intensity and boosts speed of practice. The forward thinks that they can beat the defenseman to the net if they hustle. The defenseman knows that they're not going to have a good chance to play the 1v1 if they don't hurry from the boards into the middle of the ice.
3) It's competitive. There's a high level of compete between the forwards and defensemen. In fact, it's a great drill to keep score in. My scoring system is a point per shot on net for the forwards and two points for a goal. One point for the defenseman when there's no shot on net.
4) It's very versatile. The drill can be modified into a 1v2, 2v1, 2v2, 3v1, 3v2, or even a 3v3.
5) It creates situations from non-traditional starting points. Especially when we're so accustomed to do a three on two from one end to the other, this creates a new situation where all three forwards start from the same point on the boards, thereby forcing them to be able to find lanes and create space in a different way.
6) It can be used as a one-way drill. It's always annoying when you only have one goaltender on the ice. You need to have a bank of drills that go only one way but use most of the ice. This is a great drill that modifies well to a one-way drill.
7) Forwards can play defense. I will often switch the forwards to defense and visa-versa in a drill allowing the defensemen to be more offensive-minded on the rush, but more importantly, it gives our forwards a chance to play high-speed 1v1's so that if they get caught playing D in the middle of the game and have to play 1v1 rush at game speed, it's not completely foreign to them.
8) It's fun. My players really like this drill.
Truly, these are the things that make an excellent drill.
So, where do I get my drills? I have a bank of about 70 drills that I use regularly(ish). Of those 70, there are 20 that I use very regularly.
I also find many drills online. There are truly some great free resources out there. Although I will say, I am a little bit of a drill snob and I bet I look at 10 drills before I find one that I will use in practice.
I will also create drills when needed. If there is something specific that I want to work on in a particular practice, I will often put together a series of drills that builds a skill set, then builds the individual tactics and team tactics to improve that area.
I did watch an hour long skills session a few weeks ago. I was quite excited to see if there were some great drills that I could steal for my season next year. There was only one goalie at the session so all the drills were one way drills, but I was awfully disappointed. I don't think I took away one drill that I felt was a drills that I would use. Sure they were all good drills, but they weren't great drills. And I think the players we're a little flat simply because the drills weren't terrific.
And that really is the key to a drill being great. There are times I'm running a new drill and I can just tell that it's not working. I have no problem cutting a drill short, and I certainly don't have an issue of never using a drill again. You don't want drills that encourage your team to be flat in practice. I know there are always some drills that necessitate some standing around, but the more you keep your players moving, working hard, playing full speed, the better your team will be at the end of the day.
A few weeks ago I talked about the importance of practice planning (Part 4 of The Coaching Pyramid). I know that putting an hour into planning practice ALWAYS pays off. Planning and executing great drills that will make your team better will do just that.
---
Thanks for reading!
Do you want to contribute to our website as an expert, player, or someone with something to say about women's hockey?
Click
here
to apply to be a writer!
– The WHL team
Related Articles