Nestled between Latvia, Belarus, Poland and the Kaliningrad Oblast, just touching the Baltic Sea, is the country of Lithuania. When it comes to sports, most of the country's 2.8 million inhabitants are enthralled by basketball. However, over the last five years, a group of Lithuanian women have been pursuing excellence in a different sport—ice hockey.
Women's hockey first arrived on the scene in Lithuania about 20 years ago, when a woman named Jūratė Rulevičienė brought together a group of teenagers to the play the game in Elektrėnai, a city that some call the country's ice hockey Mecca. However, the team faded away once Rulevičienė moved to the United States.
"A long time passed until the second stream [of women's hockey in Lithuania]," said Živilė Drėgvaitė, who first started playing in 2014 when she joined a beginners team. Drėgvaitė eventually heard of another woman who also wanted to play hockey.
"Now we were two," she said. "After trainings, we discussed in the dressing room how cool it would be to have at least one line, so we tried to search for new members who wanted to skate."
As Drėgvaitė describes it, women's hockey in Lithuania "kind of exploded from zero." Shortly after Drėgvaitė started to play hockey, Rulevičienė returned to Lithuania while on holidays. She met up with her former teammates, and they discussed reuniting on the ice.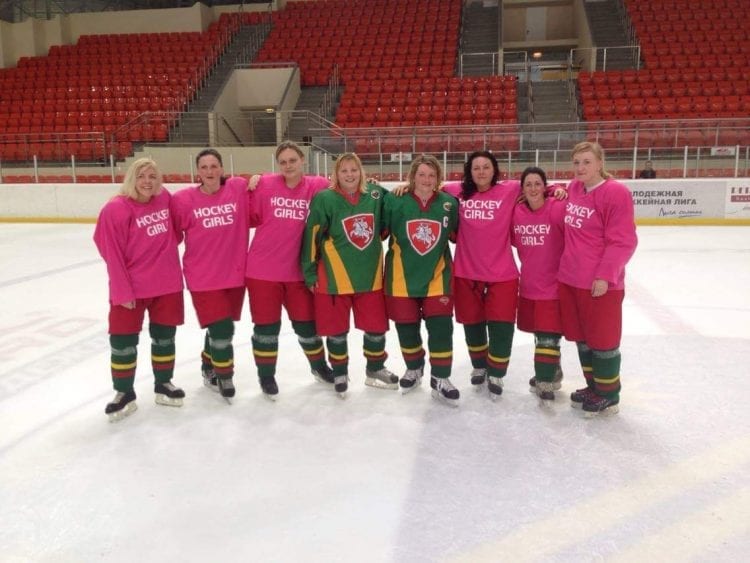 Around the same time, the Lithuanian Ice Hockey Federation started a 'Hockey Girls Day' project, which saw the country's only female ice hockey coach, Ramunė Maleckienė, lead women interested in playing hockey and those with skating experience in on-ice sessions in four different cities.
"We even heard that there were mothers with daughters who would skate on frozen lakes in winter time, and we got their contacts and invited them," said Drėgvaitė.
Each ice time attracted between 30 and 50 participants, and at the conclusion of the project, Drėgvaitė, Maleckienė and a few others sat down and decided to start a team. They began with 10 players.
"At that moment it was something incredible – not only 10, but already 10!" said Drėgvaitė. The team played their first official game in 2015 in Latvia, which was shortly followed by their first home game in Lithuania.
The group adopted the Hockey Girls moniker in 2016, but are currently in the process of creating a new identity. For the first few years they mostly played exhibition games against teams from countries such as Latvia, accompanied by late weekday evening practices at a rink that for most players was a 50 to 100 kilometre drive away from home.
Now the team is back in Elektrėnai at the Elektrėnai Ice Palace and has a roster of 23 players. The players range in age, from 13-year-old goaltender Vilte Belicenkaite to 45-year-old defence Diana Burneikiene and Inga Juskiene. They come from a hodgepodge of backgrounds, with some still in school and others working in politics, dentistry, business and more.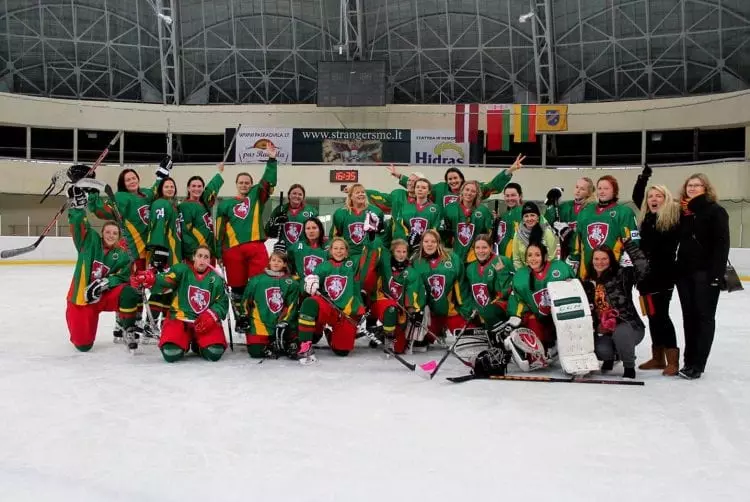 A similarity among all of the players is that each of them has some type of sporting background prior to starting hockey. Many of them have also competed in sports such as boxing, rugby, kite boarding, basketball and tennis.
The team has just finished up their second season in the Latvian women's hockey league, which consists of the Hockey Girls and three Latvian teams, LL-JLSS, SHK Laima and SHK Pardaugava/Lauvas.
These first two seasons have been a tough battle for the Hockey Girls. Fifteen-year-old Klara Miuller, who lives in Lithuania but is of German descent, scored three of the team's just four goals this season. Maleckienė has the fourth goal.
While the Hockey Girls finished last for a second season, Drėgvaitė remains optimistic, citing the opportunity for Lithuania's players to gain playing experience, especially against teams from a country like Latvia that has a rich hockey history, as making it all worth it—after all, the team has only been in existence for five years.
The Hockey Girls are now also no longer the only women's team in Lithuania. Two years ago, the country gained a second team, the Hockey Stars. This team is geared towards players at the beginner level and mothers who have children who play the sport. According to the IIHF website, Lithuania's number of registered female hockey players now sits at 90.
With their growing numbers and entry into Latvia's women's league, one of Lithuania's big goals is to enter the IIHF Women's World Championship program, which they currently do not participate in.
"This year, the Lithuanian Ice Hockey Federation submitted an application for participation in the IIHF Women's World Championship qualifications, so now we are waiting for news from the IIHF," said Drėgvaitė. She stated that when the Hockey Girls first started, they felt like they were the unofficial national team, and the opportunity to officially represent their country is something they would definitely not pass up.
"It would be really amazing… a dream come true."
Photos courtesy of Živilė Drėgvaitė
Related Articles