Among seven members of the York Lions roster raised in Manitoba, Julia McLennan was the heartbeat of the defense. Reputed as a stay at home blueliner, the number 27 adorning the back of her jersey, McLennan possessed the most seniority on defense, bringing a fundamentally sound game that the younger skaters sought to emulate.
During McLennan's seasons in the Lions jersey, highlighted by playing for the McCaw Cup in 2020, the time was made richer by the presence of two others highly influential in her hockey odyssey. Younger sister Sara, who wears number two, also belongs to the Lions defensive corps, having already enjoyed a pair of seasons. Worth noting, both are majors in Kinesiology and Health Sciences.
With Sara occupying a bigger role on defense this season, her progression has represented a point of pride. Making her Lions debut on October 22, 2021, a convincing 5-2 home win versus the Brock Badgers, Sara saw action in 26 games this season as a sophomore.
In addition to younger sister Sara, McLennan's entire career as a Lion involved calling captain, and fellow Manitoban, Brooke Anderson a teammate. Coincidentally, Anderson scored twice in Sara's debut. Prior to joining the Lions, both wore the paraphernalia of the Winnipeg Avros.
Each integral to the other's hockey odyssey, a tremendous friendship has taken root. With a strong on-ice rapport having developed, from Avros to Lions, this accomplished duo proved integral in the Lions leadership structure.
"Having the opportunity to play hockey and attend school with my sister is something that I will always be grateful for. I will always be grateful for being able to see her grow into a great hockey player and even better person. Helping her through her first years at university was special for me.
After playing Avros with Brooke for two years and then being able to play with her at York, we have created a lifelong friendship and as our coaches would say "we love passing to each other". Not many people can say they have played with someone for 7 years! We have this special connection on and off the ice."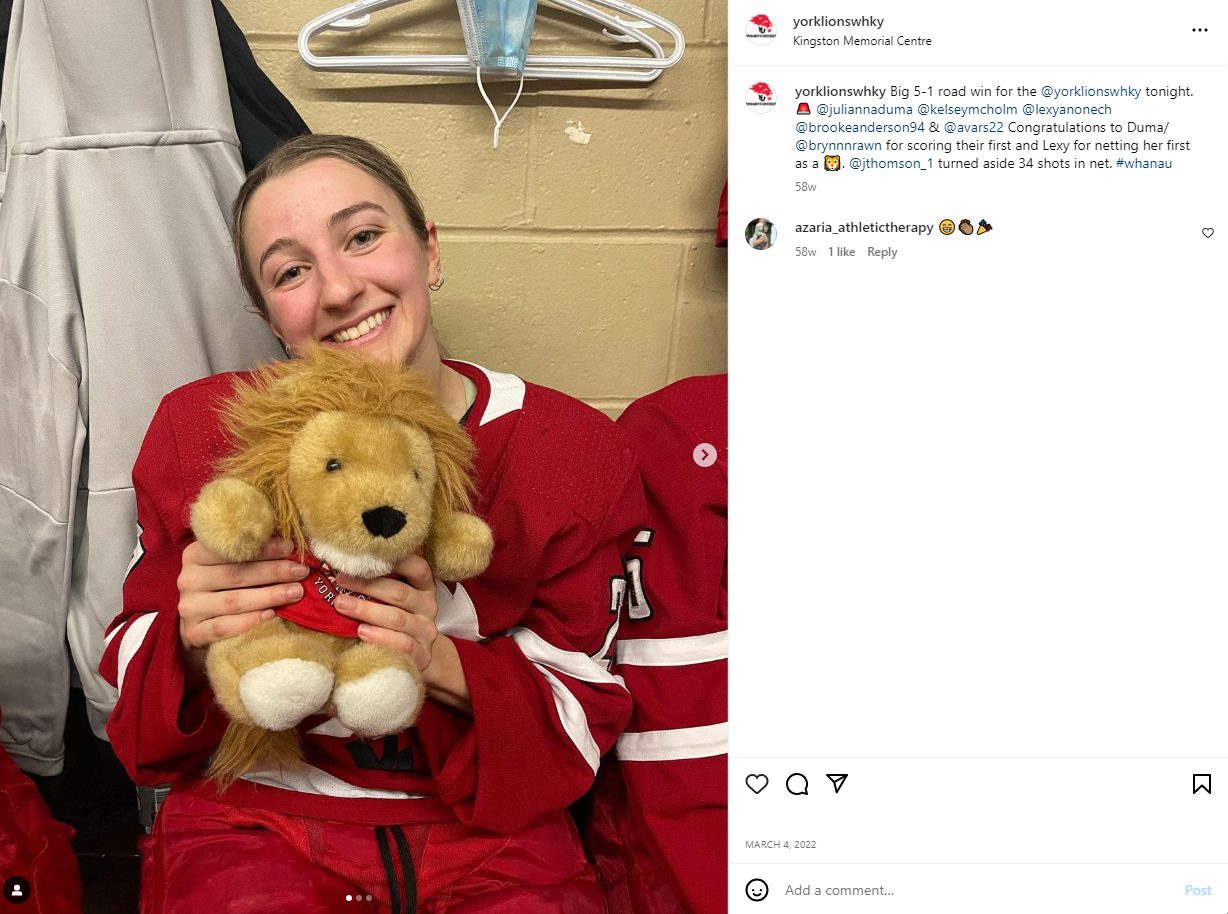 With a Lions roster consisting of 19 first and second year players, McLennan symbolically took on the role of big sister for a significant number. Undeniably, the presence of Anderson as team captain proved highly valuable, both adopting the mantle of mentor.
Navigating through a season defined by continuously striving to improve as a team, McLennan sought to bring a significant focus on positivity. With practice emerging as the proving ground to develop team chemistry, sharing her acumen with the next generation of Lions skaters.
"Stepping into a leadership role this season and leading such a young group was not that challenging due to the guidance that previous leaders have left. Working hard at practice, creating a fun environment and developing strong relationships with my teammates helped keep the positivity up!"
With February 17 circled on McLennan's calendar, Senior Night festivities resulted in one of the Lions most inspiring performances of the season. Hosting the Ontario Tech Ridgebacks, she rose to the occasion, providing the second multi point effort of her career. As a side note, the first took place on February 19, 2020 versus Waterloo, assisting on goals by Ava Ricker-Singh and Becky Higgs.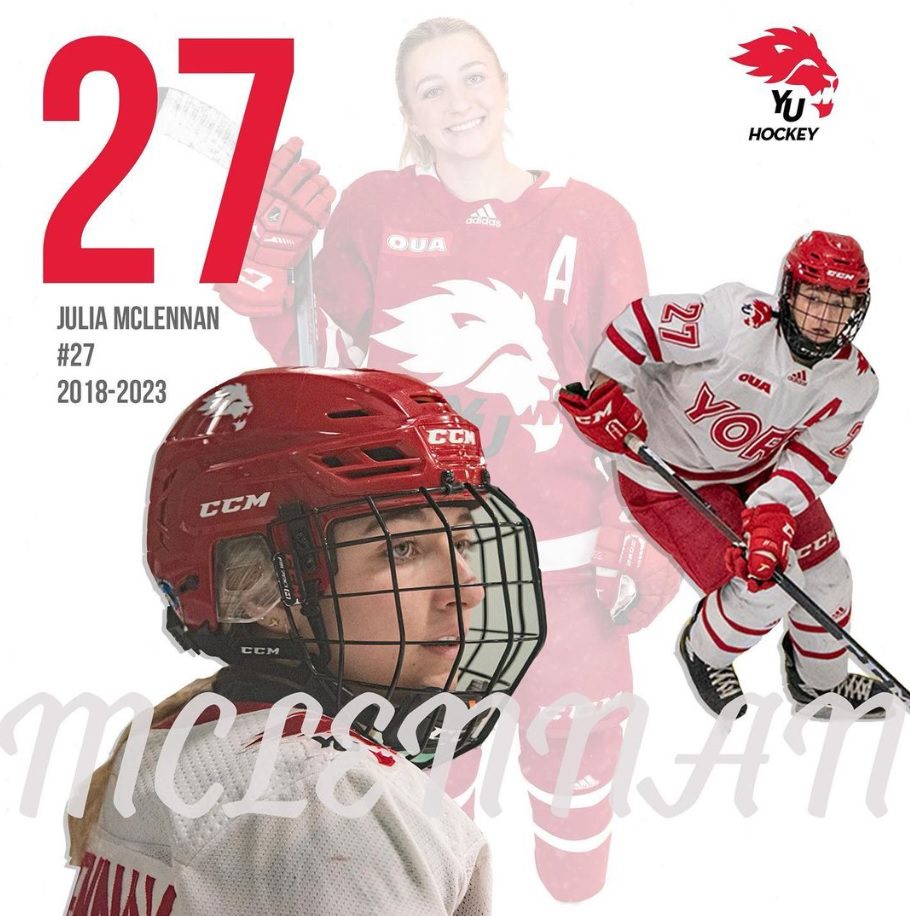 After a scoreless first period versus the Ridgebacks, Alexa Giantsopoulos scored twice, providing the Lions their first lead of the game. Assisting on the first goal by Giantsopoulos, McLennan also added her name to the buried the puck past Zoe McGee at the 14:56 mark of the third. Providing the Lions with a 3-1 advantage, McLennan's goal, the last of her proud career, was assisted by Sydney Paulson and Julia Cuccia.
Enjoying a storybook ending, the majesty of Senior Night went beyond the scoresheet for McLennan. In addition to her younger sister Sara also gracing the ice, the presence of extended family proved heartwarming. Consisting of a large gathering in attendance, the presence of her grandfather provided a blend of humour and perspective, the values of friendship and family the cornerstones of a memorable time in Lions red
"Being able to end my career on such a strong note not only meant a lot to me. Also, my 19 family members were in attendance for that game. It was my grandpa's first time being able to watch me play in person this season, and now he likes to say he is my good luck charm."
–
"All quotes obtained first hand unless otherwise indicated "
Related Articles