A sporting icon in her native Denmark, the Beijing 2022 Winter Olympic Games allowed the rest of the world to catch up to the on-ice brilliance of Josefine Jakobsen. 
Serving in the capacity of team captain, Jakobsen, twice the Danish Ice Hockey Union's Female Player of the Year, averaged a point per game in Beijing. Essential towards Denmark remaining in contention for a top three finish in Group B play, the spectacle of the world's grandest sporting event allowed her to shine.
Having also excelled in her career with on-ice heroics in Sweden and the United States, a star on both sides of the Atlantic, Jakobsen always answered the call to skate for Denmark. Wearing the national team jersey since 2008, her athletic narrative realized a sensational summit.
Challenging host China for their Olympic debut on February 4, it marked a career highpoint for Jakobsen and her Danish teammates. Marking the first time that an ice hockey team from Denmark competed in Olympic ice hockey, the combination of national pride and history evoked powerful feelings.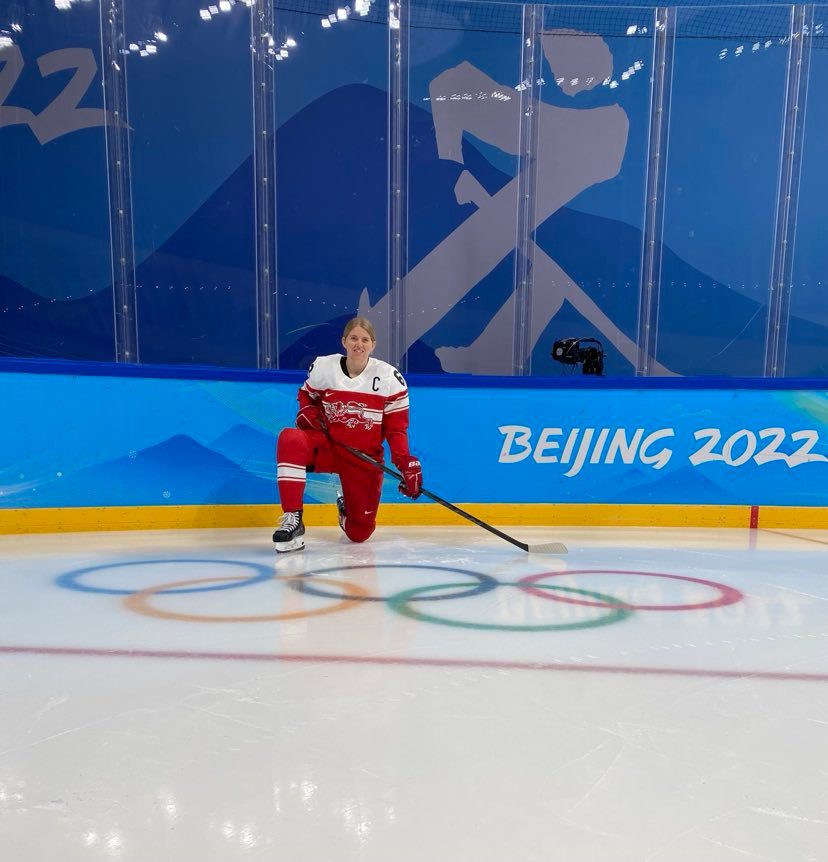 "It was amazing. A dream had finally come true. It was a little surreal at the same time. 
A proud moment for me personally but also proud to be representing the first ever Danish women's hockey team in the Olympics for the first time."
The Olympic experience also provided Jakobsen the opportunity to celebrate a cherished chapter. Having starred in Grand Forks, home of the University of North Dakota Fighting Hawks (formerly Sioux), a member of the Century Club in career points, she belonged to a brilliant gathering of European stars that propelled the program into national prominence.
Although women's ice hockey is currently not offered by North Dakota, its tremendous legacy remains relevant. Finding new life at Beijing 2022, a strong sense of school spirit enveloped  Jakobsen.
From the outset, Peter Elander, the former associate head coach at North Dakota, served as bench boss for Denmark. A member of the Swedish coaching staff that gained a silver medal at the 2006 Torino Winter Games, his acumen, combined with Jakobsen's leadership allowed Denmark an opportunity to remain competitive in Group B play.
In addition to Elander and Jakobsen, host China also featured North Dakota content. Brian Idalski, who served as Fighting Hawks head coach from 2007-17, plus video coordinator Max Markowitz, belonged to China's coaching staff.
Kristen Campbell, one of three goaltenders on the gold medal winning Canadian team, played for the Fighting Hawks in their last season (2016-17). With Lexie Shaw as the starter, Campbell's only win took place on January 14, 2017 versus MSU-Mankato. Transferring to Wisconsin afterwards, she played for head coach, and 1980 Miracle on Ice member, Mark Johnson.
Three players that called Jakobsen a teammate during their careers at North Dakota also skated in Beijing. Michelle Karvinen and Susanna Trapani, long time competitors for Finland, earned a bronze medal, while Johanna Fallman wore the colors of Sweden. As a side note, Jakobsen has played professionally with Sweden's famed Djurgarden franchise since graduating from North Dakota in kinesiology.
"Of course. It is always nice to see former friends and teammates on the international stage. Catch up a little and just chat."
Ecstatic at the opportunity to be part of history, skating in Denmark's first ever Olympic game, the opportunity to grace the ice in Beijing signified a shared milestone.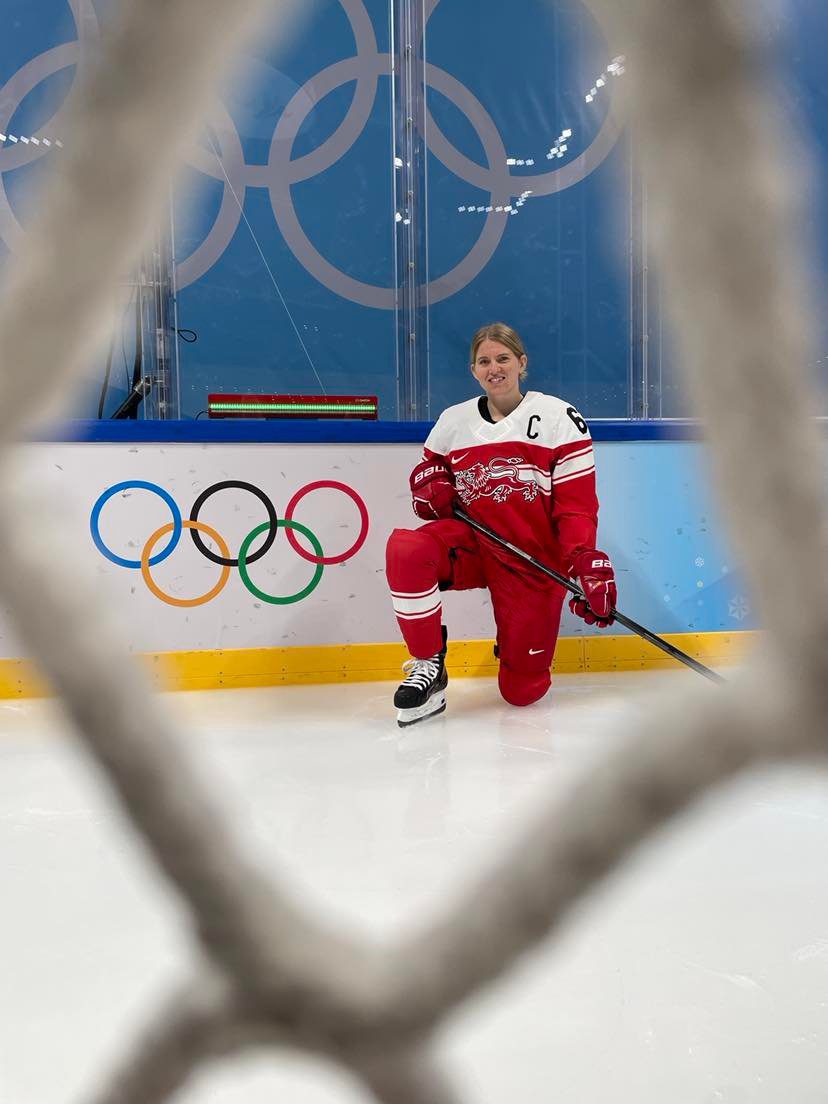 In addition to Denmark's women's team making their Olympic debut, the men's team experienced the same milestone. Akin to the women's team, the Danish men also participated in Group B play.
Enriching such an unforgettable moment in Danish sporting culture, there was a shared sense of achievement for Jakobsen. Worth noting, her older brother Julian held a place on the men's roster. As a side note, his first Olympic point was an assist on a goal scored by Nicolai Meier in a 5-3 victory over Switzerland. Coincidentally, Meier would reciprocate, recording the assist on his first Olympic goal, scoring in a playoff round win versus Latvia
Such an accomplished and celebrated duo headlined a phenomenal group of four siblings skating for Denmark in Beijing. Coincidentally, the other pairs of siblings, Josephine and Matthias Asperup, Emma and Patrick Russell, plus Mia and Mathias Hansen, were all forwards.
Adding to the coincidence is the fact that for each pair, the brother is the eldest sibling. Raising awareness of both teams, elevating the prominence of the game, and it's players, it emerged as one of Beijing's feel good stories.
Undoubtedly, the opportunity of having her brother wear Denmark's jersey brought a profound impact to her Olympic debut. Reflecting on the time spent in Beijing, from group outings to cheering on Danish skiiers, along with the feeling of family and national pride, one experience did not outshine another. Reflecting on what she enjoyed, Jakobsen beams in reflecting on the big picture, all the events part of a fascinating narrative that shall be treasured indefinitely,
"The whole experience. The Opening ceremony, the games and just living in the Olympic village. We also got the chance to go to Yanqing which was a fun experience. Watch a little bit of skiing and just getting out of the village. Another thing I really enjoyed a lot was to share the experience with my brother."
"All quotes obtained first hand unless otherwise indicated"
Related Articles