Exuding grace and class, Jenna Cunningham was among the first stars of the Team Alberta era. Consistently one of the club's scoring leaders, Cunningham, a native of Medicine Hat, Alberta, provided a solid leadership presence that extended into the franchise's latter years, signifying a type of connective tissue that defined multiple epochs.
Making her CWHL debut on October 28, 2011 against the Burlington Barracudas, Cunningham would record a stellar multi-point performance, highlighted by scoring the game-winning tally, the first in franchise history. Finishing the season as the second-leading scorer, trailing Samantha Hunt by one point, she would lead Team Alberta in goals (10), game-winning goals (2), power play goals (4), while showing some surprising grit, topping her team with 30 penalty minutes.
Brining an exceptional consistency, assembling an admired career built on character and teamwork, enhanced by an assiduous approach to the game, Cunningham's reliability was essential during the franchise's early years, one marked by the all-too difficult initiation of losing, one which accompanies any entry via expansion. With a roster that also featured players from Albertan clubs in the former Western Women's Hockey League, Cunningham was helping forge a new archetype for professional female hockey.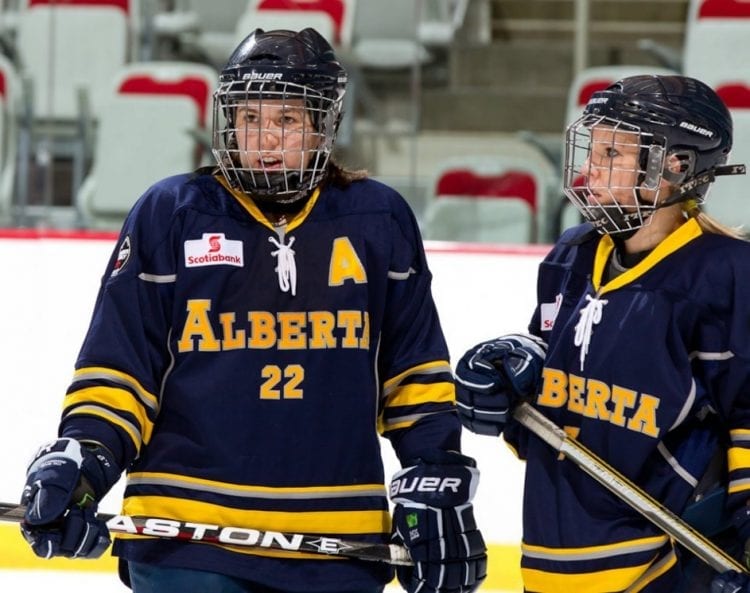 Such an evolution would take hold when the franchise abandoned its sharp navy blue and gold colour scheme, marking a compelling calibration. Transforming into a postseason contender, shedding its expansion label, such a move took place with celebratory connotation.
In commemoration of the Calgary Flames' sponsorship deal, a fascinating makeover involved adopting the team colors of their NHL brothers. Along with a new name, Inferno, it signalled an alignment with the Flames, developing a synergy that marked a new era, one that supplied Cunningham with a renewed energy,
"When I found out the Flames were going to support us, and we would be rebranded as the Inferno I was extremely excited. In such a short amount of time, we were already experiencing big growth, such as the Flames coming on board, which made us excited for the future of the team in Calgary. We cannot thank the Flames organization, and in particular Brian Burke enough for their support."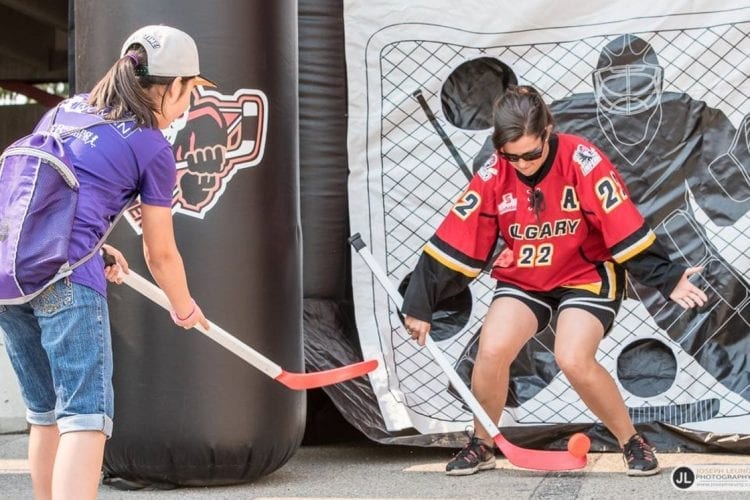 Throughout this unfolding narrative, another heartwarming aspect shed light on Cunningham's likeability. Akin to so many other wondrous women of hockey, Cunningham's commitments on the ice involved balancing career obligations off of it. Employed as an educator, Cunningham was engaged in a profession that other CWHLers made their calling. Such a distinguished category includes Nathalie Dery and Carly Dupont-Hill, both teammates on the former Montreal Stars franchise, Toronto Furies defensive stalwart Shannon Moulson, plus Burlington Barracudas alum Ashley Stephenson, who also played with the Canadian national women's baseball team.
With every successive school year, it was an opportunity for Cunningham to enjoy an element of celebrity status, simultaneously enlightening her students to the fascinating fact that women were not only redefining cultural and sporting boundaries, but helping positively build its future with tremendous role models. Undeniably, with access to information online, a growing number of students, and colleagues, soon discovered that their teacher was a celebrated player, having also served as team captain with the Ivy League's Dartmouth University Big Green,
"My students were always really supportive, as were my coworkers. When we won the Cup, I came back to a school-wide assembly for me. I loved seeing my students wearing the CWHL shirts around the schools, and the boys challenging me to a floor hockey game.
I have yet to start a year, where I have not had at least one student Google me once they found out they were in my class and then fill me in on my hockey career."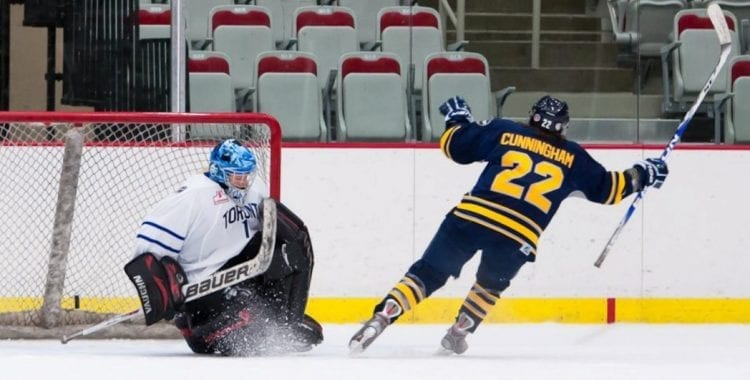 For Cunningham's students, the most valuable lesson learned about her on-ice journey gained substance by an absolute sense of enjoyment. Driven to persevere following graduation from Dartmouth, hockey remained an integral part of her being. Although the financial rewards are highly prevalent in the men's game, the greatest reward in the women's game is the opportunity to portray the importance of confident female influences.
Demonstrating that enjoyment is the most important factor in one's occupation, Cunningham's passion was always evident on game day. With the number 22 adorning the back of her jersey, whether it was in Alberta blue or Calgary red, her contributions as veteran leader and dependable team player were part of a much richer collaboration. One which saw the heroines of professional hockey become part of an emotional ground-breaking movement that brought unprecedented relevance to women in sport and society, allowing young girls an opportunity to dream bigger,
"Once you have finished your minor hockey career, and your college career, you really are playing the game because you love it. We played in the CWHL because we wanted young girls to have strong women role models to look up to. My favourite part of interacting with the fans was to see the excitement in the young girls' faces and have them share their own hockey stories with us.
I also really enjoyed talking to the parents of the young girls, as they often asked the most questions. The CWHL gave them role models to expose their daughters to, and it was always nice to hear their perspective on how much that played a role in their daughter's lives."
Cunningham's hockey life would seemingly reach greater summits with each successive season. From a 2012-13 season filled with the opportunity to compete in a pair of hallowed NHL venues, including Toronto's Air Canada Centre, plus the iconic Saddledome against the Boston Blades, the calendar year of 2014 would provide more treasured memories. With the Inferno qualifying for their postseason berth in 2014, gracing the ice against Montreal in the opening round of the Clarkson Cup playoffs, the momentum continued as the affable forward was part of a highly historic milestone in league history.
Suiting up for Team Red in the inaugural CWHL All-Star Game, Cunningham was one of eight Inferno competitors participating in the landmark event. Contested at Air Canada Centre in December 2014, the venue offered a combination of both validity and relevance for the professional female game, as over 6,000 fans attended, simultaneously setting a league attendance record (since broken).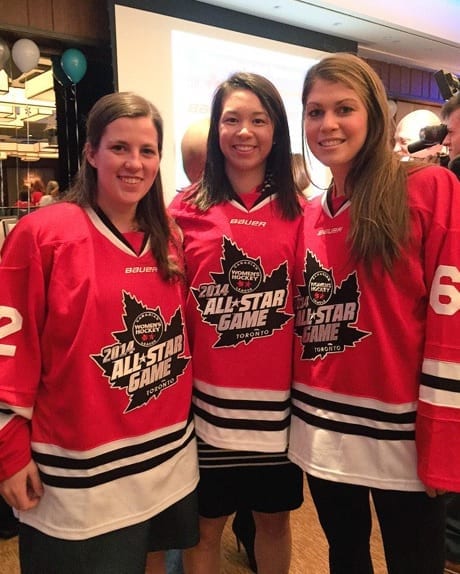 Joining her on the victorious Red squad, defeating Team White by a 3-2 tally, included Rebecca Johnston, who scored the game-winning tally, earning Third Star of the Game honors. Along with Jessica Wong, the first pick overall from the 2013 CWHL Draft, she emerged as the only player called for a penalty, sent to the box in the third on a tripping call.
Coincidentally, Johnston would play another key role in a breakthrough moment for both Cunningham and Calgary women's sport. With Ottawa's Canadian Tire Centre, another NHL venue, serving as the backdrop, the Inferno enjoyed one of the most emotional victories in Clarkson Cup history, defeating the favored Canadiennes de Montreal in an 8-3 lopsided affair on March 13, 2016, clinching the first title in franchise history.
While Johnston was recognized as the Second Star of the Game, the win took on a sweeter feeling for Cunningham, as she was one of five players from the Team Alberta years, including Kathy Desjardins, Erica Kromm, Meaghan Mikkelson-Reid and Kelsey Webster, earning the opportunity to hoist the coveted Cup. Signifying how far they had come since their expansion status, embodying valuable life lessons of courage and perseverance, overcoming obstacles as roots became firmly entrenched with each passing season, it was a subplot that strengthened the Inferno's athletic footprint in Calgary.
Through it all, the championship was an exclamation point on a brilliant career sprinkled with a seemingly endless stream of exciting highlights, further evidenced by 68 career points, along with the privileged peak of becoming the first player in franchise history to have appeared in 100 games, Cunningham was crucial towards transforming Team Alberta/Calgary into one of the league's signature franchise. Holding a proud place among their all-time greats, embodying sportsmanship, dignity and professionalism, she would carve a legacy that extended beyond the ice.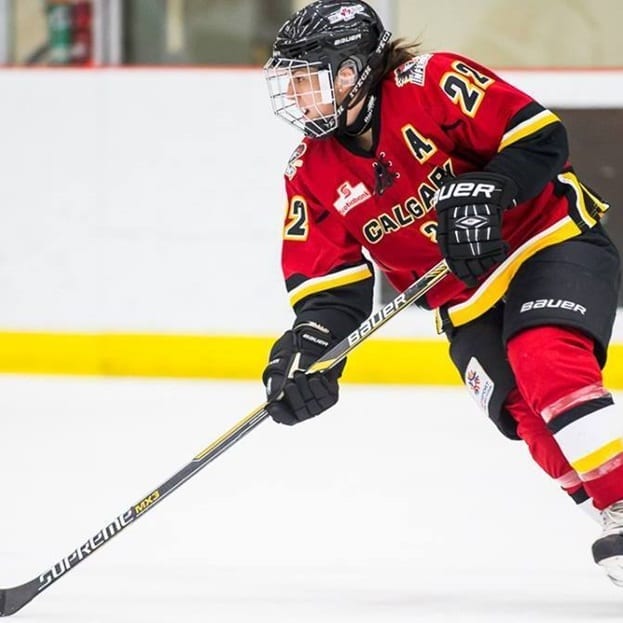 Remaining part of the game following the 2016-17 CWHL season, which was her last as a professional, that competitive desire never lingered. Cunningham made a seamless transition into ball hockey. Among an assembly of Inferno alumnae that contributed towards Calgary United capturing the CBHA National Championship in 2018, the foundation of teamwork and friendship cultivated during the CWHL years were essential in the path to glory.
Undoubtedly, the title fortified a sterling legacy that established Cunningham as one of Alberta's most distinguished women of hockey. Fittingly, that same year saw Cunningham experience a proud feeling of homecoming, gaining induction into her hometown, Medicine Hat Sports Wall of Fame. With the acumen acquired from years of professional play, evolving into an inspiring individual whose heart of gold and impact in Prairie sport can never be truly quantified, many of her great qualities and character traits can be traced back to the effort exerted on the frozen perimeter,
"There are so many things I enjoyed about playing. I learned a lot through the years that I played, and it really impacted me as a person in so many ways. I am most proud of the impact I know we have had on the community in Calgary, and the young girls who came out to watch us. I was fortunate enough to witness being a part of something that started from nothing, and ended with a championship, and in that journey experienced so many memorable and influential moments. It was a really special thing to be a part of."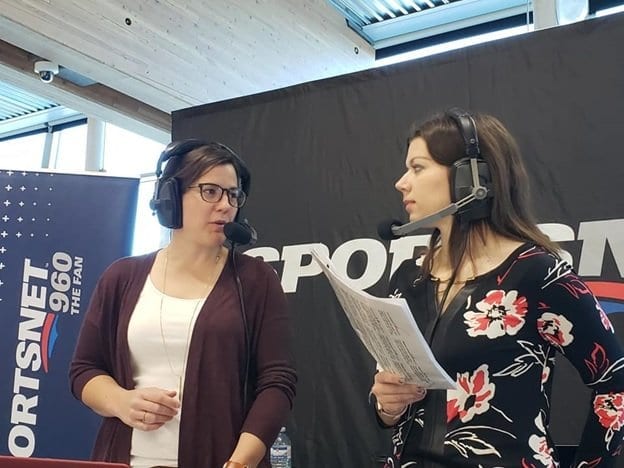 Perhaps just as unique was the opportunity for Cunningham to extend her place in Team Alberta/Calgary Inferno lore as a broadcaster. Following in the footsteps of other women's hockey luminaries, such as Tessa Bonhomme, Jennifer Botterill, Cassie Campbell-Pascall, Cammi Granato and Cheryl Pounder, having transitioned into the broadcast booth as an option in their post-playing careers, Cunningham's foray resulted in another treasured brush with CWHL history.
Among the highlights of the 2018-19 campaign, the Inferno enjoyed four regular season games broadcast on The Fan 960, becoming the first team in the league to have such exposure on commercial radio. Working alongside Sandra Prusina, Cunningham, who had already worked on the Inferno's online broadcast team, helped to weave a fascinating tale of on-ice brilliance, allowing the listeners an opportunity to imagine the action through the mind's eye.
With articulate insights, adding a remarkable authenticity and sincerity to the broadcasts, displaying an aptitude that added sheen to a season in which the Inferno were firmly entrenched among the league's elites, the broadcast booth was an apt forum for Cunningham.
Although the Fan 960 served as the Inferno's radio home for just one season, the league unexpectedly collapsing, the experience provided Cunningham with one more unique opportunity to leave her mark in league lore. With the Inferno defeating Les Canadiennes de Montreal in the 2019 Clarkson Cup Finals, their third meeting in four years, Cunningham would become the only individual to have been part of Cup winning teams as both player and broadcaster.
Adding to this uniqueness was the fact that former teammate Kristen Hagg served in the capacity of General Manager, becoming another celebrated alum to have captured a championship in two different capacities during a career. While the second Cup validated the Inferno's standing in Canada's prominent female sporting picture, it provided profound perspective on the game for Cunningham, one that was made brighter through her presence,
"The best part of being a broadcaster was being able to stay involved, and tell the players' stories. I liked researching where they played and adding that into the broadcast. I have always liked watching and analyzing hockey, and it was even better to get the chance to do it on the air. It was really special to see them win the Cup again, and be a part of the journey in a small way."
"All quotes obtained first hand unless otherwise indicated"
Related Articles