HockeyGirlz is a newly minted brand that is designed to create community within the hockey world for young girls and women to learn more about the game and to find opportunities to play. No matter what level or age, HockeyGirlz wants to become a brand that girls go to first to get tips on getting started in the game.
The idea behind HockeyGirlz came the founder, Alero Eribo's own personal experience when she fell in love with the game while doing research for a school project.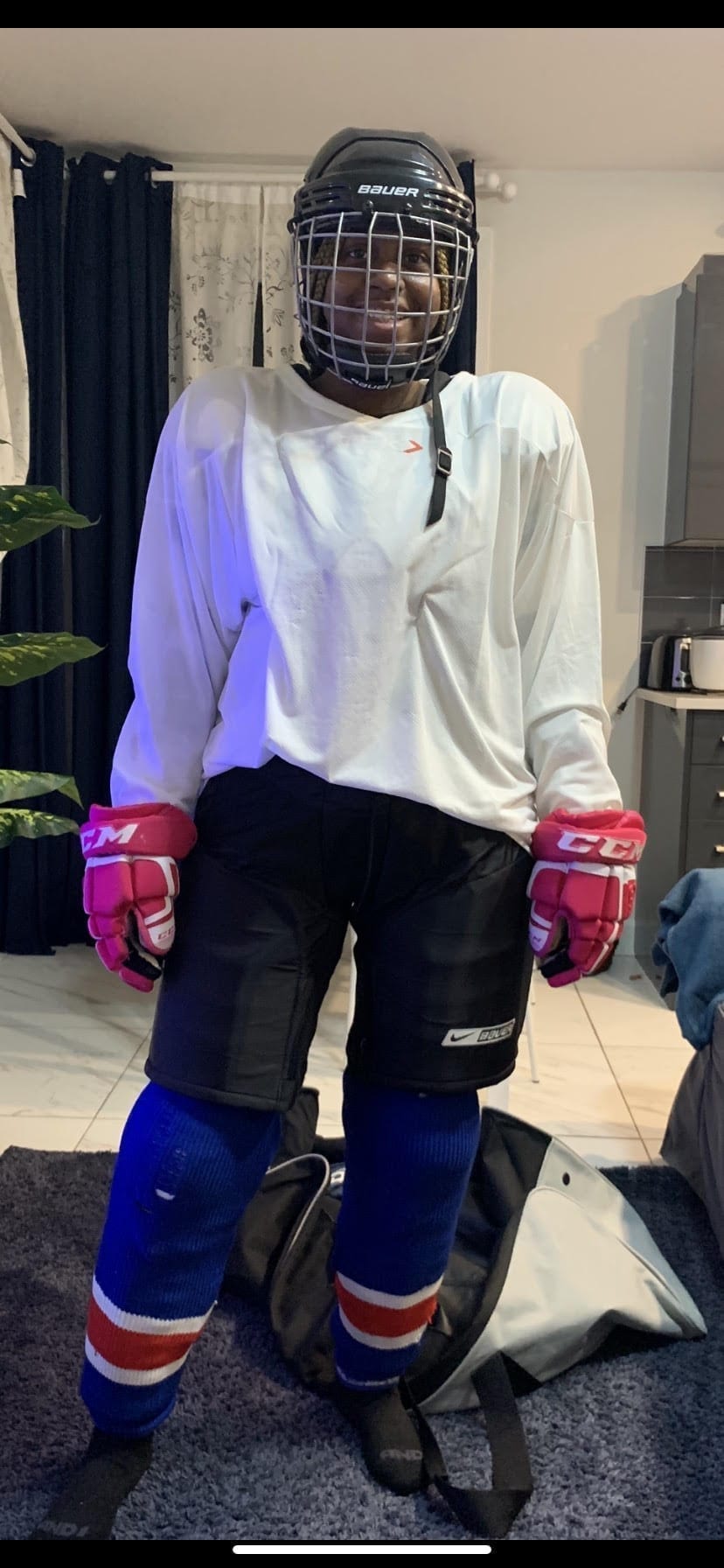 Pictured above: Founder Alero Erbio
She says, "While I was doing my research, I stumbled upon a Pittsburgh penguins clip (which in hindsight is very surprising because I searched up Québec!) and I was entranced. I found a rink and started teaching myself to skate. I was there 7 hours everyday and it felt like home. I think it's safe to say that by the second month, I knew the names of all the staff! Now, with the help of my friend Litta, I'm learning hockey!"
With her new passion and motivation  to get improve her skills, Alero took the natural step to join a girls hockey team. Unfortunately, her drive was met with resistance as she searched and searched for a team, only to be shut down without being given a chance.
Eribo states, "…but each one I reached out to told me that they could not accept me because I was 16 and my skill level was not sufficient for my age group (midget). So, they told me to 'go and learn somewhere else and then come back to play'. But the question was 'go where?'  There were no avenues for teenage girls to learn hockey in my city. It was expected that at this age, you should have been playing a while."
Even with several teams refusing to give her chance due to lack of experience, Eribo did not allow that to stop her from doing what she wanted to do the most: create her brand and become an inspiration to other young girls. On top of her continued training, she is now fielding interest for girls around her age at any skill level to create a team.
"…a team for teenage girls to learn hockey in a fun and supportive environment. It is really important that the girls who play in this team will feel at home, and enjoy and learn the game of hockey."
Currently, she is working on recruiting, finding sponsors, referees and coaches.
She hopes in the future, Hockey Girlz will become a "one-stop shop" brand where girls can go to learn everything they need to play hockey. Also, she wants to help develop a line of hockey gear (or partner with a brand) that is specifically made for females.
"This is because I feel like girls in hockey and sports in general have always been pushed aside and forced to compromise, which I believe has to be changed."
Her fierce determination and "can do" attitude comes from her being inspired by her favorite player, Team Canada National player and current PWHPA member, Sarah Nurse.
"I love her drive and ambition to succeed. She's such a superstar and I really hope to be like her someday." , she states.
Despite her wanting to take her brand to the next level, Eribo dreams of playing on a team in a competitive league someday.
She says, "…but I really hope to play hockey at college and one day play in the Olympics in 2028. Many people who I've told this to, have told me that it's unrealistic for someone starting hockey at 16, and I agree, but I believe that if I work really hard, which I am very willing to do, I can do it. It's been a bit difficult training and trying to learn hockey with just YouTube, but I've been putting in a lot of work to catch up with my peers and I really do believe I can do it. Nothing is ever truly impossible."
Support HockeyGirlz by saucing them a follow on their instagram: @hockeygirlz__
Check them out online HockeyGirlz
Related Articles