Team USA had a strong showing in the 2022 U18 Women's World Championship, including a 7-0 victory in the preliminary game against Team Canada. Laila Edwards emerged as a star for Team USA in the tournament. Coming from Bishop Kearney Selects Academy, Edwards finished with a team high of 8 points in 5 games, tallying 4 goals and 4 assists for Team USA. "For some people, it's a once in a lifetime opportunity, so I didn't take it for granted, and I made sure to have fun every time I was on the ice or in the locker room," said Edwards.
Edwards got into hockey because her father played it. She and her sister both figure skated growing up, which allowed them to transition into hockey more easily. Edwards will join her sister at the University of Wisconsin this fall.
Despite how easy Edwards makes it look on the ice, she has faced many challenges. Being a person of colour in a predominantly white sport, for instance, has been tough. "Sometimes it can be uncomfortable being the only person of colour in the locker room, but you learn to become comfortable with it and just grow [as a player]," said Edwards. She has also been the youngest player on some teams, struggling to keep up. At other times, she has been the oldest, which has presented its own challenges. "I would be looked up to, which is a lot of pressure, but it forced me to become a better person and a better player," she said.
The U18 Women's World Championship requires a lot of training. At Selects Academy, Edwards was on a strict skating regimen. She also saw a skills coach every Tuesday. "Through the spring, leading up to Worlds, [I was on a special] training program. I worked out five days a week and skated four times a week," said Edwards.
Edwards mentioned she modelled her game after her favourite players, including Nikita Kucherov of the Tampa Bay Lightning and Evgeni Kuznetzov of the Washington Capitals. "Growing up I've always been a fan of Hilary Knight and Brianna Decker, but I also really like the way Grace Zumwinkle plays," she said. Zumwinkle won gold at the 2016 and 2017 U18 Women's World Championships and was on the 2022 U.S Olympic team.
Edwards also learned from her coaches and fellow teammates at the U18 Women's World Championship. "Seeing areas that I can still work on, even at that stage [was the most rewarding aspect of the tournament]." She plans to take these learnings with her to Wisconsin.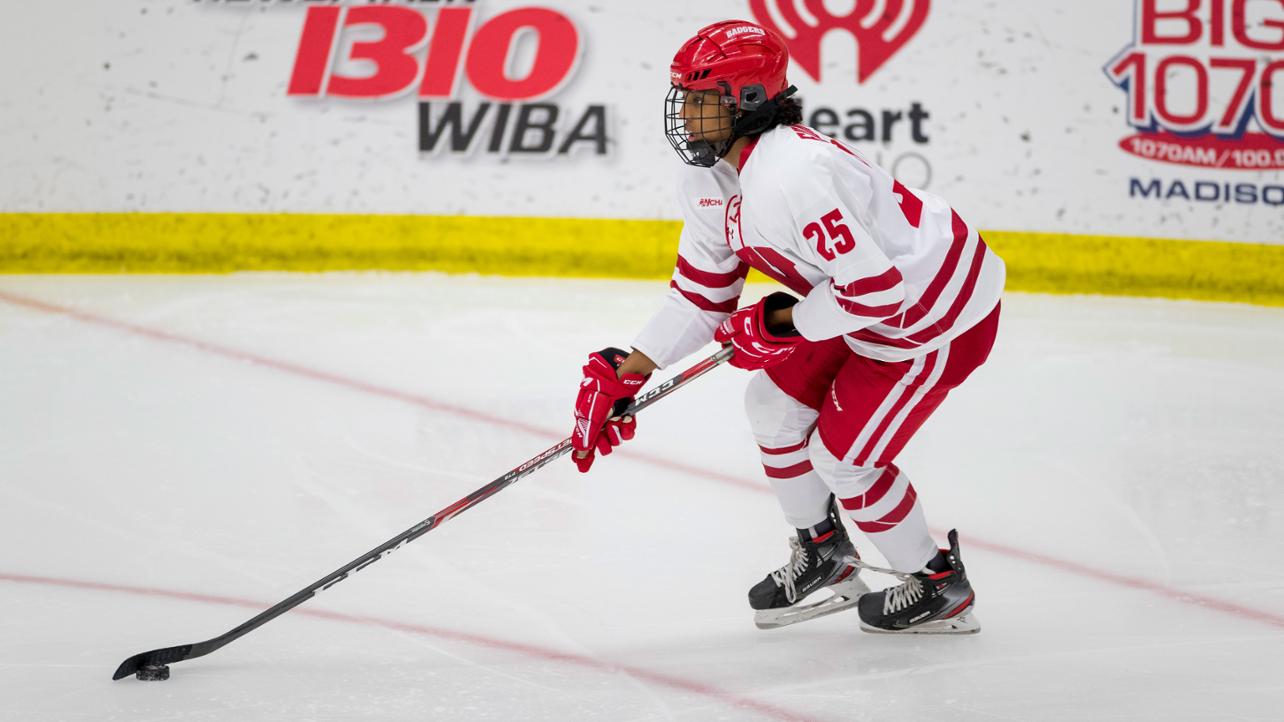 With her days at Selects Academy coming to an end, Edwards is now preparing for the heightened level of competition of college hockey. "Now, I'm on my Wisconsin training program," said Edwards. In her Wisconsin program, she continues to skate 4-6 times a week and lifts another 4 days a week. "I've been told by a couple girls to just have fun… 'You're at one of the highest levels for women's hockey. You already made it pretty far, so be confident in yourself and your abilities,'" she said.
The University of Wisconsin's campus and the state of their women's hockey team influenced her decision to commit. "The campus is really nice, and of course their hockey team is superior, the coaching staff is really good, and the cherry on top—my sister is going there," she said. Wisconsin is home to six national championships and nine finals appearances since women's hockey became a sanctioned championship NCAA sport in 2000-2001. In 2022, ten former and current Wisconsin players played for the Canadian and U.S. Olympic hockey teams combined.
Edwards will also be joining a couple former teammates at Wisconsin, including Kirsten Simms, a linemate during the U18 Women's World Championship. "It definitely makes it more comfortable going in because I've played with her for a very long time. So just to have someone you're familiar with is just nice," Edwards said. She'll also be joining former Selects Academy teammate Caroline Harvey.
And yes, Edwards is trying out for the U.S. national team. "There's a camp in August I'm going to, so I hope to just do my best and showcase my strengths, and hopefully, from there, I'm still on the USA hockey's radar," she said. How well she does can determine whether she makes the national team or the U22 team.
The end goal—Edwards hopes to play hockey for a living. The PHF has been making some positive strides this summer, giving several players a livable wage. The PWHPA has signed a letter of intent to set up their new league this fall, which will also include livable wages for all players. "It's really nice to see that it's growing right now," Edwards said.
Edwards is now entering one of the highest levels of women's hockey as a Wisconsin Badger, with her sights set on professional hockey. She hopes to inspire future generations, though if her performance at the U18 Women's World Championship is any indication, she already has.
In this article:
#IIHF
,
#MVP
,
#NCAAD1
,
#PWHPA
,
#UniversityHockey
,
#USA
,
#USports
,
#WomenInSport
,
#Womenshockey
,
#WomensWorlds
,
grow the game
,
Hockey
,
inclusion
Related Articles