One of the greatest to wear number 16 for the nationally prominent Elmira Soaring Eagles, it was only fitting that Emma Crocker became the sixteenth player in program history to reach 100 career points. With career totals of 65 goals and 140 points, only her heart and character proved more impressive.
Raised in Abington, Massachusetts, Crocker belonged to one of the greatest eras in program history. Enjoying 109 wins, plus three NCAA tournament appearances, every season resulted in conference supremacy. As a side note, Elmira also qualified for the 2020 NCAA Tournament, the event cancelled over pandemic concerns.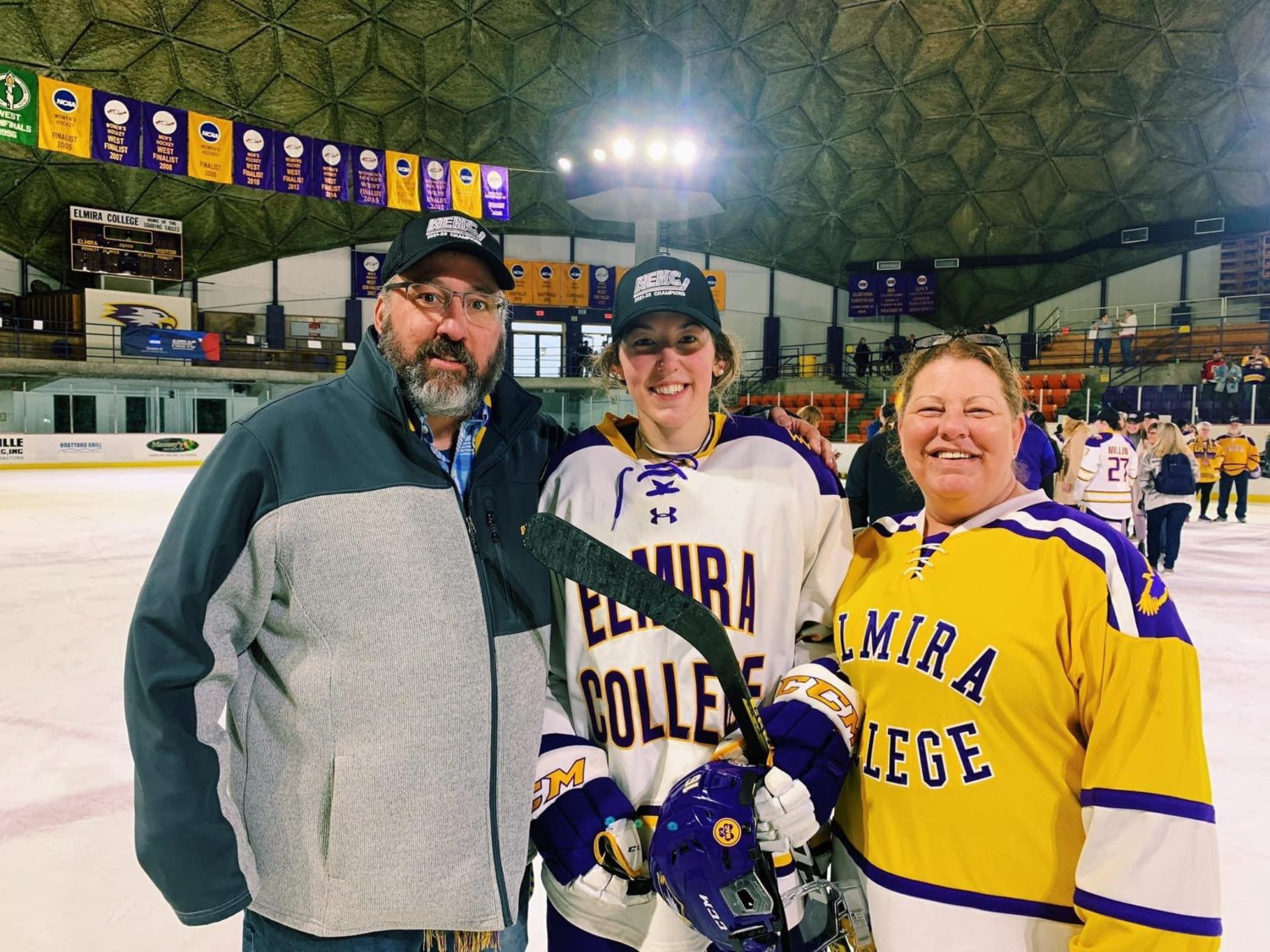 The breakthrough for Crocker took place in 2020, brilliantly becoming a key figure in Elmira's offensive picture. Recording a superlative 44 points, her 21 goals eclipsed her previous two seasons combined.
Highlighted by seven power play goals and six game winning tallies, for which she was recognized as the NCAA statistical leader, the feat allowed her a treasured place in program lore. Becoming the third Elmira player to lead the NCAA in game winning goals, Crocker joined a distinguished group including Cassidy Delainey and the iconic Laura Hurd.
Amassing a phenomenal haul of hockey hardware in 2020, including First Team All-America honors and the United Collegiate Hockey Conference (UCHC) Most Valuable Player Award, Crocker followed it up with another pair of proud achievements. In addition to the UCHC Playoff MVP Award, recognition as Elmira's Female Athlete of the Year served as the crowning touch,
"In 2020, I was the Female Athlete of the Year, and the UCHC Tournament MVP. Those accomplishments mean a lot to me. I am proud of them because I worked hard and had a breakout junior year just before Covid hit.
Looking back now, it makes it even more special because I got to do these things and feel these moments with my teammates, who are now my lifelong friends. They helped get me those awards and I will always remember them."
Designated for Elmira's Class of 2021, Crocker gained another year of eligibility as a Graduate Student. With the 2020-21 season schedule condensed due to pandemic concerns, it was not how Crocker wished to close the curtain on a compelling career with the Soaring Eagles.
Undoubtedly, one highlight during said season involved the milestone of reaching 100 career points. Defeating Neumann University by a 10-0 margin on March 12, 2021, Crocker entered the game with 96 points.
Logging three assists, Crocker ended the night with a third period goal on Alexa Lamplugh. With captain Eliza Beaudin and Sydney Harris earning the assists, Crocker became the 16th player in program history to reach the vaunted Century Club.
Grateful for an opportunity to extend her career with a fifth season, it was one that saw Crocker deliver on all accounts. With a renewed focus and drive, bringing her solid scoring touch, the results spoke for themselves.
Averaging a point per game, Crocker's six power play goals demonstrated her impact on special teams. Along with a fantastic five game winning goals, her contributions were essential towards another NCAA Tournament berth.

"Five years at Elmira has truly been one of my greatest pleasures. Four years just was not enough for me. I was not satisfied and I knew that there was more work to be done.
It was an easy decision to come back because of the family life within Elmira Women's hockey. I owe all my thanks to my teammates past and present for being by my side through everything in my 5 years.
Trying to put into words everything that I want to say is hard but the best word I have for my 5 years at Elmira is thankful. I am so deeply proud to say I was a part of this program. It is something truly so special and no one can quite understand it unless you called this place your home.
It is heartbreaking to picture my life without the domes, this program and the feelings I have had while wearing this jersey. I am so lucky to have been able to call this place my home and fulfill all I have ever wanted and more.
Elmira has blessed me with so many lifelong friends, near and far, and provided me the opportunity that I did not know I needed. I am so deeply thankful."
Gratitude emerged as a key theme in Crocker's final season. As Elmira enjoyed a won-loss mark of 15-1-0 mark when Crocker recorded at least one point, the postseason provided her finest hour.
Scoring twice in the New England Hockey Conference (NEHC) Championship Game, including the game winning goal in a 4-0 victory over the Castleton Spartans, it marked her final goals scored on home ice.
With Elmira capturing their first ever title in the NEHC, Crocker, who contributed with six points in tournament play, gained MVP honors. As a side note, Crocker won conference titles in all five of her seasons at Elmira, including four straight in UCHC competition.

"Getting MVP in the NEHC tournament this season and scoring two goals was definitely special. But what was even more special was that it was my last home game of my career playing at the Murray Athletic Center.
I know I will look back and cherish that game because I was exactly where I wanted to be with the people who mean the most to me. Anyone can score goals, not everyone can have that feeling of winning five straight league titles with people who mean much more than the game."
Undoubtedly, the next Soaring Eagles skater to wear number 16 will have a tough act to follow. Yet, it will also provide a role model to emulate, building on a solid legacy.
From the camaraderie that cultivated a culture of belonging and family, to the minutiae of the game's numerous facets, all the details provided Crocker with an unparalleled sense of enjoyment.
"In my time at Elmira there were a lot of things I enjoyed; the bus rides, the away trips, team meals, jokes, pregame skates. Yet, something that I enjoyed the most was making it to two Final Four appearances.
My favorite memory would definitely be beating Plattsburgh in double OT my freshman year to move onto the championship game.
Overall, my biggest joy was playing with my teammates who have become family. They truly are what makes this place so special and it's so amazing how we all come together to play for something that's bigger than ourselves which includes our all of our alumni near or far."
"All quotes obtained first hand unless otherwise indicated"
Related Articles