Having long captured the minds of sporting enthusiasts, starting the decade as part of Canada's first-ever gold medal winner at the IIHF U18 Women's Worlds, followed by a hockey card in Upper Deck's World of Sport collection, Erin Ambrose quickly became a symbol of stature for the next generation of the game's heroines. As said decade culminated with the acquisition of the CWHL's Defensive Player of the Year Award win in 2019, her prodigy had reached full realization, affirming her status among the elites.
Ambrose's achievement of the Award also brought with it a brush with history. Much to the surprise of the hockey community, the CWHL abruptly and surprisingly ceased operations following the 2019 Clarkson Cup Finals, an event in which she participated. The final player to have the honor bestowed upon her, it marked the end of a brilliant run on a highly positive note. In spite of this unforeseen ending, the season unfolded with Ambrose motivated towards continuously improving her already solid game, finishing said season as the highest scoring blueliner on Les Canadiennes.
"It was a huge honour to receive Defensive Player of the Year. This past season was really important for me personally as I knew I had some things to prove. I felt like as a group we were able to accomplish so much and that's definitely what helped me receive that award. Playing in front of two of the best goalies in the world and with a forward group like I was able to really helped me elevate my game to the next level."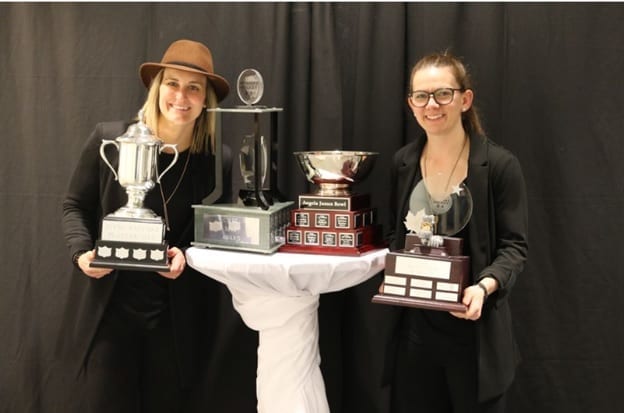 Sandwiched in between were numerous milestones, which added a fascinating growth to Ambrose's legend. Garbed in the iconic green and gold of the Clarkson Golden Knights, she was a key contributor in ascending the program towards dynasty status, amassing over 130 points. With Clarkson serving as the bridge towards the professional ranks, one that has seen many alumnae excel, part of a fascinating connection that mythologized program and league alike.
Selected with the seventh overall pick by the Toronto Furies in the 2016 CWHL Draft, Ambrose is also part of a rare sorority of women claimed in two different league drafts. In addition, a selection of the New York Riveters in the 2015 NWHL Draft, Ambrose, a native of Keswick, Ontario, was destined to return home to the Greater Toronto Area, and don the blue and white of the Furies.
Undeniably, the chance to skate for the Furies allowed for a Clarkson reunion. Renata Fast, who played with Ambrose on the 2014 Frozen Four championship team was also part of the 2016 Furies draft class, selected with the second pick overall. Also drafted by the Furies in 2016 was Carlee Eusepi-Campbell, who skated for Clarkson from 2006-2010. Worth noting, all three were participants in the third CWHL All-Star Game, with Eusepi-Campbell serving as captain for Team White.
Scoring the game-winning goal in the Frozen Four for Clarkson, Shannon MacAulay was taken right after Ambrose, eighth overall to the Brampton Thunder. Also part of the Thunder's draft class was Laura Stacey, who called Ambrose a teammate at the 2012 IIHF U18 Women's Worlds, resulting in a gold medal for Canada.
Coincidentally, the Clarkson connection even extended into Ambrose's CWHL debut. Hosting the Boston Blades at MasterCard Centre on October 15, 2016, the opposing goaltender, Lauren Dahm, was between the pipes for Clarkson from 2007-11, calling Eusepi-Campbell a teammate for three seasons (07-10). Prevailing in a hard-fought 2-1 final, Ambrose and Fast quickly established themselves as part of the foundation for a new-look Furies squad, both earning the assist on a goal by Natalie Spooner.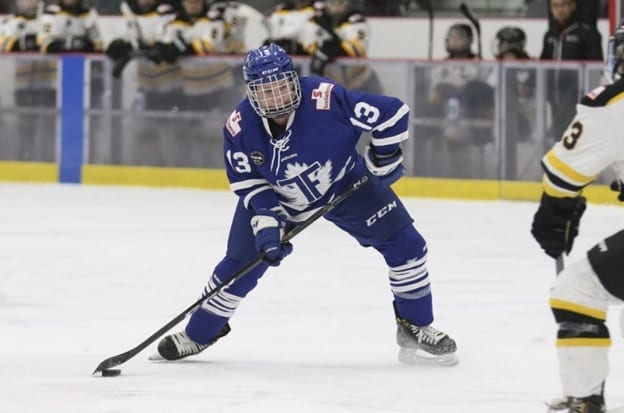 Finishing the season with eight assists, while Fast had nine points, both earned spots on Canada's defensive unit which participated at the 2017 IIHF Women's World Championships. Having also appeared with Canada's senior team prior to the Worlds via participation at the Four Nations Cup, Ambrose became part of a growing sorority that have played at all three levels of Hockey Canada's women's program.
Although Ambrose's time with the Furies would only last one season, it also served as prologue for an even richer narrative in her professional sojourn. Following participation in Hockey Canada's Centralization Camp in the autumn of 2017, resulting in a very surprising release, one, which took place on the same day Amy Potomak was also cut, this unfortunate ending made her eligible to return to CWHL play. Undoubtedly, her superlative skills and strong presence made her a highly valued commodity, an asset that could enhance any defensive unit.
Pulling the trigger on the biggest trade in CWHL history, the defending Clarkson Cup champion Canadiennes de Montreal sent shockwaves throughout professional hockey with a December 13, 2017 trade that saw the club send a package of draft picks to Toronto. Highlighted by a pair of first round picks in the 2018 and 2019 CWHL Drafts, plus third round picks in the 2018 and 2020 Drafts, it comprised a new parable in league lore. Worth noting, the highly popular publication The Hockey News, even covered this unparalleled transaction.
Relocating eastwards to Montreal, it was an opportunity for Ambrose to calibrate. With the franchise having also acquired goaltender Emerance Maschmeyer from the Calgary Inferno in the off-season, such moves for a team perpetually in the Clarkson Cup conversation were poised to keep them competitive into the next decade. Having both played for Canada's gold medal winning entry at the 2012 IIHF U18 Women's Worlds, along with time spent on the U22/Development Team, Maschmeyer would definitely play a key role in renewing Ambrose's outlook. Erasing the memories of a disappointing finish to Centralization, while generating a sense of fun and enjoyment back into the game. Dubbing her the "Queen of Shot Blocking", the nomenclature would set the tone for a revered run for both wondrous women garbed in the bleu, blanc et rouge.
Becoming teammates once again, their collaborative roles as building blocks for the Canadiennes future also saw them as Anglophone superstars in the hockey-mad city. Both ebullient in said roles, complemented by US superstar Hilary Knight joining the team by season's end, this tremendous triptych of world-class talent channeled the spirits of past Canadiens NHL Anglo-legends such as Terry Harper, Doug Harvey, Kenny Mosdell, Dickie Moore, Steve Shutt and Lorne "Gump" Worsley, carving an exciting new legacy in the city's professional hockey history.
"For me, the trade was all about getting a fresh start and resetting. After the difficulties of not making the Olympics, I felt like I needed to have a new perspective on things. Being able to lean on a friend like Maschmeyer also helped me a lot to make sure I was in the right frame of mind. It was sad to leave things in Toronto, but at the same time I was very excited for a new beginning."
Magnifying the Clarkson connection further was the fact that the Furies selected Shea Tiley with the first round pick acquired from Montreal in the 2018 CWHL Draft. Having also selected Sarah Nurse in the first round with their own pick, it quickly transformed the franchise into postseason contenders. Selecting New Hampshire Wildcats' graduate Julia Fedeski with Montreal's third round pick, bolstering their blueline corps, the trade certainly had the perception of a win-win for both sides. Tiley, who backstopped the Golden Knights to consecutive Frozen Four titles, while holding a place on Hockey Canada's radar, was expected to anchor the franchise's goaltending picture for the foreseeable future, before the league's dissolution.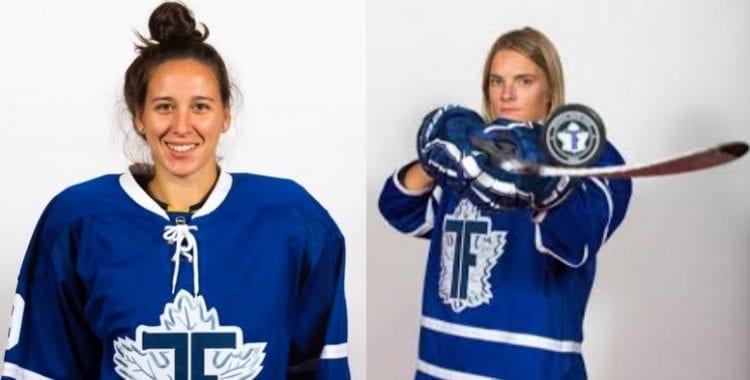 Immersed in her comeback, it only added to Ambrose's mystique. Garbed in the tri-colore of Les Canadiennes, a December 16-17, 2017 weekend series versus the Markham Thunder, resulted in the next chapter of her CWHL career. Recording a pair of assists, Ambrose also assisting on the game-winning tally, supplying another tinge of coincidence to her CWHL career. Scored by another new face for the Montreal franchise, free agent acquisition Kayla Tutino, who was also the first pick overall in the 2016 CWHL Draft, recorded the goal, as Montreal prevailed in a hard-fought 5-4 overtime final.
Logging another assist followed in the second day, as Montreal claimed another win, defeating Markham in a shootout, Ambrose quickly became an impact player for the proud franchise, supplying an offensive touch from the blueline.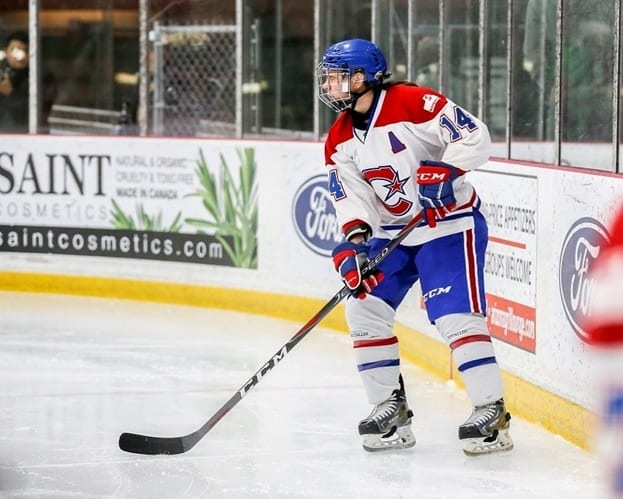 Enjoying her first game against the Furies during a weekend series from January 20-21, 2018, home ice advantage was not a factor for either team. Held in the neutral site of Sarnia, Ontario, Ambrose logged an assist on a first period shorthanded goal by former Angela James Bowl recipient Ann-Sophie Bettez. With Les Canadiennes scoring four goals in said period, it provided enough of a cushion to prevail in a 7-3 final.
Of note, Ambrose would have to wait until October 27, 2018 to make her return to MasterCard Centre. Serendipitously, Ambrose and Maschmeyer were the key factors in a highly intense defensive stalemate that saw only one goal scored. Finding the back of the net at 12:17 in the second stanza, Ambrose's goal proved to be the game-winning tally, as a euphoric group of friends and family were in the stands, while Maschmeyer recorded 21 saves in the 1-0 shutout win. Coincidentally, the Clarkson connection continued as Shea Tiley was between the pipes for the Furies, providing a valiant effort with 22 saves.
"It was different being back in Toronto but playing for Montreal. It was my first time back since I had made the move so I was super excited to see family. Obviously, the focus was getting two wins that road trip but at the same time that was the first time I had seen a lot of my old teammates so it was a tough weekend."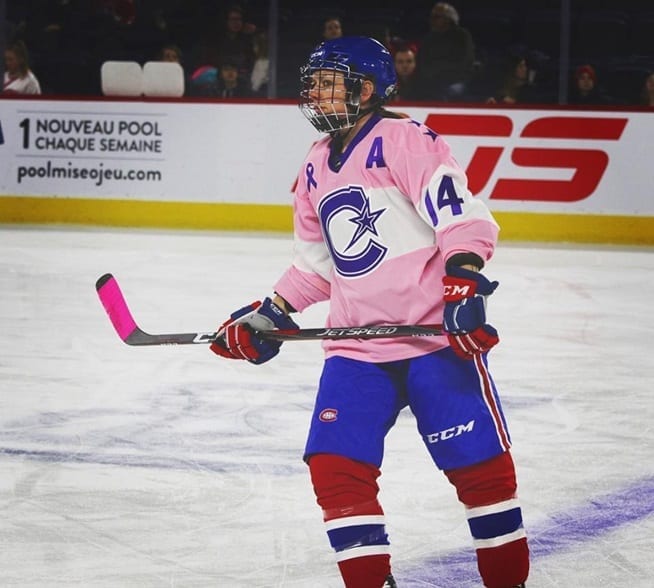 Considering that both Montreal and Toronto are both strongly wedded to the game, it has been an extreme rarity for the stars of the CWHL to skate for both cities in a career, akin to the rarity of Major Leaguers suiting up for both baseball's Blue Jays and Expos franchises. Another celebrated example would be Jordanna Peroff, whose mark in league history was the fact that she became the first Canadian-born to win the Clarkson Cup with two different teams. Coincidentally, Peroff also grew up in Keswick and started her career with the Furies before joining Les Canadiennes.
"I definitely feel fortunate to be able to have been able to play both in Montreal and Toronto. Kicking off my CWHL career in Toronto was awesome as I had always been around Toronto growing up. So to start off my professional career there was something I really am proud of.
After moving to Montreal, I truly did realize how amazing the organization was. As a Leafs fan, I never liked the Habs so I kind of felt like I was on the other side of it when going from the Furies to the Canadiennes. Montreal is somewhere special for me and I feel honoured I was able to be a part of the organization."
The Toronto connection continued throughout Ambrose's stellar season in 2018-19, returning to her roots for a pair of landmark events on the CWHL calendar. Among seven Canadiennes, including Maschmeyer, named to the fourth CWHL All-Star Game, hosted at Scotiabank Arena, home of the NHL's Maple Leafs, both were garbed in the paraphernalia of Team Purple. Logging a pair of assists, one on a goal scored by Blayre Turnbull, while another was scored by Canadiennes teammate Ann-Sophie Bettez, resulting in her greatest All-Star performance.
In what surprisingly proved to be the last-ever CWHL game, Ambrose and Les Canadiennes qualified for the Clarkson Cup Finals for the eighth time in franchise history, a league history. Contested at Toronto's Ricoh Coliseum, home of the AHL's Marlies, it marked the third time in four seasons that Montreal and the Calgary Inferno clashed for the Stanley Cup of women's ice hockey.
Although Calgary claimed their second Cup in franchise history, prevailing in a 5-2 final, once again, Ambrose enjoyed a brush with history. Combining forces with Hilary Knight, both earned an assist on a second period goal by Ann-Sophie Bettez, trimming Calgary's lead to a 3-2 margin, it was also the last in franchise history. Despite the fateful finish, denying a proud Montreal team the opportunity to hoist the coveted Clarkson for the fifth time, the experience was part of a bigger picture for Ambrose, proud to participate in world-class events contested in her backyard, sharing her achievements with close acquaintances.
"I think both the All-Star Game and Clarkson Cup Finals being in Toronto meant more to me as I was able to have so many members of my family attend. Whenever I get the chance to play in Toronto it means a lot."
This past autumn saw another focus for Ambrose, collaborating in one of the biggest sporting movements of recent history. Part of the initiative to improve conditions for the professional women's game, Ambrose aligned herself with the PWHPA, keen to contribute towards positively shaping the game's future. Along with numerous Canadiennes and Furies alumnae, including the aforementioned Tiley and Fedeski, both part of the legendary trade, a key component of their unified effort was to raise awareness of their noble efforts, highlighted by the Dream Gap Tour, a series of showcases in Canada and the United States, featuring four teams participating in exhibition play.
For the first leg of the Dream Gap Tour, Ambrose enjoyed another treasured opportunity to grace the ice with friends and family looking on, fortifying her hometown hockey legacy. Participating in the Unifor Women's Hockey Showcase from September 21-22, 2019 at Toronto's Westwood Arena, Ambrose was a member of Team Poulin, named after her Canadiennes teammate.
More than a dozen Canadiennes joined Ambrose on the roster, including Bettez and Knight, although the feeling of full circle was another defining feature during this memorable time. Calling Laura Stacey a teammate once again, having both played for Canada in IIHF play at the U18 and Senior levels, along with a dominant run on the PWHL's Toronto Jr. Aeros, which also featured Jillian Saulnier, their reunification represented the feeling of fun and teamwork that made the Dream Gap Tour a memorable moment in the game's rebirth.
Pondering the future with confidence, Ambrose also reflects on her CWHL years with gratification. Having experienced an upward progression from second round pick to All-Star blueliner, she was part of a fascinating lineage of elite hockey stars that graced league ice. Although Ambrose was among those who played in its final season, carrying the torch from those who first skated in the inaugural 2007-08 season, the feeling of building on their legacy, while demonstrating to young women that they can stand shoulder-to-shoulder with the game's male stars, and stake their claim as professional athletes was one well worth it.
"Being able to play in the CWHL was something I will always cherish. The amount of people that played in the league before me and made it what it was is incredible to think about. I am excited for the new chapter to begin!"
"All quotes obtained first hand unless otherwise indicated
Related Articles