Among those making their debut at the 2021 Canadian Ball Hockey Association (CBHA) Nationals in Calgary, a pair of highly talented alumnae from the dynastic Clarkson Golden Knights emerged as key contributors. Both garbed in the jersey of the defending national champion Ottawa Capitals, the contributions of Genevieve Bannon and Corie Jacobson adds to a pair of sterling hockey legacies.
Both part of a growing number of Golden Knights graduates shining in other facets of the game, the collaborative efforts of Bannon and Jacobson were essential in helping the Ottawa Capitals capture their second consecutive CBHA National Title. Worth noting, it marked the sixth podium finish for an Ottawa-based team at the CBHA Nationals since 2014.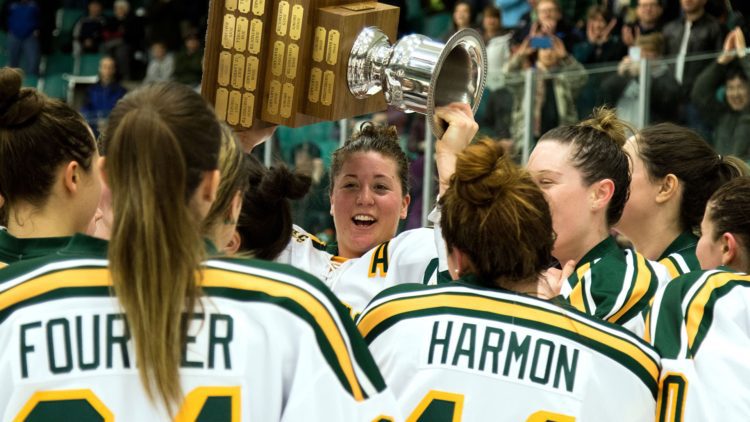 Pictured: Genevieve Bannon (image c/o ClarksonWHockey)
Prior to playing for the Capitals, the two were teammates together with Clarkson from 2013-17. Jacobson, originally from Warren, Ontario, was revered as a highly reliable stay-at-home blueliner. Appearing in all 41 games during her senior season with the Golden Knights, she was recognized with ECAC All-Academic honors as a senior, recording a total of 135 appearances with the program.
Serving as an alternate captain during her senior season, Bannon, raised in the Montreal suburb of Candiac, winning a bronze and silver medal with Team Quebec at the Canadian Under-18 Nationals, logged a career high 53 points. An ECAC Hockey Second Team All-League selection, along with an All-USCHO Second-Team, she graduated with 150 career points.
The most fascinating aspect of the combination of Bannon and Jacobson involves the fact that both have been teammates multiple times throughout their celebrated careers. Originally, their sterling hockey resumes were highlighted as members of Canada's Women's U18 Team that won the Gold Medal at the 2013 U18 World Championships. Later that year, Jacobson would win the Best Defender Award at the 2013 Esso Cup. Their brilliant run with Clarkson included a pair of Frozen Four national championships (2014, 2017), at the time, part of only five players in program history to achieve this unique double.
Emerging as the leading assist-getter among blueliners in preliminary round play at the CBHA Nationals, Jacobson's playmaking abilities were just as evident in the championship game versus the New Tecumseth X-Treme, whose roster featured former Isobel Cup champion Devon Skeats, 2019 ISBHF gold medalist Giuliana Pallotta, and Golden Path trophy winner Brittany Clapham.
Earning a pair of assists, Jacobson's second of the game proving to be a defining moment. Collaborating with Alicia Blomberg, who has played internationally for Team Italia, both assisted on a power play goal by Claudia Bergeron, a former skater for the RSEQ's Carleton Ravens, and OVWBHL scoring champion, which stood as the game-winning tally.
"It was a fantastic experience to be apart of such a talented group in my CBHA debut. We have a very hard working group in Ottawa and I feel extremely fortunate to have been able to win the title with our team this year. Although I only focus on doing whatever I can to help my team win, I feel lucky to have been able to contribute on the score sheet in the final game to help my team clinch the title. Playing with extremely talented players makes my job as a defender that much easier and that much more fun."
Possessing big game experience from her time with Clarkson, as evidenced by a pair of assists versus Wisconsin in the 2017 NCAA Championship Game, Bannon rose to the occasion with the Capitals, adding another dimension of offensive depth. Opening the scoring at the 4:40 mark of the national championship game, capitalizing on a power play opportunity, Bannon scored on X-Treme goaltender Serena Vilde, providing the Capitals with the first lead of the game. With Jacobson and Elysia Desmier, also a gold medalist from the 2019 ISBHF Worlds, earning the assists, it rekindled the Clarkson magic.
With the final score 3-1, Bannon and Jacobson representing more than the promising future of the Capitals, but the possibility of landing on the radar as prospects for Canada's entry at the next ISBHF World Championships, the chance to be teammates for a third time was made more special with the opportunity to add another championship. Both join Jamie Lee Rattray as Golden Knights to have enjoyed a Frozen Four title, and a CBHA title. Coincidentally, Rattray was a teammate of Desmier when Ottawa's Vanier Mooseheads won the 2014 CBHA National Championship.
"Gen Bannon is my best friend and it seems that in every sporting event I have been lucky enough to participate with her, such as our Worlds with the u18 team and our frozen Fours at Clarkson, we win. You might say Gen is my lucky charm! It makes it so special to be able to play with my best friend and share moments like these with her. She is a very talented player and a great teammate. I hope to be able to share many more successes with her in the future."
Feature Image of Genevieve Bannon and Corie Jacobson c/o CBHA Nationals
Related Articles