In the growing legend of the Chief Thunderstick tournament, the presence of Shaylyn Constant and her husband Brady Keeper created history. Both belonging to championship rosters in 2023, in what is believed to be the first husband and wife to achieve the feat, the essential theme was family. From Keeper skating alongside his brother on the Cross Lake Islanders, to Constant's mother on-hand showing her support, their collaborative efforts found tremendous inspiration in the presence of their three sons.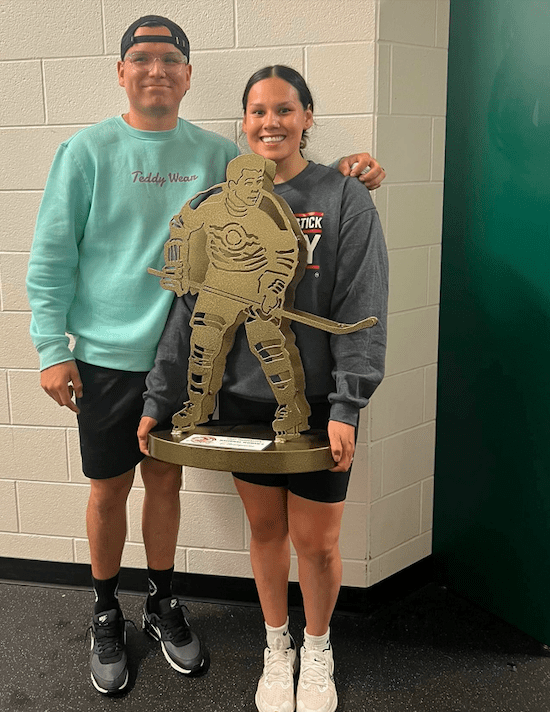 Belonging to the Opaskwayak Cree Nation, Constant saw the year start on a highly empowering note. Early January saw her son take to the ice for a tournament in the iconic hockey town of Flin Flon, Manitoba. Following in his parents footsteps, Constant beamed with pride, providing momentum heading into the Chief Thunderstick tournament.
Garbed in the paraphernalia of SageStrong, the defending tournament champions, Constant played on a line with Paris Oleksyn and Brooklyn Anderson. Bulging the twine once in tournament play, she enjoyed the opportunity to play for a championship.
In a rematch of the previous year's Finals, SageStrong faced off versus the Cross Lake Lady Islanders. Skating for a national audience on Aboriginal People's Television Network (APTN), the magnitude of such a moment was made greater by having her sons on the ice postgame.
With SageStrong making history as the first team to win back-to-back Chief Thunderstick women's championships, the roots of a dynasty are firmly entrenched. Adding to the milestone of winning the 2014 National Aboriginal Hockey Championship (NAHC) in Kanahwake, Quebec, Constant is among a rare group to have enjoyed both prestigious Indigenous hockey titles. Considering the meaning of the Stanley Cup to a professional, the Chief Thunderstick tournament is poised to hold the same impact for a new generation of Indigenous competitors.
"It was special because every Indigenous female hockey player wants to be a Fred Sasakamoose champion. Winning in front of my three boys was a moment I am sure we will all talk about."

Among the members of the SageStrong roster, one filled with a handful of Olympic stars, Constant found a sense of jubilation and fulfillment in the opportunity to call Brigette Lacquette a teammate. The recipient of the 2010 Tom Longboat Award and 2019 Indspire Sports Award, among other honors, Lacquette, raised in Mallard, Manitoba, was the catalyst for the inaugural Chief Thunderstick women's tournament. Taking into account that both of their careers involved winning the NAHC, Lacquette enjoying consecutive titles in 2009 and 2010, the chance to be victorious teammates with SageStrong allowed a cherished milestone.

"Being a part of SageStrong was so special because we had a mix of so many different players. Players who are currently playing in top leagues around North America.
It was especially special to play alongside my good friend Brigette Lacquette. She put together a really strong team and her dad gave everyone a fair chance to play. Her and I have a great friendship. I am really grateful for her asking me to play in Freddy, it was really special."
Reaching the vaunted pinnacle of a Chief Thunderstick championship also saw Constant enjoy taking on the dual role of fan, watching her husband play. Recovering from a broken leg suffered in the autumn of 2021, his return to the ice proved well worth the wait.
A former blueliner with the Florida Panthers, Keeper holds a special place in Manitoba sports history. The first player from the province's Pimicikamak Cree Nation to reach the National Hockey League (NHL), his debut took place on March 28, 2019 in a 5-2 road win versus the Ottawa Senators. As a side note, he spent the recent season as a member of the Abbotsford Canucks.
Creating a lifetime of memories, Saskatoon's Merlin Belsher Place, host venue for the 2023 tournament, shall hold a place of residual warmth for Constant. In addition to serving as role models for their children and community alike, the combined heroics of Constant and Keeper have not only established a foundation for an exciting future, both instill the belief that dreams are worth pursuing.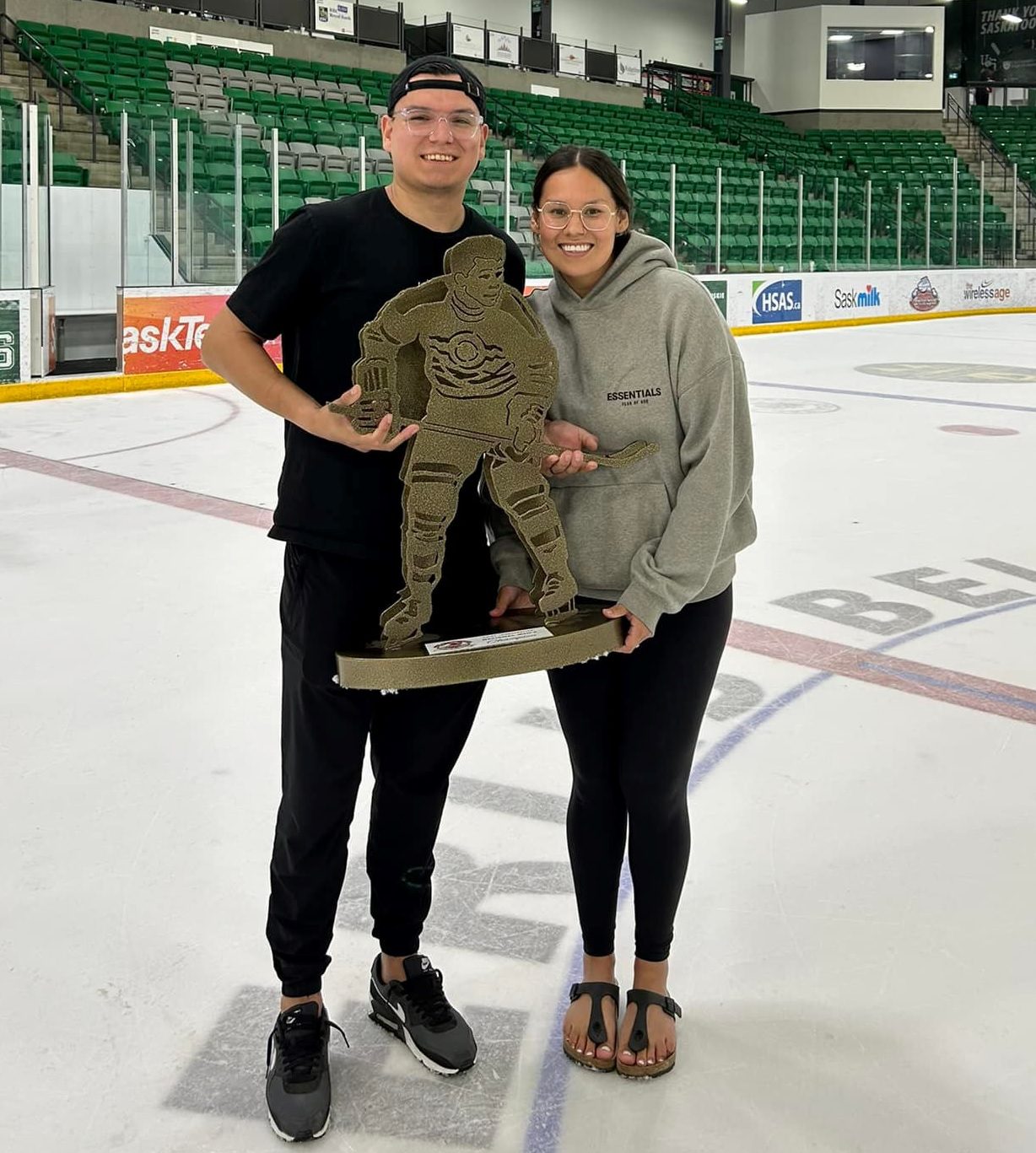 "My kids watching Brady and me was an opportunity I could not pass on. I almost gave my spot away a few days before the tournament because I was feeling really intimidated seeing our list of women (that) I was signed up to play alongside.
Yet, with the encouragement of Brigette and my husband, Brady, I decided to play. Our whole team was great, everyone was really supportive of one another and we just knew everyone was trying their best.
My husband playing in the tournament was so cool. Just seeing him out there alongside his younger brother JR and really close friends was special for our whole family.
Watching rez hockey is such a rush. Going back and fourth from rink to rink took some teamwork but with the help of my mom hauling our boys around for us, we were on time for each of our games!
Although Brady only played a few games throughout the tournament, it is still something we are going to be talking about for a while. Luckily enough, we both got to experience winning the Finals with our teams in front our boys!"
–
"All quotes obtained first hand unless otherwise indicated"
In this article:
#HockeyFamily
,
#IndigenousAthletes
,
#IndigenousWomensHockey
,
#InspireTheNext
,
#NAHC
,
#NHL
,
#Olympians
,
#WomenInSport
,
#Womenshockey
,
Chief Thunderstick
,
grow the game
,
Hockey
Related Articles