Serving as the greatest highlight in a career filled with glories, Elysia Desmier accomplished a very rare double. Gaining the dual feat of an ISBHF World Championship and a coveted place in the Canadian Ball Hockey Association (CBHA) Hall of Fame in 2022, it marked a year to remember. Affirming Desmier's place among the game's icons, the list of achievements are beyond impressive. Participating in seven national championships during her career, a podium finish was reached in each appearance, including four gold medals.
On the international stage, Desmier has worn the Maple Leaf on six separate occasions. Appearing at the ISBHF Women's Worlds in 2011, 2013, 2015, 2017 and 2019, winning the gold thrice, she entered the 2022 edition with the objective of another gold. Contested on home soil in Montreal-Laval, marking the first time that Canada served as host country since 2013, the event also provided the revelation of the Hall of Fame honor.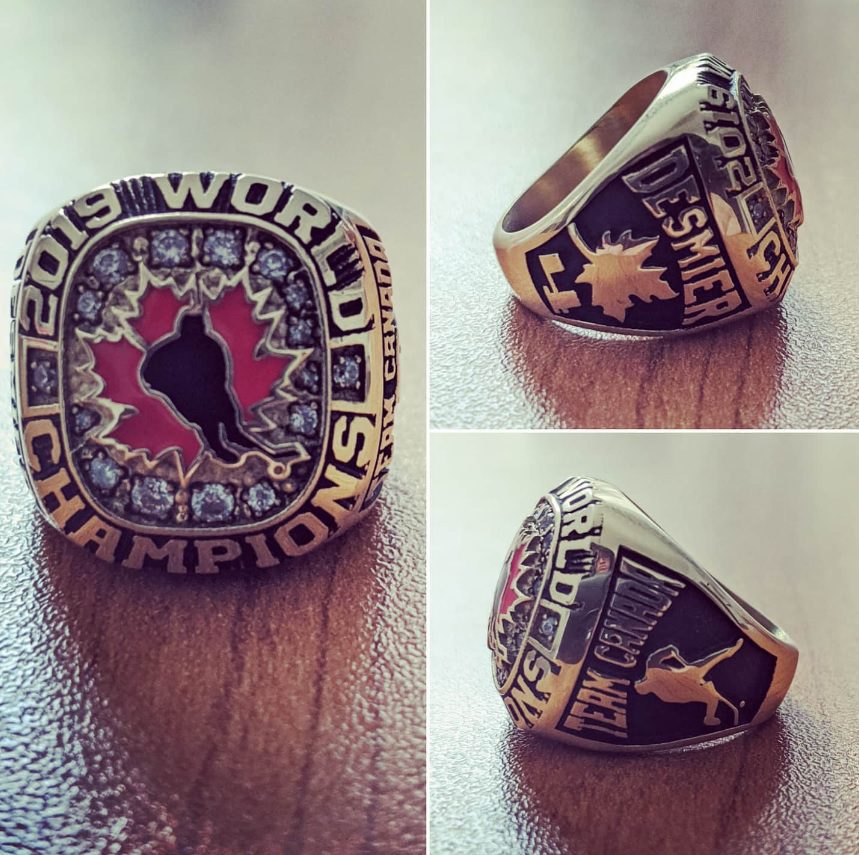 With the final result a highly emotional come from behind 3-2 victory versus the Czech Republic in the final, the hosts capturing gold on each occasion, both were titles that Desmier proudly contributed to. During the path to gold, the announcement certainly captured the element of surprise, a combination of pride and humility rising to the surface for a delighted Desmier.
"Winning a world championship is always an accomplishment you strive for after all your hard work and training you do all season. The Hall of Fame honour was a complete surprise.
Never in my entire hockey career did I imagine that my name was going to part of a Hall of Fame. Having both of those honours in one year, you cannot have anymore of a perfect season. Finding out during the World Championship that I was being inducted and getting to celebrate with this special group of girls was the best part."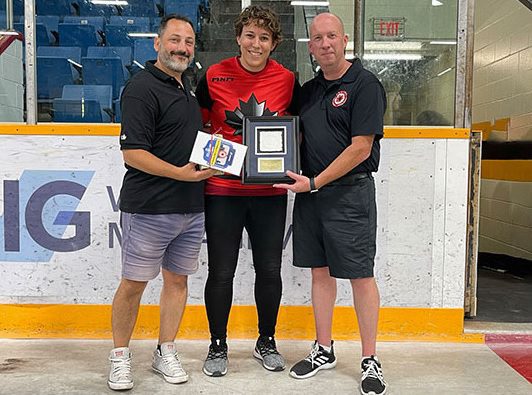 Established in 2003, the CBHA Hall of Fame saw its biggest class of inductees in 2022, as a pair of referees, three builders and four players earned the call. Worth noting, Desmier was among a wondrous group of women in this year's Hall of Fame class, including long-time teammate Nathalie Girouard, plus Christine Pellerin, among the Builders Category.
Not only did 2022 mark the first time that three women earned induction in the same year, the number of women in the Hall has increased to 10. Belonging to empowering company, Desmier, Girouard and Pellerin are in the same conversation as Carol Zaborski (2008), Shirley Cameron (2009), Diana Brown (2013), Linda Milani and Sherry Pitre (2016), Sheila Elliott (2017) and Shelley Cockerill (2018).
Fittingly, Desmier shared the Hall of Fame honour with Girouard, the greatest goaltender of her generation. Long-time teammates and cherished friends, adding to an impressive standard of ball hockey excellence in Canada's Capital Region, the greatest facet of their achievements encompassed a shared one. Winning championships together locally, nationally and on the world stage, the Hall represents the exclamation point, solidifying a collaborative legacy representing one of the greatest feel-good stories in national team lore.
"Nathalie has been my goalie most of my ball hockey career. Getting to go into the Hall of Fame at the same time is just special. She has always been my number one goalie and I am happy to share that honour with her.
Christine was the first coach to select me for the Canadian team and start my international career. Both of these women have had a huge impact on my ball hockey career. I could not have asked for a more special group to be inducted with."
Among a plethora of remarkable moments that served as highlights in a tremendous athletic narrative, one of Desmier's earliest appearances at the CBHA Nationals proved one that defined tenacity and character. Competing with the Vanier White Lightning at the 2011 edition, it marked the first national championship won with Girouard as a teammate.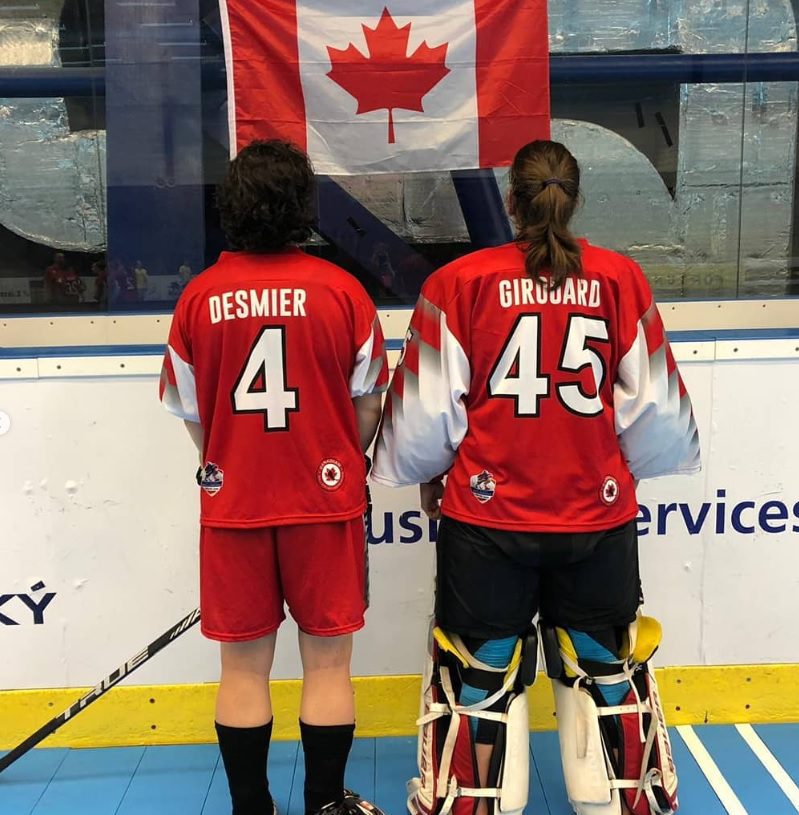 Representing a seminal moment in their friendship, the magnitude of the event was defined by a depleted roster managing an incredible victory in the Finals. Fittingly, Girouard captured the Most Valuable Goaltender Award, while Desmier landed on the Tournament All-Star. Worth noting, teammate Jessica O'Grady, akin to Desmier, also a former CWHL competitor, earned All-Star honors while Candice Moxley earned the MVP Award.
Surrounded by such exceptional talent, it proved to be an integral theme in Desmier's career, one that went beyond the final score. Inspired by the wondrous women that she called teammates, whether it was in the highly competitive Ottawa Vanier Women's Ball Hockey League (OVWBHL) or wearing the iconic Maple Leaf with Team Canada, Desmier graciously acknowledged their collective presence in her growth as a star player and valued teammate. With the CBHA Hall of Fame marking a new chapter, the combination of class and an exceptional skill set stand as a proud example, providing the next generation with a tremendous role, and exceptional legacy, to emulate.  
"If I had to pick one moment, I would select the national championships in Brampton. We had a lot of injuries, plus players who had to leave unexpectedly. Going into Finals, we had a depleted roster. Nat kept us in the game. Our team, who got very close over the week, just found ways to stay in games and win. Probably the most difficult game that Nat and I have been a part of that we ended up winning.
Overall, I have been fortunate to have been able to play with a number of amazing women throughout the years. I learnt so much from every single one of them. They have all made me a better player.
There have been so many moments of winning and losing, triumph and heartbreak. Being inducted into the Hall of Fame has made all of these moments become something bigger than I ever imagined. I could not have done it without the support of my teammates, friends and family."
"All quotes obtained first hand unless otherwise indicated"
Related Articles