BGHC celebrates seven young women for excellence on and off the ice

Los Angeles, CA: To commence with Pride Month, Black Girl Hockey Club is honored to
announce our summer 2023 scholarship award winners. This season, BGHC awarded $5,000 to
three recipients, in addition to all seven award winners being fully outfitted with new equipment
courtesy of a four-year, $100,000 grant created by Bauer Hockey.

The scholarship program was established in 2020 to encourage Black women and girls to
pursue their interest in hockey and to alleviate financial barriers to accessing the sport. BGHC
issues scholarships three times throughout the calendar year, awarding amounts ranging from
$500-$5,000. Any Black girl ages 9-18 who is registered on a hockey team, demonstrates
financial need, and is in good academic standing is eligible to receive a scholarship.

Our scholarship application process consists of each applicant or nominator submitting their
contact information and answering two essay questions detailing how the scholarship will
strengthen the player's confidence, hockey skills, and respective communities, and elaborating
on how the player will make hockey more inclusive for women and people of color.

Voicing pride in yet another season assisting Black girls and their families as well as the
continued partnership with Bauer Hockey, BGHC Founder and Executive Director, R. Renee
Hess commented that "Black Girl Hockey Club is excited to offer each one of these athletes a
Bauer equipment scholarship, courtesy of our Bauer Hockey grant, as well as cash grants to
these very special awardees. We are grateful to all of our partners and donors for continuing to
fund these scholarships each season. We could not do it without the financial support of our
co-conspirators and supporters in the hockey space. We cannot wait to see what these girls do
with the opportunities ahead!"

Please join us in celebrating our summer 2023 scholarship award winners: Arya Manning,
Camille Patterson, Chyna Taylor, Elaina Mullen, Kaya Moulton, Lincoln Brown, and Trinity
Moore.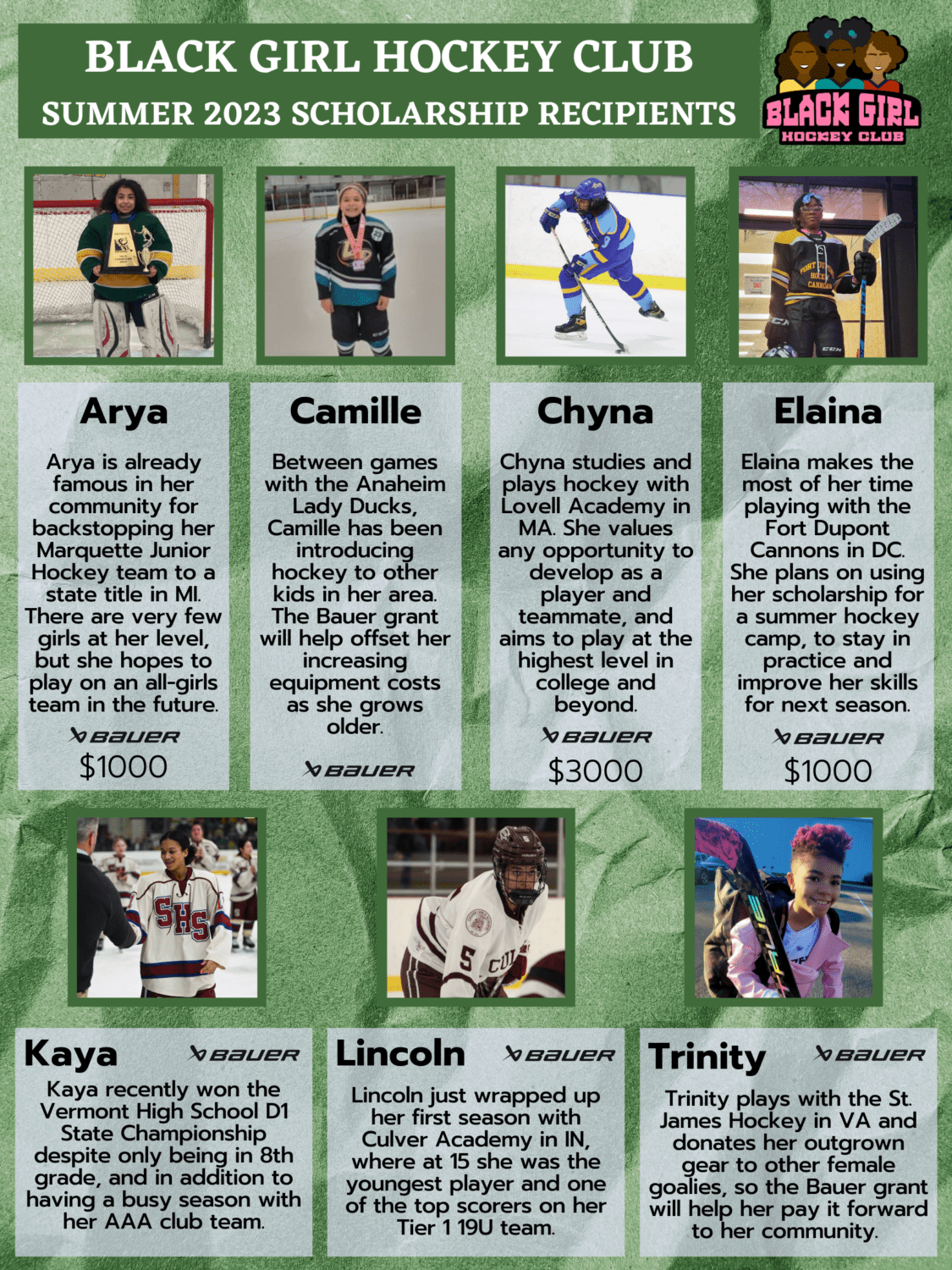 Arya Manning is a recipient of the $1,000 scholarship. Raised in Marquette, Michigan, Arya
led her Marquette Junior Hockey team to the Michigan state championship! While she has
played with very few girls thus far, she would like to play on an all-girls team in the future.

Camille Patterson is the recipient of an equipment grant courtesy of Bauer Hockey. From
Anaheim, California, Camille is a proud member of the Anaheim Lady Ducks. When she's not
playing, she takes the time to introduce hockey to friends in her area. She looks forward to
using this equipment grant to reduce increasing equipment costs as she gets older. This is
Camille's third award with BGHC.

Chyna Taylor is the recipient of the $3,000 scholarship. Originally from Louisville, Kentucky,
Chyna plays and studies varsity at Lovell Academy outside of Boston. She anticipates playing
hockey at the highest level of hockey and beyond. Most of all, she values any opportunity to
develop as a teammate and player.

Elaina Mullen is a recipient of the $1,000 scholarship. Coming from Washington, DC, Elaina
plays for the Fort Dupont Cannons. She looks forward to using her scholarship to continue
practicing and improving her skills for the upcoming season. Elaina also anticipates attending a
summer hockey camp, thanks to this award.

Kaya Moulton is the recipient of an equipment grant courtesy of Bauer Hockey. Hailing
from Barre, Vermont, Kaya recently won the Vermont High School D-1 State Championship as
an 8th grader! In addition to excelling with her high school team, she is busy playing on a AAA
club team. This is Kaya's second award with BGHC.

Lincoln Brown is the recipient of an equipment grant courtesy of Bauer Hockey. Raised in
Los Angeles, California, Lincoln just completed her first season at Culver Academy in Indiana.
At Culver, she is the youngest player and one of the top scorers on her Tier 1 19U team. This is
Lincoln's third award with BGHC.

Trinity Moore is the recipient of an equipment grant courtesy of Bauer Hockey. From
Woodbridge, Virginia, Trinity plays goaltender at the St. James Hockey Academy. Trinity
donates goalie equipment she has outgrown to fellow female goalies. She aspires to use her
equipment grant to continue paying it forward by giving equipment. This is Trinity's third award
with BGHC.

We are delighted to support these young women and their families. We are particularly proud to
build a legacy with four players this season being recipients of multiple scholarships. We are
humbled to be a part of their unique journeys in hockey and look forward to their future
endeavors.

BGHC is currently accepting applications for our fall season. The deadline to apply is Thursday,
August 31st. For more information, please visit our website.
###
Black Girl Hockey Club is a 501(c)3 nonprofit organization dedicated to advocating for the
inclusion of Black women and girls in all levels of hockey

For media inquiries: Isabel Graham
–
Featured image: Courtesy of BGHC
Related Articles