In 1982, I had the "privilege" of being the first woman to sit on the Canadian Amateur Hockey Association (CAHA, now Hockey Canada) Board of Directors. At that time, the CAHA had already been in existence for 65 years.
During the first Women's Championships in 1982, my colleagues and I had finally affiliated women's hockey with the CAHA, and created a subgroup of the CAHA called the Female Council which was designed to govern women's hockey in Canada at the National level. I was elected the first Director of the Female Council, and as such, I gained a seat on the CAHA Board, although it was certainly not a very comfortable one.
Here I was sitting next to the heads of, for example, the Junior Council, the Seniors Council, and more – the only woman among all these men. I was in my late twenties, and most of my colleagues were about twice my age. Everyone seemed to know everyone, and I hardly had any acquaintances in this old boys' club.
Physically, the desks of the panel were arranged in a giant U-shape, and I was seated near the very bottom. Moreover, I stood for something that most of my colleagues didn't support. It was awkward and I felt out of place.
The other council heads all *automatically* had voting power on the panel, [since they were male] and one of the main interests of sitting on the Board was getting to help make decisions that benefited your group of players.
However, when I joined, the question came up at the first meeting as to whether or not the Female Council head deserved to have a vote too. The discussion about how "worthy" the women's program was became extremely intense. I'll save the details for the book, but in summary: there were literally men who yelled at me from across the table when I brought up the question.
I think I hit a nerve
In the end, however, CAHA President Murray Costello had the rest of the members cast a vote anyways, and thankfully there were enough supporters of women's hockey for us to come out on top. I should probably also be thankful that I had strong women like Cathy Lane MacDonald and Olympian Abby Hoffman from Sport Canada (one of the CAHA's main sponsors) to back me up and make sure everyone on the council played nice.
So voilà, thanks to a lot of pushing and a little well-placed financial incentive, women in Canada had a vote for hockey at the National level.
Sadly, this vote and position would not last very long. 
My time with the Female Council came to a close in 1984 (a long story that I will also save for the book), and shortly after I left, the CAHA/Hockey Canada underwent some restructuring which resulted in the loss of the vote for women on the Board.
There are still currently NO women sitting on the Hockey Canada Board of Directors. Take a look for yourself: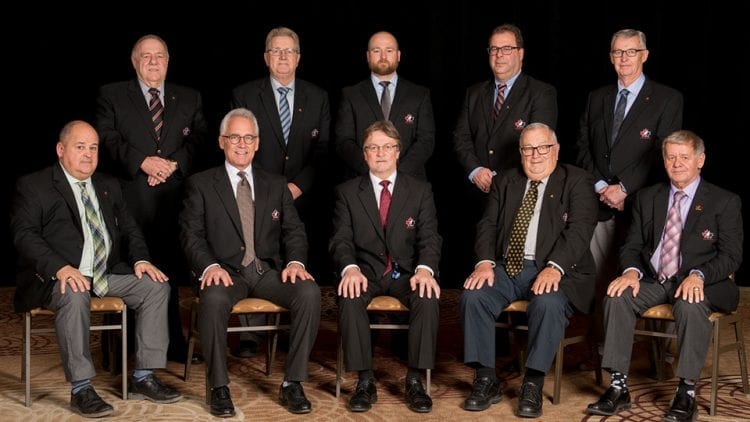 (Source: "Hockey Canada Board of Directors." Hockey Canada,https://www.hockeycanada.ca/en-ca/corporate/about/board-of-directors. Accessed 22Aug. 2019.)
However, the best part of this picture is the caption, which states in the very first line, "The members of the Hockey Canada Board of Directors come from all walks of life and from all corners of this country," really giving the impression of a non-existent diversity.
Flashback to 1980
Just like the suffragettes of the 1910s and '20s, women a mere 40 years ago had to fight for the right to make our voices count, aka, we had to convince the ruling male demographic that our ideas and opinions were in fact "worthy" of being taken into consideration on decisions that affected us too.
But now it's 2019 and we've reached equality, right? 
Don't kid yourself. Even though it seems the female volunteer has become the backbone of Canadian minor hockey administration, in many cases we are still waging this century-old battle. The fact that women currently don't have a vote on the board that makes decisions affecting more than 83,000 female athletes playing under Hockey Canada speaks very well to that.[i]
Equitable representation in sport organization (and everywhere else) at the higher levels is so essential to ensure the survival of the sport in the future for all genders. We can only profit by expanding our audience and participant demographics, and to do that well, we need to have representatives from "all walks of life" coming together in equal proportion to make decisions that benefit everyone. Diversity is really a no-brainer for success in any context.
To people who take this fact for granted, it can be very frustrating to watch others still fail to admit women (and other oppressed groups) into the higher levels of businesses, sport programs, and more. But at the same time, we have to remember that it is a really hard thing to change someone's values — it can be unsettling when someone takes away a pillar you were counting on for support.
We must therefore be ardent and resilient. It takes time and repetition for people to learn exactly why something they've always done is wrong. They need our help to understand that while discrimination holds them up, it also holds someone else down. People are not inherently "evil" — we just all have lots of room to learn.
Try starting an open and non-condescending conversation about gender equality and exactly what it means, and why it's important for everyone. Let's keep fighting, and let's help everyone grow.
– Rhonda Leeman Taylor
---
References:
[i]"Hockey Canada Annual Report: June 2017-June 2018." Hockey Canada, https://cdn.agilitycms.com/hockey-canada/Corporate/About/Downloads/2017-18-hockey-canada-annual-report-e.pdf. Accessed 23 Aug 2019. PDF.
Rhonda Leeman Taylor was the chair organizer of the first ever Canadian Women's National Championships in 1982, the first director of the Female Council, and the first woman to sit on the CAHA (Hockey Canada) Board of Directors. Rhonda is currently writing a memoir called "OFFSIDE" about her years as a player, coach, and administrator in women's hockey, and the struggles and discrimination she had to overcome therein.
To learn more or to pre-order the book visit www.rhondaleemantaylor.com.
---
#WHLGear is HERE!
Order yours now and turn heads everywhere from the gym to the rink this season.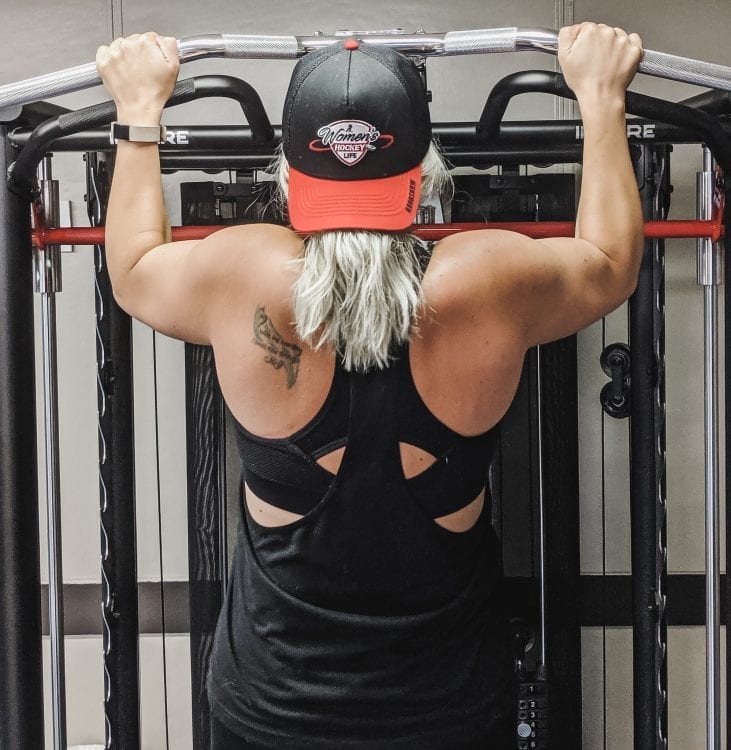 Related Articles