During a magical postseason run in 2022, defined by "Drever Fever", the brilliance of Saskatchewan Huskies goaltender Camryn Drever took on even greater magnitude. Named to the Canadian contingent participating at the 2023 FISU Winter Universiade in Lake Placid, New York, the honor was certainly fitting.
Backstopping the Huskies to the 2022 U Sports Nationals, the privilege of building on such a stellar run with an international tournament marked a fait accomplishment. With a personal goal of wearing the Maple Leaf representing a strong focus, the highly motivated Drever gained a prestigious place on Canada's entry in Lake Placid, validation and achievement encompassing a proud feeling of arrival.
"Being able to follow up Nationals last year and put on the Maple Leaf was an incredible feeling. To be honest I did not even know that the tournament was happening this year until (Huskies head coach) Steve told me in September. I thought it was next year.
At the beginning of the year, I told my goalie coach that making the FISU team was a goal of mine for the next two years. Little did I know I had a chance at it this year. I think that the run I had at Nationals with the team was very helpful in this process and having success there gave me a chance to make the FISU team.
I would not have been able to make that team if it was not for my Huskie family though. The opportunity and way we played at Nationals plus the way they push me in practice everyday is one of the biggest reasons I got to follow up Bronze at Nationals with Team Canada."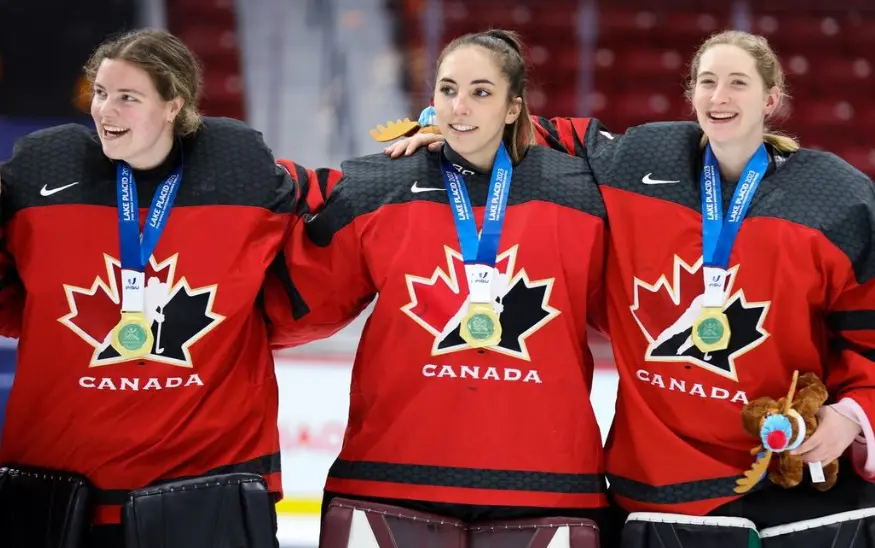 Worth noting, Drever was among two goaltenders on the Canadian roster who starred at the previous Nationals. Joined by Kendra Woodland, a multiple Atlantic University Sports All-Star with the University of New Brunswick Reds, another shared journey ensued.
Coincidentally, both were at opposite ends of the ice for the bronze medal game at Nationals. Going from distinguished rivals to international teammates marked a fascinating evolution for both, a friendship growing out of mutual respect, intertwined as gold medalists for Canada
"I did not really know Kendra before the tournament. (Although) I knew who she was and I had been following her season, it was really cool to get to know her and call her a teammate. I learned a lot from watching her in practice and games."
Equally essential in this fascinating narrative for Drever involved the presence of a fellow Husky on the Canadian contingent. Among the stalwarts of the Huskies defensive unit Isabella Pozzi, an All-Star Selection at the 2022 Nationals and four-time U Sports All-Academic, knew Drever from junior hockey.
Both hailing from Alberta, Drever, a native of Edmonton captured a pair of Esso Cup National Championships as a member of the St. Albert Slash, while Pozzi, raised in Calgary, wore the paraphernalia of the Rocky Mountain Raiders, enjoying a pair of Mac's Midget AAA Invitational titles. Statistically, Pozzi, one of Canada's alternate captains, contributed a pair of points in tournament play, including a goal in the semifinal triumph versus Czech Republic.
"It was incredibly fun to have Izzy there alongside me. I could not have asked for a better teammate to go with. We go back a long ways playing in Hockey Alberta camps and against each other in U18's.
To be able to grow with her over the last five years has been incredible and the friendship we have grown is special too. I am glad we got to share that experience together, it will be something I remember for the rest of my life."
Suiting up for five games at the Winter Universiade, coincidentally, Drever served in a backup role for Woodland in Canada's first tournament appearance, a 4-0 shutout win versus Slovakia. Gaining the start in a convincing 5-1 final against Czechia, Drever enjoyed her first international win. As a side note, Aurelie Dubuc, a goaltender from the University of Ottawa also gained playing time between the pipes.
Blanking Great Britain in a 14-0 final on January 17, as Leah Herrfort and Maria Dominico each led the way with four points each, the magnitude of such a milestone proved to be among a fascinating series of highlights. Weaving a brilliant tapestry, creating a lifetime of memories, culminating with Canada's first gold medal in women's ice hockey at the Winter Universiade since 2013.
"Honestly, there are so many great moments that it is so hard to pick just one favourite memory. The best part was having my mom, dad, auntie, uncle and cousin in the stands.
My mom and dad came out for the whole tournament and I was super happy to be able to look up in the stands and see them wearing my name on a Team Canada jersey. They put so much time and support into everything I do and I would not be where I am without them.
A highlight would obviously be winning a gold medal. It was such an incredible feeling and a dream come true. This is something I have dreamt of and been working towards for a long time and to accomplish it is pretty amazing.
The celebration after with the girls was so much fun. We all grew so close over the duration of the tournament and being able to celebrate the win and walk the streets of Lake Placid as gold medalists is something I will remember forever."
–
"All quotes obtained first hand unless otherwise indicated "
Featured image from Instagram. Acknowledgements: Steve Kook
Related Articles