Assembling an admirable career on and off the ice based on character and perseverance, the Toronto Metropolitan University (TMU) Bold had a gem in Olivia Giardetti. Leaving her mark in program lore, as the first member of the Bold to capture the highly inspiring Ontario University Athletics (OUA) True Sport Award, it marks a seminal moment for the assiduous forward.
Serving as alternate captain for three consecutive seasons, the display of leadership by Giardetti, raised in Whitby, Ontario, is nothing short of inspiring. Wearing the number 12, her presence is equally prominent on the TMU Student-Athlete Advisory council (SAAC), serving in the capacity of co-chair.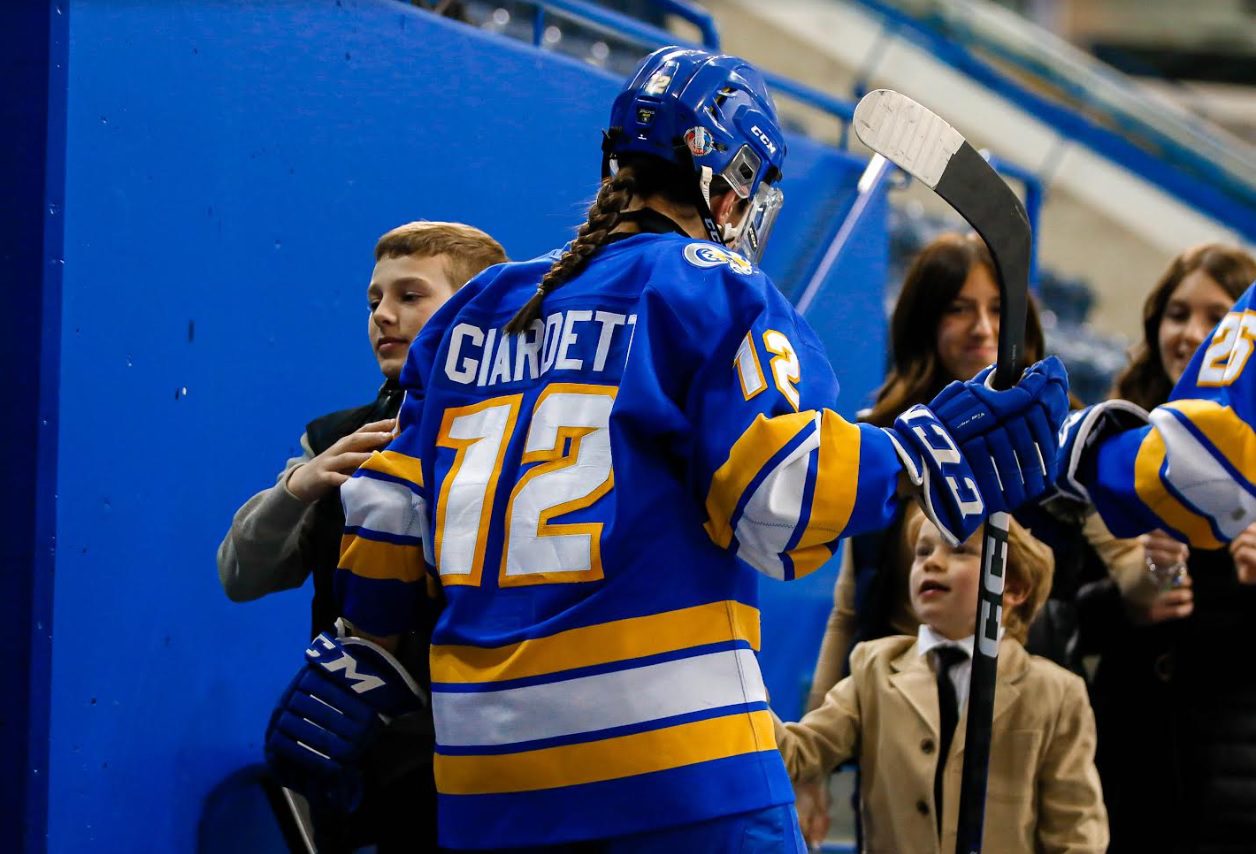 Additionally, she has been a volunteer with the Hockey for Youth Program and the Big Sisters Little Sisters Foundation during her time at TMU. Reacting on the award win, a flood of emotion overcame Giardetti, feeling a combination of surprise and pride, simultaneously recognizing an opportunity to honour family.
"Shocked! Truthfully speaking I did not know how to feel as I have never won an OUA award or any award in relation to being an athlete. The fact that this award highlighted creating a safe environment meant the world to me.
My first thought process was wanting to share with my siblings. I have three brothers and two sisters (one in High school and four in Elementary school). They are my motivators and making them proud is one of my biggest goals. I want to be able to show them that hard work and dedication can open up doors as four of them play hockey but also just in relation to everyday life."
Among the highlights of the 2022-23 season, Giardetti rose to the occasion with her dedication to an essential event in the Bold athletic calendar, the Do It For Daron (DIFD) fundraiser for youth mental health. Highlighted by an always uplifting game at Mattamy Athletic Centre, the January 7 affair saw the Bold host the Guelph Gryphons. Worth noting, the admirable DIFD foundation marked a proud connection for Giardetti, as it signified some of her earliest efforts related to volunteering at TMU.
"Upper-year players introduced me to volunteering in the community in my first year. I remember seeing everything they did for youth and being inspired to follow in their footsteps (or at least try to).
DIFD was one of the first initiatives that I was able to help with in my first year and seeing our team be able to contribute to something much bigger than all of us, it filled my heart with joy. After that feeling, I have tried to get involved with as much as I can take on without compromising other elements of my life. It is my hope that others feel inspired and the importance of volunteering continues to grow across TMU Athletics, also the OUA and USports as well."
Although the eighth annual game saw the Gryphons emerge victorious in a closely contested 2-1 final, Erika Crouse, the 2019 U Sports Rookie of the Year, scoring the lone Bold goal, the greater victory on this day was $3,000 in proceeds. The success served as an extension of Giardetti's efforts with SAAC, including an admirable focus on mental health resources.
"The Student-Athlete Advisory Council is something that I have been a part of for almost three years now. When the council first began, I was one of the representatives that started it from the ground up.
Many athletic departments across the OUA had advisory councils already, therefore TMU was slightly late to the party. Although it made me happy that the department saw the value in giving athletes a voice and creating a communication pathway to advocate for everyone involved.
This position has been challenging at times as trying to bring awareness to a new council or group does not always work out. We are aware that there is still much more work that needs to be done but I am proud of everything we have accomplished so far.
I have been honoured to fill the Co-Chair position with Lhexen Rabit from the Men's Volleyball team for the past two years. We have been able to execute many workshops that focus on giving our varsity athletes the ability to learn about helpful life skills.
It is extremely important for University Athletes to be active in the community as that will continue to grow sports in Canada. Sports give youth the ability to learn crucial life skills (time management, work ethic) while participating with friends. It is difficult to name one specific thing that I enjoy most about giving back, simply making a positive impact on anyone's life will always bring me joy."
Contributing 19 points this season, ranking second on the team behind Crouse, the Bold enjoyed a winning record of 9-5 when Giardetti logged at least one point. In addition, both forwards ranked in the top 20 in the OUA scoring race.
Worth noting, Giardetti placed her name on the scoresheet in the season opener, a 3-1 road win versus Laurier. Twice this season, she enjoyed three-point performances, starting with a goal and two assists versus Queens on December 2. Followed by a similar performance on January 28, the Bold enjoyed a convincing 7-3 road win against the Western Mustangs.
"I have never been an impact player in regards to points, therefore, this was a surprise but I would give credit to the caliber or players that I was alongside during the season. I had great linemates. I believe my impact on the ice over the course of my career changed in different
ways.
It was an adjustment in certain situations to be able to handle the nervous emotions. Also, the pressure of feeling like it was my role to contribute offensively was not something I had really felt before. Although when I look back on this season, I am going to remember having the
opportunity to play out my eligibility with some of my best friends while getting my MBA and being able to contribute to the community."
Perhaps the most rewarding game for Giardetti took place on February 10. Facing off versus the York Lions, the latest chapter of the Subway Series, saw the proud forward appear in her 100th career game with the Bold (originally Ryerson Rams). Taking place at Canlan Ice Sports, the visiting Bold prevailed by a 2-1 mark, as Emily Baxter and Megan Breen scored. Fittingly, Giardetti earned one of the assists on Baxter's goal.
Coincidentally, the other leaders of the Bold also enjoyed the milestone of their 100th career games. Brooklyn Gemmill reached the century mark on December 3 versus Queens. Team captain Madison Lalonde's 100th game also took place versus the Lions, the feat taking place on January 12.
Always sharing in the jubilation of her teammates successes, Giardetti's award win took on greater meaning as other members of the Bold enjoyed a haul of hockey hardware. Sophomore Saije Catcheway, from Skownan First Nation, Manitoba, won the OUA's inaugural Equity Diversion Inclusion Award. Freshman blueliner Ahalya Julien-Medeiros, formerly of the Toronto Aeros U18 AA and Central York Panthers, gained a place on the OUA All-Rookie Team.
Marking the first time that two players from the Bold have won OUA Awards in the same season, and the first Bold players to win an OUA Award since Erika Crouse captured the Rookie of the Year in 2019, a tremendous sense of historic achievement defined this season for Giardetti and Catcheway. Symbolically, the dual awards win represents a passing of the torch. With Catcheway revered as a strong leader with a combination of maturity, empathy and motivation, the sophomore forward is poised to follow in Giardetti's empowering footsteps, leaving a lasting legacy over five fantastic seasons built on making the community a better place.
"Having Saije win the Equity, Diversity, and Inclusion award made me extremely proud. Saije has done a great job cultivating an environment for our team to learn and make changes. Not only is Saije a great person but I believe that she will win more awards for her efforts in the future.  Being one of two TMU Women's Hockey players to win a community award in the same season is a great tribute to our whole team and the efforts of everyone involved."
–
"All quotes obtained first hand unless otherwise indicated"
Featured image by Josh Kim
Related Articles