Laura and Sara Danielsson Borrasca have played together on the same line for as long as they can remember. Over the last few years, the 21 year old twins have proven themselves to be a formidable pairing for both Spain's national women's ice hockey team and the Spanish women's league's S.A.D. Majadahonda.
It all started with inline hockey, a variant of the sport that is significantly more popular in Spain than its icy counterpart. Spain's national women's inline hockey team has won the last three Women's Roller Hockey World Cups, and hosted the 2019 edition in Barcelona.
"Our [Swedish] father took us to skate," said Sara. "He always wanted us to play hockey or to get involved with it because he played too, when he was young. So we played inline hockey [for around 10 years] because our father didn't know that ice hockey existed in Spain."
For the last seven years however, the twins have played for Madrid's S.A.D. Majadahonda in Spain's women's ice hockey league, the Liga Nacional de Hockey Hielo Femenino.
Their team is undoubtedly the strongest team in the league, having won all 14 regular season games in the 2018-19 season en route to beating San Sebastián's Txuri Urdin in the finals to claim the 2019 championship title, their sixth in the last seven years. They were only scored on twice in the regular season.
Laura, a centre, and Sara, a left winger, are both key offensive forces for the team. This past season, Laura scored eight goals and 20 assists (seventh in the league with 28 points), with Sara racking up 16 goals and 13 assists (sixth in the league with 29 points).
"We understand each other on the ice really well," Laura said of playing with her sister. "We always know where the other one is going to be, where the pass should be. We connect really well on the ice."
"The only problem is when we get maybe too sincere with each other," laughed Sara. "If someone did something wrong in a play, we usually say nothing, but with my sister, we get really picky."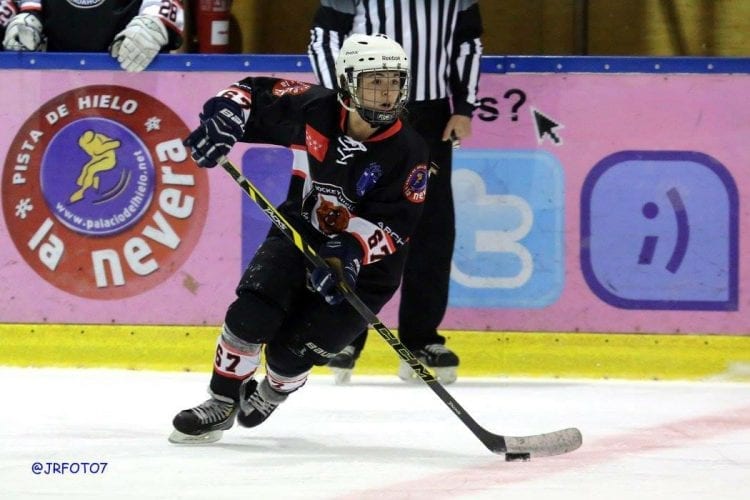 While it took a few years of tryouts before they eventually made Spain's national women's team in 2015, the Danielsson Borrasca twins are mainstays on the squad now, which is currently experiencing some of the best results ever produced by a Spanish women's team.
In 2018, Spain won the Division II Group B Women's World Championships to earn promotion to the Division II Group A Women's World Championships for 2019, the highest level the team has competed at since making its IIHF World Championship debut in 2011.
"Spain has been in the same Division II Group B event forever, for many, many years," said Laura. "So for us to come up, it was a really big deal… For us it was awesome, the level [in the Division II Group A event] is much higher."
The team had a positive showing in their first foray into Division II Group A competition earlier this year, finishing with three wins and two losses (one of which was in a shootout), enough for the bronze medal.
Along with experiencing success internationally, Laura and Sara have witnessed significant growth of their sport in Spain since they started playing on ice seven years ago. While there were only two or three teams in the Liga Nacional de Hockey Hielo Femenino when they first joined S.A.D. Majadahonda, the number has since increased to nine.
However, while S.A.D. Majadahonda's player numbers are booming, other teams in the league have a pool of only around 10 players to pull from. The gap between the top team and the bottom team is significant. For example, this past season S.A.D. Majadahonda had five games in which they scored 16 goals or more.
"With the World Championships the level is okay, we finally get to play at a good level, but here in Spain we win some games 20-0 and it's not that fun," said Laura. Her and Sara have regularly contemplated playing hockey outside of their home country, but have decided to stay in Spain for the time being for their studies.
What's promising, however, is the significant financial investment in Spain's women's teams from the Spanish Ice Sports Federation (Federación Española Deportes de Hielo) and Iberdrola, a large electric utility company.
"Iberdrola has put a lot of money towards every team, and that's helped us a lot," said Sara. "They're helping out the small sports in Spain that don't have a voice," continued Laura. "They try to make announcements of our games so people get to know us."
This season, the Danielsson Borrasca twins will once again take to the ice with S.A.D. Majadahonda, looking to claim their seventh championship title with the team. They will also likely be donning Spain's yellow jerseys once again at the 2020 Division II Group A World Championships, which will be hosted in Spain in late March.
The 2019-20 Liga Nacional de Hockey Hielo Femenino season starts on September 21. S.A.D. Majadahonda opens their season on September 22 against CH Huarte. More information on the Liga Nacional de Hockey Hielo Femenino can be found at http://www.hockey.fedhielo.com/league/667.
Photos courtesy of Laura and Sara Danielsson Borrasca
Related Articles