The athletics program at University of New Brunswick prides itself on creating an environment that creates "champions of academic and athletic excellence." Women's Ice Hockey Head Coach, Sarah Hilworth, extends herself beyond her role by seeking to provide a safe and educational space for her athletes to learn and grow to become highly functioning members of society.
Throughout the pandemic, Hilworth wanted to encourage her athletes off-ice by generating conversations about race, sexuality, gender and disability. She found her inspiration from Celeste Brown, the head coach of the women's ice hockey program at Rochester Institute of Technology. Her initial goal was to have small sessions during team meetings to tackle each of those topics to help create that safe and educational space for the entire team.
"…There is no purpose beyond trying to make ourselves better people so that we can serve the world in a better way and help do whatever we can to change hockey culture for the better," Hilworth noted about the conversations she started with her athletes.
Now, the Vancouver native expanded her program by reaching out to Dr. Courtney Szto, an assistant professor at Queens Unversity and the author of Changing on the Fly: Hockey Through the voices of South Asian Canadians, who provided a network of people for Hilworth to contact.
Making this key connection, Hilworth was able to bring in guest speakers who could speak more on topics that Hilworth had little experience with. She also began her own research via Google and found various resources and films that she felt would benefit her players.
Hilworth recently participated in the Anti-Racism Incubator moderated by Dr. Szto. There were several presenters that included the Black Girl Hockey Club, the Inclusion Initiative and much more.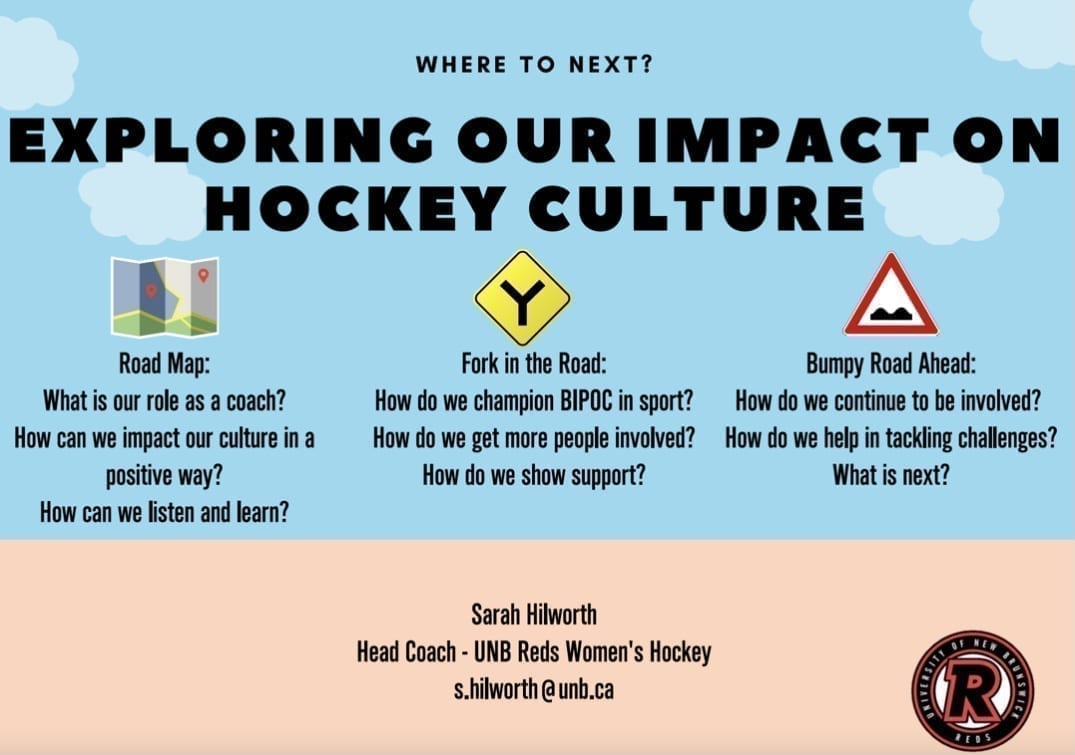 (Hilworth's presentation slide from the Anti-Racism Incubator)
Hilworth's humble attitude speaks to how she feels that it is her duty to provide an open door policy for her and her athletes to discuss these necessary topics. She was pleased to see how motivated and enthusiastic her players became during these team meetings.
"…those conversations open you up to learn about people's culture which I don't think I would have ever have asked previously […] sometimes having those difficult conversations you actually learn so much more. I am so grateful I have athletes that are willing to share that."
Moving forward, these conversations have sparked positive change within the women's hockey program. The team has even included conducting Land Acknowledgments before their games. As the Reds approach another hockey season, Hilworth wants to continue these educational discussions and is working to assist other sports within UNB's  athletics department to do the same.
"I want to start educating all of our athletes at the university […] If there is more cognizant awareness of the social issues in our world, I think we can have them become better people […] its not just changing hockey culture, its about changing sports culture."
There is no doubt that what Hilworth has started will have a significant impact on not only her women's ice hockey team, but the entire athletics department at the University of New Brunswick.
"I think it starts with a difficult conversation to start understanding the world that we are in."
Related Articles