Goaltender Shea Tiley will be making her return to the PWHPA this season playing for Team Sonnet (Toronto region).
The two-time NCAA Champion with Clarkson University (2016-17 and 2017-18) and 2018 Patty Kazmaier Memorial Award top 10 finalist is no stranger to playing professional hockey in Toronto. A CWHL first round draft pick, Tiley had a successful rookie season in 2018-19, playing 15 games and helping lead the Toronto Furies to the playoffs, which the team had missed out on the season prior.
Tiley has represented Canada on several occasions, most notably winning gold at the 2014 IIHF U18 Women's World Championships (and leading goaltenders with a 0.33 GAA and 98.63 SV%).
Last January, Tiley made the trip to Sweden to play in the SDHL, signing with HV71 on a short half-season offer shortly after playing in the PWHPA Toronto Showcase. She was unstoppable in the four regular season games she started. While HV71 was slated to compete in the SDHL finals, the games were called off due to COVID-19, and Tiley returned home to Ontario.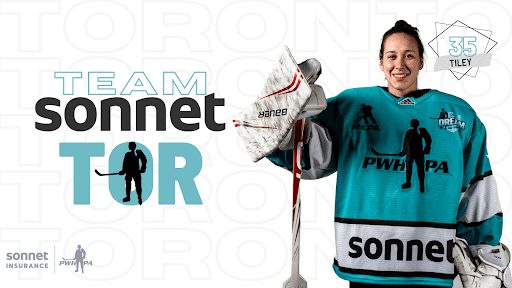 Photo: Lori Bolliger Photography
Question: What are you looking forward to going into your second PWHPA season?
Shea: I am looking forward to continuing our goals from last year and continuing to improve myself on and off the ice with the PWHPA. This year looks different for everyone, but I am excited for what is to come and thankful that we get to practice as a group in the Toronto region. I am most looking forward to playing at the showcases and being able to play actual games in the near future hopefully!
Question: Have you started training with your regional team? How is training going?
Shea: We have been skating in Toronto, but it has been quite the ordeal at times. With that being said, I think every single person in our region has made the most of our situation. Whether we get to skate as a full team or only in 10 person groups, everyone shows up to the rink excited and ready to go. Definitely a highlight during these times is being able to see the girls a couple of times a week, practice, and catch up!
Question: What is one unique or unexpected thing you have enjoyed doing or learning during quarantine?
Shea: I have always enjoyed doing anything outdoors, but this summer I played golf and pickle ball a lot. It was a great way to keep active, get outside, and enjoy the weather, but most importantly good for mental health, because it allowed me to pretend that things were somewhat "normal".
Question: If you could pick one place to host a PWHPA tournament, where would it be and why?
Shea: I think Nashville would be an incredible place to host a showcase. As we have seen in the NHL, they have one of the best fanbases, and I really think that would translate over to the women's side of things too if we were able to go to a market like that and promote ourselves.
Question: Name one thing you hope to accomplish in this upcoming PWHPA season.
Shea: For myself personally, I want to continue to grow and develop my game so that I can see small improvements each week. For the PWHPA overall, I hope that we are able to continue to reach new people and educate them on our mission of a sustainable professional women's hockey league.
Related Articles