Playing for host country Israel at the Maccabiah Games, feelings of history and achievement encompassed a thrilling experience for center Pnina Basov. Wearing the number 13, the 16 year old forward brought a youthful exuberance and tremendous enthusiasm to the team, definitely a building block for the program's future.
Prior to the Maccabiah Games, Basov actually possessed the experience of international hockey on her promising resume. Skating for Team Israel at the 2022 IIHF Women's World Championships, Group III, Division B in Serbia, the event marked a significant milestone for Basov and teammates alike. In addition to Israel, the team's  from Bosnia-Herzegovina and host Serbia enjoyed their IIHF debuts.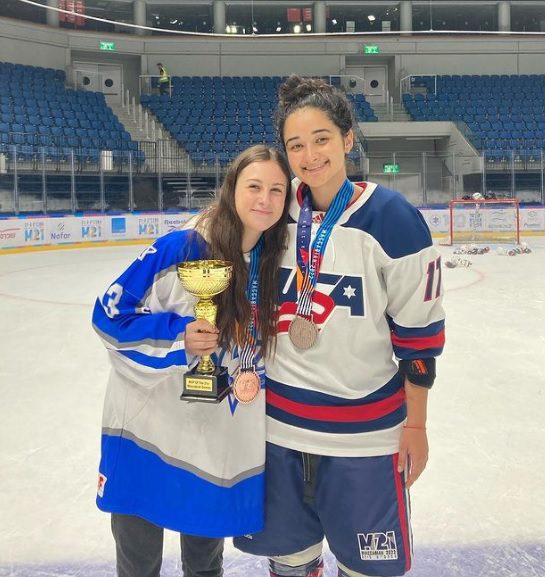 Heading into the Maccabiah Games, although the Israeli team did not have the luxury of as much preparation time as desired, military obligations for some posing a constraint, a collective sense of keenness enveloped the team. Understandably, the prospect of facing off against global hockey powers Canada and the United States, posed feelings of concern.
"Before Maccabiah, I was a little nervous because the women's team did not train together. There are some who could not even train before Maccabiah because of the army. So, it made me stressed because the level of play in Canada and the United States is much higher than Israel."
Unlike other international events, where the level of competition can reach tremendous intensity, the beauty of the Maccabiah Games involved a feeling of community. Considering that the 2022 edition of the Games marked the first women's ice hockey tournament, a shared sense of history fostered friendship among all the competitors.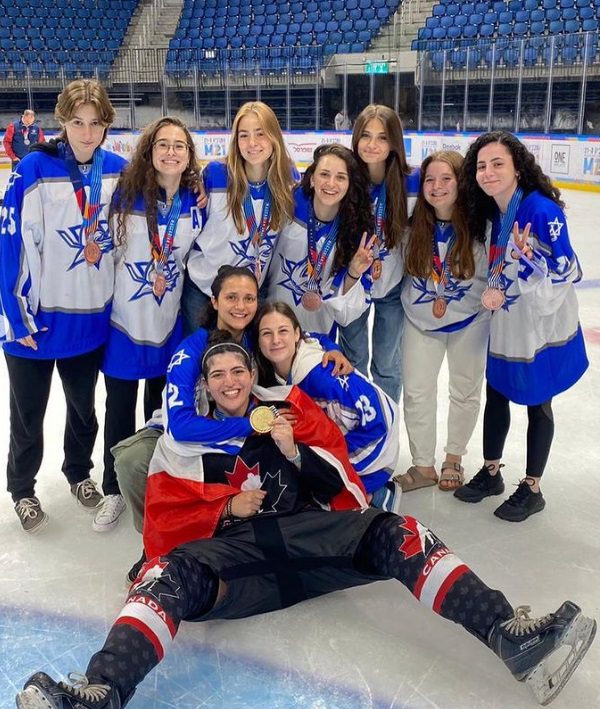 Taking into account that players from Canada and the US provided pointers for the overmatched, but valiant, Israeli roster, in practices, it embodied a highly commendable sportsmanship. Additionally, the practice sessions allowed Basov the opportunity to find friends and role models, inspiring her to play her best game.
"I enjoyed being able to meet a lot of new people. From Canada, the players who inspired me were Mikah (Baptiste) and Shelby (Calof). Regarding the players from USA, Abi (Fuzaylov) and Leah were the ones that inspired."
This autumn, Basov shall compete for the Ontario Hockey Academy in Cornwall. Of note, this is not her first experience in the province.
Last season, she appeared in eight games for the Hockey Training Institute Under-20 Tier 1 club from the Southern Ontario community of Mulmur. Belonging to a roster of players from numerous nations, notable teammates included Regina Metzler, who competed for Hungary at the 2022 IIHF Women's Worlds, along with Italian goaltender Amelie Tonini, a WHL Ambassador.
With every season poised to improve her skill set, her place as an ambassador for women ice hockey in Israel firmly entrenched, the Maccabiah Games proved an invaluable learning experience. Reflecting on what she enjoyed most, a love of the game shines through, the potential for future brilliance definitely made brighter from a career defining time.
"To meet friends from Canada and the United States that I played with before in Canada. Also, to see how the team improved from game to game proved enjoyable."
"All quotes obtained first hand unless otherwise indicated"
Related Articles