Inspired by Brendan Burke, The Hockey News is raising funds for You Can Play with Christian Hockey.
On February 5, 2010, Brendan Burke died in a car accident. He had just recently come out publicly as gay and was embraced by the hockey world, where he had been known as the student manager of Miami University's men's hockey team, not to mention from his family name as son of famed NHL GM (and current Pittsburgh Penguins president of hockey operations) Brian Burke. Brendan's death was a huge shock and a sad moment for the LGBTQ+ community, where we had just found an outspoken person who was willing and brave enough to come out in the world of hockey, when no one else was.
My birthday was on Feb 12, and at that time, I had a girlfriend for more than a year…but no one knew except a few close friends. Back then, I was a graphic designer at The Hockey News and I remember sitting at my desk, designing Adam Proteau's column, where he was covering the Burke funeral. That's when it hit me: I'm about to have a birthday party, my girlfriend is going to be there as 'a friend' and my parents have no idea. If something were to happen to me, they would never have known my true life and true happiness. Would they find out at my funeral, and would that burden them with even more sadness?
It was at that moment that I decided to come out to my parents, and that night, I did.
You Can Play was launched two years later by Brendan's brother Patrick, in remembrance of Brendan and his bravery. I am living my true self, openly and happily with Brendan as a catalyst for my story. And I want to pay it forward through their organization.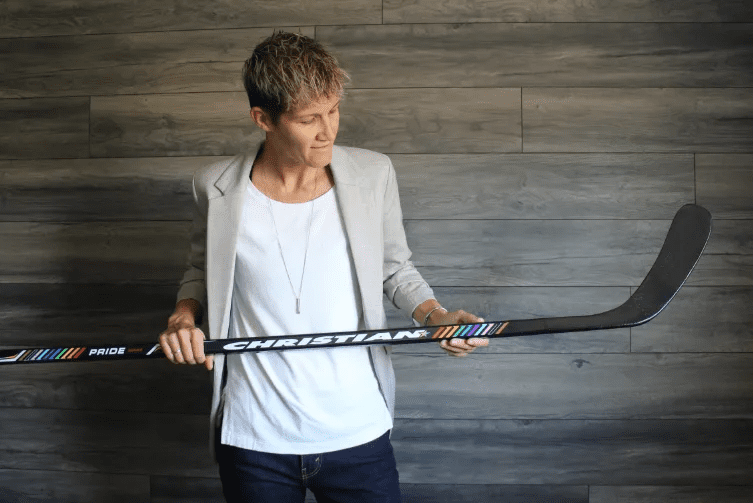 Christian Hockey and The Hockey News are proud to team up on a fundraiser for You Can Play by designing and selling these Pride Series hockey sticks. The proceeds raised for You Can Play will be used to help educate coaches and players on inclusivity in the hockey world.
Brendan Burke was a part of my coming out story, maybe this stick will be a part of yours. You can find the Pride stick here and 50 per cent of the sale goes to You Can Play.
Erika Vanderveer has been with The Hockey News since 2008. She is currently the Creative Director & Deputy Publisher and the Creative Director for Roustan Sports, which owns Christian Hockey and McKenney Hockey. She recently designed the new XPG2 series for McKenney Hockey, as well as their new website. This Pride Series is a project she has dreamed of executing since she began working with Christian Hockey and feels proud to work with a company that supports the LGBTQ+ community. And to top off Pride Month, she feels very fortunate to be marrying her partner Natalie this coming weekend.
*originally posted on THN.com. Permission was granted by THN to re share it on WHL.
Related Articles