Bringing close to two decades of competitive experience, Pamela Tanner is the cornerstone of the Cross Lake Lady Islanders. Serving in the role of team captain for the 2023 Chief Thunderstick tournament, the milestone provided a sense of relevance, adding prestige to a distinguished career. Anchoring the blueline, headlining a talented roster, many of her teammates are also long-time nitotem, the Cree word for friend
As Cross Lake iced both women's and men's teams at Chief Thunderstick, the tournament represented more than just heritage or sportsmanship. With a strong sense of community as the cornerstone, hockey serves as an extension.
Considering its geographic proximity is closer to the Arctic Circle than the provincial capital, the remoteness results in strength found through sport. In addition to hockey, Tanner has an enthusiasm for golf, joining her father for elk hunting and cheering for family in softball.
Serving as an essential hub of social activity, the opportunity to wear the Lady Islanders iconic black and red jersey, gracing the ice at Chief Thunderstick provided a proud sense of identity for Tanner and her teammates. With sponsorship from local governing organization Pimicikamak Okimawin, a combined sense of encouragement and momentum envelopped the Lady Islanders.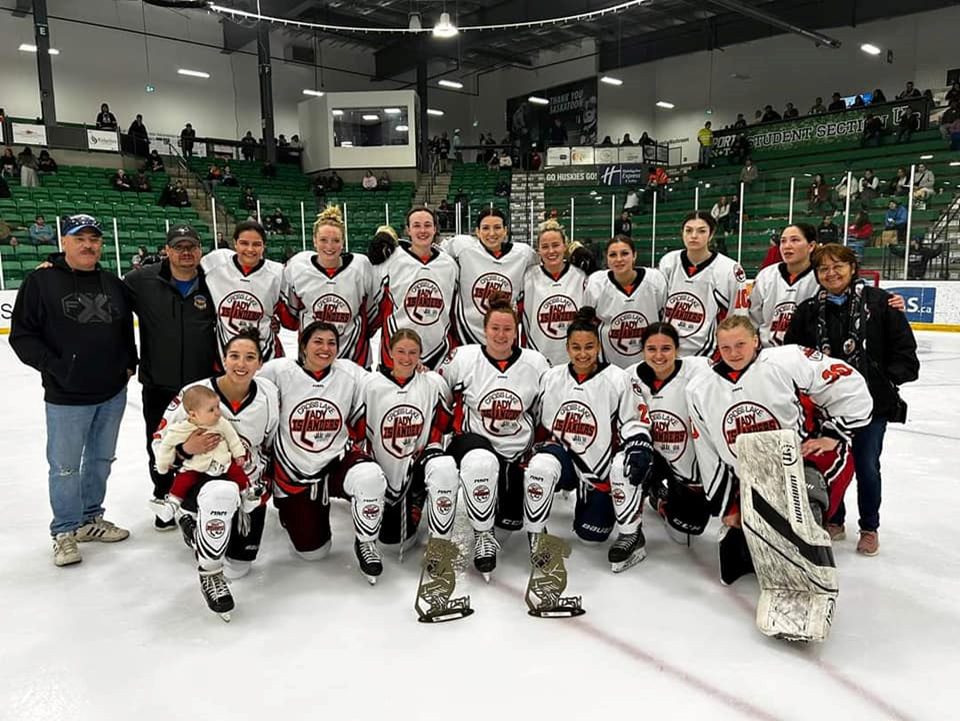 "The Cross Lake Indian reserve, also known as Pimicikamak, is located 770 km north of Winnipeg, Manitoba. We are a proud sports community for a variety of sports: volleyball, soccer and basketball but most of all, hockey and softball.
Despite the lack of resources we have, compared to other communities, it is truly amazing to see the number of talented athletes we have to represent our community for both men and women. This weekend alone, having both men and women play for the championship at Freddy says something: Cross Lake Manitoba has talent!"
As 2023 marked her debut in tournament play, a jubilant Tanner found a special feeling in the honor of the captaincy. Having not played in the inaugural women's tournament due to her pregnancy, the opportunity to return with the C on her jersey proved the crowning touch for her role as a pioneer in women's ice hockey for her community. With the Lady Islanders roster featuring players at various age groups, Tanner is more than just a strong leader and mentor. Symbolically, she is a big sister for the younger players.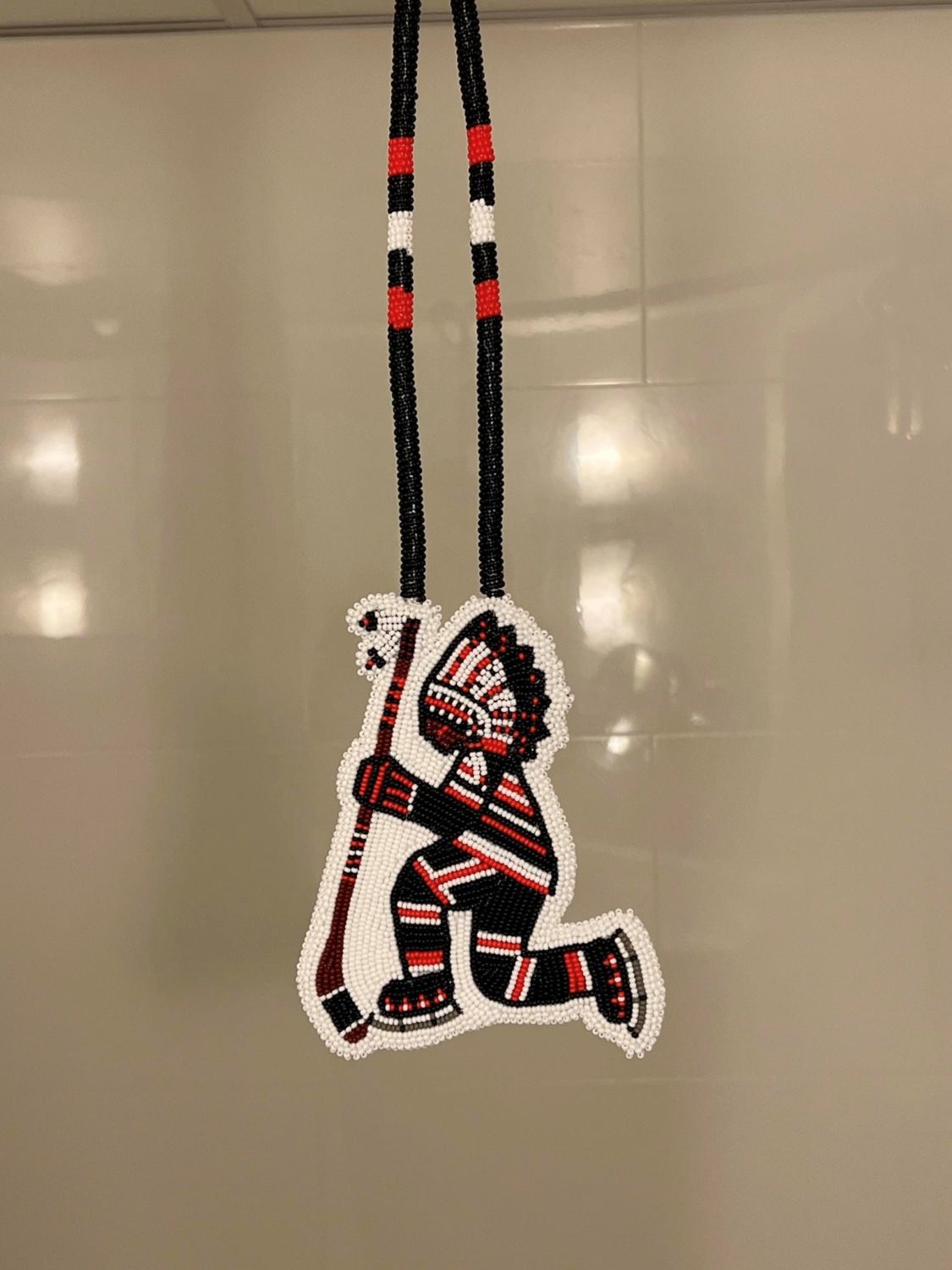 Simultaneously, gracing the ice added a new dimension to the magical time of becoming a mom. Undoubtedly, it was with tremendous pride that she held her infant child during a team photograph, marking the best of both worlds. In addition to the Chief Thunderstick tournament, Tanner graced the ice in January at the Winterfest Championship, hosted in Brandon, Manitoba, enjoying a championship. The month of April resulted in two exciting tournaments, proudly brining along baby. Enjoying a semifinals appearance at the North America First Nations Tournament, held at the Kenora Thistle Rink, she followed it up with a second place finish at the All Nations Tribal Days event in Portage La Prairie, Manitoba.
"I have been representing Cross Lake at tournaments for about 20 years. At the start, it was with the boys' team. Once we started a women's team, I have been playing defense with them ever since, so for the past 15 years. I have the greatest privilege watching and passing down my knowledge to the players I have been playing with for years.
Hopefully, I make an impact on their lives, not just in hockey but mainly off the ice. To be named captain of this team I feel like I am. Even though, I missed out last year due to my pregnancy, coming back this year playing 8 months postpartum, knowing that they still look to me to lead this team is very humbling and I carry that role very proudly."
Certainly, Tanner's appearance at Chief Thunderstick added a new chapter to her community's growing hockey legacy. One of the defining moments for women's ice hockey in Northern Manitoba saw the Norman Region ice a Midget team in 2009 for the MFMHL. Known by the sobriquet Wild, Tanner (known as McLeod) skated for the club, also featuring Cross Lake skaters Frances Blacksmith and Erin Sinclair. In 2011-12, she would lead the team in scoring, garnering Top Forward honors before continuing her career with the Balmoral Hall Blazers and the University of Wisconsin Superior Yellowjackets.
Worth noting, other Pimicikamak pioneers include Saige McKay and Carrigan Umpherville skating for the NCAA's Long Island Sharks, while Kennesha Miswaggon played for the University of British Columbia. Additionally, Miswaggon, Umpherville plus Carlin Hamilton and Shayna Moore represented Cross Lake on the gold medal winning Team Manitoba at the 2017 National Aboriginal Hockey Championship (NAHC).
Seven years prior, Tanner captured the title at the 2010 edition of the NAHC. Coincidentally, that iconic 2010 roster featured a handful of players that participated at this year's Chief Thunderstick, including Abby Constant-Bercier, an alternate captain for Mixed Nations, plus Brigette Lacquette, a member of the championship SageStrong roster.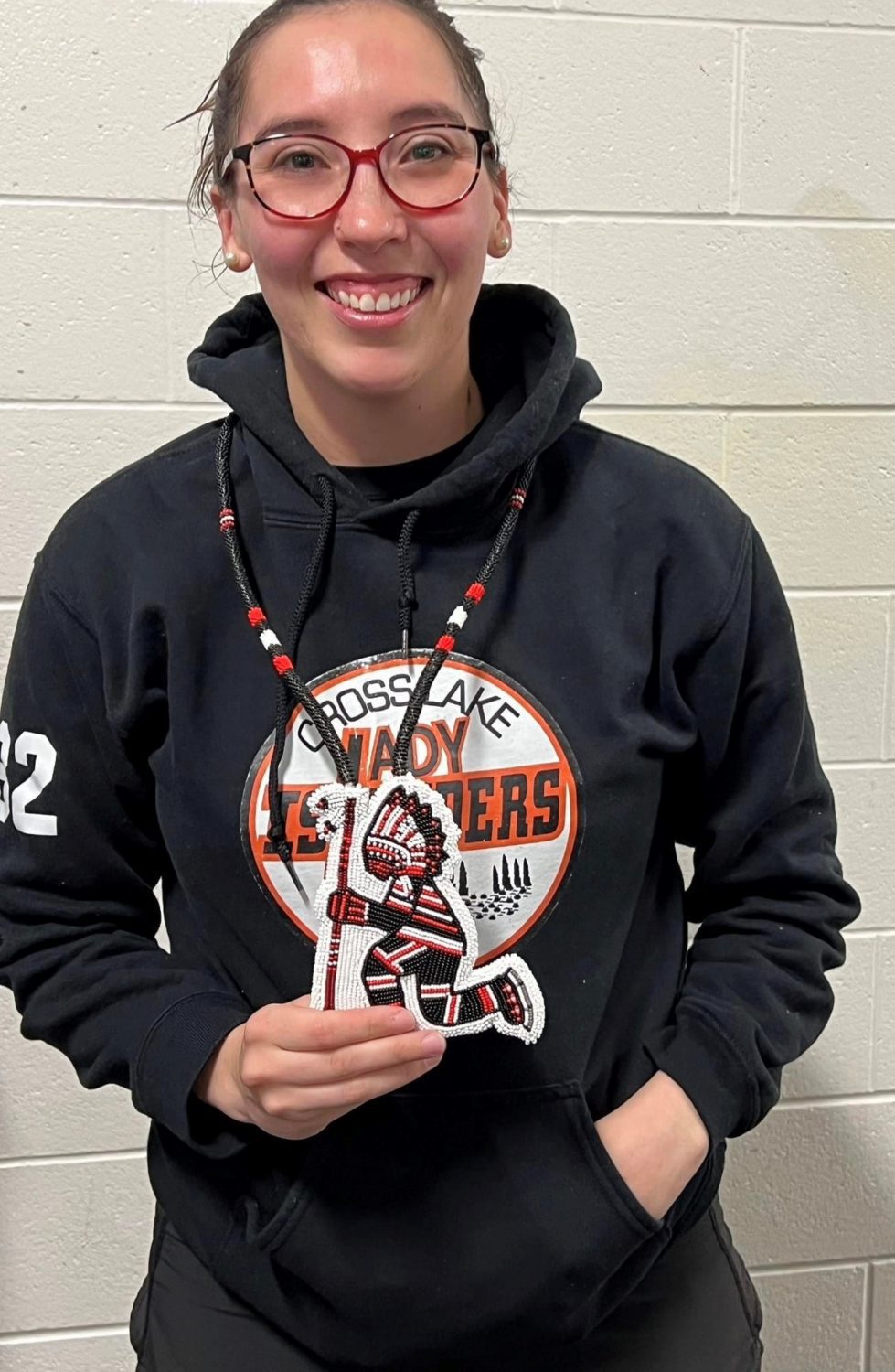 With McKay, Miswaggon and Umpherville wete garbed in the Lady Islanders paraphernalia this year, it bridged generations of NAHC brilliance. With an impressive field of 16 teams this year, qualifying for the championship game two years in a row speaks volumes to the talent found on the Lady Islanders roster.
Skating in front of a national audience on the Aboriginal People's Television Network (APTN), a seminal moment for both, the female and Indigenous game occurred, representing the potential for growth. For so many players on both rosters facing off for the championship, the experience of playing on Saturday night mirrored the feeling that professionals must enjoy when appearing on Hockey Night in Canada.
Although the thrill of such a televised event proved exhilarating, Tanner's maturity and appreciation for the game reveals an outlook geared towards the bigger picture. The game represents more than just competition but a feeling of equality and acceptance.
"To make the championship game two years in a row is something. The teams did not make it easy for us. We battled strong teams all day Saturday to get to the Finals. We got the privilege to share the ice with some very well-known hockey players, yet again. As last year, these same two teams SageStrong and Cross Lake Islanders battled in the Finals.
Displaying our talent in front of people not only at Merlis Belsher Place, but nationally on APTN, not everyone can say that, 'I played in front of a national audience.' That sentence alone gives me chills. Not because of the spotlight we got on television. Do not get me wrong, knowing you are on television is surreal.
Yet, that is not why I got chills. I got them because our people are being seen. We are being recognized: our people, our culture is thriving. This tournament is not just about hockey. It is a celebration, and both the men and women Islanders are very proud to be a part of it!"
Despite the second place finish, a collective feeling of achievement provided a strong sense of unity. Although the championship trophy celebration was televised, a very heartwarming recognition for Cross Lake took place.
Enjoying an audience with tournament board member Neil Sasakamoose, the second place trophy presentation held the aura of victory. In a show of class, Sasakamoose presented the Lady Islanders with a beautiful medallion that belonged to his father, Fred Sasakamoose, the tournament's namesake. Representing more than a treasured artifact, it stands as a cherished keepsake that expresses a pride in being Indigenous. Making a profound impression on the Lady Islanders, the classy and heartfelt gesture encompassed the event's raison d'etre, one geared towards a brighter future, while showcasing the best players from Turtle Island (North America).
"Our team had a very unique experience this year. We had a very personal private second place ceremony in our dressing room. Neil Sasakamoose came and spoke to us, passing down the personal medallion of his father. He talked about his father and the meaning behind the medallion, the future of our people, future of this tournament and the women's division. The emotions ran through our room and our team will carry that experience forever."
–
"All quotes obtained first hand unless otherwise indicated"
In this article:
#Captain
,
#IndigenousAthletes
,
#IndigenousWomensHockey
,
#InspireTheNext
,
#multisportathlete
,
#NAHC
,
#NCAA
,
#NCAAD1
,
#UniversityHockey
,
#WomenInSport
,
#Womenshockey
,
Chief Thunderstick
,
grow the game
,
Hockey
Related Articles