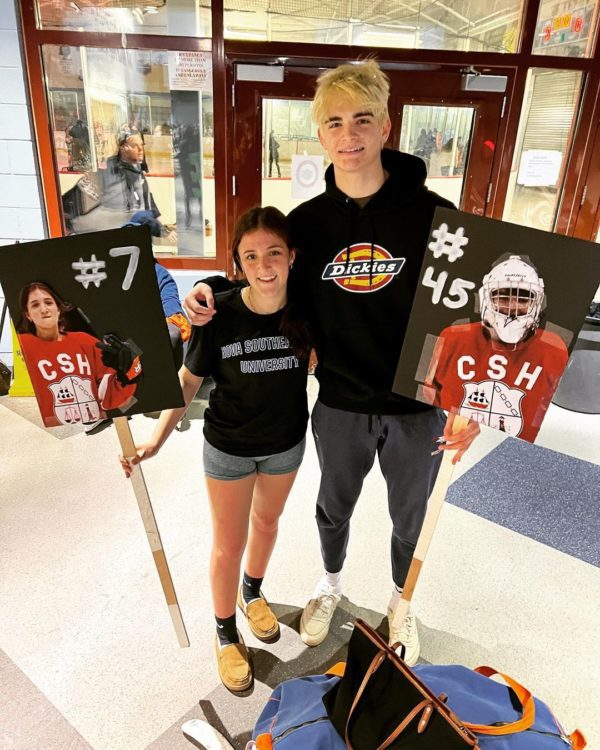 Ashley, I am so proud to have witnessed you play with these boys over the past 6 years at Cold Spring Harbor High School. This was your last Varsity Ice Hockey Game and you were the only female on the ice tonight. What a bittersweet night!
It takes a strong mind and body to filter the nasty comments and discouraging remarks from the male players and coaches of other teams that you have endured over the years. Not to mention all the times they targeted you on the ice — illegal cross checking and boarding are hard to watch for all parents, but it makes it even harder when the players do it because you are female.
I have always been grateful to your team and coaches for recognizing the challenges and sticking by your side. Your "all or nothing" attitude has allowed you to be one tough player!
It was amazing watching your brother Sean play up with you on the varsity team this year. I loved going to all of your games to watch you both play. You have learned many life lessons these past years, and I loved every moment watching you play competitively.
Never apologize for your past as you move forward. Keep looking ahead. The past has made you who you are today.
We all make mistakes and do things that may appear to be immature when we look back. However, in those moments, it was an accurate feeling you had, a choice that may have not been the best, but was genuinely said or done from the heart. Just continue to reflect and learn.
Remember people need to accept differences and move forward.
I applaud you for your perseverance, faith in god, determination, strength in mind and body, academic success, and kind heart that many don't get to see. Your loyalty to your friends and family is admirable. I love that you speak your mind in a world currently dominated by hatred, jealousy, and pure evil.
Most people do not really know you and how you give back to the sport. You are an amazing coach on the ice with your six year old little sister Hailey. The fact that you give up your time to volunteer with the little ones just starting hockey fills my heart with happiness and pride. Hailey is also the only girl in her hockey group. She needs to see females on the ice. You are a fabulous role model for her. I commend you for for that!
Stay strong, be kind, and always be you! This next chapter will be your greatest!
Love always, Mom
Related Articles