A pioneering figure whose enthusiastic influence brought an incomparable importance to the growth of women's ice hockey, "Hurricane" Hazel McCallion inspired numerous generations. Revered as Mayor of Mississauga for 38 years, also serving in the same role as Streetsville's mayor prior to amalgamation, such an exceptional display of civic duty was only eclipsed by a love of the game. Having passed just 16 days shy of her 102nd birthday, McCallion, possessed a grandmotherly persona, instantly likeable upon encountering her.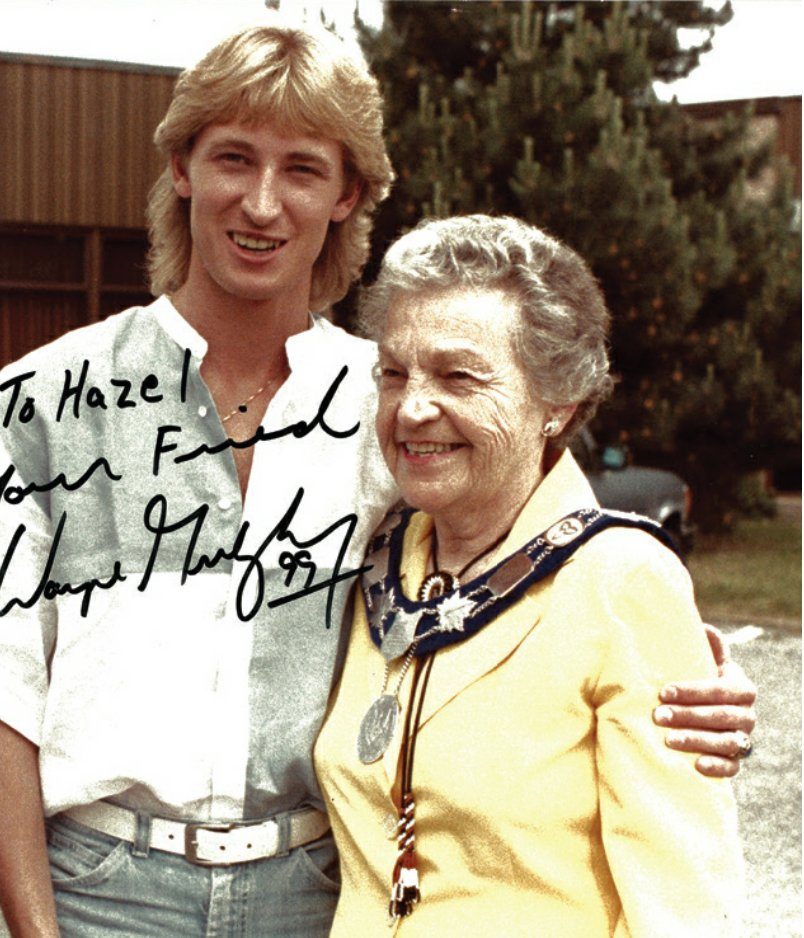 Receiving both, the Order of Ontario and of Canada, McCallion's legacy inspired an online petition to get her inducted into the Hockey Hall of Fame. Fittingly, the McCallion World Cup holds a permanent place in the Hall, ensuring her memory will live on, her efforts heralding an exciting era for sporting equality. Worth noting, the Cup was awarded to the champion of the 1987 World Women's Hockey Tournament, organized by IIHF Hall of Famer Fran Rider, an event which served as the forerunner to the eventual IIHF Women's Worlds in 1990.
Born in Port Daniel, Quebec, her maiden name Journeaux, she graced the ice at the left wing position during the early 1940s. With a professional women's league in Montreal, her club team became the Kickees, sponsored by Kik Cola, a Canadian soft drink brand based in the city on Villeray Street.
Coincidentally, McCallion was not the only prominent women's ice hockey icon from Mississauga with ties to Montreal. Born in 1976, the same year that Montreal served as host city for the Summer Games, foreshadowing her own future glories, Cheryl Pounder belonged to a proud sporting lineage. Phil and Dora Wimmer, her grandparents, both made tremendous contributions to the city's sporting culture. Dora pitched in the Montreal Ladies' City Softball League while Phil served in an executive capacity with the Montreal Jr. Canadiens, consecutive Memorial Cups in 1969 and 1970 his greatest achievement.
Relocating to Mississauga in the 1980s, Pounder's on-ice dreams found tremendous encouragement in the presence of McCallion. Fittingly, two of Pounder's numerous milestones held direct ties to her adopted city. With Mississauga serving as host city for the 2000 IIHF Women's World Championships, Pounder enjoyed a place on the Canadian roster, capturing a gold medal.
Fast forward to 2008, Pounder, in the twilight of her brilliant career, enjoyed one more treasured linkage. With the Mississauga Chiefs competing in that year's Esso Women's Nationals (EWN), it marked the closing of an important chapter in Canadian hockey lore. As the event would be replaced the following year by the Clarkson Cup, the EWN eventually reborn as the Esso Cup, an Under-18 ice hockey club championship, Pounder and her fellow Chiefs reached the championship game versus the Brampton Thunder. Recounting the night before the championship game, a fascinating revelation by Pounder stood as testament to McCallion's loyalty and enthusiasm for game and players alike, forever proud of their shared linkage to Mississauga.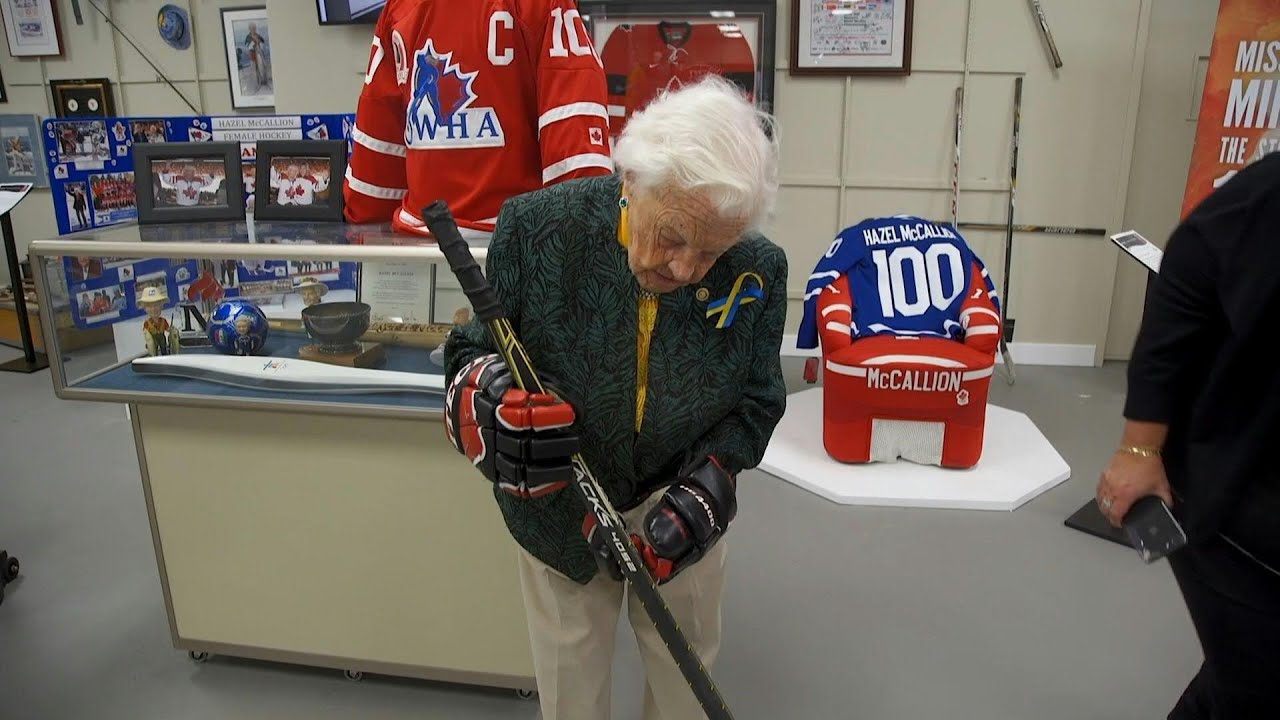 "Thank you Hazel. You provided me with an opportunity to pursue my passion and dream of playing hockey and becoming an Olympian. Your vision, tenacity and steadfast passion grew the game and opened up possibilities.
My earliest memories of Hazel are of her dropping the puck at one of my very first games. To me, whether I was that 8 year old girl or 46 year old woman, she never changed. She is remembered for her vibrancy, energy and her fist pump passion!
I finished my playing career, exactly where it began, Mississauga. Six weeks after I gave birth to our oldest daughter Jaime, I played at the National Championship, representing Mississauga. The night before the televised championship game, Hazel called our meeting room to wish us luck and tell us she would host a backyard barbecue at her home when we won. Low and behold…it happened!"
Among Pounder's teammates on the Chiefs roster, an iconic roster also featuring the likes of Jennifer Botterill and Cherie Piper, Amber Bowman later became a two-sport sensation. A member of the Chiefs blueline, enjoying a gold medal in the historic 2008 Nationals, Bowman's standing as a role model and sporting icon took on an empowering note.
Enjoying an admirable career as a fire fighter, making her mark in a highly male dominated profession, Bowman's career choice became an homage to McCallion's indomitable spirit.  A multiple world champion in the Firefighter Combat Challenge, crafting an incredible legacy as the first woman to break the 2-minute barrier, along with an historic podium finishes eight years in a row, Bowman also gained a unique place in popular culture, named "Fitness Trainer of the Year" by the Dr. Oz Show. With such a tremendous body of work, Bowman recounts meeting McCallion, finding a tremendous comfort in the life lessons learned from an individual that embodied character and tenacity, setting the example that others proudly sought to emulate,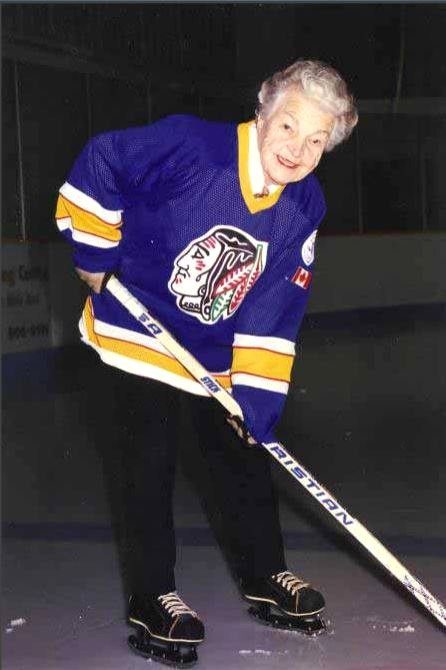 "Hazel, what a force. An inspiration. A straight to the point leader who led with her heart. The first time I met Hazel, she connected to myself and my teammates as a strong powerful female who knew what it took to win, both athletically and in life.
She spoke to me about hard work, dedication, and all the intangibles a top level athlete and leader must possess. Her incredible character showed day in and day out. She was a true champion, holding everyone around her to the highest level of excellence.
Hazel will be greatly missed in the hockey and political world, yet never forgotten. She has impacted so many and her legacy will continue to push people to their greatest potentials. Thank you Hazel for making such a huge impact in my life."
–
"All quotes obtained first hand unless otherwise indicated"
Featured image obtained from: 'Hurricane' Hazel McCallion Turns 100 (Seated beside McCallion in the image is Fran Rider)
Related Articles