An exceptionally talented athlete, whose graceful skills and tremendous gifts translated into international play, followed by a distinguished run as both coach and administrator, the greatest achievement of Katherine (Kat) Hannah may be her celebrated standing as a role model.
Hailing from Kirkland Lake, Ontario, Hannah was part of a fascinating trend that has seen so many talented female athletes from hockey hold the revered status of multi-sport stars. Displaying proficiency beyond the ice, she was just as consummate in the swimming pool and on the baseball diamond, obtaining elite status regardless of the competition. Impressively, this triptych of sporting brilliance was maintained for nearly a decade.
During her teens, Hannah also enjoyed a pair of appearances with the Ottawa Raiders during the 2000-01 campaign of the original NWHL. Despite the fact that Hannah would not return to the now-defunct club following graduation from Missouri's Lindenwood University, remaining heavily involved in the game through coaching and administrative roles, her statistical dominance with the Lady Lions represents a fascinating "What If?" scenario.
Capturing an astounding four American Collegiate Hockey Association (ACHA) All-America honors, Hannah's sensational career was complemented by recognition twice as the ACHA's Zoe Harris National Player of the Year in 2006 and 2008, the same years that the Lady Lions captured the national championship.
Statistically, Hannah was a marvel, amassing a record 407 points, on the strength of 254 assists. Of her 153 goals scored, 24 were game-winners, while her plus/minus mark of +286 is one that shall never be eclipsed in program lore. Perhaps the most impressive number was the fact that the Lady Lions captured 133 wins during her four fantastic seasons.
While at Lindenwood, Hannah was also part of the swim team, although her excellence on the frozen perimeter made her much more recognizable as a hockey star. Making her mark as one of the university's greatest varsity athletes, gaining entry into Lindenwood's Athletics Hall of Fame in 2013; her athletic career is an inspiration for young athletes who excel in multiple sports. Approaching whether such avenues should be pursued at the collegiate level for future athletes, she elaborates on the decision-making process by discussing her own personal background.
"As someone who played many sports competitively (swam, baseball, soccer, hockey, basketball) I think there are two sides to this. I agree completely that young athletes in general should be encouraged to play more than one sport as each sport develops something a little different.
Each sport also has a different approach to the game, different types of skill sets that make us successful and by playing multi sports we develop broader skill sets that can separate us from other athletes. Not to mention by playing multi sports you learn how to adapt and time manage very well from a young age and that also proves to help not only in sports but other facets of life such as school and work.
In my own experience having been very successful at four sports at a young age (swimming, basketball, hockey and baseball) it was hard for me sometimes to choose what to dedicate myself to.
As I got older and developed well in multiple sports, it sometimes created confusion and stress. This is not to say do not play multi sports but also be careful of spreading yourself to thin and trying to please everyone at the same time.  I think if as a young athlete approaching the college years you have two sports you love and that you are good at then you have to seriously think about what you want and prepare for it.
The demands are different in University so time management and physically preparing yourself for the next level is key. I cannot speak specifically to the NCAA D1 for multi sport athletes, yet at the NCAA D3 and ACHA levels, if you can play two sports and manage your time and stay successful in the classroom I am all for it. Playing sport(s) is what got me through school."
With such an essential legacy in Lindenwood Athletics, Hannah has demonstrated her strong leadership and exceptional abilities in another integral facet of her legacy. Taking on the role of builder and coach, the first chapter of her coaching sojourn can be traced back to 2011.
Serving as head coach of the junior varsity program for Simsbury High School, simultaneously utilizing her acumen as the varsity's assistant coach, four seasons spent served as prologue. Heading into the 2015-16 campaign, Hannah would return to her Lindenwood roots, albeit in a different location, as the University also has a campus in the community of Belleville, Illinois, located 17 miles southeast of St. Louis.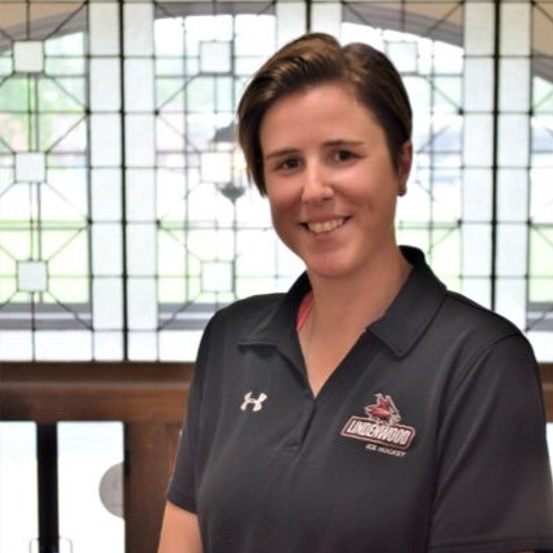 Assuming head coaching duties for the Lindenwood University – Belleville Lady Lynx, only their second season of existence, Hannah produced highly successful results. Posting a solid 19-8-2 record, the program not only captured the WWCHL league championship, they also qualified for the National Tournament in Kalamazoo, Michigan.
Rewarded for her efforts as the 2016 recipient of the ACHA Women's Division 1 Coach-of-the-Year Award, she remains an integral part of the nascent program's foundation towards building a tradition of excellence. Running parallel to her coaching duties is the dual role of Director of Hockey Operations, a labor of love that emphasizes what she has enjoyed most about her hockey narrative,
"Building something from scratch. We started that program with 11 skaters, ages 17-31 who all played on a random women's team together in the St. Louis area. We started hockey at Lindenwood in 2003 and in 2006 we won our first national championship.
In 2008, (we) won our second, 2009 our third and the success just continued on the women's side and eventually they went NCAA D1 and then, the men followed suit with their success within their programs.
We then have an additional two teams on the Belleville campus (where I am the Director of Hockey Operations) and head women's coach and both our programs on that side have also proven to be successful in their short time of existence (2014).
(Therefore), what I am most proud of is watching all of these young men and women walk onto Lindenwood campus to get a good education through playing hockey and we started that. Seeing the facilities and opportunities these young men and women are now given is absolutely mind blowing and I am really proud to be at the root of where this all started."
Although such heroics with the Lady Lions represented one of the unique legacies in the University's athletic history, Hannah's athletic abilities involved a very pioneering chapter that is perhaps the most under-appreciated element in her peerless sporting journey.
Involving a lasting legacy on the diamond, Hannah spent nearly a decade as a member of Canada's national women's baseball team. Appearing at the 2004 World Cup of Women's Baseball for Canada, it represented a career pinnacle for Hannah, testament to her standing as a world-class athlete.
Possessing her own entry in the Encyclopedia of Baseball for Women, Hannah's hardball heroics also include participation with Ontario's provincial women's baseball team, appearing in the Roy Hobbs World Series for three consecutive years.
An integral part of the growing role of women on the diamond in Canada also resulted in Hannah making history during the 1997 Baseball Canada championships. Donning the jersey of Team North, she became the first female to compete on an all-male team in Nationals play.
Having also excelled south of the border, capturing Team MVP honors with the New England Spirit in 2003, Hannah's greatest individual performance may have been a surreal 17-strikeouts in a 1-0 shutout during the North American Women's Baseball League (NAWBL) Labor Day Tournament.
In addition, Hannah would play for the NAWBL All-Star team, known by the nomenclature "Lady Spirit". During the 2004 season, Hannah joined the Lady Spirit for a four-game tour of the Dominican Republic, competing against their national team.
Hannah would pitch in the second game, hosted in Bonoa, collaborating with fellow pitcher Jen Pantalone in a 12-4 final. Seeing duty in both games contested at Puerto Plata, she made a relief appearance in the third game, a close 6-5 win, while she hurled an astounding five scoreless innings in the final game, completing a four-game sweep, playing to capacity crowds of 3,000 rabid baseball fans in the island nation.
With such a sparkling body of work on the diamond, the reality of the sport is that it also served as a key factor in shaping her philosophy in coaching. Illuminating on the visceral yet essential life lessons that reveal both emotion and maturity, while supplying an element of wisdom that may be beneficial for any young promising athlete enduring their own obstacles,
"Baseball is a tough subject for me. It was the love of my life and playing baseball with Team Canada for 10 years is something I will never forget and ever thankful for but it was not easy.
I was highly successful with this sport more than any other and with that success at an early age came confidence but sometimes even bordering cockiness. I had a coach that I did not particularly respond well to and slowly my love for the sport died. With that being said, it was a MAJOR life lesson for me.
Being a coach now myself I realize and recognize all the things he was trying to do to reach me, what he was trying to do to push me and ultimately challenge me to grow, (but it did not work). So, I have to take this time to let all the young women out there know that IF you get a coach that makes you feel that way about a sport you love… talk to them about it.
Let them know how you feel, ask questions, be open minded, try suggestions with an open heart but its ok to not respond a certain way to every coach. We are all different people and the key is communication and working together so that both the player and coach can be successful. It is a two-way street."
Worth noting, baseball holds another remarkable facet for Hannah. Part of a remarkable group of talented women from hockey that have also excelled in baseball, it merits an important place in modern sporting Canadiana. Notable names include the likes of Amanda Asay, Danielle Matteucci, Autumn Mills, Kate Psota and Ashley Stephenson, all members of Canada's contingent that competed in the inaugural women's baseball tournament at the 2015 Pan American Games in Toronto.
Asay skated for legendary coach Digit Murphy with the Ivy League's Brown Bears, while Matteucci won an NCAA Frozen Four with the Clarkson Golden Knights. Mills played with the York Lions under the tutelage of former Canadian national women's team head coach Dan Church, while Psota and Stephenson were teammates on the Wilfrid Laurier Golden Hawks. To be part of such a special sorority of talented women whose athletic resumes include hockey and baseball is one that represents a cherished highlight in Hannah's sporting life,
"Yes, I am very proud of the legacy in the sport and (it) just goes to show you how many successful multi sport athletes there are out there. Amanda and Autumn are just two of many excellent multi sport athletes on Team Canada women's baseball team.
Literally, thinking about this right now, I can think of Ashley Stephenson, Sam Magalas, Melanie Harwood and Kate Psota, who all played hockey in college and all played multiple sports growing up.
To have played baseball for ten years with these types of talented women and friends and to have ever had the privilege to wear my countries name across my chest there really is not anything better than that."
Certainly, Hannah tries to instill the values of friendship and pride into her newest venture. Employing her accomplished coaching expertise and dedication towards bringing out the best in her players, she has become a valued asset with the recently launched WHL Academy. With a collective goal of serving as an inspiration for a young generation of female talent looking for guidance in the hopes of making their own hockey dreams come true, Hannah has already praised the positive learning experience.
Belonging to a group of accomplished women that comprises the WHL Academy staff, other celebrated contemporaries include founder Jaclyn Hawkins, who graduated as the University of Connecticut's all-time leading scorer, and coached for the program in later years, akin to Hannah's career at Lindenwood. Winter Games gold medalist (and Triple Gold Club for Women member) Brianna Decker, along with Carson Duggan, the all-time goals scored leader for the St. Lawrence Skating Saints, also comprise this gathering of hockey elites, a team that Hannah is proud to belong to.
"There are many elements that I enjoy about working as a part of this team. First off, look at my counterparts…. they are incredible, accomplished, driven, smart, successful young women who are like-minded working towards the same goal of helping younger girls/women reach their goals and empower them throughout the recruiting process.
It is remarkable how much I personally have learned from the team and the Academy itself. Speaking from someone with an ACHA background and taking the course myself, it was eye opening just how much I DID NOT KNOW and I am a coach at the college level.
Not to mention the mindset piece which is invaluable chapter for all facets of life. However, when I sit back and think of the WHL Academy as a whole, I think what I like most is knowing that we impact people's lives. We get the opportunity to help empower, enrich young girls in the hockey community, and teach them from our own experiences. We help build confidence through knowledge.
There is nothing better than sharing knowledge; giving back and helping families achieve their big picture goals. It is an absolute honor to work side by side with these young women and watch them grow over the course of eight weeks and then apply what they have learned in real life. Pretty powerful stuff."
"All quotes obtained first hand unless otherwise indicated"
Photo credits: Baseball Canada image by Phil Dimarzio
Other images obtained from:
https://lindenwoodlions.com/news/2013/10/18/GEN_1018132106.aspx
http://www.pointstreaksites.com/view/achahockey/acha-hockey-news/news_456222
References:
Encyclopedia of Women and Baseball, Edited by Leslie A. Heaphy and Mel Anthony May, p.124, McFarland and Company Inc, Publishers, Jefferson, North Carolina
"Lady Spirit a big hit in Dominican Republic", By Jean DePlacido, Published: Thursday, November 18, 2004 on http://www.nawbl.com/
https://www.baseball-reference.com/bullpen/Kat_Hannah
https://lindenwoodlions.com/news/2013/10/18/GEN_1018132106.aspx
http://www.pointstreaksites.com/view/achahockey/acha-hockey-news/news_456222
Related Articles