Enjoying a career as a Sports Management Professional, time spent between Portland, Oregon and Park City, Utah, the Maccabiah Games allowed Jodi Berris an opportunity to feel the essence of competition. Wearing the Stars and Stripes in the women's ice hockey tournament, enjoying a podium finish, Berris brought a wisdom to the roster, rekindling memories of an era when she excelled as a multisport talent.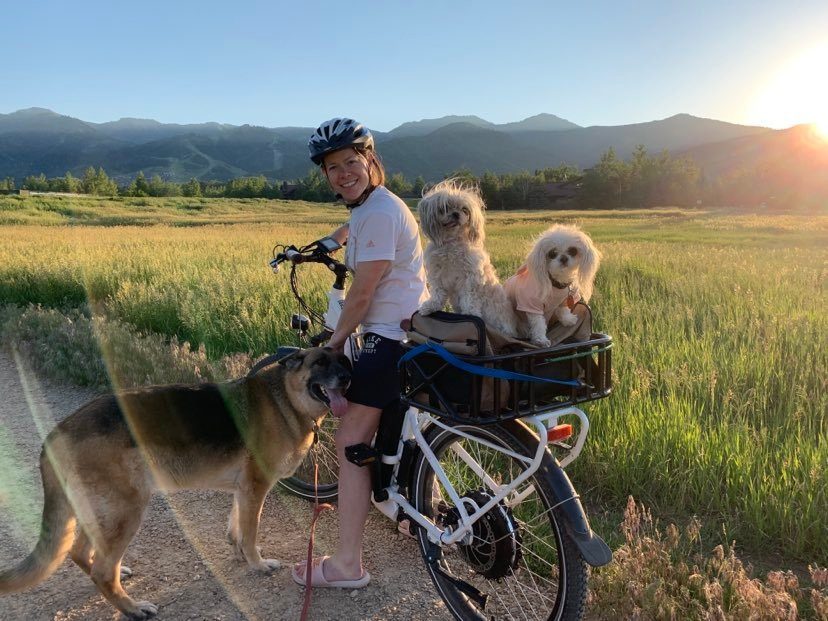 With a highly remarkable background, including opportunities with the WNBA, a FIFA Women's World Cup event in Washington, and NBC Sports, among others, Berris' athletic endeavors can be traced back to her home state of Michigan. Beginning with youth hockey, the passion to return to the rink was ignited during her junior year of high school.
Volunteering at a local fire station, part of an admirable effort to give back to the community as a member of the National Honors Society, the enthusiasm of other fire fighters finding solace in the game propelled Berris. With stick in hand once again, enthusiasm for the game restored, it marked the prologue for an exciting narrative.
Competing in three sports at the University of Michigan, including icehockey, lacrosse and rowing, the athletic experience held significant meaning for Berris. As a side note, quarterback Tom Brady was a member of the Wolverines football roster.
Remaining active on the ice while building a strong professional career, time in Portland, working at Nike's World Headquarters, saw Berris participate with recreational teams in various adult leagues. Admirably, part of Berris' sporting focus in Utah involves considerable service volunteering as a ski guide for Park City's National Ability Center. Equally impressive, Berris graciously gives her time for the Mount Hood Ski Patrol, the oldest patrol in the Western US.
Recently, Berris added to an impressive journey in sport with an historic appearance in women's ice hockey at the 2022 Maccabiah Games. Playing left wing position for the United States, the number four adorning her jersey, Berris employed a tremendous maturity.
Despite her standing as the only player on the US roster in her forties, Berris brought a youthful exuberance, gracing the ice with heart. Realizing her limitations with great candor, Berris approached the Maccabiah Games as an opportunity to achieve her hockey dream. Scoring her lone goal of the tournament in a contest versus Israel,
"It was cool to get to represent Team USA and get to be on the team. I was the oldest player on the team by a lot. The next oldest was 35, followed by 28. Most of the players were 17-22, so I was double their age. Definitely, I was the least skilled player, but I felt that I managed to hold my own, concerning my age.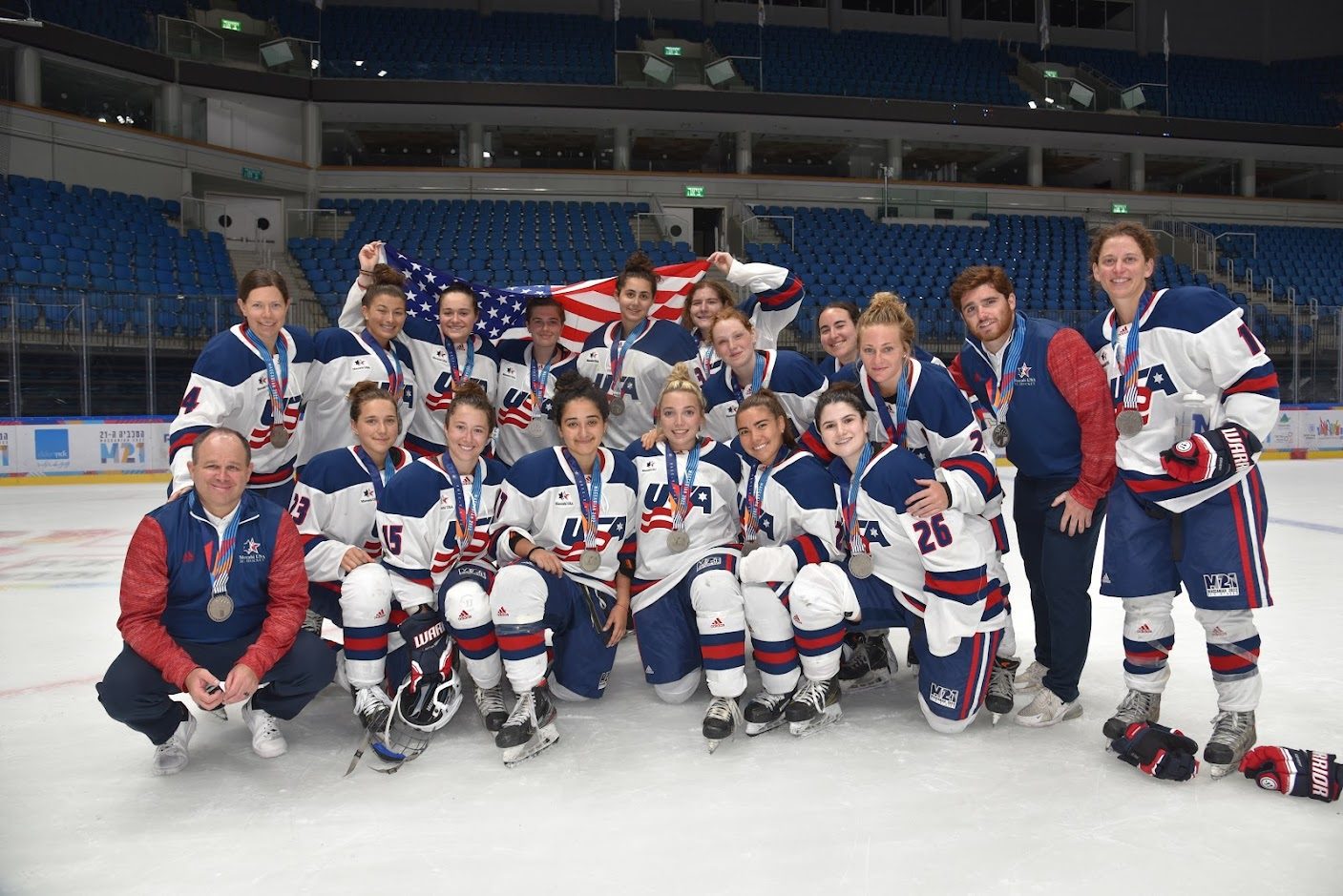 I never played at the level that some of these girls did, but the fact that I could keep up my own is pretty cool. The international experience was special on a lot of levels. It was on my bucket list to go and play, and I was fortunate enough to get that opportunity."
Prior to the opening face-off, Berris took on another significant role. With a combination of perseverance and passion, she would prove instrumental towards the realization of a women's tournament occurring.
Upon the revelation that the Maccabiah Games were rescheduled over pandemic concerns, Berris discovered that the women's ice hockey tournament was in doubt. Demonstrating perseverance and dedication, Berris refused to see the possibility of the tournament fade away.
Starting with one phone call, later becoming a series of monthly calls, a sense of momentum took place. Berris found fellow enthusiasts in Chelsey Goldberg, a member of the California Jewish Sports Hall of Fame, plus Canadian competitor Melissa Wronzberg, a 2018 Clarkson Cup champion.
Although at one time, it would appear that no tournament would occur, due to a lack of players, the involvement of Mitch Miller, Canada's eventual General Manager, served as a game changer. Finding the players to fill the Canadian and American rosters, an important step in making women's ice hockey a long overdue reality at the Maccabiah Games, the event stands as a seminal moment for Berris.
"The Tokyo Olympic Games had been pushed back (due to pandemic concerns), and so were the Maccabiah Games. At the time, women's ice hockey was not listed as an event. I was informed that it did not seem that Canada may have a team. Therefore, the US would not ice a team either. After calling the Canadian office, they gave me Melissa's name, plus a couple of other people. Additionally, the US office gave me Chelsey's information and that's how it started.
Athletes started building a shared Google spreadsheet. Every month there was a meeting. It had reached a point where the Canadian team was not sure they could do it. Then, Mitch Miller came into the picture. We all played a role. Chelsey dreamt about it from the US side. All of us together did an important part to make it happen."
Coincidentally, Berris shared the ice with Melissa's older sister in a tournament 15 years ago. To have Melissa share the ice with her at Pais Arena in Jerusalem provided a feeling of full circle, a hockey dream realized in a highly empowering and collaboration effort. Adding to the jubilation of seeing it all come together, the experience held another unique meaning for Berris.
Twenty years earlier, Berris worked at the 2002 Salt Lake Winter Games. Part of the team that designed and operated a transportation system for members of the Press and Broadcasters, the chance to be part of another world class event marked a proud milestone in her sporting odyssey. Undoubtedly, experiencing this event as an athlete provided plenty of emotion, the Opening Ceremonies signifying the arrival of a major milestone for an elated Berris.
"It was really cool walking into the stadium with the delegation. It was the highest level of sport I have ever done. It was a very unique experience and great to be part of it as an athlete."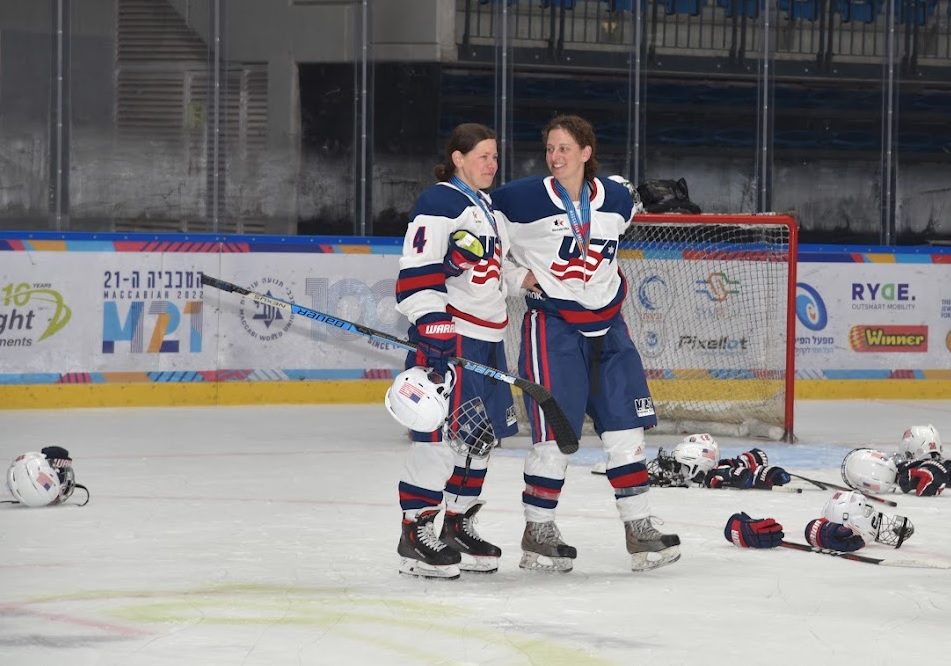 Pondering the potential for an even more exciting women's ice hockey tournament at the 2025 edition of the Maccabiah Games, growth stands as an essential theme. Certainly, a focus involves the possibility of a fourth team competing, essential in expanding the field of world class competition, simultaneously adding to the relevance of the event.
Sharing her insights on such possibilities, Berris also looks towards the potential of Israel to progress in a positive direction. Rekindling memories of her earliest athletic ventures in Portland, a sense of optimism encompasses her thoughts. Believing the future shall be a bright one for the budding program, the key lies in a continued commitment, continuing the spirit of perseverance that made the women's tournament a reality.
"Definitely, I think there could be a fourth team. Realistically, it would have to be a combined team from a European region. What it takes is someone willing to coordinate it and take the initiative to bring it together. With a bit of time, you can build a network.
Israel has a very young program. It is an expensive sport and for a hot country, it is unique. In 10 years time, it will be a whole different program compared to what they were this past summer. It reminds me of my experiences with creating other sports teams and leagues. You build it, and invest in it, it will get better over time."
"All quotes obtained first hand unless otherwise indicated"
Related Articles