Capturing the 2022 NCAA Division III national championship on home ice, the Middlebury College Panthers achieved a tremendous connection with their fan base, adding luster to the magic of an undefeated season. Capturing the title in overtime, it marked a dramatic yet exhilarating exclamation point to a brilliant run of on-ice dominance.
Among the heroines of this epic season, Jenna Letterie contributed with career highs in assists (26), points (33) and shots on goal (103). Raised in Winthrop, Massachusetts, she rose to the occasion in the postseason, recording points in four out of six games, including the NESCAC Championship game, all victories.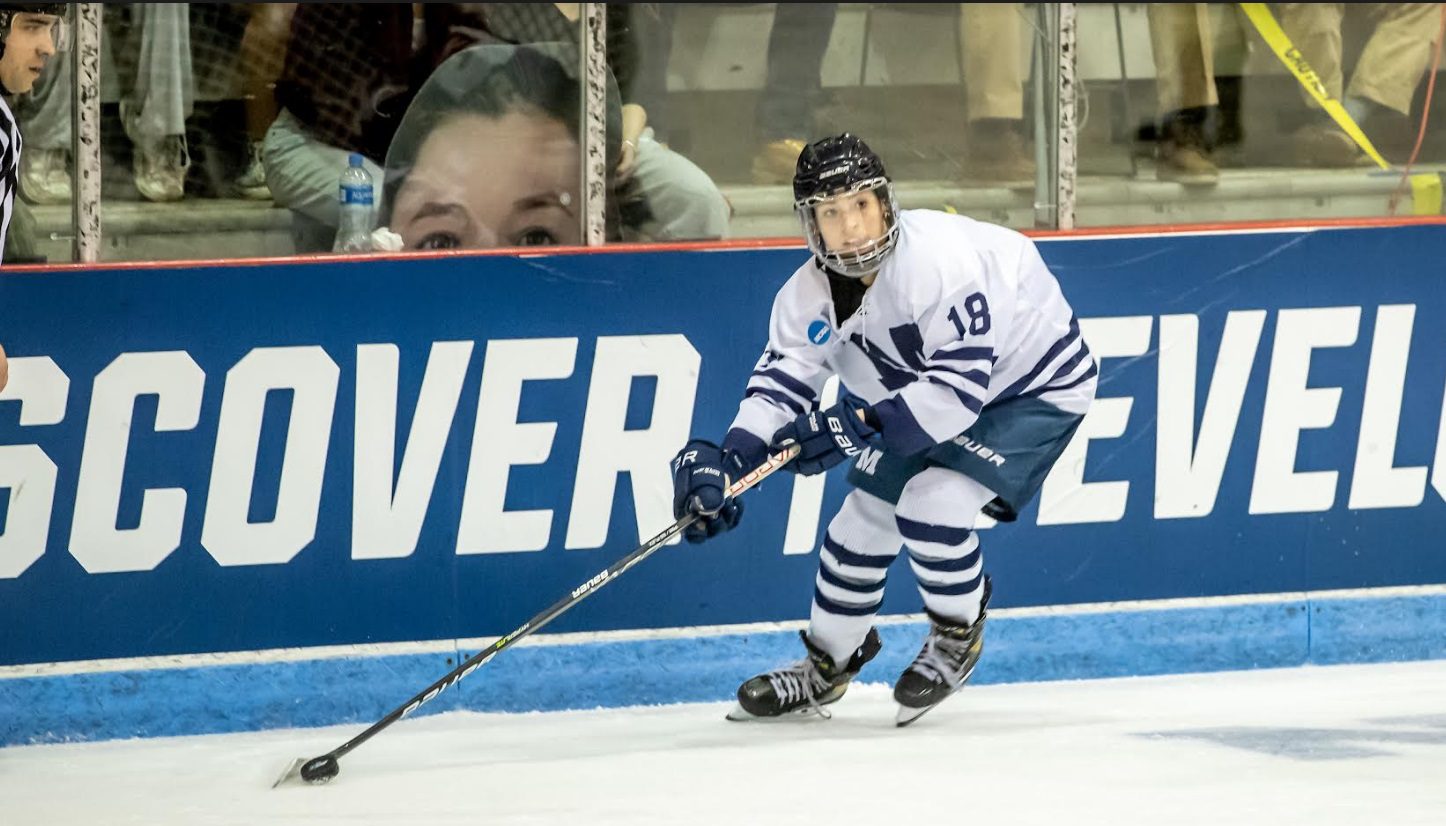 During the Frozen Four, Letterie established herself as a prime time performer. Providing an assist on Maddie Leidt's game winning goal in the semifinal win versus a highly talented Elmira roster, she scored the opening goal of the NCAA Division III championship game versus the Adolphus Gustus Golden Gusties. Assisting on Middlebury's second goal of the game, coincidentally, Leidt scored the goal. Fittingly, both earned a place on the Tournament All-Star Team.
"Contributing to my team's success was incredibly exciting. This season, my teammates and I were determined to earn the opportunity to compete in the NCAA tournament.
Making it to the tournament and knowing that we were so close to achieving our dream of being NCAA Champions fueled my drive to make something happen every time I stepped on the ice. I was thrilled to help my team achieve success in the tournament."
For the second time in Letterie's brilliant collegiate career, a cherished place on the All-NESCAC First-Team provided a proud milestone. Finishing as the leading scorer in conference play, along with the prestige of the Dean's List, her standing as one of Middlebury's most celebrated student-athletes is without dispute.
Earning First-Team honors back in 2020, such recognition goes beyond individual achievement. Reflecting on the honor, Letterie's loyalty rises to the surface. Acknowledgement of a collaborative effort as a critical element towards her own success, quick to praise her linemates, emerged as a theme.
"Being named to the All-NESCAC First -Team is a tremendous honor. Although I have been chosen to receive this award, it is truly a tribute to my teammates and coaches.
I believe a big part of why I have been so successful this year is because of them. My teammates and I get along really well both on and off the ice.
We all work very hard and we share a strong desire to win. In addition, I also have great chemistry with my linemates. We communicate well and we complement each other's abilities.
While I have been at Middlebury, I have had outstanding coaches who are truly committed to our team. They have taken the time to get to know me as both a person and a player. The NESCAC is such a competitive league, I am grateful to receive this recognition."
With the opportunity to be a key contributor in the greatest season of Middlebury College hockey, the privilege of capturing the National Championship on home ice provided an increased sense of achievement. As all three NESCAC Tournament games, plus all three contests of the NCAA Division III Tournament took place at Chip Kenyon 85 Arena, the path to the championship took on a more profound meaning.
As over 2,000 hockey enthusiasts attended the national championship game, bringing an electricity to one of the most epic events in Middlebury athletics, their presence was not lost on Letterie. After changes in attendance policies, the return of the fans energized the players en route to their greatest season. Certainly, the emotional overtime win resulted in the sense of a shared triumph between players and fans alike, an element that provided Letterie with a glorious feeling of attainment.
"It felt incredible to win the national championship in Kenyon. When the NESCAC changed its spectator policy in January, it was devastating.
Although my team loves playing in Kenyon, playing in an empty arena just did not feel right. We really missed the support of our fans and the positive energy that they bring to our games.
Being able to play in such a special place during the NCAAs with record numbers of fans in the stands was beyond amazing. Feeling the enthusiastic support of the crowd boosted our confidence and motivated us to leave everything we had on the ice.
Winning the National Championship at Kenyon in front of our families, Middlebury students and staff (especially the rink staff), and the people of Middlebury and the surrounding communities is something that I will never forget."
Photos by Will Costello
"All quotes obtained first hand unless otherwise indicated"
Related Articles