Celebrated as a model teammate and an inspiration for younger players, Jada Burke holds the unique distinction of having played university hockey on both sides of the border. Wearing the paraphernalia of the Lindenwood Lions from 2018-22, followed by one season in Canada West play with the University of Calgary Dinos, Burke always demonstrated a dedication to success, on and off the ice.
Named to the 2019 College Hockey America All-Rookie Team, leading the Lions with 11 goals, the amiable Burke was equally proficient in the classroom, also earning the conference's Scholar Athlete of the Year Award. Undoubtedly, the most impactful achievement in her rookie campaign involved a hat trick versus Post University on January 5, 2019, the first Lions hat trick since October 30, 2015.
Enjoying 110 appearances in the Lindenwood jersey, playing for head coach Shelley Looney, Burke also served as alternate captain. Having never missed a game in her first three seasons, an iron woman valued as a faceoff specialist and fearless shot blocker. Running parallel to her on-ice endeavors involved a place on the executive board of the university's Student Athlete Executive Committee.
Recognized as a Krampade All-America Scholar in her senior season, other prestigious honors solidified Burke's standing as one of the most inspiring women to wear the Lions jersey. Spring 2021 saw Burke's attendance at the NCAA Career in Sports Forum plus the Student Athlete Leadership Training initiative.
After graduating from Lindenwood, earning a Bachelor of Science in Athletic Training, Burke earned the prestige of nomination for the NCAA Woman of the Year Award. Recognizing a graduating female athlete, leadership celebrated through academics, athletic achievement and community service, it represented a defining moment for Burke. Taking into account that the year of nomination coincided with the 50th Anniversary of Title IX, it signified a heartwarming and empowering serendipity.

"Being nominated for the NCAA Woman of the Year Award filled me with a lot of pride. It was an honour to be recognized by one of my advisors who submitted my application.
So many people had reached out to me after the nomination was announced, and it made me realize that people are in my corner and cheering for me which was exciting to see. I also had some young, black, female hockey players reach out and said how they looked up to me which was one of the best feelings I could have asked for after that nomination. I am hoping I can continue to inspire people even after hockey is done. After all the support I received, that nomination was a great way to finish off my NCAA career and time at Lindenwood."

Continuing her hockey odyssey at the University of Calgary for the 2022-23 season, academics represented an essential focus. Working towards a Master's Degree in Kinesiology, Burke maintains a tremendous motivation to achieve her admirable goals.
In discussing the source of inspiration, Burke finds a highly positive influence provided by family. From the outset, her parents have frequented rinks for over two decades, showing their support.  Older brother Jaren Burke also holds a similar path in hockey. Beginning his career at the NCAA level with the Rensselaer Polytechnic Institute, he would later play at Queen's University in Kingston, Ontario. Another older brother, Taurean White, holds an extensive hockey resume. A former player with the University of Ottawa, he is currently the head coach and general manager of the Winnipeg Freeze.

"My family has always been my biggest motivator. My parents put three children through hockey and are the hardest workers I know. They have done everything in their power to give me and my brothers the best opportunities to succeed.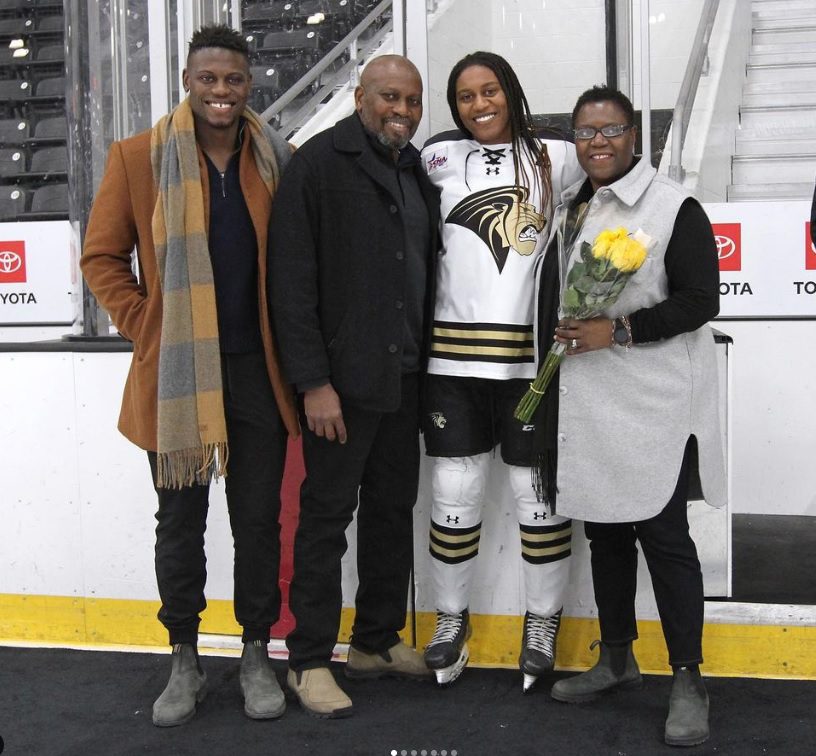 I have also had the privilege of watching my older brothers while I grew up and learning from them when it came to hockey, school, and life in general. With everything I do, I think of my family and how I want to make them proud.
Especially to my parents and how I can repay them later in life. My family is my motivation to achieve my goals for sure."

Bringing her strong skill set to a highly talented Dinos roster, gaining the nickname JB, she made her debut on September 30, 2022 versus the University of British Columbia Thunderbirds. Logging her first point eight days later, assisting on Elizabeth Lang's overtime winner versus the Saskatchewan Huskies, a key benefit of playing in the Prairie provinces allowed Burke to visit many parts of the country not seen before.
Enjoying her first goal in a January 6, 2023 road match versus the Grant MacEwan Griffins, finding the back of the net against Brooke Fawcett, the milestone proved much more cherished. Also standing as the game winning tally in a 4-0 final, Jessica Martens earned the assist, while Gabriella Durante logged 26 saves.
Such a notable goal served as the start of several other highlights which defined Burke's season. Before January expired, an exhilarating opportunity to grace NHL ice proved unforgettable. With the Dinos and crosstown Mount Royal Cougars enjoying another chapter of the Crowchild Classic, the novelty of such an integral event for both programs is that the frozen perimeter of the Scotiabank Saddledome provides the backdrop for the renewal of rivalries.
Joined by Erin Armstrong, Canada West All-Star Alli Borrow, team captain Jordyn Burgar, Emily Hill, Annaliese Meier and Ashley Sutherland, the majesty of Senior Night allowed one more opportunity for celebration. All intertwining in Burke's final chapter of her university career, the friendships made and positive attitude served as the hallmarks.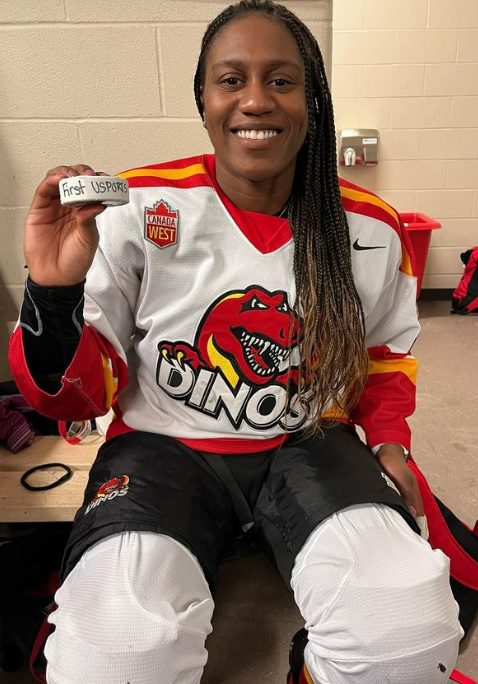 "Coming to UofC for my last year of eligibility was a great experience as I met some great people and got to travel all over Western Canada, which I had never experienced before. It was a different environment for me at first but I eventually got the swing of things. 
In regards to being a leader on the team, I just tried to bring my four years of experience and maturity to the team the best I could, while also still having fun and enjoying my last season of hockey with some pretty awesome people.
The goal against MacEwan was very exciting for me and getting to celebrate with my team who was supporting me all season was definitely a highlight.
Yet, I think one of my best experiences this year was getting to play at the Saddledome for the Crowchild Classic against MRU. That was the largest crowd I have ever played in front of and it is something that I will never forget."
–
"All quotes obtained first hand unless otherwise indicated"
In this article:
#All-American
,
#Awards
,
#AwardWinners
,
#NCAA
,
#NCAAD1
,
#StudentAthlete
,
#UniversityHockey
,
#USports
,
#WomenInSport
,
#Womenshockey
,
grow the game
,
Hockey
Related Articles