It's a great time in women's hockey. As a 72 year-old Canadian male who has played and followed hockey all my life I can attest to that. Recently, I took my three favourite women to see Canada play the US at the 2023 World competition in Brampton…..my wife, who isn't a big fan of skating, my daughter, who in her early 40s just missed the advent of women's hockey in the late 80s ( although she dabbles in it now), and my granddaughter, who is in the thick of playing hockey herself.
I wanted my granddaughter to see the highest level of achievement in this growing women's sport. At 12 she needs the exposure to appreciate what the sport is all about and how much opportunity there is for young women starting out.
The game was highly entertaining. The US came back to tie it with seconds left on the clock. Into overtime no one could score. In the shootout each team would score 1 out of 5 – still tied. Onward they went and Canada finally scored the winner. Canada would go on to lose to the US in the championship final. While the women's game is a much more puck-focussed affair, the Canadian women did get caught up with penalties in the gold medal game. As the old saying goes…."you can't score from the penalty box." I could have spent the same sort of money on a Leaf game but this was better. Overall, watch for other nations besides the US and Canada rise to prominence in women's hockey in the years to come. Sure it's our game – but look what's happened internationally in curling. One can't help but compare the style of the women's game to the NHL.
In a nutshell, here's how I see it. First and foremost, the women's game is purer. They play the puck not the player. They don't shoot as hard, they don't skate as fast but their playbook and strategy is just as good. My granddaughter has just completed her second season in rep hockey. Coming from a small town an hour northwest of Toronto, there is no local arena. She has to travel about ½ hour to nearby city centre to practice/play. Having said that, her hometown has plenty of natural ice surfaces in winter – weather permitting.
She has played 2 seasons with boy's teams. This past season she played defence as the only girl on a Guelph Select team. They won far more than they lost even taking home top honours in a competitive tourney in Cambridge.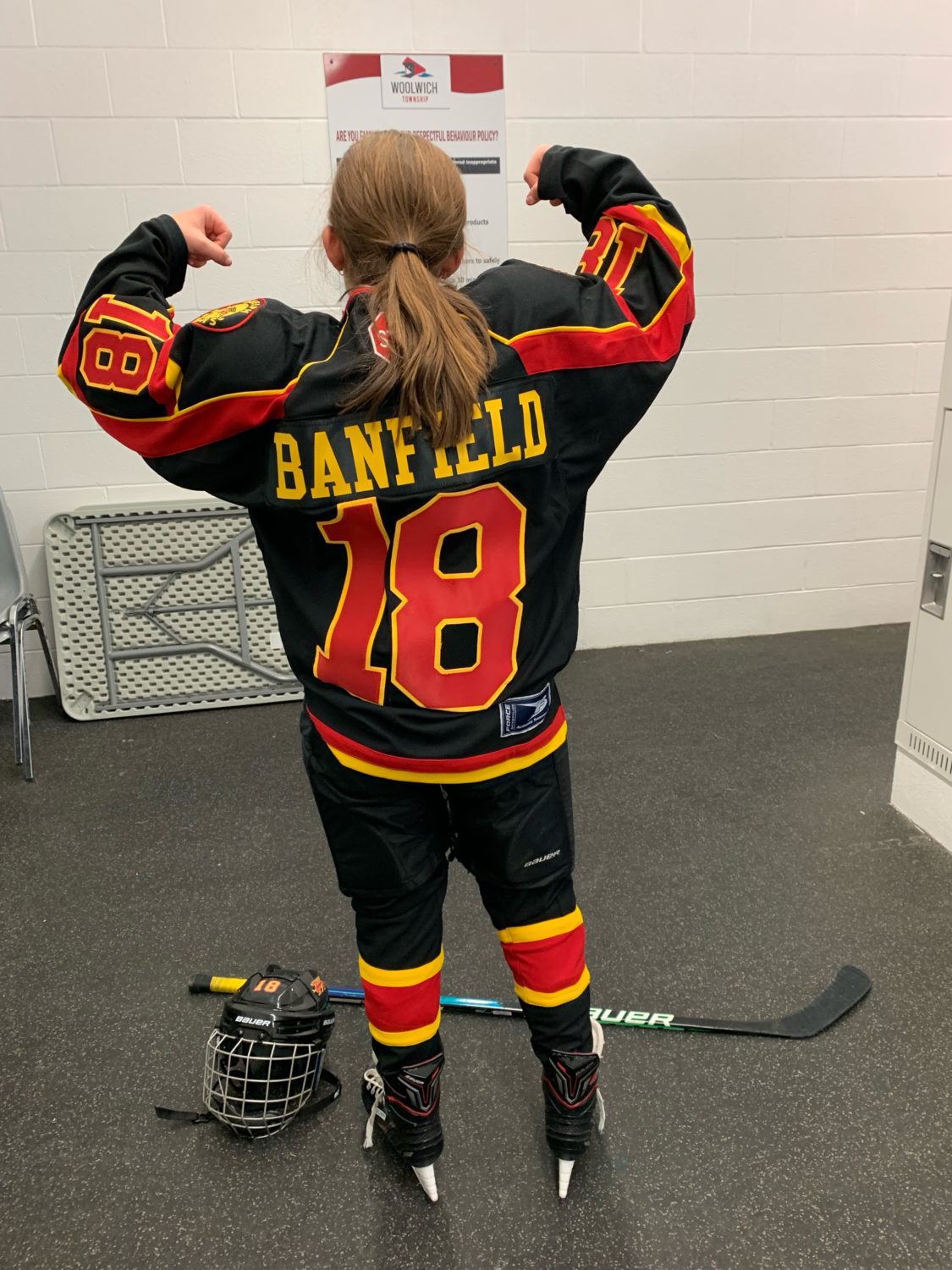 I feed her news stories about women's hockey whether it's the Premier League, Team Canada, Poulin or Nurse. When I was 12, I couldn't get enough of the NHL. I could tell you the names (and stats) of over 90% of the players from the 'original six'. Al Arbour was the last Sheriff Pudding coin shield I needed to complete the entire NHL collection (picked it up in a wild trade in the schoolyard). Today, I still love bios and books about Canadian hockey. (Recently I picked up an autographed copy of Eddie Shack's book I found in pristine condition in a Little Free Library – like Eddie, It's a hoot).I gave her a copy of Hayley Wickenheiser's latest book.
For further inspiration, we took her to a Premier League game this winter to see the Toronto Six. Some of the players in this league played in the recent World tournament.
Now she's trying out for under 15 girl's hockey for the Guelph Gryphons. She had a good run at AA but looks like she'll settle in on A, a slightly less competitive team. She was out playing against girls 2 years older and almost made the top tier.
Like most young players, her best skill is her skating. She brings a powerful stride from her training in downhill skiing. She is comfortable backward skating often a challenge for young players. She passes really well. Like most young players, her puck carrying, playmaking, and shooting skills can use improvement. But all this is coming along.
I rewarded her this past winter with a little "5 seconds with the puck wins a buck" program. Ethically, I felt a little uncertain about incorporating a financial incentive, however, it seemed to work. She stuck with the puck longer and has greatly improved her puck handling ability. It's all about confidence.
She has a good wrist shot – the slap shot comes next. The 2022-2023 season is winding down. Playing with the boys has had its own challenges. While she was definitely accepted on the team – she missed the camaraderie that comes from the spirit in the locker room – having to use a separate dressing room. After U13 (formerly "peewee"), the boys start body checking. Not that there wasn't some contact over the past few years. In her last game of the season with her Guelph Gryphon's boys' team, at a tournament, she took a check from behind into the boards. Many minor leagues have incorporated the "Stop" sign on the back top portion of the sweater to prevent players from issuing 'dirty' checks. I told my granddaughter the story of how I was knocked unconscious by a similar but harder check when I played peewee hockey in the Toronto Marlboro system. The trainer came out, cracked some ammonia under my nostrils and brought me around. Helmets were just being accepted into minor league play at the time.
Her parents have spent countless hours at games and practices. I have tried to help out as part of the support team and cheering section (we have a fabulous Swiss goat bell).
My granddaughter loves a wide variety of activities. She plays basketball and badminton at school. She loves to rock climb. She is great a runner in track. Wilderness camping/canoeing and fishing are a passion. I told her that if the hockey 'thing' doesn't work out and she tires of it or wants to go in a new direction, just do it. Don't feel pressured.
But I did tell her she has potential. I did tell her that hockey is a great team sport. I did tell her that if she continues it might be a sport she could play at the high school and possibly the post secondary level. Young people develop so quickly in sport from game to game and season to season. Thanks to those who came before, it's a great time for women's hockey. I can't wait to see where next season will take her.
–
Elyse Banfield
#18
Guelph Gryphons U13 Select – 2022-23
Position: Defence
Shoots: Right Age: 12
Hometown: Rockwood,Ontario
2023-24 Hockey Team: U15 Guelph Girl's A Team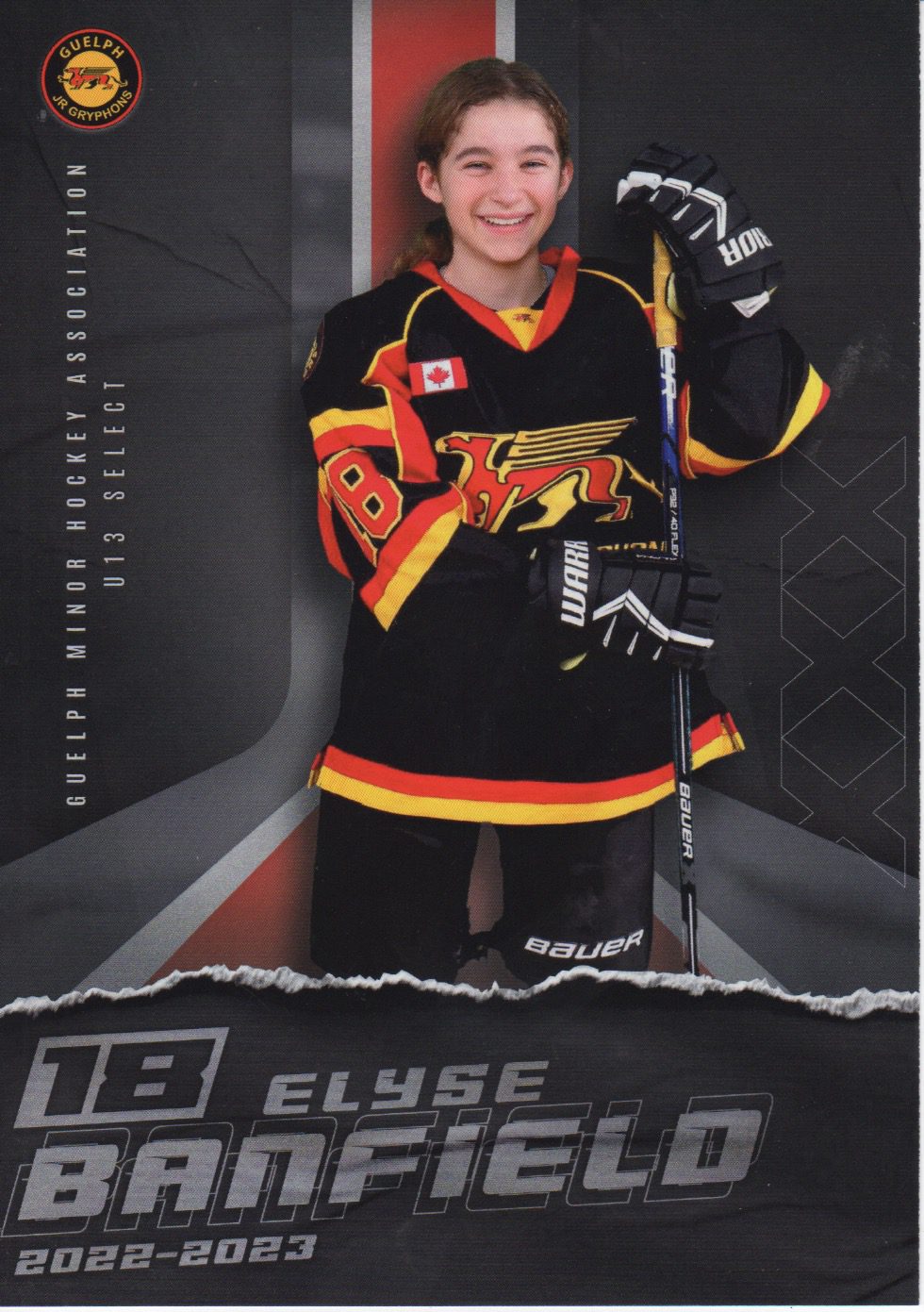 In this article:
#FemaleHockey
,
#GirlsHockey
,
#GirlsInSport
,
#HockeyForAll
,
#IIHF
,
#WomenInSport
,
#Womenshockey
,
#WomensWorlds
,
#youthhockey
,
grow the game
,
Hockey
Related Articles