Finding the fans' favorite threads of the 2022-23 PHF season
A total of 37 different jerseys were worn during the 2022-23 Premier Hockey Federation season, showcasing the league's unique style and brands in a variety of threads and specialty theme designs.
The 2022-23 PHF Sweater Series will decide the ultimate fan favorite with a tournament-style bracket that features daily head-to-head matchups with voting conducted on social media to determine winners.
The Sweater Series bracket will have two sides with one focusing on all 16 primary jerseys that most commonly represent team uniforms, and the opposite will be theme based with all 21 specialty jerseys worn throughout the year. There will be a short 'play-in round' with select specialty team jersey matchups to bring the total from 21 down to 16. After four full rounds, the top jersey on each side of the bracket will battle it out for bragging rights in a final championship round. Full schedule of matchups is below.
The 37 jerseys competing in the 2022-23 PHF Sweater Series include the league's three All-Star designs for PHF Team Canada, Team USA, and Team World. The Boston Pride have five different jerseys including both their Black and Gold primary threads, plus their alternate, and specialty designs for Hockey Fights Cancer and Pride. The Buffalo Beauts wore six jerseys this season including both their Blue and White uniforms, Heritage design, plus specialty sweaters for Autism Acceptance, Hockey Fights Cancer, and Pride. The six Connecticut Whale jerseys include both their Blue and Green classics, new alternate, and specialty themes for Alzheimer's Awareness, Pride, and the Pittsburgh Pennies. The Metropolitan Riveters have five jerseys in the bracket including their Blue and Red standard sweaters, and specialty threads like Black Rosie, Mental Health Awareness, and Pride. The Minnesota Whitecaps have six to choose from including a trio of base uniforms in Blue, Black, and White, plus their special Ugly Sweaters, Military Appreciation, and Pride. The Montreal Force have four in total with their Black, Maroon, and White combinations, plus a special Indigenous theme. The Toronto Six have their Black and Red standard sweaters.
K1 Sportswear is the league's exclusive jersey supplier, and MeiGray is the exclusive game-worn partner of the PHF.
Follow @PHF on Twitter to participate in voting with active polls between 10:00 am ET and 10:00 pm ET from May 23 to July 10.
2022-23 SWEATER SERIES MATCHUPS
PLAY-IN ROUND – SPECIALTY:
May 23: All-Star Canada vs All-Star USA vs All-Star World
May 24: Minnesota Whitecaps Military Appreciation vs Minnesota Whitecaps Pride
May 25: Connecticut Whale Alzheimer's Awareness vs Connecticut Whale Pride
May 26: Buffalo Beauts Autism Acceptance vs Buffalo Beauts Hockey Fights Cancer
ROUND ONE – PRIMARY:
May 29: Boston Pride Black vs Boston Pride Gold
May 30: Minnesota Whitecaps Blue vs Minnesota Whitecaps White
May 31: Buffalo Beauts Blue vs Buffalo Beauts White
June 1: Metropolitan Riveters Blue vs Metropolitan Riveters Red
June 2: Minnesota Whitecaps Black vs Montreal Force Black
June 3: Montreal Force Maroon vs Montreal Force White
June 4: Connecticut Whale Blue vs Connecticut Whale Green
June 5: Toronto Six Black vs Toronto Six Red
ROUND ONE – SPECIALTY:
June 7: Boston Pride Alternate vs Boston Pride Hockey Fights Cancer
June 8: Boston Pride – Pride vs Metropolitan Riveters Pride
June 9: Metropolitan Riveters Mental Health Awareness vs Metropolitan Riveters Black Rosie
June 10: Connecticut Whale Pittsburgh Pennies vs Connecticut Whale Alternate
June 11: CTW Play-In Winner (Alzheimer's / Pride) vs Buffalo Beauts Pride
June 12: Buffalo Beauts Heritage vs BUF Play-In Winner (Autism / Cancer)
June 13: Minnesota Whitecaps Ugly Sweater vs MIN Play-In Winner (Military / Pride)
June 14: Montreal Force Indigenous vs PHF All-Star Play-In Winner (Canada / USA / World)
ROUND TWO: JUNE 19-26
ROUND THREE: JUNE 28 TO JULY 1
ROUND 4: JULY 5-6
FINAL: JULY 10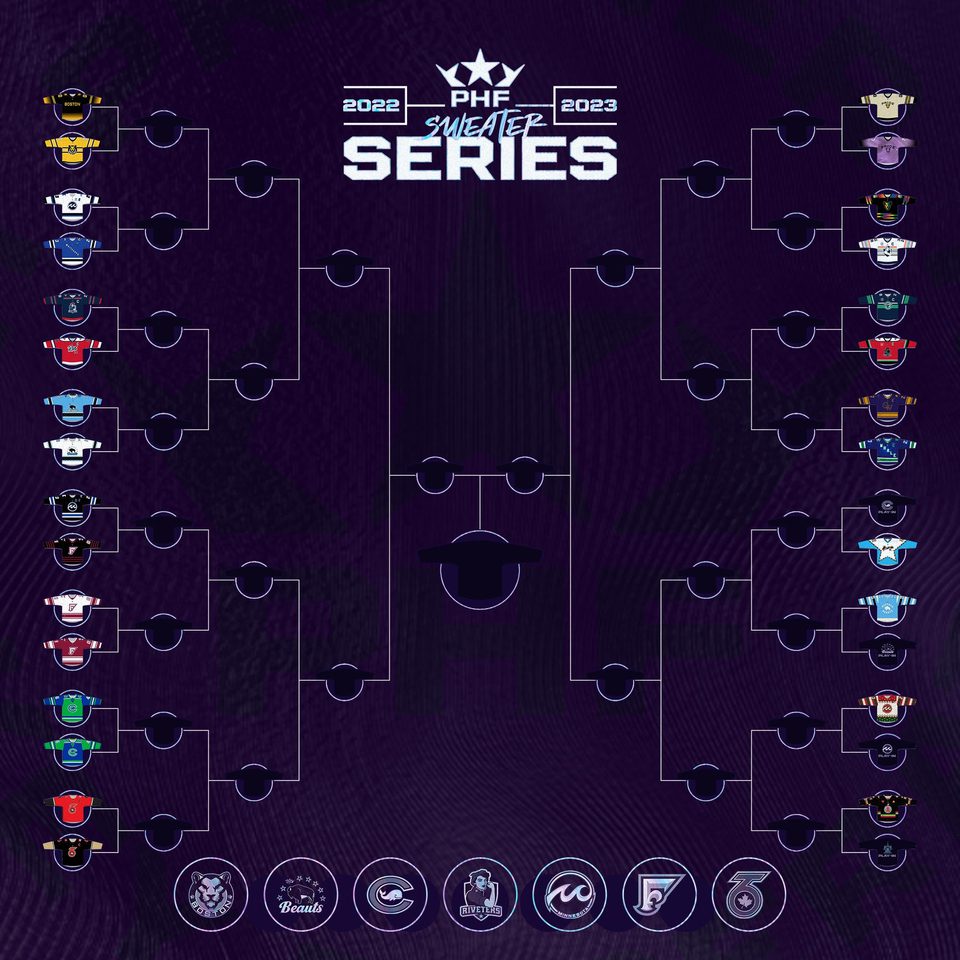 Related Articles