One of the most promising players for Slovakia's national team, the 2021-22 season represented a breakthrough for Annamária Suráková. With a wealth of experience, competing at an elite level in her homeland since her teens, the latest chapter of her hockey odyssey involved the milestone of international play.
Participating in Group E play for the Olympic Winter Games Qualifying tournament, held during November 2021 in Lulea, Sweden, Suráková and Slovakia were part of a group including the host Swedes, France and South Korea. Although Sweden finished first in the group, gaining the opportunity to compete in Beijing, Suráková, wearing number 21, gained a valuable learning experience.
Finishing among the team leaders in plus/minus, the opportunity to play internationally once again served as a bookend to 2021-22. Coincidentally, France would play another part in Suráková's international experience. Of note, the western French city of Angers served as host for the 2022 IIHF Women's World Championship, Division I, Group A competition.
Suffering a pair of losses to start the tournament, including a hard-fought 2-1 final versus Norway, followed by a shutout against host France, the Slovakian squad bounced back. Enjoying a 4-1 win versus Netherlands, the ensuring match provided Suráková with the biggest highlight of her international ice hockey career. With a 2-1 triumph over Austria, a bronze medal proved to be a riveting result.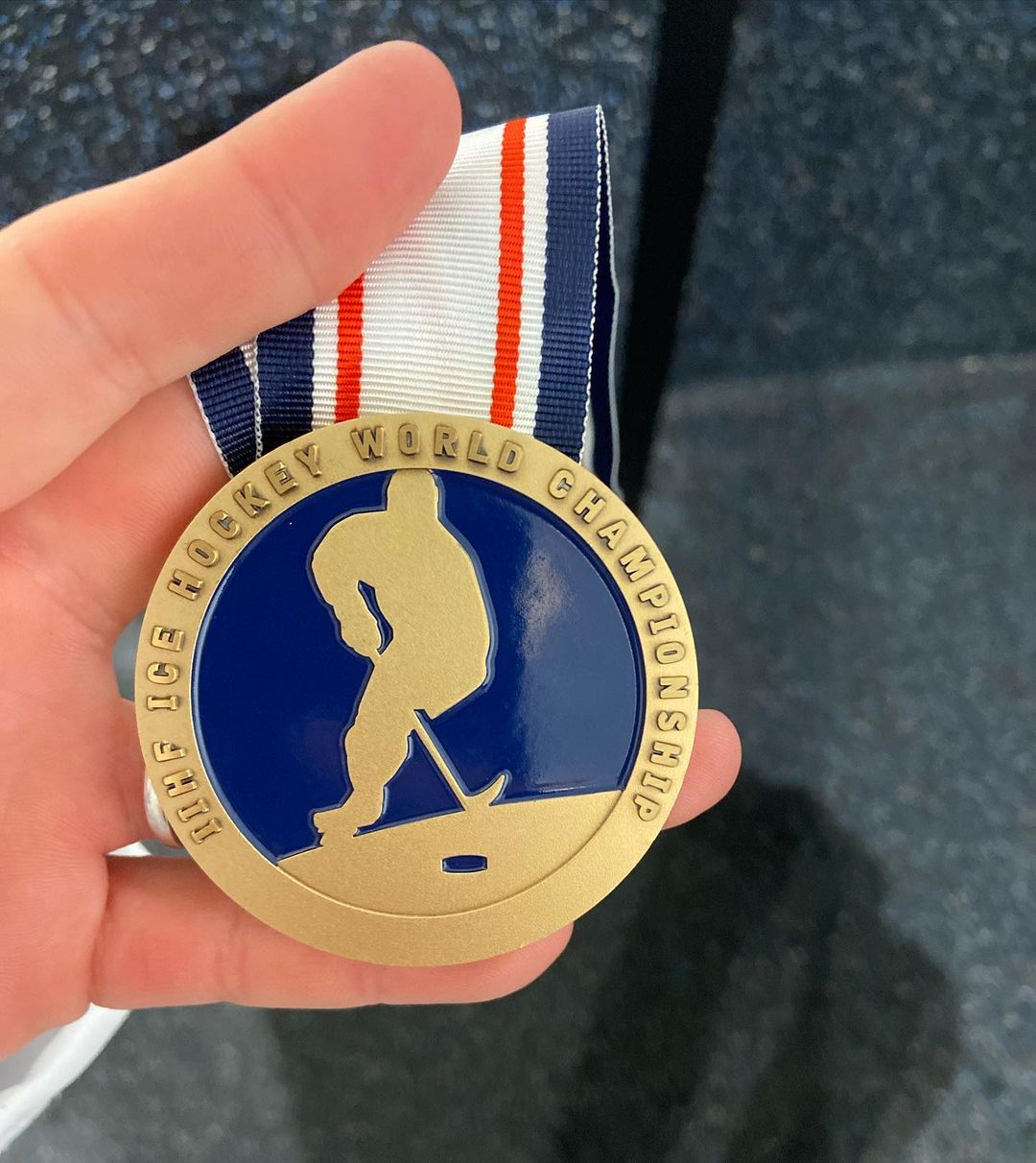 Signifying a celebrated first for the elated forward, the jubilation of a podium finish on international ice proved to be only part of the narrative. Just as prevalent marked the ability to bounce back, winning twice to remain in medals contention. Finding inspiration in this tremendous display of resiliency, it stands as a key focus of Suráková's reflections.
"It was my first senior world championship. I can say that they were successful. Despite two unsuccessful matches, we did not give up as a team and we continued to fight. As a reward, we had (the) bronze medals, for which I am grateful."
Akin to many other elite ice hockey players in Slovakia, Suráková is equally proficient on the slab. Highly notable on her hockey resume involved the opportunity to wear her nation's colors for ball hockey. Among the seminal moments of her career, the 2019 ISBHF Women's Worlds represented a cherished opportunity to shine on home soil.
Contested in Kosice, Slovakia, the event provided a lifetime of memories. With no shortage of familiar faces showing their support, a thrilling overtime victory versus the United States preceded an epic 2-1 triumph versus archrival Czech Republic.
Qualifying for the medal round, the event provided an invaluable experience for Suráková, whose 2022 IIHF participation also involved playing for a medal. Although a medal the host team at the 2019 ISBHF Worlds, there was no shortage of heart or determination, a time that sees Suráková beam with feelings of achievement and national pride. "Playing at home in front of fans and family was great. We wanted to get a medal."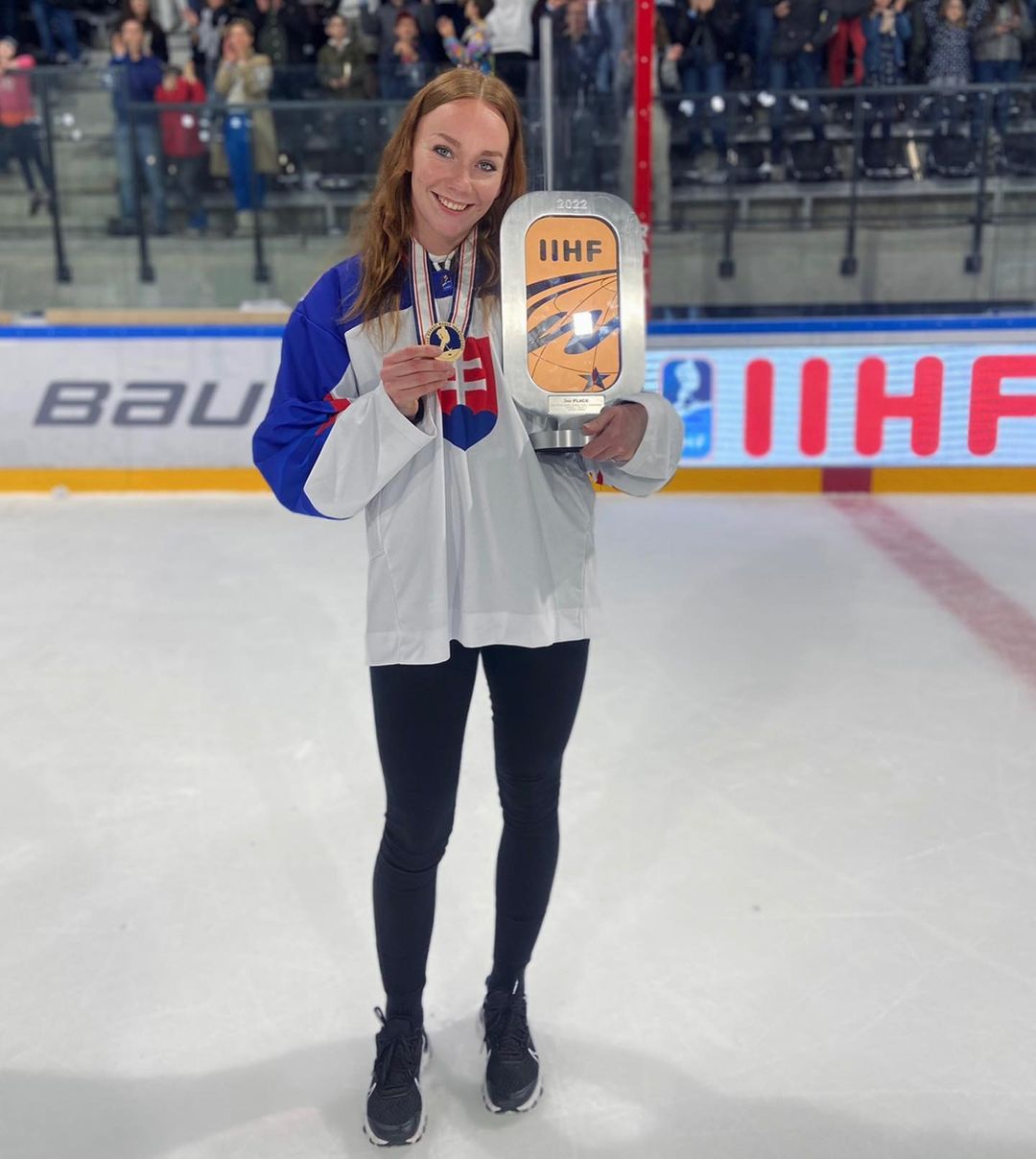 Integral to Suráková's sporting journey, affiliation with the Hk Spišská Nová Ves organization, growing as an athlete while cultivating her skill set, encompassed a decade. Akin to so many other females, a key facet of her early introductions to the game involved skating with boys, a process of invaluable preparation.
With the 2010-11 season marking her first with Hk Spišská Nová Ves, Suráková would eclipse the 20-point plateau in 2015-16, the same season that she appeared with Slovakia's Under-18 National Women's Team. Totalling 24 points, on the strength of 13 assists, she shone in the playoffs, amassing an astounding 17 points.
The following season (2016-17) marked her greatest statistical output. Recording a superlative 48 points, finding the back of the net 19 times. In the aftermath of such a breakthrough campaign, an exciting new chapter began for Suráková, making the trek to compete professionally in Sweden.
"I am grateful to the club Hk Spišská Nová Ves, because they gave me the opportunity to train with boys, which was more difficult and physically difficult for me. I played with the boys as long as I could. Later, I switched to women's hockey, which I felt very well prepared for because of playing with the boys."
At the age of 19, competing in Sweden's Division I, Suráková donned the orange jersey of Karlskrona HK for the 2017-18 season. Of note, the roster featured players from five different countries, including Austria, Canada, Czechia and Hungary. Among her teammates included Austrian forward Jeanette Langsager, whose career included competition in a pair of Olympic qualifiers. Reka Partos, played internationally for her native Hungary, while goaltender Camille Leonard, a former NCAA Division III national champion.
Appearing in 18 games, Suráková managed a respectable 12 points, highlighted by eight goals. Returning home the following season, skating with a pair of teams, recording 12 points in 11 games for HK Spisska Nova Ves, followed by a dazzling 28 points in merely a dozen appearances for ZHK Sarisanka Presov.
As the 2021-22 season resulted in one of Suráková's greatest seasons for HK Spisska Nova Ves, contributing 37 points, a series of proud milestones, from the Olympic Games Qualifier to the IIHF Worlds, included one more cherished event. Participating in a pair of EWHL contests with SKP Bratislava, it signified the next step in her progression, holding potential for future greatness in the successive seasons of her unfolding narrative,
"It was another great experience for me. Matches in EWHL are better than matches in our Slovak women's league. I would like to go back there, but it is difficult for me to travel, as I have school on the other side of Slovakia. But I'll see, maybe I will get back there."
"All quotes obtained first hand unless otherwise indicated"
In this article:
#Europe
,
#EWHL
,
#IIHF
,
#Internationalplay
,
#NCAAD3
,
#olympics
,
#proudmilestone
,
#WomenInSport
,
#Womenshockey
,
grow the game
,
Hockey
Related Articles