A highly exciting year in IIHF hockey marked the impact of Europe in the female game growing by a quantum leap. From Finland becoming the first European country to participate in a gold medal game, to France's debut in the top division, such a time in the game's most recent chapter also involved the admirable performance of Hungary's national women's team.
Serving as the host nation for the Division 1A , it represented one of the finest moments in the nation's modern sporting history. With a field of competitors that included Austria, Denmark, Italy, Norway and Slovakia, who appeared in women's ice hockey at the 2010 Winter Games, Hungary was highly motivated at the prospect of promotion while igniting national pride.
Contested at Budapest's Vagas Jegcentrum in April 2019, among the stars on Hungary's roster included Lotti Odnoga. Hailing from the community of Györ, located 121 km west of Budapest, a multi-sport athlete who also won the Equestrian nationals in her native Hungary, her standing as one of the nation's premier blueliners has enabled her to showcase her skills on both sides of the Atlantic. Gaining the privilege of adding to the sporting legacy in her homeland, the opportunity to grace the ice in Budapest brought profound meaning, simultaneously raising awareness about the female game, enriching the feeling of home ice advantage that comes with status as host country, providing a sense of celebration and national pride,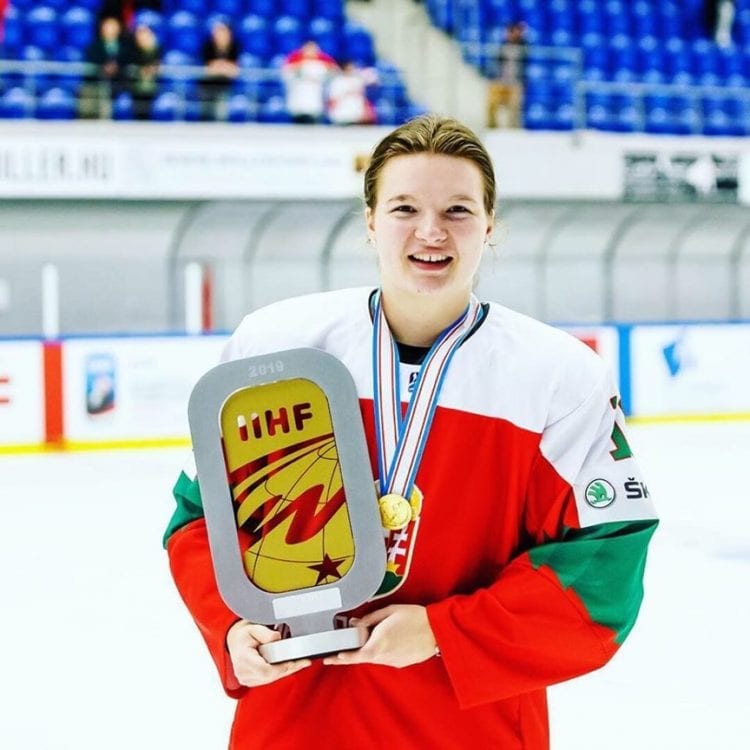 "It is always a pleasure to play on home ice, however with those many positives there are also negatives. We were there at Vasas Jegcentrum (the rink where the Worlds were at) way before the other teams. Even though we did not always practice on that ice, we were staying at the hotel and tried to build up our routine for when the tournament comes.
Women's hockey has been in Hungary for the past 20 years and it has never gotten popular. Seeing and, well, feeling the media and people who are not family members or friends showing interest towards us was amazing. Even though we have only been in this division for three years, we always want to improve and make our way up to the bests.
With all the promotion and media around us, people were coming to our games. We never had many fans at women's games in Hungary, however this year in our last game was full house and there were people who weren't able to get in. That many people and fans were cheering for us all the way, however this comes with responsibility.
We had to play our best every minute of every game. We knew that this was our chance, this year, in our country, in front of our fans. And luckily the team handled it well, with that weight on our shoulder we were able to play our game, stay focused and the crowd definitely helped us. It was just great organization and an awesome experience to play in front of our fans."
Entering her sophomore season with the Ivy League's Dartmouth Big Green in autumn 2019, Odnoga has quickly developed into both a world class player, and fundamentally sound contributor with whichever team she suits up for. Worth noting, Dartmouth is not her first exposure to hockey in the United States.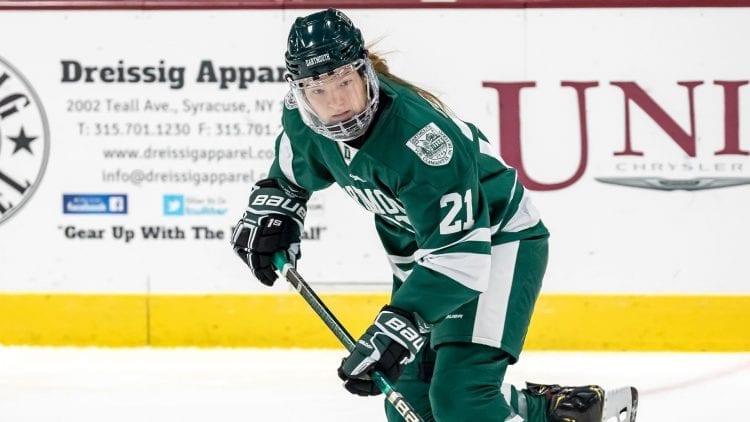 Attending the Vermont Academy, she excelled in hockey, soccer and tennis, even emerging as captain of the tennis team in her senior year. While at Vermont, she gained NEPSAC DII First Team honors along with NEPSAC Class D All-Star Team. Running parallel to this development in her hockey odyssey was the fact that she also competed with Hungary's U18 National Team. Certainly, the ascension to the Senior Team represented a proud progression for Odnoga. Part of an exciting generation of numerous U18 alumnae that have undergone the same development, the feeling of rapport and teamwork translates into strong leadership,
"Everyone has different roles on the team. I count as one of the younger players. Mostly all of us have played on the U18 team for four years, we have played with or against each other for years now. I think everyone is equal on our team, of course we have captains and assistants.
Yet, no one is afraid to step up and be a leader. I consider myself as someone who gets along with everyone and even though most of the players are older than me they listen and accept my opinion and views. It is a great group of girls who I would do anything for on and off the ice."
Part of a freshman class at Dartmouth that included Givanna Foglia from Shattuck St. Mary's, a pair of Minnesotans in Gabby Billing and Sara McClanahan, along with a trio of Canadians, Brooke Schroeder and Jess Forcey, plus Calgary native Chloe Puddifant, Odnoga amassed 29 appearances in her inaugural campaign. Registering a highly respectable 12 point output, on the strength of 10 assists, Odnoga's experiences competing in the NCAA allowed her to evolve into an integral component of Hungary's leadership core.
Logging an assist in her NCAA debut, an October 19, 2018 loss to Harvard, collaborating with McClanahan on a first period goal by Rose Falzone, Odnoga would have to wait until the end of December for the milestone of her first NCAA goal. On the road versus the University of Connecticut Huskies, the December 30 tilt saw Odnoga ruin Morgan Fisher's bid for a shutout. Finding the back of the net at the 9:32 mark of the third period, Christina Rombaut eaerned the assist.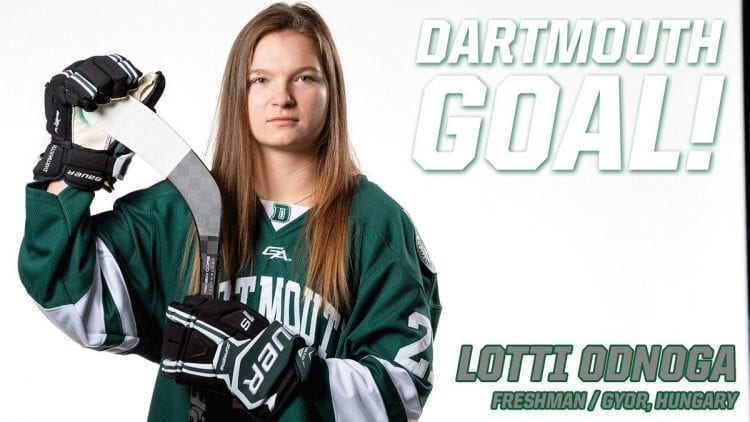 Undoubtedly, the added privilege of playing for head coach Laura Schuler was a tremendous boon. The first woman in Canadian hockey history to have participated and served as a head coach in women's ice hockey at the Winter Games, playing at Nagano 1998, while coaching at PyeongChang 2018, her acumen and encyclopedic knowledge of the game proved to be essential for Odnoga.
Reflecting on the inaugural season spent in Dartmouth green, Odnoga mentions how the experience provided multiple benefits. In addition to improving the quality of her game, it provided an essential boost of confidence, making her much better prepared for this year's Worlds,
"Definitely. I am lucky enough to play in NCAA DI where the top players and coaches are, and the quality of the games are really high. Playing at this high level for the whole season really helps me in getting ready for the Worlds.
The practices and games are very competitive, and I have to work hard every minute to play in the games or to get on the PP and PK. Even though it is very competitive, my teammates are always happy for my success and I am very grateful for that. They always push me on the ice, in the gym and even in the classroom. I know my weaknesses and my strengths and I am on my way to getting better, there is always something to improve and I know that I have to work extremely hard to get to where some of my teammates are at.
My teammates and coaches and everyone at Dartmouth support me all the way and I know that I can count on my teammates no matter what. I also get the chance to play division 1 hockey and get a great education from an Ivy League school, many people before in Hungary had to choose between getting an education and playing the sport they love, and most of them picked education."
Earning promotion to the top division for the first time in program history, enhanced by the milestone of Hungarian forward Fanni Gasparics named the Tournament's Best Forward, the field of competition included Austria, Denmark, Italy, Norway and Slovakia. Racking up four wins, compared to just one overtime loss, Hungary finished first overall. Tying Austria for the most goals scored in tournament play with 20, Hungary was far superior in terms of goal differential, racking up a remarkable +14.
For Odnoga, the last day of tournament play, Saturday April 13, 2019, shall stand in perpetuity as the greatest highlight in her promising career. With Denmark having blanked Norway by a 4-0 tally earlier in the day, Hungary's last game of tournament play was for more than just first place overall. As Vasas Jegcentrum held a capacity crowd of nearly 2,000 fans, national pride was just as prevalent.
Defeating an ambitious Austrian team by a 2-1 mark, the emotion of the victory held numerous contexts. Perhaps the most powerful emotion was the opportunity to experience the national anthem on home ice, part of a celebrated aftermath after a hard fought win, the euphoric feeling cannot be matched for any world-class hockey player.
"I cannot even describe the feeling that I felt when the buzzer went off at the end of our last game, I still get goosebumps when I talk about it. As I said before, women's hockey in Hungary has not been around for so long, and we definitely have a smaller player pool to pick from for the final team than the US, Canada and all the other hockey nations.
Hungarian women's hockey team has never been to the Top Division before, so it is an enormous accomplishment. Three years ago this team hasd never been to Group A before and now we made history in Hungary's hockey life again. Playing in the Worlds next year against the very best teams and players will be a challenge, but also an honor too.
We know that we will have to be even more prepared for next year. There is a lot of skill and potential in this team so we are very positive and excited to travel to Canada next year."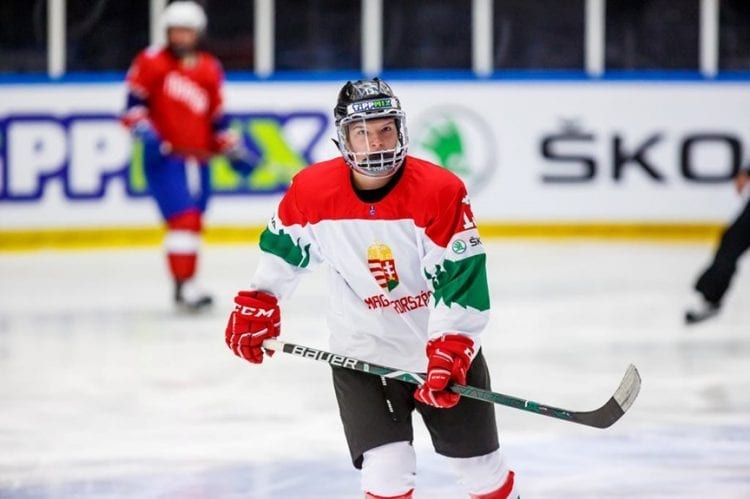 Anticipating the possibilities, the 2019-20 season is one that holds tremendous promise for many new milestones to be reached. Pondering the future with optimism, Odnoga is enjoying the realization of her hockey dream. Along with Denmark, the Hungarian contingent shall participate in Group B play at the 2020 IIHF Women's World Championships in Halifax, Nova Scotia. With games hosted at the Rath Eastlink Centre, other nations in said Group include Czech Republic, Germany and Japan.
Hoping to experience new pinnacles in Nova Scotia, with the primary goal of avoiding relegation, Odnoga shall enter the event having enjoyed another season of invaluable experience at Dartmouth. Certainly poised to take on a bigger leadership role with the Big Green, the lifetime of memories made in Budapest are destined to provide a residual comfort. The elation of winning on home ice, an unprecedented amount of support, shall serve as constant reminders when she dons Hungary's colors in Canada later this season,
"My favorite moment, well moments from this year's Worlds was hands down the atmosphere in the arena. We had an average of 1,500 people at our games and for the last game we had a full house, so 2,000 people plus those who didn't get to come in. Pulling up to the rink two hours before the game and already seeing the line of people wanting to come watch us play was an unreal feeling.
Hungarian fans are very passionate and playing in a rink where everyone was loudly cheering for us made me smile all the time, even on the bench. Singing the Hungarian anthem with 2,000 people is why we play this sport. It brings people together and sharing the joy with my teammates, family, friends and other fans is an amazing feeling."
"All quotes obtained first hand unless otherwise indicated"
---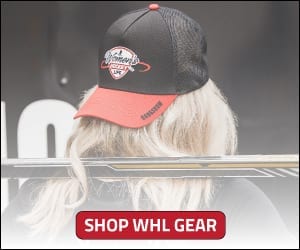 Related Articles