Welcome back to Women's Hockey Life (WHL) Female Powerhouse Spotlight! Where once a month we highlight a former or current female athlete tackling the male-dominated industry! 💪 🏒
This month we have the pleasure of introducing to you Rachel Wiebe, assistant coach for the University of Alberta Golden Bear's men's hockey team. Rachel is the FIRST EVER female Canada West coach.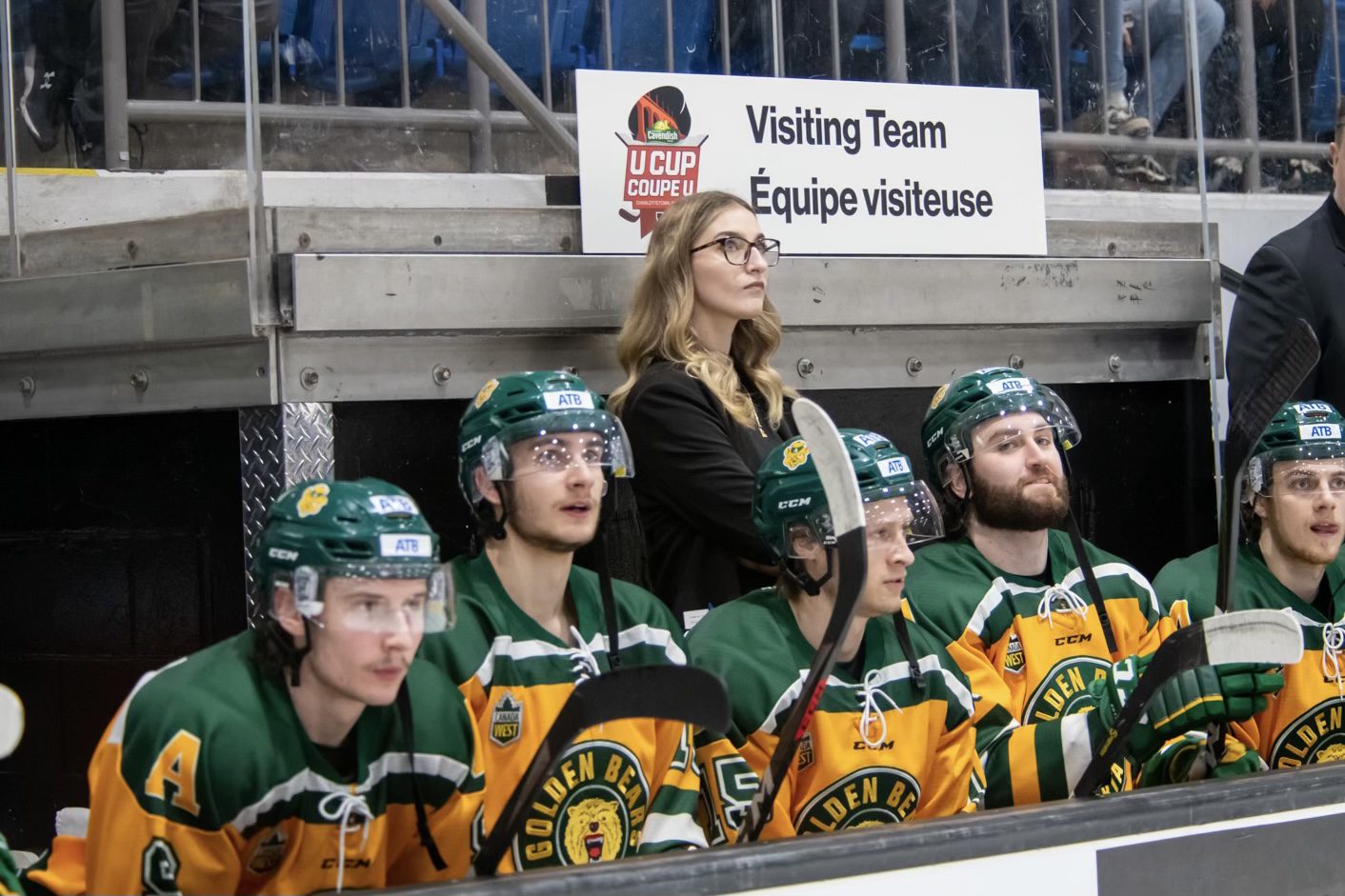 Born in Augusta, Georgia USA, but raised in Fairview, Alberta Canada, Rachel grew up in an athletic household where she was put in skates the moment she could walk.
"Both of my parents live very athletic lifestyles, with my father being an avid hockey player and my mother an avid hockey, volleyball, and softball player. They both understood the important life skills and character development that the participation in team sports offered, and with their shared passion for hockey, introduced me to the game at a young age."
Before settling in Alberta, Rachel's father was the Head Coach of the Augusta Lynx, an ECHL team affiliated with the New Jersey Devils and Vancouver Canucks. It was her father's passion for the game that sparked Rachel's love for hockey and her determination to take her hockey career further in admiration to follow in her fathers footsteps.
"I was born in the United States while my family was living in Augusta, Georgia. At the time, my dad was the Head Coach of the Augusta Lynx, an ECHL team affiliated with the New Jersey Devils and Vancouver Canucks. Once his contract expired, we moved back to Canada, where I grew up in Fairview, a small agricultural town in northern Alberta. I began playing hockey when I was young – my parents put me on skates as soon as I could walk. I started playing in the minor hockey league in Fairview on co-ed teams, and played at the U13 level when body checking was still permitted. Entering into U15, my father persuaded me to try out for the women's AAA team in Grande Prairie. From U15 to U18, I played three years at the women's AAA level, commuting three hours three to four times a week for practices and games.
When I was younger, I admired Evgeni Malkin and Pavel Datsyuk. More than anything though, I admired my father and his hockey journey. He was drafted by the Quebec Nordiques in 1988 and signed with the Detroit Red Wings in 1991, played hockey in Germany for EHC Essen-West, and eventually played at the ECHL level for the Toledo Storm and South Carolina Stingrays. He began his coaching career with the Stingrays as an assistant coach and at the time became the ECHL's youngest head coach when he accepted the Raleigh Icecaps position. I've always admired his drive and determination, as well as the humility he brings to coaching and his career. Growing up, I loved sharing my hockey experiences with him because of how greatly I admired his passion and involvement in the game and continue to love sharing these experiences with him."
Unfortunately, throughout Rachel's hockey career she sustained several sever concussions, with the most recent one taking place in 2015, which ended up concluding her playing career. However, it was not the end of her hockey career entirely, but instead the beginning of her coaching career.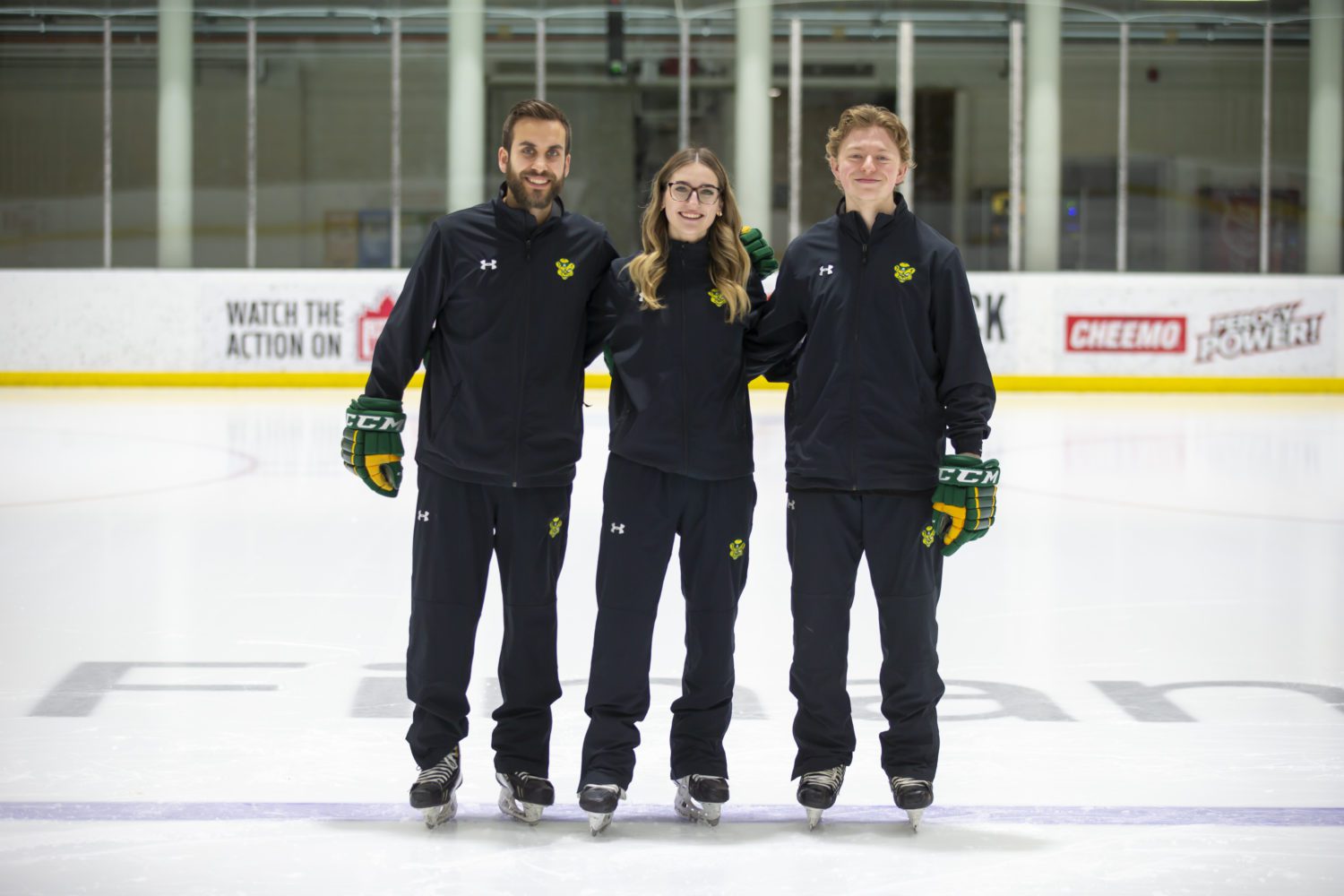 "Throughout my hockey career, I attended the University of Alberta Bears and Pandas Hockey Camps. The University has a program I've long admired and dreamed to one day be a part of. My involvement in these camps helped me to meet and establish a professional relationship with Pandas Hockey Head Coach Howie Draper. When I transferred to the University of Alberta for my post secondary studies, I reached out to Coach Draper. I explained that I had always wanted to play for the Pandas, but due to my concussion symptoms, playing was no longer a viable option. I shared with him my previous coaching experiences, from coaching U18 women's A hockey in Grande Prairie to working Hockey Alberta summer camps. He took me on in the 2019-2020 season as an Assistant Coach. We had a great run that year, but unfortunately our time was cut short at Nationals due to the COVID-19 pandemic.
In the summer of 2021, I received a phone call from Bears Hockey Head Coach Ian Herbers. He asked me if I would be interested in joining his team as an Assistant Coach. I grew up playing most of my hockey career on co-ed teams, where in a small town, I was often the only or one of the few females on the team. It was an environment I was comfortable in, and therefore felt I would be comfortable coaching on a men's team. I accepted Coach Herbers offer and joined the Golden Bear program in 2021. I have now spent two season with the team, earning two National silver medals, one conference gold medal and one conference silver medal."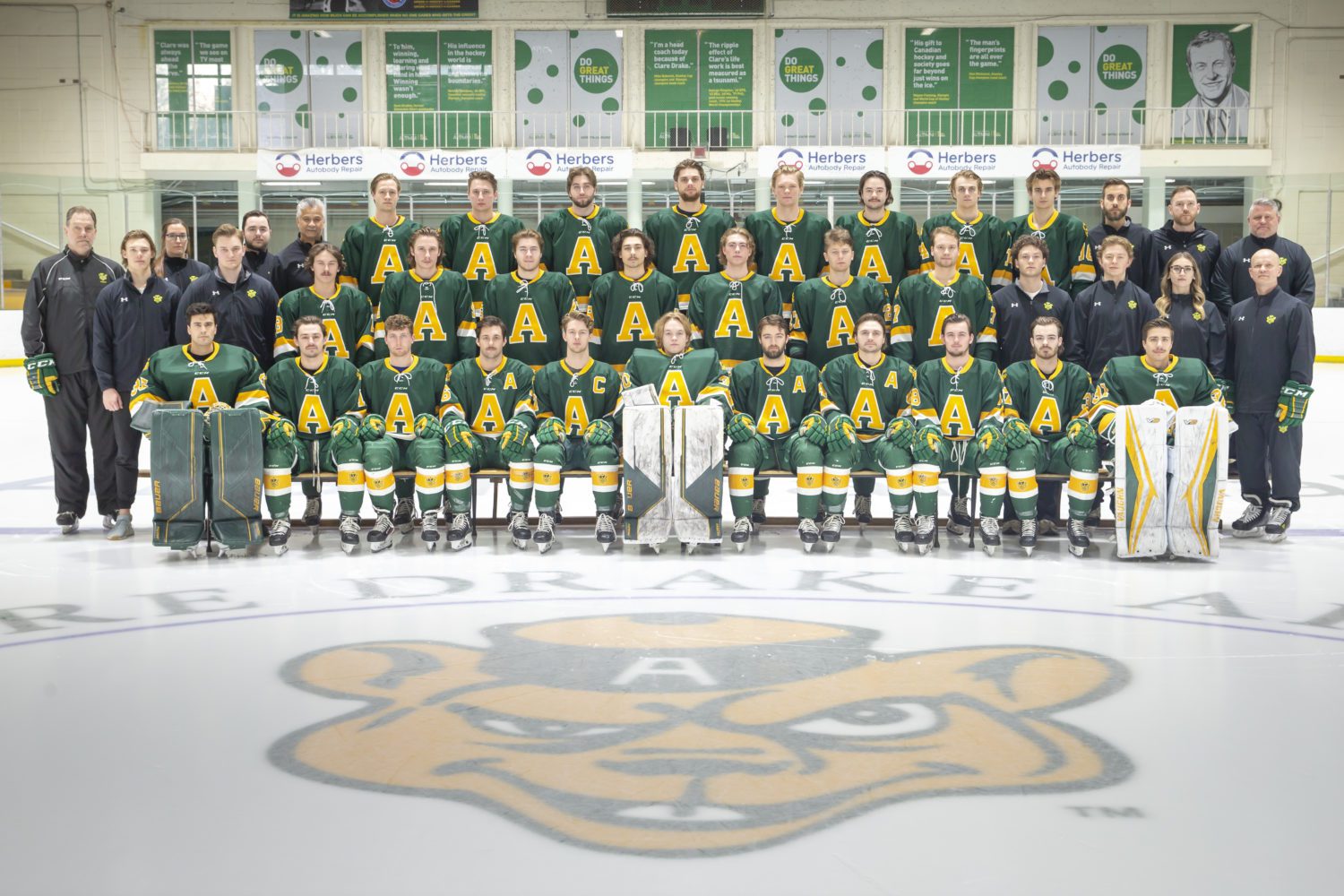 Rachel wants to remind women or young girls looking to work in the sports industry of their importance and impact towards the growth of game. "Be proud to be involved with the program and sport you are. You deserve to be there and to capitalize on that opportunity," and remember to "trust yourself." "Be confident in your abilities and lean into the skills and attributes that make you unique," says Wiebe. Also, "say yes to opportunities. You never know what may stem from them, or the skills that you may develop. Moments of uncomfortability are the drivers of growth. Growth is a mindset and success is created by an ambition to always learn and improve."
"Your role is not only important for your own growth and the success of the programs you contribute to, but you also are creating more visibility for women in sport. Young girls in the rink see you practice, or see you on the bench, or see you scouting in the stands, and have the representation they need to foster their own goals and realize that it is possible. Not only is it important for other women to see you, but it's just as important for men to see you in your role, too. The more women that occupy positions on men's teams, the more normalized it will become.
While the visibility and representation is important, it is secondary to why you're actually there. You're there to better your game and build the best athletes/people you can. When I enter a room, my first thought is never if I'm the only woman. Thinking of outside factors like that, such as what everyone will think of you or if you look professional enough, is you intimidating yourself in your own role. Enter a room proudly, take pride in who you are and why you're there, and know that you add so much value to the programs you are a part of."
Rachel mentioned she wouldn't change a thing if she could go back in time and do something differently in regards to her career path. "My past shaped me into who I am today," said Rachel. "Every challenge presented the opportunity for new growth and has brought me to where I am now. I'm very happy with who I am today, grateful for the opportunities I've had, excited for those to come, and the growth that will continue."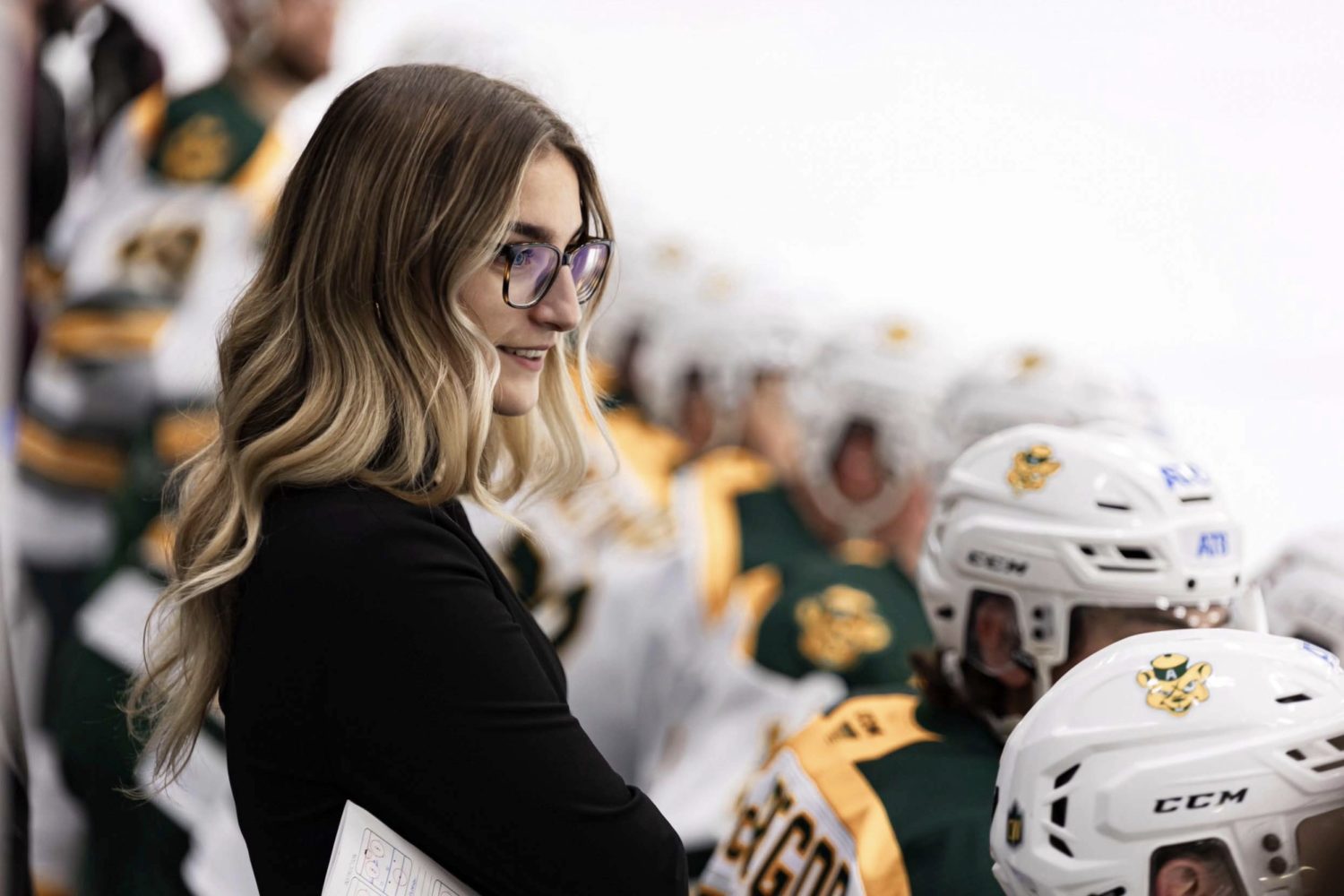 While speaking to Rachel we also asked her "What in your opinion does it take for a woman working in male-dominated industries to succeed?" Rachel's response was as follows;
"Athletes and staff respond to confidence. It demonstrates that you're confident in your knowledge of the game and that you know you belong in your role. It also helps lift you up when you make a mistake, and put difficulties into perspective, helping to overcome them. Confidence also helps to build resiliency. Things are not always easy, believing in your abilities gives you the strength to push through the difficult times knowing that things important to you are worth striving for.
Honesty – be honest and vulnerable with yourself, your staff, and your athletes. We are all students of the game, and it is always changing. When I started my first season with the Bears, I began my introduction with saying I was looking forward to sharing my knowledge of the game, while still learning what they knew. It's important to understand we all experience the game differently, and we each have so much to learn from it. The best coaches are those who are comfortable with admitting they don't know everything, and actively seek out more knowledge, wherever it may come from.
Compassion is one of the most important mechanisms for success in sport, and in life. No matter the level you're at, whether it be U9 to the NHL, the individuals we work with are people first and athletes second. As women in sport, especially on men's teams, we often feel we need to demonstrate how tough we are and show no signs of "weakness." Compassion is not weakness. It is the foundation of which relationships are built, and strong relationships with your athletes or staff will lay the groundwork for success.
It is important for your staff to know that you are credible and reliable. You're on the team for a reason, so find confidence in that and prove your knowledge and that you have every right to be there. I believe no matter your gender, you should always work hard to earn the role you're in. Demonstrate your reliability – you show up on time, you're dedicated, you're consistent, and have a strong work ethic."
–
Congratulations Rachel on all of your outstanding achievements, and thank you for being an inspiration to the next generation of athletes. ❤️ 💪
–
👇 Check out the incredible documentary below, staring Rachel and her hockey story 👇
–
"All quotes obtained first hand unless otherwise indicated"
"All images courtesy of Golden Bears and Pandas Athletics"
In this article:
#CanadaWest
,
#coaching
,
#FemalePowerHouseSpotlight
,
#Inspiration
,
#InspireTheNext
,
#leadership
,
#UniversityHockey
,
#WomenInSport
,
#Womenshockey
,
grow the game
,
Hockey
Related Articles