Welcome to Women's Hockey Life (WHL) Female Powerhouse Spotlight! Where once a month we highlight a former or current female athlete tackling the male-dominated industry! 💪 🏒
This month we had the pleasure of talking to Sports Radio Personality & Hockey Insider, Lindsey Brown!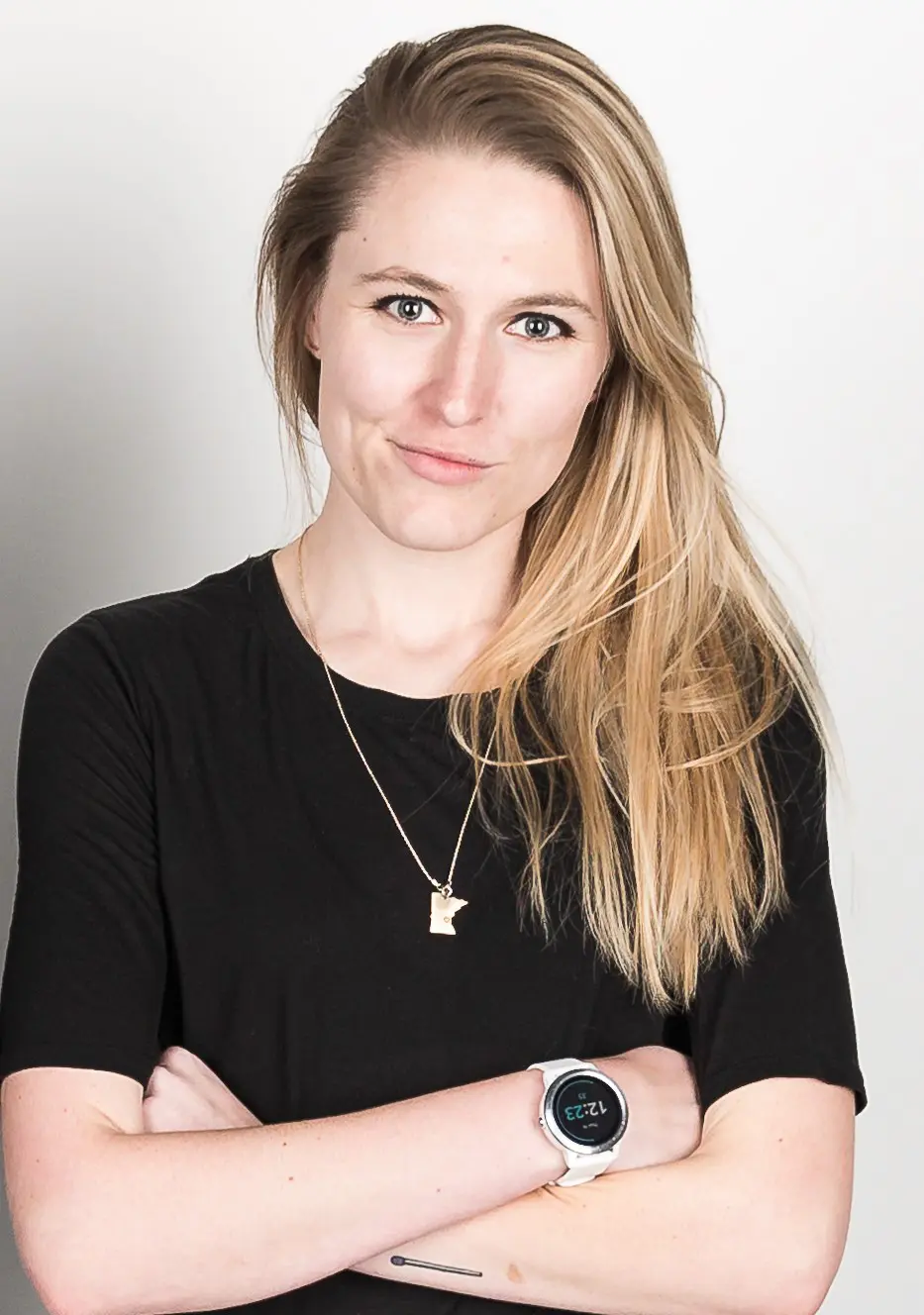 Lindsey grew up in Mounds View, Minnesota where she put on her first pair of skates at the age of two! "I mostly figure skated up until second grade," said Lindsey. "Then one day I met with my parents and told them I wanted to switch to hockey because I was so inspired by the team dynamic displayed in the classic Mary-Kate & Ashley film Switching Goals. I wanted to play on a team too."
Lindsey mentioned she was fortunate enough to grow up in an area where she had around 15 rinks within a ten-mile radius of her house. "There were plenty of ponds and park rinks and used equipment to supplement my early foundation. The first day I walked into my mites locker room I saw a pair of goalie pads and I knew that's what I wanted to be and asked if I could play goal for the first game. Someone else had already called dibs so I scored in the first game and played goalie in the second and loved it instantly. My parents were less than enthused and compromised by saying I could play goalie as long as I skated out too (I'm sure they were hoping for it to be one of those "phases")."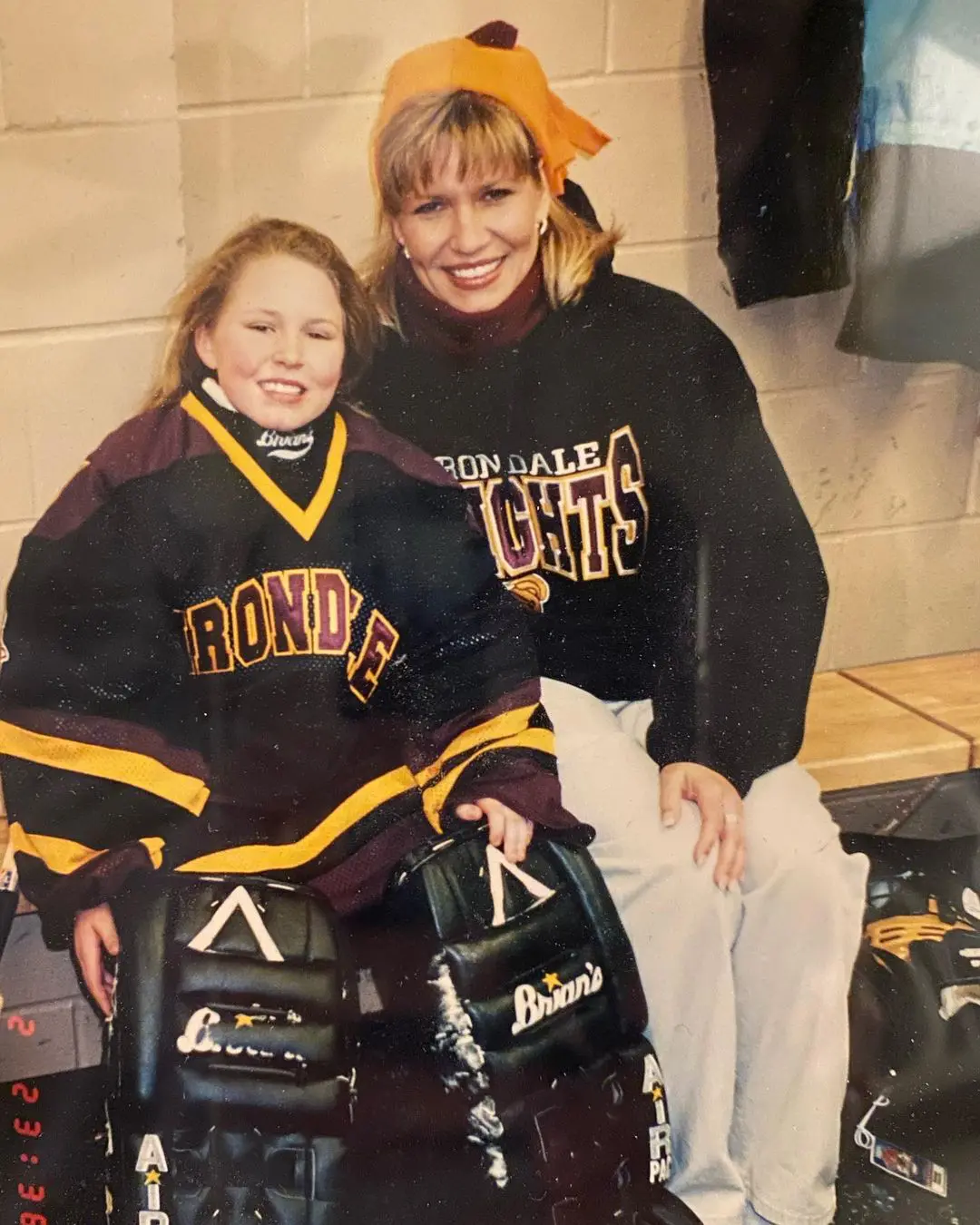 When Lindsey was about 11 or 12, she started training as a goalie full time for the Irondale Youth Hockey Association. As well, she was one of the first clients at Stauber's Goalcrease in Edina.
"Growing up I looked up a lot to Manon Rhéaume. I had a stash of hockey cards I'd study in my grandma's car, and she was the only woman in the pack. I grew up in the 'girls rule boys drool,' girl power era so I gravitated toward her. She was a goalie, and she was playing with the BIG boys.
My dad and I also went to a ton of Gopher hockey games while I was growing up, so I was a huge fan of Winny Brodt, Krissy Wendell, Adam Hauser, Alex Goligoski," said Brown. "My dad scalped three split tickets (2 seats together, one in a different section entirely) to the 2002 National Championship game in St. Paul when the Gophers beat Maine 4-3 in overtime. I was almost ten years old, and it was life changing."
During Lindsey's high school years she played hockey for Irondale High School and then opted to play for the Minnesota Thoroughbreds for her senior season (2009-2010) in the JWHL before heading to Ohio State in 2010 for a season.
Brown also goal-tended for the Saint Anselm Hawks in college! "I then transferred to Saint Anselm College (2011-15) and won three ECAC Open Championships and collected some awards my senior year including ECAC East Goaltender of the Year and being named to AHCA All-American team," said Lindsey.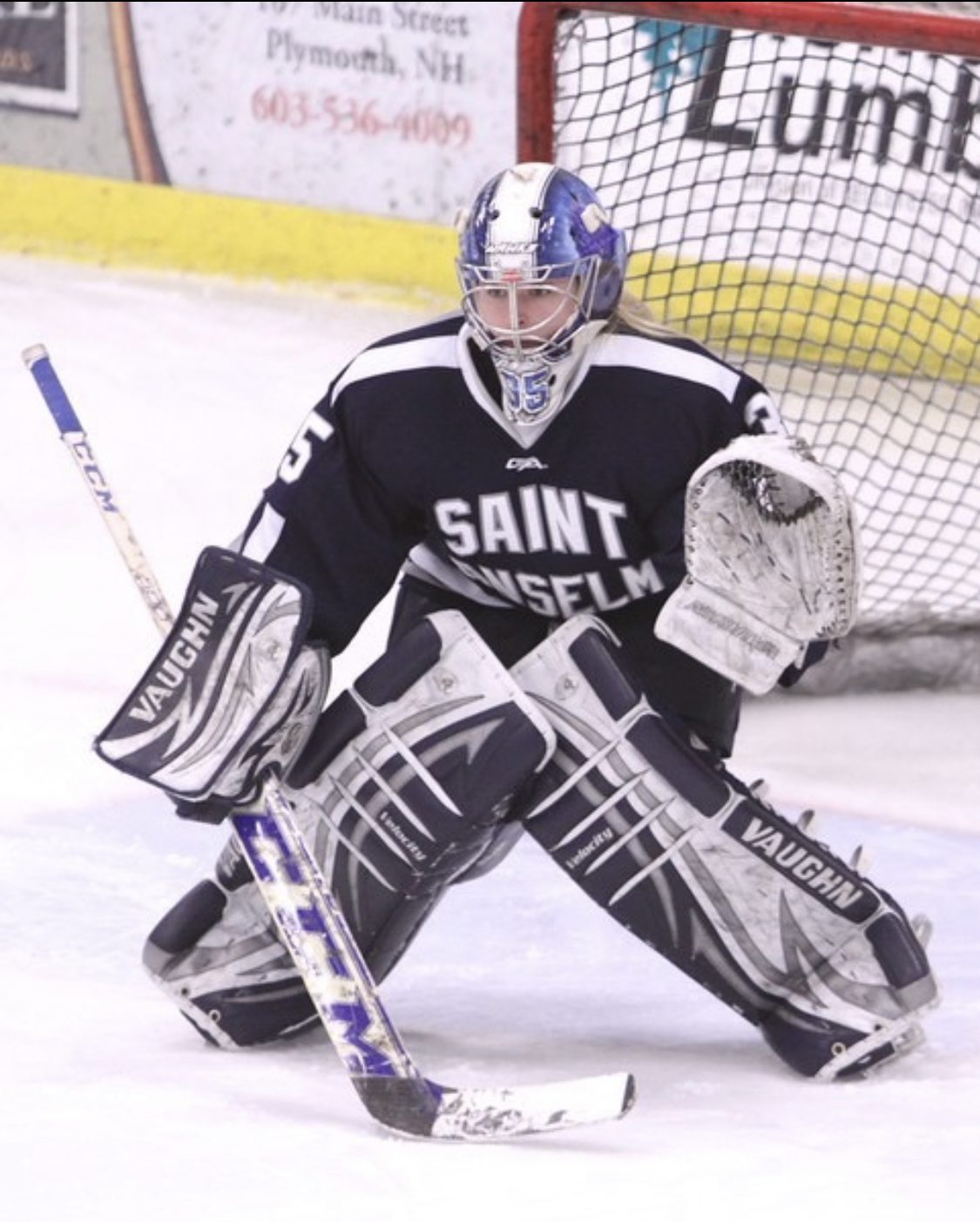 Lindsey's career has been quite the inspirational journey, to say the least. Brown started as an event specialist at KSTP in Minnesota while she was still coaching (a couple years after graduating college). From there Lindsey worked to become an overnight/weekend producer.
"After a couple years I thought that I was ready for a shot on air so I asked for the opportunity and when they said I wasn't, I started brainstorming other sports markets that I could move to that had pro hockey and football that I could wriggle into.
I had recently visited Las Vegas for a work tournament that happened to coincide with the Golden Knights/Kings playoff series in 2018 and stayed at Red Rock Resort that happens to be right next to their practice facility, so I saw the literal parade of people sending them off to their next game. I'd never seen anything like what Vegas was in terms of hockey fandom at that point (and still haven't). So, I thought why not Vegas?"
Brown began sending emails out to GM's and personalities that she tracked down at various stations across town and eventually made the decision to fly down in the spring of 2019 and meet with each of them to get the lay of the land and show them how serious she was about relocating for an opportunity. "I also needed to prove to myself that I could spend time alone and behave and I did just that," Lindsey said. A few weeks later in July while coaching at a goalie camp in Boston Lindsey accepted a part time position at KXST and found herself in an overpacked car with her father driving to her new life in Vegas in August.
"Within a couple of months, I was on the air five days a week in the afternoon drive slot on our show called "The Playmakers" in addition to a Golden Knights centric show called the "Knight Cap". In August of 2022 there were wide scale layoffs in the parent company that included me and the show. Fortunately, I quickly landed where I find myself now at Lotus Broadcasting. I'm really excited for my future at Lotus and in the Vegas sports market, there's a level of investment and excitement here that I haven't experienced before in this industry and I'm grateful to be a part of it."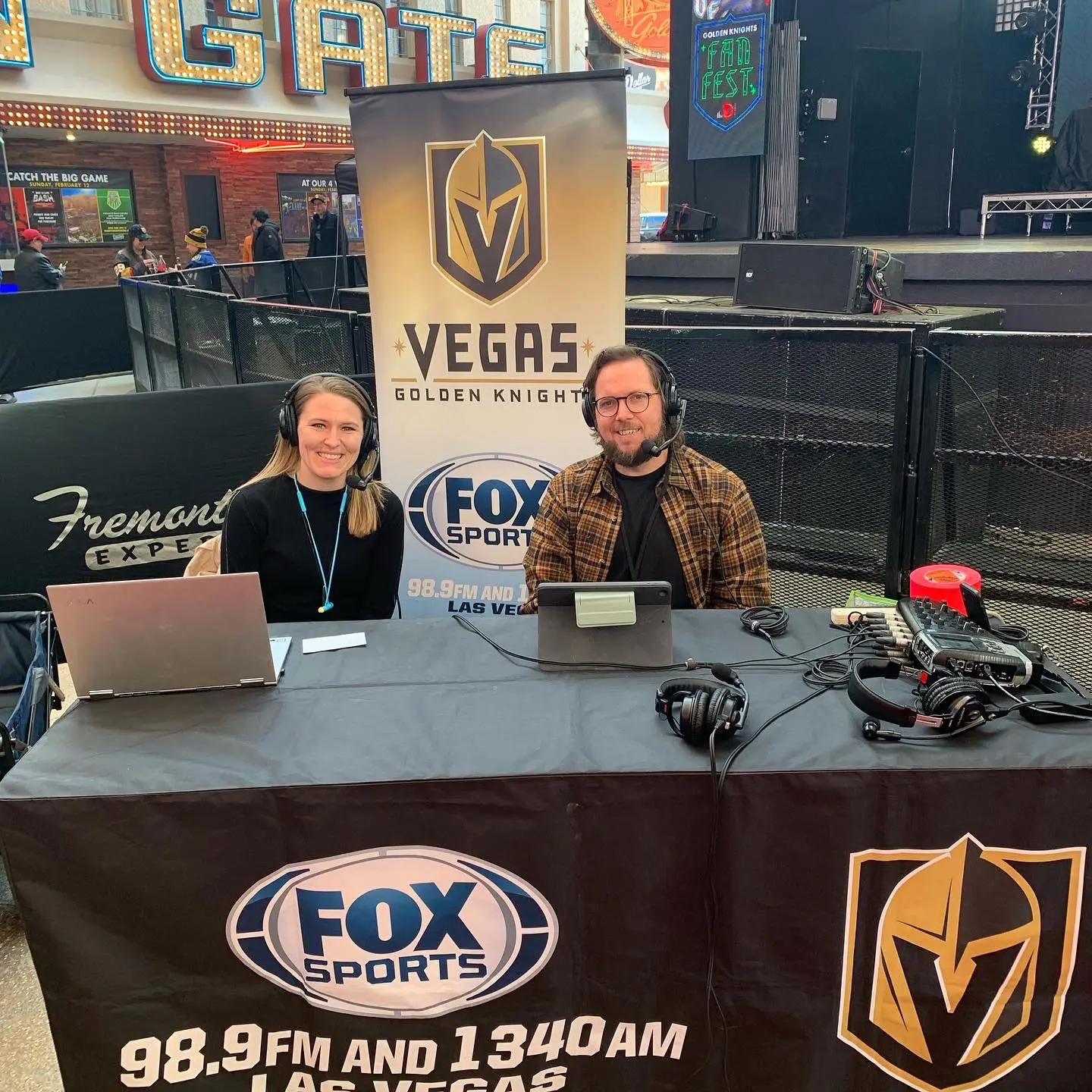 While talking to Lindsey we asked, in her opinion what does it take for a woman working in male-dominated industries to succeed?
"A weird mix between hyper awareness and obliviousness," said Lindsey. "There will be so many people that will try to divert you or dissuade you from what your gut tells you. The result may not always be right but trusting yourself and your reads are."
Brown also mentioned that if she could go back in time and change anything she would prepare herself for the "After."
"I was not mentally prepared for the after-hockey chapters of my life (there are a lot more of those I have found) and I was devastated by the loss. It took me years to climb out of that abyss because so much of my identity was tied up to hockey, from what it asked of me to how it made me feel. I was in denial of the inevitable and it made the transition so much more difficult than it could've been."
Lindsey continued, "if I could offer any career advice to other women and or young girls aiming to work in in the sports industry it would be to bet on yourself because nobody is going to do it for you. Find out who you are, what you're calling/passion is and relentlessly figure how to make it a part of your everyday life. It doesn't always mean make it your career but at the very least find out what you need to do to keep your spirit happy and fed. That will save your life more than once. Be your first priority and hold yourself to that no matter what.
Remember you belong here, and we need you," said Lindsey. "Eyes will be on you in good ways and bad, you have to learn how to navigate it all and probably deal with some experiences that aren't right or fair. For me, it's about principles and constantly evaluating the choices I make to ensure that they're aligned with what I truly want and stand for. Even if it doesn't work out you still need to be able to live with yourself. Give it your all when you can and show up anyways when you can't. Respect yourself enough to speak up or walk away if the situation calls for it, you are more valuable than your position."
VERY WELL SAID LINDSEY 🙌 💯 👏
Watch Lindsey's recent Live TV hit with Newscaster Bryan Salmond!
–
all quotes, images and other media obtained firsthand unless otherwise indicated.
Related Articles