While the collaborative presence of world-class skaters that graced CWHL ice served as its drawing card, integral to moulding its mythology, the league's sustainability and longevity were evident in its volunteer corps. The backbone of every one of its franchises, this gregarious group of highly dedicated individuals found a common bond in their shared love of hockey. Providing a solid sense of loyalty and teamwork, setting the tone for the culture of their respective teams.
Among such valiant volunteers, the Thunder franchise benefitted from the devoted presence of Don Simmons. Having served in both of the franchise's homes, Brampton, followed by Markham, Simmons, also an educator, was first immersed in the game out of interest in his son's athletic endeavours. Coincidentally, the formative years of his son's participation on the ice was destined to bring with it an eventual connection to CWHL hockey, a unique intersection that supplied a pleasant coincidence, enriching past and present,
"How I got involved is very simple. I had been involved with my son's hockey since he was five years old. I did not want to be a typical hockey parent who was sitting in the stands screaming at the kids and referees and coaches. So, I decided the best way to do that would be to be involved with the team and make the whole team my focus. Therefore, I started coaching. I was actually an assistant to the coach who was the father of the only girl on the team.
He got a job in Calgary and left after Christmas so I took over as head coach. His family stayed in Georgetown until the end of the school year so the girl continued with the team. The reason I mention her is (that) 18 years later, who would show up on the Calgary Inferno, but Bianca Zuber, the girl on our team.
So that is how I got involved and I stuck with it right until my son played high school hockey when he was in grade 12. Even then, I would occasionally fill in on the bench, as I am a certified teacher and also had OHA trainer qualifications."
Serving as the announcer for Thunder home games, Simmons was a fixture for the franchise, his voice a highly familiar source of consistent comfort, definitely present among the Thunder faithful. Akin to Paul Morris, the long-time announcer for the Toronto Maple Leafs when they called Maple Leaf Gardens home, Simmons' constant presence (and voice) provided a source of comfort and familiarity, especially during lean times.
Remembering the Thunder from their years in the original NWHL, Simmons found a new home for his hockey interests, following his son's departure for post-secondary pursuits; his initial contact with the franchise ran parallel to the launch of the CWHL. With the nascent league struggling for volunteers in all of its markets, Simmons' continuous participation established him as a key mainstay for the franchise during its inaugural season in the CWHL, never missing a home game.
"My son then went off to school at Lakehead University and I was faced with the prospect of having a huge hole in my life. No more hockey. So, I looked around for some opportunities to get involved. I had been a fan of the Brampton Thunder since the original NWHL days and continued being a fan of the Thunder in the new league.
My first season as a volunteer, was when the CWHL took on its present format. I was basically the only volunteer that year who worked every home game that year. There was always a scramble for volunteers.
The next year, I coerced my friend Dee Miller into coming out to volunteer. She worked with the team until the league folded this year. In the ten years I have been a volunteer, I missed one home game. I loved working the games as the announcer and cherish the memories."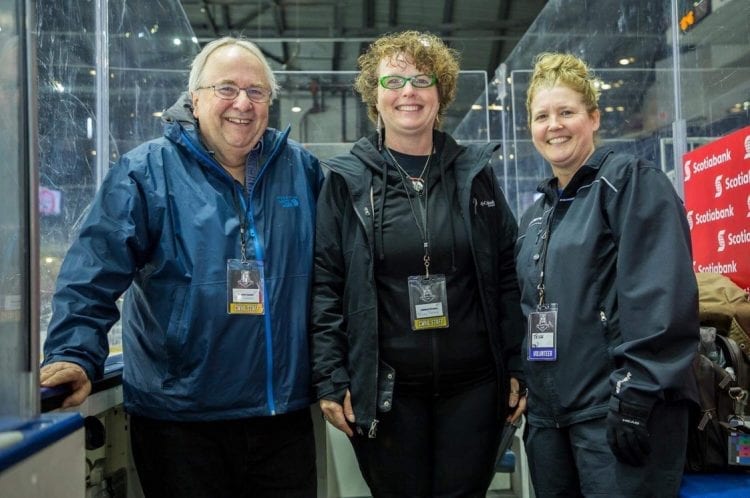 During a decade of distinction, Simmons' loyalty involved following the franchise when it relocated to Markham. Also part of the Greater Toronto Area, the city of Markham, approximately 50 kilometers away, marked a considerable distance for volunteers who had been a stone's throw away from their familiar surroundings in Brampton.
"When the team moved to Markham I did not hesitate to go with the team, in spite of the fact my drive went from two minutes to 30 minutes on the 407 (Highway). I honestly felt part of the team behind the team. When Chelsea Purcell phoned me to ask me if I wanted to continue with the team I told her yes of course there is no question, I would be there."
Simmons' keenness for the game extended beyond the frozen perimeter of the CWHL. In addition to his dutiful service with the Thunder, he made the admirable journey westwards in 2016, experiencing one of the pinnacles of his journey in women's ice hockey. Serving as a volunteer for the 2016 IIHF Women's Worlds in Kamloops, British Columbia, he would take to his customary spot behind the microphone.
Historically, when Hockey Canada serves as host for an IIHF event, its superlative and in-depth coverage extends beyond the final score. With a commendable focus on human-interest stories, with subjects ranging from former players, coaches and volunteers, Simmons found himself the topic of a nicely composed chronicle during the 2016 IIHF Women's Worlds, recognizing his lifetime of service.
Both heartwarming and informative, it was a tremendous insight into one of the CWHL's (and women's hockey's) most remarkable volunteers. Indubitably, the most compelling anecdote of the piece revolved around the revelation that following the 2010 Clarkson Cup Finals, the victorious Minnesota Whitecaps did not have transport, their bus absent. Resorting to a group of admirable volunteers from the contest, including the affable Simmons, bringing them to their hotel, Clarkson Cup on-hand, its mythology becoming reminiscent to some of the early accounts of handling surrounding both the Grey Cup and Stanley Cup, all celebrated artifacts of sporting Canadiana,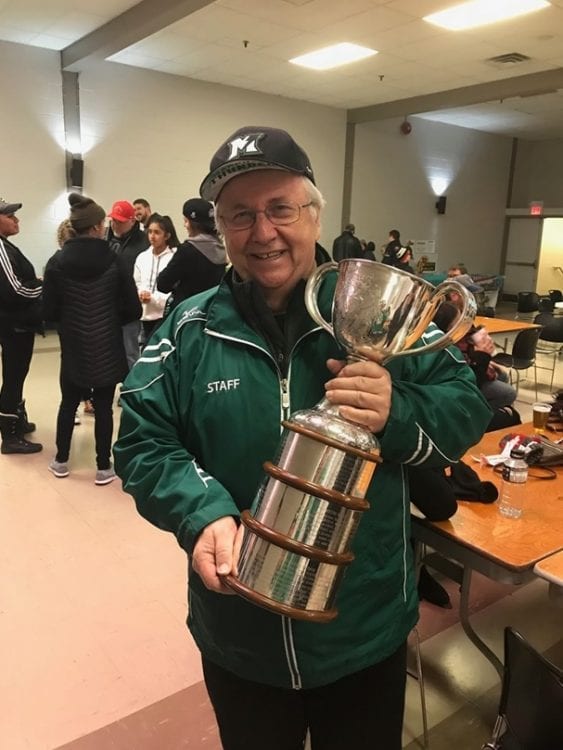 "The article by Hockey Canada was a very humbling experience. It is great to get recognition for what you do and I really appreciated that. But to get recognition at that level is very special and reminds of me why I volunteered. To present a great product to the public. If I helped in any way to do that great, but I have to think of who I am doing this for and why I am doing it."
Such a well-deserved tribute actually proved to be prologue for a handful of memorable milestones to follow. Over the course of the decade, Simmons was present for more than just the Thunder's first appearance in the Clarkson Cup finals. In addition to All-Star Games and numerous Cup finals, including the legendary 2016 edition, the first contested in an NHL venue (Ottawa's Canadian Tire Centre), Simmons would feel a tremendous connection to one of the league's most emotional championship teams.
With the Thunder franchise capturing an elusive Cup in 2018, which also served as the denouement for their inaugural season in Markham, it represented a victory that served as an affirmation of its celebrated status as one of the longest running franchises in Canadian women's hockey, dating back to its nomenclature as the Canadettes during the late 1960's.
Taking into account that the franchise's final seasons in Brampton were defined by missing the playoffs, an unlikely scenario for the proud team, it also presented the opportunity for a rebuild, one that included numerous key pieces in the Clarkson Cup puzzle, most notably, Laura Fortino, Erica Howe and Jamie Lee Rattray, among others. Enjoying one of the greatest turnarounds in league history, the Thunder quickly climbed out of the doldrums, as shrewd drafts by Lori Dupuis, and later Chelsea Purcell, put the foundation in place to capture a Clarkson Cup, which eluded them in both 2010 and 2012.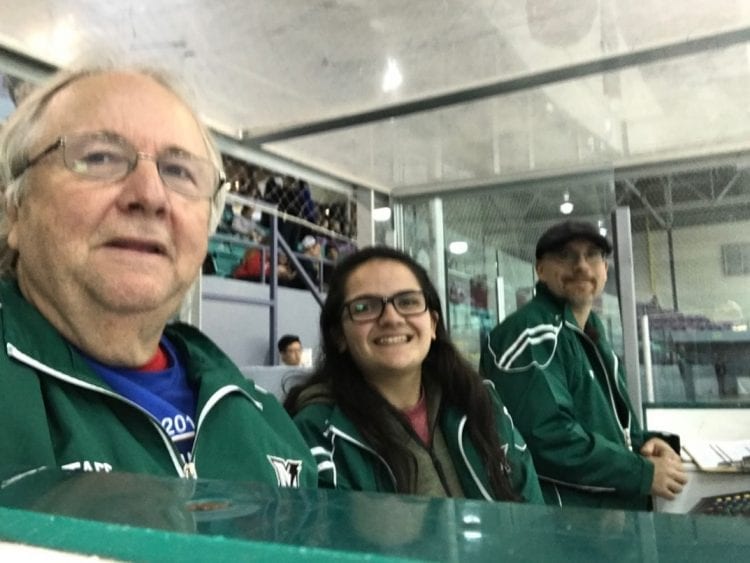 "To see the Thunder win the Clarkson Cup was a great thrill. As a team they had all worked so hard as did the great team of volunteers behind them. Seeing Laura Stacey score that overtime goal was such a thrill. I felt so much pride in the team.
It had been a long journey from the lean years after the Olympians had left the team. That first year without them was rough but going on that journey with the team goes very high on my list of great experiences in my life."
Serving as a volunteer at both the 2019 All-Star Game and Clarkson Cups, each contested in Toronto, epic events that were among the high points in what proved to be the league's final season. Bringing a celebrated sense of closure to Simmons' remarkable run with the league, both events put into perspective the essence of graciously giving one's time for a tremendous cause, passionate about raising awareness.
Notably, Simmons' involvement at each event in 2019 weaved a tapestry defined by unity and friendship. Such events featured volunteers from other teams throughout the league. Rather than rivalries, the theme was one of collaboration, built on grace and sportsmanship, truly encompassing one of the league's core values. Committed towards a unified goal of supporting the teams, providing the game's aficionados with a professional product, the efforts of such tremendous people was nothing short of valiant.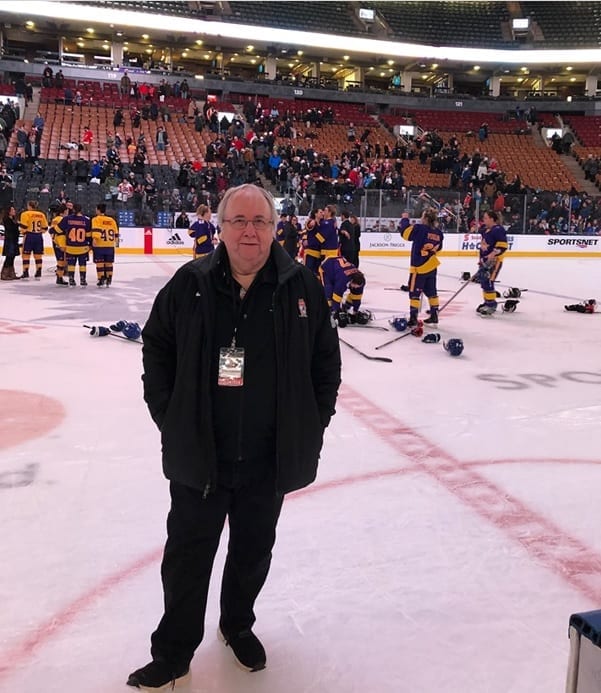 Reflecting on the opportunity to make the Thunder part of his hockey experience, Simmons felt a tremendous sense of rejuvenation. Finding a tremendous inspiration in a group of athletes who pour heart and soul into their profession, despite the absence of million dollar salaries and lucrative endorsements, the culture of community created an aura where everyone was made to feel welcome.
Taking into account that players were balancing their athletic goals with careers, practicing in the evening after a daily grind, maintaining an incredible poise under which others would collapse. Constantly accessible to fans, signing autographs after games, win or loss, it was a commendable of display of character, which Simmons never forgot. Undoubtedly, his efforts were a tribute to their sweat and sacrifice, a labour of love that comprised a highly positive chapter destined to be cherished,
"As you get older you can get a little jaded about people and life, but being part of this organization has been so life affirming. I do not know where you could be involved with a finer group of people. These women are among the hardest working, intelligent and principled people I have met in my life. It has been an honour and a privilege to work with them. They have taught me so much.
Of course, I enjoyed working the games. To me sport is entertainment and everything that goes on during a game is to that end. So, it was always my goal to have as much fun as possible and contribute to the entertainment. That was always my goal in every game. These players deserved that level of effort."
"All quotes obtained first hand unless otherwise indicated"
All images supplied by Don Simmons
Related Articles