During the 2018-19 CWHL season, home ice advantage took on a special meaning for Brooke Webster. Garbed in the trendy green jersey of the Markham Thunder, it presented the gifted scorer with a feeling of reunion, simultaneously emerging as one of the franchise's local heroes.
Raised in the nearby community of Aurora, Webster became one of York Region's celebrated sporting sensations of this decade. Highlighted by accomplishments such as a historic gold medal with Team Ontario Blue at the 2012 Under-18 Women's Nationals (scoring in the gold medal game), along with prestigious status of All-America recognition with the St. Lawrence University Skating Saints. Starring on the Gold Line, skating alongside Kennedy Marchment and Hannah Miller, she amassed a career mark of 149 points, complemented by 60 goals. Graduating to the professional ranks, Webster spent her inaugural pro season playing in China, testament to her status as a highly skilled playmaker and ambassador for the game.
With such a remarkable sporting resume, the chance to play professionally in York Region represents only part of a fascinating narrative. Webster has been proud to pay it forward, displaying a heart of gold that reflects both compassion in the community and fostering friendship. Among the hallmarks of this season, Webster played for 360° Kids, a Richmond Hill based organization that provides support services for at-risk youth, at Hockey Helps the Homeless, a staple for sports fundraising initiatives in the Greater Toronto Area.
In addition, Webster also donated her time by attending an Aurora Panthers Atom A Practice during this season, providing instruction and inspiration, admirably accessible for a group of aspiring youngsters who benefitted from the positive example she has set as an accomplished athlete. Undoubtedly, the chance to bring her career full circle by donning the Thunder jersey has allowed her a special feeling of attainment, truly affirming her status as a York Region sporting icon, while cementing her status as a role model.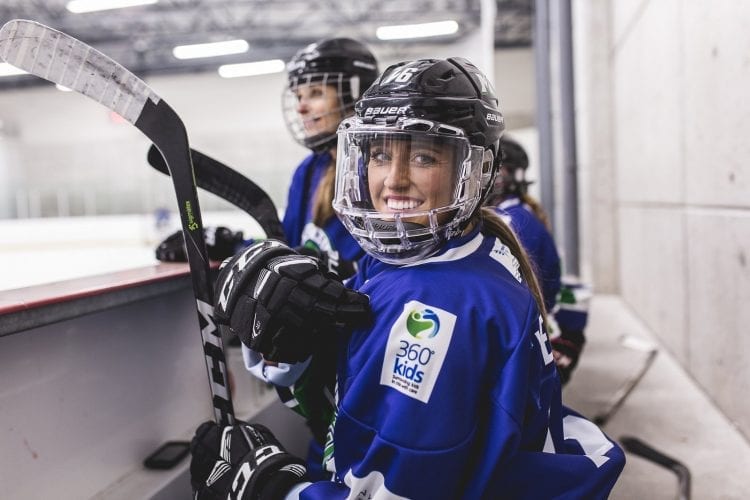 "It was an awesome experience! Growing up as a young girl and always looking up to other female professional athletes, it was very special to actually get to be a role model for all of the young hockey player's that are aspiring to play professionally one day. Being involved in the community and seeing all the support our team had was a very rewarding feeling."
Graduating to professional hockey in the autumn of 2017, Webster's hockey journey took on an exciting new direction. Along with fellow Canadians, Ashleigh Brykaliuk, Hanna Bunton, Elaine Chuli, Cayley Mercer and Emma Woods, they became members of the Vanke Rays' inaugural draft class. One of two expansion teams based in Shenzhen, China, it represented Webster's first brush with CWHL hockey, one that resulted in a sterling 26-point campaign that placed her tenth overall in the league's scoring race, highlighted by scoring a goal in the Rays' debut game, a 3-0 shutout of the Toronto Furies.
Coinciding with a road series that saw the Rays compete against the Thunder in January 2018, Webster opened her family's home to her teammates. Displaying a gracious hospitality and commendable demeanour, it served as a defining moment during said season, signifying her status as a revered teammate. Undeniably, Webster rose to the occasion in the Rays contests at the Thornhill Community Centre, including a multi-point effort on January 13, allowing her a sense of celebrated attainment, with friends and family gleefully cheering in the raucous stands.
Certainly, that sense of attainment was a theme that extended into this season, with Webster changing allegiances from the Rays, who would enter the 2018-19 season merging with their expansion cousins, the Kunlun Red Star. Considering that the Thunder's offseason resulted in four members of the Thunder (Jessica Hartwick, Fielding Montgomery, Karolina Urban and Melissa Wronzberg) announcing their retirements from CWHL play, a player of Webster's impact and caliber was integral to both the Thunders' leadership structure and its new-look offense.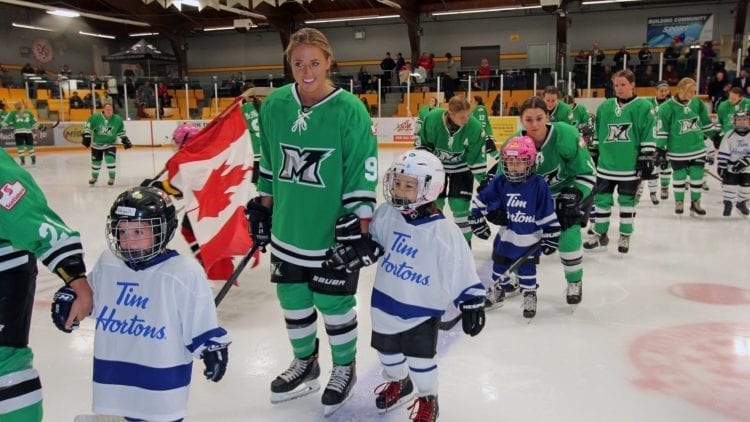 Making her Thunder debut on home ice, as an October 13, 2018 contest involved the new-look Worcester Blades, Webster wore number 16, compared to the 26 that adorned the back of her jersey with Vanke. Witnessing a historic moment as Dania Simmonds, who retired after the contest, became the league's record holder for most consecutive games played, it was the crowing touch to an evening that encompassed significant emotion for a jubilant Webster, experiencing her own milestone of coming home,
"My emotions were definitely kind of all over the place! It was very different going from playing in China to now being on the Thunder, but I just tried to have fun with it and enjoy the moment! Having my family and friends support me was very special."
Webster's first points with the defending Clarkson Cup champions took place nearly two weeks later. Registering an assist in a hard-fought 3-2 loss versus the Shenzhen KRS Rays, which took place at Ancaster's Morgan Firestone Arena, it rekindled feelings of when Webster skated for that organization's previous incarnation last season.
Collaborating with Becca King to earn the assists on the game's first goal, scored by Laura Stacey, it marked the first time that Webster was back on the ice with familiar faces such as Bunton, Mercer, Woods, along with Rose Alleva, whose mark in the former Vanke Rays history included scoring the franchise's last game-winning goal (before the merger). As Webster reveals, not being available to make the trek to China to compete against Shenzhen in the three-game series from November 14 to 17, the contest stirred many powerful emotions.
In spite of the fact that Webster now had to call friends from that compelling chapter overseas in her hockey career as rivals, she never overlooked the love of the game. Commendably employing sportsmanship, Webster observed the opportunity to skate against former teammates with an element of enjoyment.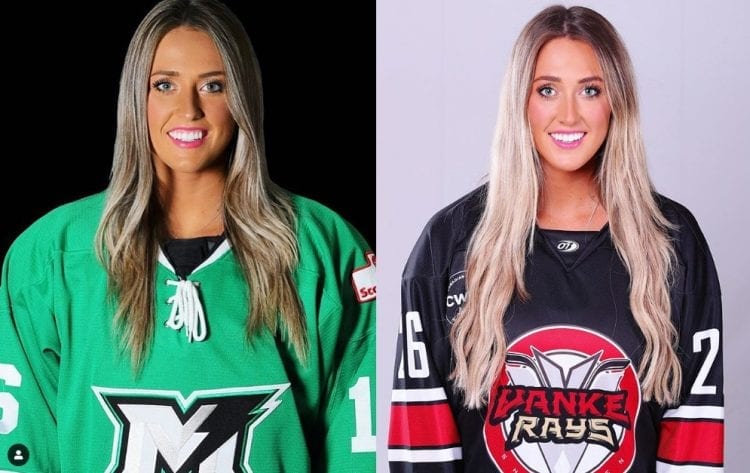 "I actually did not travel to China unfortunately due to work commitments. However, playing against China when they came to Markham brought back a lot of emotions and memories.
I spent every day with some of those girls and they became some of my best friends, so it was weird to be playing against them, but it was also fun! They are all awesome people and players so reconnecting with them was great."
Of note, Webster would wait until December 2, 2018 to achieve her first multi-point effort in the Markham jersey. Taking place at Calgary's Cochrane Arena, as the Thunder challenged the Inferno, there was a feeling of momentum for both clubs. The day prior, radio station Sportsnet 960: The Fan broadcast the first game of their two-game series, providing a very well-deserved major league feeling.
Recording a pair of assists in the December 2 affair, as the Inferno were victorious at home in a 5-3 tally, Webster assisted on the Thunder's first goal of the game, as Jamie Lee Rattray logged her fifth of the season. Collaborating with Rattray once again, they would gain credit for the assists on a third period marker by Laura Fortino, also the game's last goal.
In the last series before the Holiday break, Webster emerged as a key contributor in a sweep of the Blades, once again playing a key role in Webster's first season in Markham green. Logging in an assist in the first game of the series, a 4-1 win on December 15 at the Thornhill Community Centre, Webster was wondrous the following day.
Webster's first goal as a member of the Thunder took place in the second period, as Becca King gained the assist for a 5-0 advantage. At the 8:24 mark of the third, Webster scored unassisted. Her multi-goal effort, which saw the Thunder prevail in a 6-1 whitewash, would result in another milestone. Named the Second Star of the Game, it marked a clean sweep for the Thunder, as Jenna McParland emerged with First Star honors, while the Third Star belonged to Victoria Bach, the eventual Rookie of the Year Award recipient.
Fittingly, Webster's final point in her first season as a member of the Thunder came in their final win of the season. Challenging Les Canadiennes de Montreal in the first round of the Clarkson Cup playoffs, Webster and team captain Jocelyne Larocque assisted on a third period goal by Ella Matteucci, who is also a member of Canada's national women's baseball team. Coincidentally, McParland, who was among the Three Stars of the Game when Webster was honored, recorded a hat trick in the playoff match, a 4-1 triumph, that tied the series, requiring a deciding third game.
In spite of the fact that an opportunity to compete for the Clarkson Cup eluded Webster and her Thunder teammates, as the third game ended in Montreal's favor, there were many other aspects that accounted for a richer success. From finding new friends to the thrill of playing with friends and family frequently in attendance, Webster assembled a tremendous stretch of unmatched hockey resulting in memories that shall sustain for significant time.
"I would say my favourite moment was just being a part of the Thunder. I met so many great people that I would not have had the opportunity to meet. We had a really fun team with great chemistry so that is something that I will always cherish."
"All quotes obtained first hand unless otherwise indicated"
Related Articles