Looking to rebound from a 3-1 loss to Czechia to open the Beijing Winter Olympic Games, the host Chinese returned to Wukesong Sports Centre looking for their first-ever Olympic hockey win on home ice. Facing off against Denmark, akin to Czechia, were also making their Olympic women's ice hockey debuts, both teams were looking for an all-important win, as only the top three teams in Group B reach the elimination round.
Scoring the only goal of the first period, Malene Frandsen made her mark in Olympic, and Danish, hockey history. Taking into account that Denmark has never appeared in men's ice hockey at the Olympics, Frandsen's goal took on an even greater significance in terms of national pride.
Finding the back of the net at the 8:06 mark, scoring on Jiaying Zhou (Kimberly Newell), Nicoline Jensen and Silke Glud recorded the assists on the historic goal. Picking up the rebound, as the front of the Chinese net was crowded, Frandsen, who has appeared in nine different IIHF Women's World Championship events, capitalized on an open net, as the Danish supporters roared with approval.
Despite the Danes recording the only goal of the first, the host Chinese outshot their opponents by a 9-7 margin. Their continued efforts paid dividends in the second, tying the score.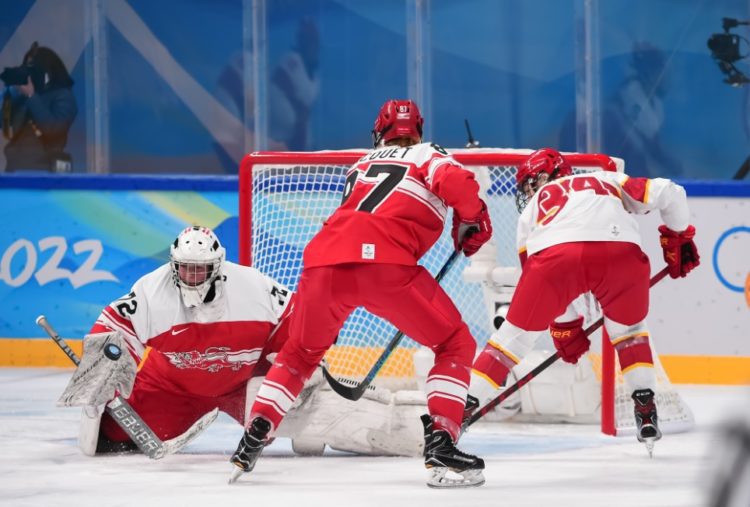 With less than five minutes remaining, alternate captain Qiqi Lin (Leah Lum) found the back of the net, as team captain Baiwei Yu and Yuting Wang (Jessica Wong) recorded the assists. Outshooting the Danes by a tremendous 18-5 mark in the second, goaltender Cassandra Repstock-Romme displayed tremendous poise.
In the third period, the Danes were unable to regain the lead. Despite outshooting the hosts 11-5, most of the period was a scoreless deadlock, both teams unable to solve their opposing goaltender. Until the final minute of the game, a two-goal outburst from China resulted in both, their first lead, and first win on home ice.
Ni Lin (Rachel Llanes) would provide the heroics, finding the back of the net with only 50 seconds left. Qiqi Lin would earn the assist, becoming the first Chinese player at Beijing to enjoy a multi-point game. With the Danes opting for an extra attacker, it was China back on the scoresheet. Recording a three-point game, Qiqi Lin scored just 18 seconds later. Enjoying a performance that is poised to be one of the highlights for the host nation in Beijing, the jubilation of an emotional triumph allows an opportunity to stay in the chase to land a top three position in Group B.
Images obtained from IIHF.com – Credits: Matt Zambonin
Related Articles