Having established themselves as one of the nation's finest ball hockey leagues, the Ottawa Vanier Women's Ball Hockey League (OVWBHL) has not only been home to world championship players, it has developed club teams capable of competing for the national championship. A constant contender for the podium at events hosted by the Canadian Ball Hockey Assoication (CBHA), the calendar year of 2019 represented a milestone-filled year for a proud group from Canada's capital.
Assembling a team known by the sobriquet, Capitals, this group of elite talent ventured to St. John's, Newfoundland, featuring a core of veteran talent, highlighted by Claudia Bergeron, Stephanie Brunette D'Souza and Danika Doucet, among others. Eager to build on a bronze medal from 2017, followed by a silver medal from 2018, hopes were high that the decade would end on a golden note.
Enduring a 1-2-1 won/loss mark in preliminary round play, clinching the fourth, and final, spot to advance to the elimination round, the Capitals were not in the conversation to emerge with a gold medal. Another entry from Ontario, the New Tecumseth Xtreme, managed to go unbeaten in the preliminary round, featuring Canadian national team member Giuliana Pallotta on their roster. As a side note, the Capitals also featured Team Canada alumnae on their roster, most notably, Edie Brenning, who finished tied as Canada's leading scorer in a gold medal effort at the 2019 ISBHF Worlds in Kosice, Slovakia, although she was only active for one match in the preliminary round.
Meanwhile, the BC Selects and host Newfoundland United, finished second and third. Despite such early struggles, the high scoring line of Carole-Ann Upshall, Claudia Bergeron and Audrey-Ann Boutour ensured that the Capitals remained competitive. Amassing a total of 11 goals in preliminary round play, accounting for more than 80% of the Capitals offense, their collaboration remained highly essential as the tournament progressed.
Bergeron, would make her presence felt in the semi-finals, scoring at 3:18 of the first period for the 1-0 advantage. Prevailing in a 2-0 final, with Bergeron gaining the assist on the Capitals' second goal, her goal would prove to be the game-winning tally, supplying both, a treasured tournament and career highlight.
Having also played her university hockey in Ottawa, starring for the Carleton University Ravens, Claudia Bergeron has extended her body of work in Canada's Capital Region with an exemplary run in ball hockey.
Calling the Nordiks her club team in OVWBHL play, Bergeron, the league's 2017 scoring champion (a feat she would repeat in 2018 and 2019), and 2017 Team MVP, has brought her exceptional skill set to numerous CBHA National events. Bergeron, who was bestowed the honor of the captaincy, not only brought a significant leadership element to the Capitals, she brought a strong desire to win. With past Ottawa teams garnering bronze in 2017, followed by silver in 2018, simply reaching the podium again in 2019 was not sufficient, the objective now defined by a golden outcome.
Logging a pair of assists in the Gold Medal Game versus Newfoundland United, the goal of an elusive championship was one that exceeded expectations. Statistically, Bergeron was solid in both rounds of play, tying with teammate Carole-Ann Upshall for most goals scored in the preliminary round.
"It was such a great feeling to bring the gold back in Ottawa. We know we can compete every year at Nationals and that we are a force to reckon with but we finally came through this time.
We had a different group of girls this year. For some it was their first experience at all at ball hockey nationals, for others it was their first time competing at the A level and finally we had a good experienced core.
Strong leadership was added on the team in Isabelle Aubé, Stéphanie Brunette-D'Souza and behind the bench with Emilie Morter.
I tried to spark the team with intensity, work ethics and passion. We all made sure to send a positive message on the bench even in tougher situations. I think we all did an excellent job keeping each other in check and it resulted in a convincing win in the finals."
With a gold medal acquired at the 2018 ISBHF Masters, Isabelle Aubé certainly embodied the essence of leadership for the Capitals. Although she suits up for the rival Rebels in the OVWBHL, ranking among the league's top 20 scorers in the 2019 season, her veteran presence almost spans two decades.
First gaining acclaim in ball hockey after capturing the scoring championship at the 2002 CBHA Nationals, starring for the Vanier Spitfires, Aubé also earned recognition by the Ontario Ball Hockey Association as one of their 15 Greatest Players of All-Time.
Having also won numerous ISBHF world championships in her storied career, along with professional ice hockey play in the NWHL and CWHL, her wealth of knowledge made her an invaluable asset for the Capitals.
Ranking fourth in scoring among all Capitals in preliminary round play, Aubé displayed a skillful genius that has made her a valued member of any team whose jersey she wears. Undeniably, a peerless presence in a career that continues to be defined by the sheer pleasure of playing the game locally, gaining the chance to play for Ottawa at the National remains a cherished highlight,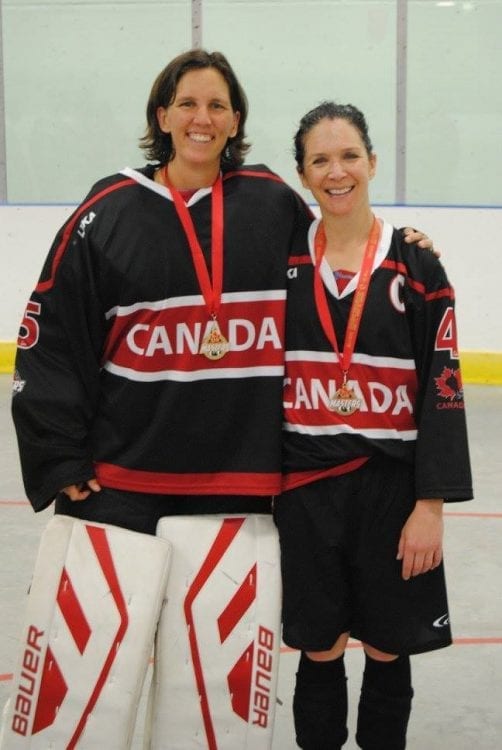 "I still love playing the game and I had so much fun at Nationals. Having the opportunity to represent Ottawa never gets old and winning the whole thing made an amazing experience. I played with a strong group of leaders. As a new teammate, I just tried to support them the best I could. Overall, it was a great experience."
Named to the Tournament All-Star Team, Bergeron was joined by teammate Audrey-Anne Boutour, who also played her university ice hockey with the Ravens. As a side note, the other competitors named to the All-Star Team included New Tecumseth Xtreme goaltender Serena Vilde, while the host Newfoundland United named two to the team, including blueliner Kristen Cooze and Dawn Tulk, while the sixth member featured BC Selects blueliner Becca Ring.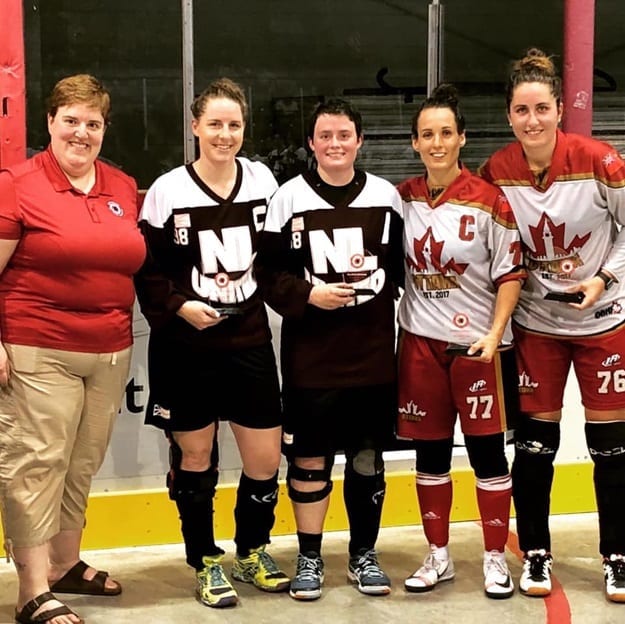 "It was really an honour to be named to the All-Tournament team. My line had a strong week. We passed the ball well and ran into open space. We also put a lot of pressure and it gave us some key opportunities to put the ball in the net. It was a real treat to play alongside Audrey-Ann Boutour and Carol-Ann Upshall. Our chemistry was undeniable and it allowed me to have my best performance yet at ball hockey nationals."
Adding to the Ottawa Capitals' impressive haul of hockey hardware, Carole-Ann Upshall, an alumnae of the University of Ottawa Gee-Gees women's ice hockey program, gained recognition for her heroics on the slab. Playing on a line with Bergeron and Boutour, their remarkable rapport not only set the pace of the Gold Medal Game, they quickly established themselves as the highest scoring line in tournament play, garnering a cumulative total of 36 points, including preliminary and elimination rounds.
Emerging as the offensive catalyst for the Capitals, Upshall not only finished the tournament as the Leading Scorer, registering 14 points, she rose to the occasion in the Gold Medal Game. Securing Ottawa's first CBHA national championship since 2014, when the Vanier Mooseheads captured the title, Upshall was involved in every goal of a 4-0 victory versus Newfoundland United.
Recording a hat trick and an assist in a brilliant four-point output, a tournament high for Upshall, the efficient Boutour also duplicated her efforts, recording four points on the strength of three assists, while adding her name to the scoresheet with a power play goal in the second period, extending the Capitals lead to a convincing 3-0 lead. Emphasizing the chemistry that helped establish such a remarkable team culture, her line had a sense of mission, wanting to contribute towards a successful outcome, while instilling confidence that the gold was within reach,
"During the entire tournament, our team had great chemistry. Our line focused on having fun and we had a lot of success. We started strong (in) the gold medal game and we wanted to make a difference. I was happy I could help my team take a comfortable lead during the game and be able to bring back gold."
Fittingly, Upshall, whose family has roots in Newfoundland, enjoyed the fact that numerous relatives were on-hand to witness her finest hour. Emerging with Tournament MVP honors, a crowning touch to such a dominating tournament performance, one of the finest in recent memory, Upshall recounts how the proud presence of family also supplied a sense of encouragement.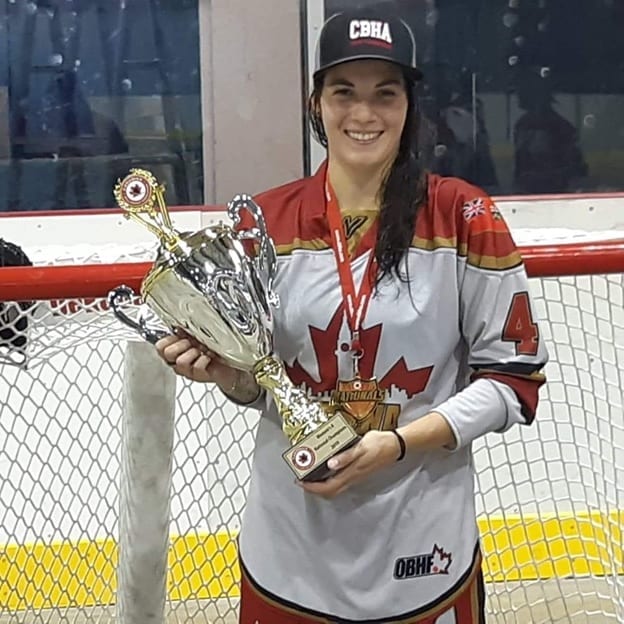 "Winning a gold medal was for sure the best feeling! It was more than amazing to live this adventure with these girls and my family supporting us.
My family comes from St. John's and it was the first time that I had the chance to play in front of them. My uncle kept telling me to focus and that losing was not an option. I felt really proud of being able to win this honor with my family there and I could not have expected better results."
Posting back-to-back shutouts in the elimination round, Mélanie Simard emerged as another celebrated hero for the Capitals. Providing a solid performance, in the semi-final game versus the top seeded New Tecumseth, a highly emotional 2-0 upset win, in which only 15 saves were required, the result only served to boost everyone's confidence.
Despite the fact that the gold medal game would take place against the host team, as Newfoundland United bested the BC Selects in the other semi-final match, Simard reflected on the feeling of assurance headed into the upcoming match with an element of levity. Also acknowledging that the ability for the Capitals to bounce back after a difficult start in the preliminary round encompassed a composition of character, another key quality rose to the surface. Taking into account that some athletes incorporate superstitions as a custom into the process of playing, Simard and her team were not immune to such intricacies,
"Of course, I did not just wear the same stinky socks the entire tournament for nothing! We were ready and I knew that nothing was getting by me! After a solid semis vs New Tech, the team was determined to win gold. This team has been to the Finals before, however, this year it was a different team. We faced challenges early on in the tournament but grew together to overcome them. We had a team full of very talented girls, we had speed, skill, a solid D line, endurance, commitment, etc.
Some of our girls were coming off a hot summer streak winning the Gold in the B Nationals and winning Gold in the B Provincials and some who recently came bank from winning gold in Slovakia. We just had to jive, play our game, stay focused and deliver!
We were superstitious, the same girls drove together, we played our same pump up song, and we were in our zone! Losing to Newfoundland in the preliminaries was a hard blow to swallow. We knew they were a strong team to face but that did not matter what mattered was how we were going to come out. We came out strong, we wanted the gold and we went and got it!"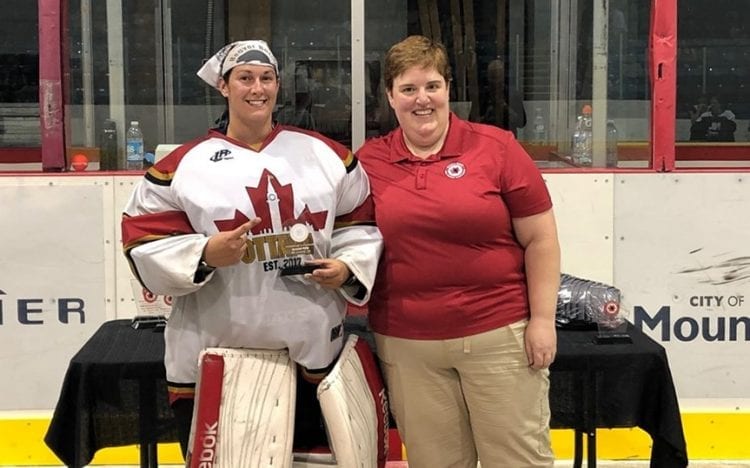 With a 17-save performance, Simard frustrated Newfoundland United in the gold medal game, while the top scoring line of Upshall, Bergeron and Boutour decimated the opposition's defensive unit. Rewarded for her assiduousness between the pipes with the Most Valuable Goaltender Award, it marked a sensational summit for Simard, standing shoulder-to-shoulder with her contemporaries.
"It was a great feeling and honor. Shutting out New Tech in the semis and Newfoundland in the finals was so amazing. I knew Newfoundland was fast and would look for a break opportunity, they did just that in the first and after stopping the shooter on the break-away. I felt confident and determined to do whatever it took to let nothing get passed that red line. That is how I play every game, by doing whatever it takes."
Representing the final chapter in a terrific trifecta of titanic achievements, Simard's journey, one defined by an admirable perseverance and tenacity was five years in the making. Having risen through the ranks, roots humbly established in the recreational league, Simard's growing list of achievements enabled her to earn the opportunity for greatness.
Heading into the CBHA Nationals, Simard already enjoyed a pair of prestigious championships. Competing first with the Ottawa Spartans, Simard captured a provincial title in the B Division. Standing between the pipes for another Ottawa-based team, one with the nomenclature Sonics, she would garner a second national championship, also in the B Division, defeating the Edmonton Cherry Pickers and Downsview Penguins in the elimination round.
Holding the unique feat of a Women's A and Women's B National Championship in the same year, Simard also earned recognition as the Most Valuable Goaltender in B play, respectively. Elated at the remarkable series of achievements, the calendar year of 2019 is one that truly heralded Simard's arrival as an elite goaltender, amassing a series of highlights destined to be part of the growing lore in both the OVWBHL and the CBHA.
"I have waited five years to be able to have a chance to play at this level and on this team. I wanted to help them to gold. It was a dream come true. I called my boys right away to tell them that we had won gold, they were so proud!
It is a 'started from the bottom, now we are here' fairy-tale for me. Evolving from the recreational level and joining the competitive league and now winning tournaments. I am proud to say that this summer my Ottawa Sonics won the gold in the B Nationals and my Ottawa Spartans won the gold in the B Provincials. I was waiting for that third gold, the most precious one. It is now my most precious!"
"All quotes obtained first hand unless otherwise indicated"
Featured image obtained from Facebook
Related Articles