An essential figure in propelling the Yale Bulldogs into the national spotlight, the accumulation of awards and honors stand as testament to the influence of Emma Seitz. With such an impressive amount of acclaim, highlighted by All-American status, the opportunity to add the Mandi Schwartz Scholar Athlete of the Year Award brings her Bulldogs career full circle. Originally from New York City, Seitz holds unique standing as a second generation student athlete for Yale. Of note, her father Gregory, skated for the Bulldogs men's team from 1986-89, enjoying over 40 appearances.
Undoubtedly, one of the Bulldogs all-time greats, Seitz is synonymous with success. An historic 2022 saw Seitz become only the second Bulldog ever to earn All-America honors, joining Laurie Belliveau, a 1998 honoree. Along with recognition as an ECAC All-Star, All-New England Division I plus All-Ivy, made more prestigious by First Team standing, the season highlight saw the Bulldogs reach the Frozen Four for the first time ever.
Recognized with the 2023 ECAC Mandi Schwartz Scholar Athlete of the Year Award, Seitz is the fifth member of Bulldogs to earn the highly prestigious honor. Belonging to a proud program legacy including Lucy Burton (2020), Alyssa Zupon (2013), Aleca Hughes (2012), also a Hockey Humanitarian Award recipient, plus Jackee Snikeris (2011), Seitz is the latest to honor Schwartz, whose legacy and brave battle with cancer stand among the hallmarks of Yale athletics.
Worth noting, the 2023 finalists for the Award, including Quinnipiac bobcats blueliner Kate Reilly, plus Sammy Smigliani, a forward for the Colgate Raiders, all displayed a tremendous character, bringing a remarkable betterment to their respective communities. Reilly, a member of Quinnipiac's Dean's List has been involved in an executive capacity with Q-munity Service Coordinators, an initiative which encourages not just Bobcats student-athletes, but coaches and administrators to give back to the community.
Smigliani, having admirably returned to the ice following concussion woes, enjoyed a quintet of appearances on the Raider Academic Honor Roll with Distinction throughout her Colgate career. In addition to a proud role as youth mentor with the Rising Raiders program, her volunteer efforts with Hamilton elementary schools tugs at the heartstrings.
Among the numerous volunteer efforts that Seitz has engaged in, geared towards improving life for numerous in New Haven, campus life has proven equally notable. Serving as an extension of her leadership on the ice, Seitz holds a place on the university's Women's Athletics Council, providing reliable representation for the hockey team. Academically, Indonesia played a significant role in the experience of being a student-athlete. Belonging to the student organizing committee for Yale's International Indonesia Forum, its origins date back to 2003 as an initiative conceived by three Yale students Frank Dhont, YoonSeok Lee and Thomas Pepinsky. Worth noting, the summer of 2022 saw Seitz travel to the island country, representing a fascinating chapter in her studies.
"The Mandi Schwartz Award is very meaningful, both because of who Mandi was and because the award recognizes more than just your on-ice contributions. Mandi is an incredibly important part of the Yale Women's Ice Hockey family, and I was so honored to win an award that reflects how valuable she was and continues to be to her community."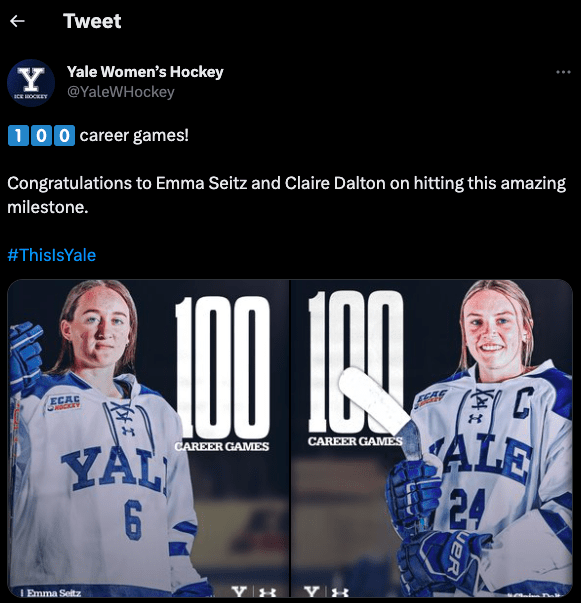 On the ice, Seitz has proven essential in one of the greatest turnarounds in recent NCAA hockey history. With a freshman season that saw the Bullodgs finish in ninth place in the ECAC Standings, a rapid rise towards standing as a nationally prominent program added to her legend. As a landmark 2022 saw the Bulldogs qualify for their first-ever appearance in the Frozen Four tournament, it was only fitting that Seitz earned honors as the 2022 ECAC Hockey Defender of the Year.
Following it up in 2023 as the Bulldogs achieved the rare dual of an Ivy League and ECAC regular season championship, both firsts in program history, Seitz contributed a solid 22 points. With the Bulldogs boasting an impressive 14-2-0 mark when Seitz logged at least one point, adding to her standing as an impact player.
Becoming the first Bulldog to earn All-America honors in back-to-back seasons, some of the most rewarding achievements were shared. From the outset, the early stages of the season saw Seitz and team captain Claire Dalton reach the vaunted Century Club for career appearances.
Part of an eventful weekend from November 4-5, which saw the Bulldogs grab first place in the ECAC standings, their national ranking improving by two spots to No. 6, the feeling of achievement resulted in victories versus Quinnipiac and Princeton. The 4-2 home win against Quinnipiac, which saw Seitz record five shots on net, resulted in the milestone 100th game. Coincidentally, Seitz's twin brother Nick skates for the Princeton men's team and is a multiple ECAC All-Academic.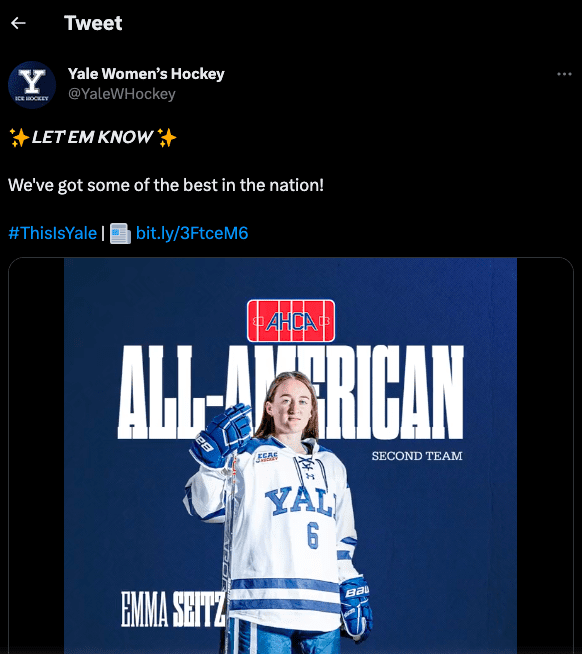 As a side note, Seitz was among four Bulldogs to earn recognition as 2023 New England Women's Division I All-Stars, joined by Claire Dalton, goaltender Pia Dukaric and Elle Hartje, whose father was drafted by the Winnipeg Jets in 1987. Fittingly, Dukaric and Hartje also etched their names in Bulldogs history, joining Seitz among the celebrated 2023 All-America team.
"Being an All-American was something I dreamed about as a kid. It is such a historic award that represents the tradition of college hockey in a very neat way. I am honored and grateful to have been voted All-American twice in my career."
Adding to an exciting haul of hockey hardware in a highly memorable 2023, Seitz earned one of the most prestigious honors bestowed to a Yale student athlete. Along with golfer Ami Gianchandani and football defensive lineman Osorachukwu Ifesinachukwu, this tremendous trio earned the Thomas W. Ford Award. In recognition of student-athletes that have displayed a commendable effort in working with New Haven's local youth, setting a positive example for Yale Athletics, the criteria for the Award reflects many of her values.
Certainly, the most impressive numbers in Seitz's time at Yale involves a 3.70 cumulative grade point average through seven semesters. Working towards a bachelor's degree in economics, Seitz has utilized her acumen in the classroom as a volunteer with the Females for Finance program. Serving in the capacity of mentor, instilling confidence in local high school students looking to pursue careers in the field of Finance or Economics, it represents part of a tremendous body of work giving back to the community.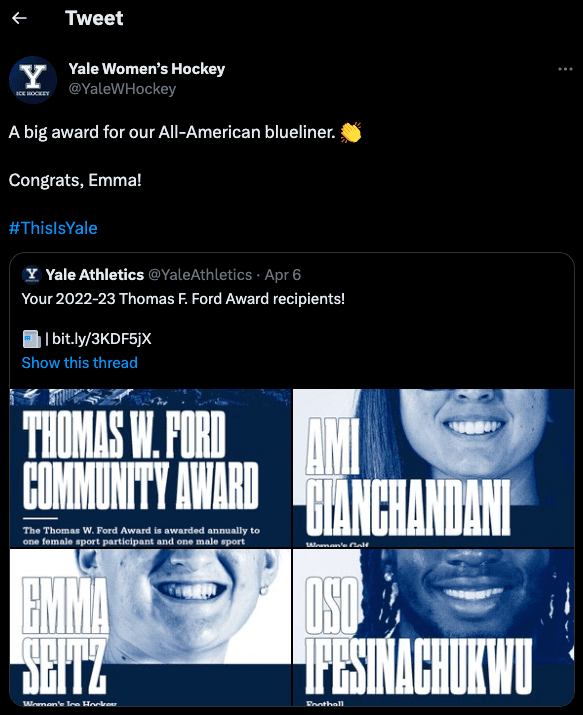 Such admirable endeavors includes an encouraging role as co-director of the No Closed Doors initiative. Aiming to bring dignity to those in New Haven faced with the difficult prospect of unemployment, professional assistance includes instruction on resume writing, interview tips and other great resources. Also a member of AmeriCorps in the Volunteers in Service to America (VISTA) program, an anti-poverty program that works with non-profit organizations, the experience has proven to strengthen Seitz's leadership skills, while her teamwork skills acquired through hockey have been reciprocal.
"I think an important part of being a Yale student is learning from and giving back to the New Haven community. I spent five years living in New Haven, and I always felt strongly that I should be an engaged resident rather than just a visitor. Being recognized by Yale is meaningful because I know many other athletes who do incredible things off the field."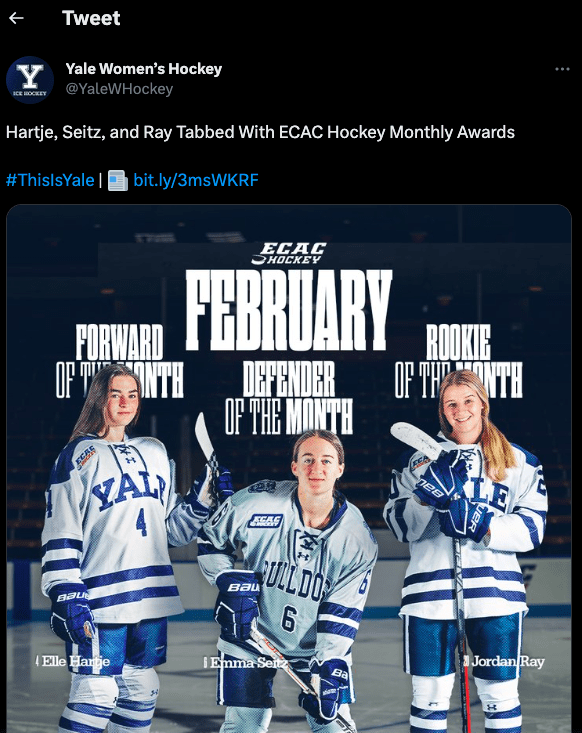 In a season defined by shared milestones, the month of February may have been the most memorable. Enjoying a 7-1-0 mark, including a sweep of the Harvard Crimson in the ECAC Quarterfinal round, three Bulldogs stars garnered ECAC Monthly Awards. Starting with Seitz, she recorded seven points and a solid 39 shots on net. A three point performance in a February 3 road win versus the Union Dutchwomen resulted in Seitz finding the back of the net twice, her only multi-goal performance of the season, as the Bulldogs vanquished their opponents by a 10-1 tally.
The following day, another road game saw Seitz provide the heroics. Outshooting the RPI Engineers by a 41-13 mark, which saw Amanda Rampado face 19 Bulldog shots in the first period, Seitz capitalized on a power play opportunity. In what proved to be the game winning goal, prevailing in a 4-2 final, it marked another exciting first in a memorable season.
Recognized as Forward of the Month, Hartje, recently named captain for the 23-24 season, enjoyed a superlative 19 points. Her first hat trick of the season took place on the season finale. Providing a memorable highlight, she ended up contributing five points in a 10-1 whitewash of the Harvard Crimson. Freshman phenom Jordan Ray also enjoyed success versus the Crimson, scoring twice in a quarterfinal win on February 24. Coincidentally, Ray also assembled a solid performance in the triumph versus Union, one of two Bulldogs to record a hat trick in the 10-1 final, including Charlotte Welch.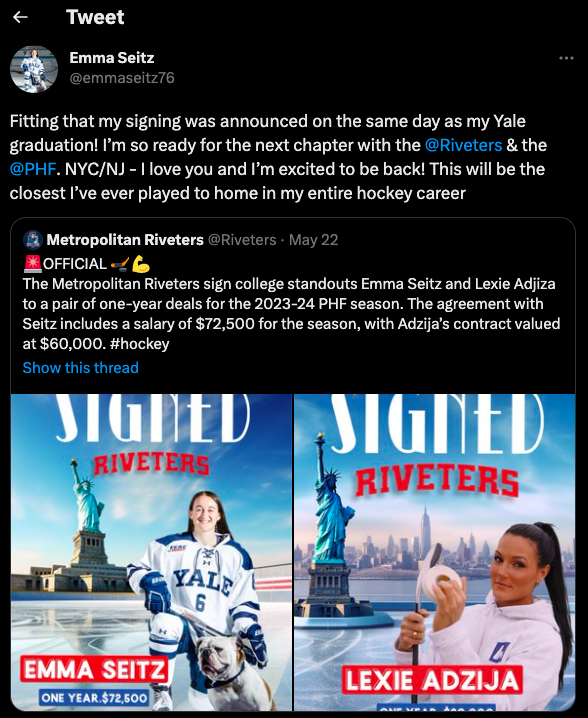 With an exceptional amount of highlights and accolades defining a fascinating time at Yale, the Mandi Schwartz Scholar Athlete Award represents more than just a pinnacle for Seitz. Encompassing a profound respect for the community and team alike, her grace and dignity demonstrate the essence of achievement for a student-athlete. Crafting an admirable work ethic and strong character from the values learned on the ice, if one word can define the experience of Yale, it would be gratitude. Ready for the next chapter in her career, having recently signed with the Metropolitan Riveters, Seitz has demonstrated throughout four fantastic seasons in the Yale jersey that she is not only an All-American athlete, but an All-American person.
"I take a lot of pride in being a student-athlete, and both of those words have always been equally important to me. Growing up, my parents encouraged me and my siblings to have many passions and to use hockey as a means to achieve the best education possible. It is impossible to win an award like the Mandi Schwartz Award (and the Ford Award) without the contributions of many others, and I am extremely grateful for my family, my teammates, and Coach Bolding."
–
"All quotes obtained first hand unless otherwise indicated"
To learn more about the Mandi Schwartz Foundation, please visit: http://www.mandi17.org/
In this article:
#All-Academic
,
#All-American
,
#All-Star
,
#Athlete
,
#AthleteOftheYear
,
#Awards
,
#AwardWinners
,
#Community
,
#ECAC
,
#FrozenFour
,
#leadership
,
#NCAA
,
#StudentAthlete
,
#UniversityHockey
,
#WomenInSport
,
#Womenshockey
,
grow the game
,
Hockey
Related Articles