It is PRIDE month, and there is no surer sign of it than seeing the flourish of Pride flags throughout the city. Of course, there was a time when you would miss the flags if you blinked. But over the years, more individuals and businesses have stepped up to show their support for the LGBTQ+ community. To be sure, it is an encouraging sign and one of hope and inspiration.
However, when the National Hockey League rolled out its Pride campaign last year, Brock McGillis couldn't help but feel like it had sorely missed the mark. Brock is not one to sit quietly by. If his name is familiar to you, it's likely because back in 2016, Brock came out, making him the first retired professional hockey player to do so. Since coming out, Brock has been working as a public speaker and activist, sharing his story and how "we can all create shifts" to change hockey's toxic culture and language.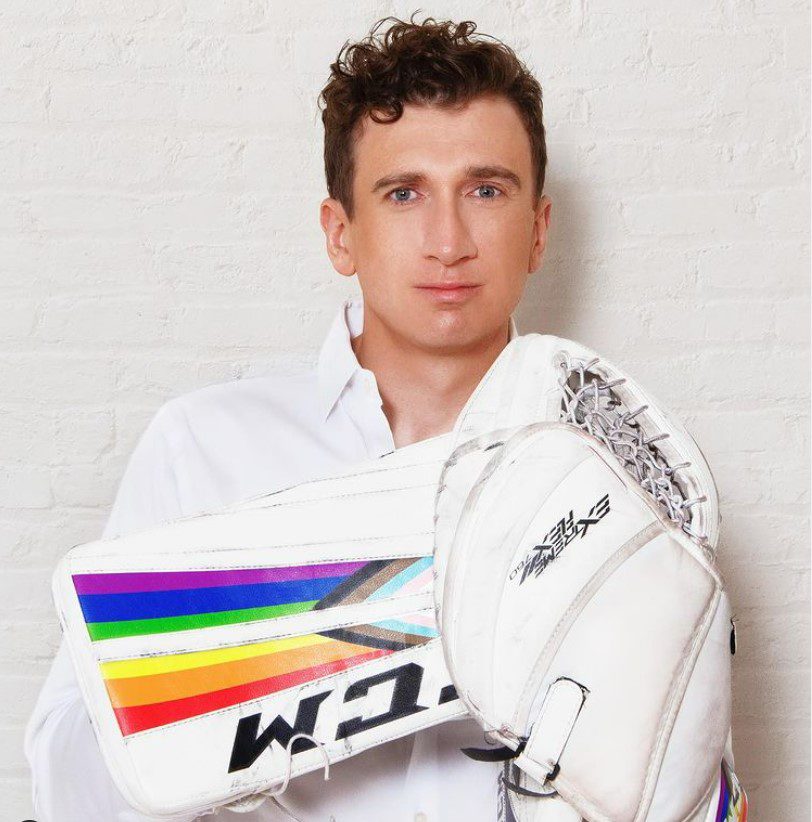 Brock felt that the NHL campaign shone a brighter light on allies rather than giving a bigger platform to members of the LGBTQ+ community to share their voices. He said, "A lot of people were disappointed, and rightfully so. Allies are important, and I appreciate and respect that, but queer folks don't get visibility or representation often in sports." Further to that, Brock noted that it is hard to take the campaign seriously when NHL clubs continue to foster relationships with businesses historically known for their anti-LGBTQ+ sentiments and actions. Brock will also be the first to tell you that he does not like Pride Nights and sees them as largely performative. It takes more than putting on an event during PRIDE month to show that real, lasting change has taken place. He likens it to having the parade before winning the game. For most of the community, the quest for recognition does not come and go with the beginning and end of Pride month.
So, Brock decided to take matters into his own hands and provide a platform for LGBTQ+ hockey players, fans, and supporters to share their stories and love of the game. "If anyone wants to be interviewed and celebrated, I'll do it," he said. And with that, Brock put out an open call on Twitter for anyone wanting to participate. He set an original goal of interviewing 100 people, and with word spreading fast among the community, it was mere days before 150 people had signed up.
Over the next three weeks, Brock essentially shut down his life and, together with his team, interviewed 120 participants. It was a monumental task and required many extra hands on deck to film, edit and caption all the videos. Two volunteers helped with the scheduling, another two assisted with interviews, and over 60 people volunteered their time to help with editing. And much to Brock's surprise, the MLSE came knocking, offering to send their editors to help as well. To say this project was a labour of love in the community is an understatement.
Ultimately, the project aims to help the queer community recognize that they are not alone. The stories may not be the same, but there is a familiar theme throughout them. We meet people of all ages and from all walks of life and corners of the globe through the project, including Brazil, Australia, the United Kingdom, Canada, and New Zealand. The library of videos is available on YouTube on the Hockey Pride channel, and among the participants are some highly recognizable names such as:
But you will also meet everyday heroes lifting the voices of a community, such as:
Outside of his work, Brock credits this project as one of the most rewarding things he has done to date. Some people have come out in these interviews, with one person telling Brock, "You helped me come out." Still, others were moved to tears, having been given an opportunity to have a voice.
Due to the overwhelming response, Brock would love to see more corporate and league engagement on future projects. Having some backing in his corner would help elevate this grassroots project to the next level and open doors to much more exposure.
On a personal note, Brock wishes he had come out when he was a lot younger. He says, "I have a very inclusive and supportive family." Had he come out sooner in life, Brock feels that he would have had the help he needed much earlier and avoided a lot of struggles.
While he can't change the past, he is doing something about the future. And in doing so, Brock is helping empower others to find their footing in the sport they love.
Instagram: @the_wandering_misfits @two.otters.studio
Facebook: @wanderingmisfits @TwoOttersStudio
Related Articles